Andover: Complete!
Andover Pizza & Bar
Here is my list of everything I've done in Andover!
I'm very excited to write this page. This is the 26th of what may ultimately be 169 town completion celebration pages! Yes, of course I am fully aware of how absurd that is. But I love it.
In late 2016, after a decade of writing CTMQ, I decided to try to "complete" towns. In that decade of traveling and writing, I had already done a lot of stuff in most of our towns already. However, I have been continually surprised by how much more there often is to do. This page you're reading includes my "town completion celebration meal." These will sometimes be at the best restaurant in town. Or the most historic. Or the most iconic. Or the most unique. Or the only one. Every town is different.
Let's get to it.

Andover, Tolland County
Population: 3,303 (147th)
Founded: 1848 (146th)
Size: 15.46 sq. mi. (146th)
Here's the Wikipedia page and the town page
Andover was my: 26th town completed
First CTMQ Visit: Doris Chamberlain Nature Preserve

The Celebration Meal
Some towns make choosing a celebratory meal difficult and some make it easy. Andover, praise be, made it very easy. When I completed everything in town, there were only two restaurants. Both are located in Andover Plaza on Route 6: Oriental Wok and Andover Pizza & Bar. Five seconds of looking at their websites made it clear: Andover Pizza & Bar, here I come.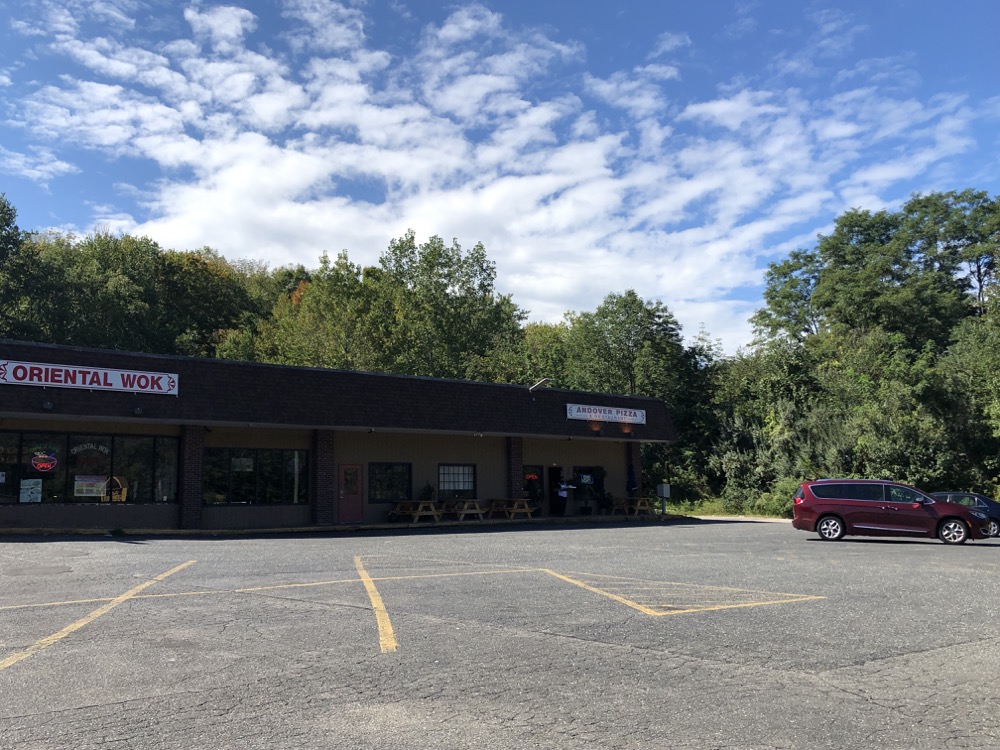 Oriental Wok, delicious as it may be, is one of a billion cookie-cutter Chinese American take-out joints. Nothing special at all. Andover Pizza however? They have a bar… and they have special Andover-centric named menu items! Oh yeah! When I want to celebrate Andover, I want so bathe in Andover. I want to smother Andover all over me… Over Andover, Andover. Bring it on.
My only issue was deciding which Andover delight I'd order. My choices were the Andover Special (a grinder with sautéed chicken, onions, peppers, mushrooms, melted provolone), the Andover Burger (BBQ Sauce, cheddar, bacon, onion rings, served with fries), the Route 6 Burger (Caramelized onions, bacon, mushrooms lettuce & tomato served with onion rings), or the Andover Special Panini (Sautéed chicken, onion, mushrooms, roasted peppers, swiss cheese. Served with waffle fries, pickle & coleslaw).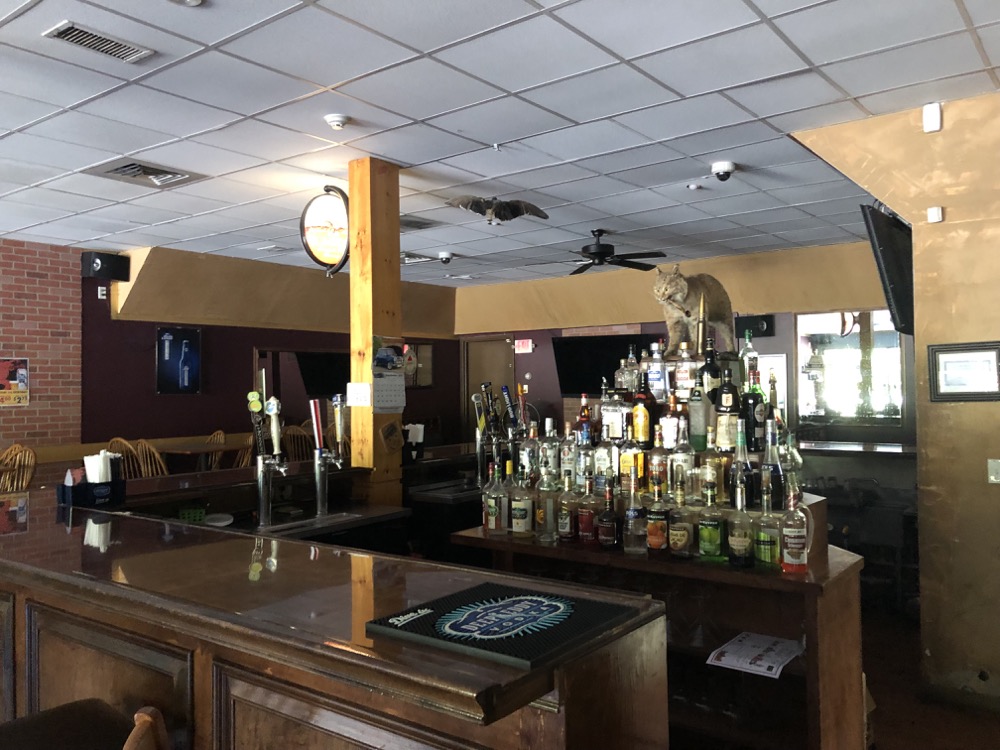 Give me all the Andover! I have no idea what makes those sandwiches so Andovery, and there isn't really a cohesive theme across them, but I'll take their word for it.
I just wanted to go full Andover. Full Andover, you say? I'll give you full Andover, right there on the wall near the cash register.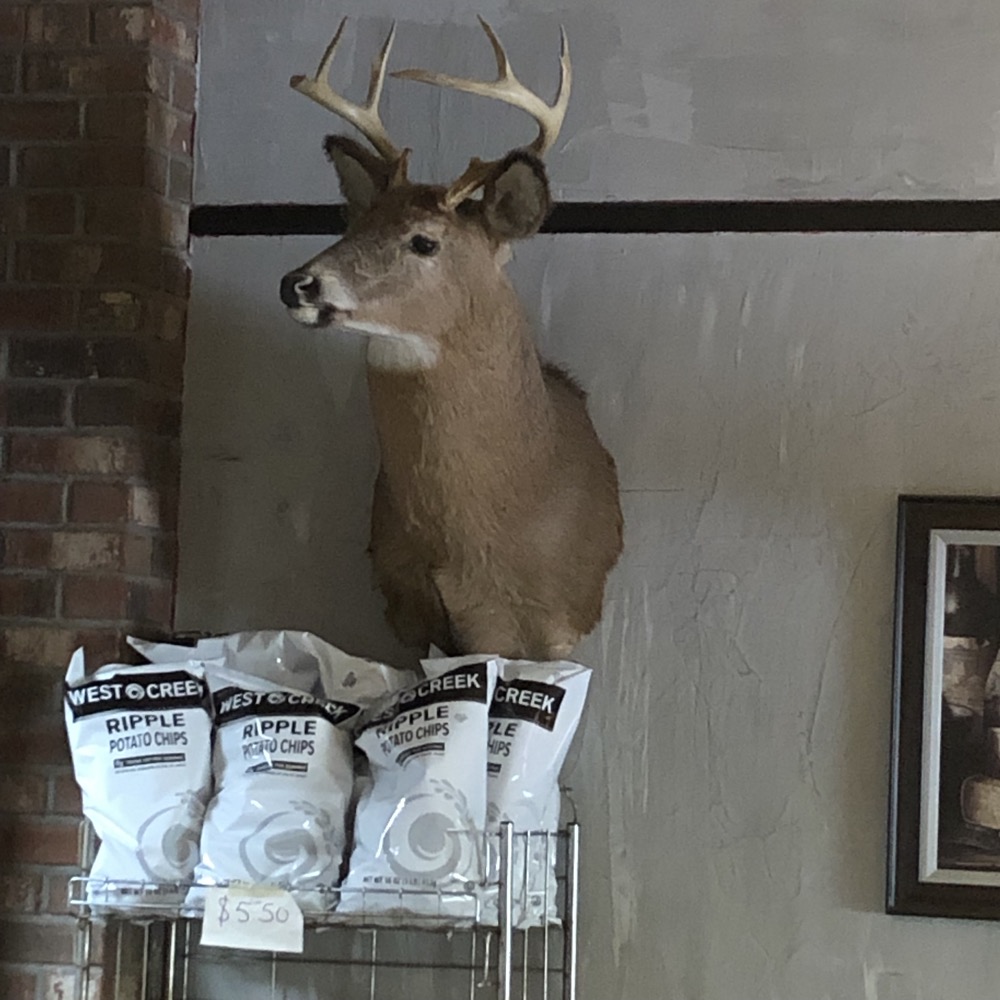 Oh yeah! That's what I'm talking about.
I wound up ordering the Andover Special grinder. The deer above my head agreed. And since I was celebrating and since I was doing the whole Andover thing, I threw caution to the wind and got a cold Bud Light bottle to wash it down with. The bar here is in a large second room with a pool table and even hosts bands on the weekends.
And oh, yeah… there's this in there too: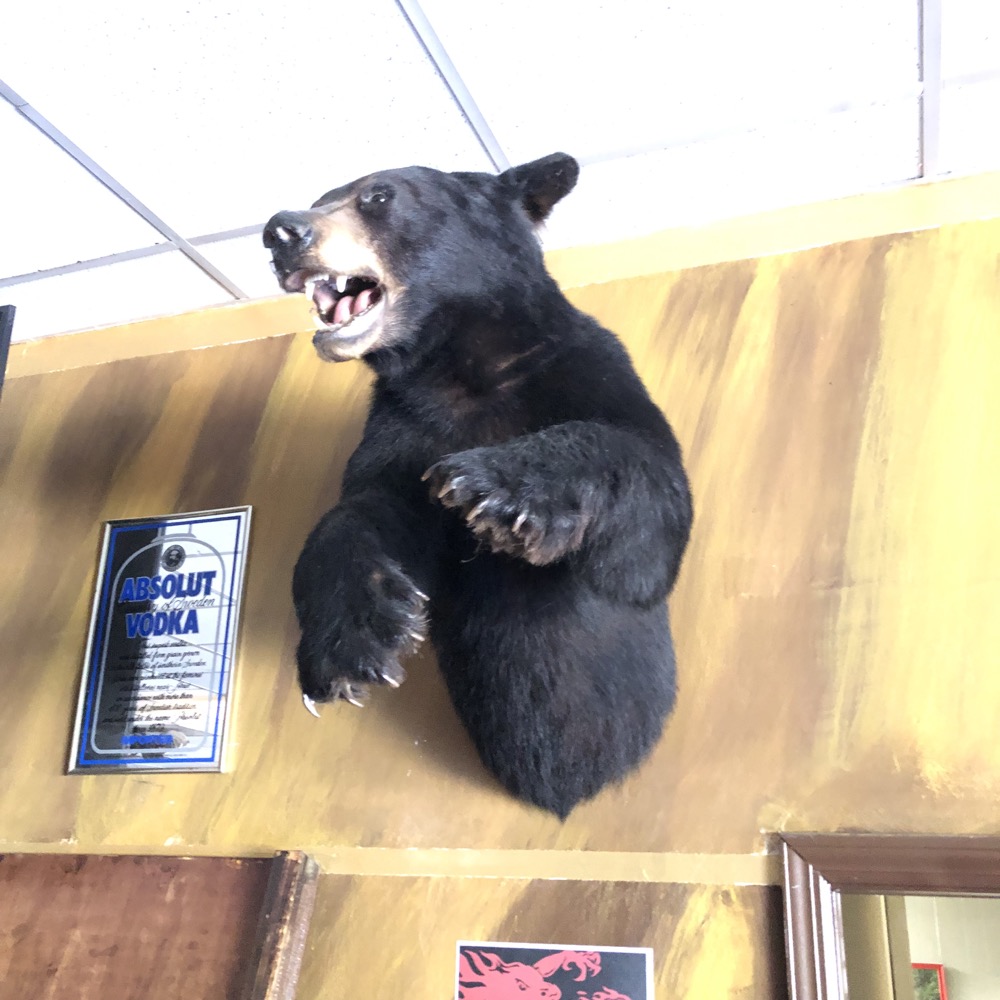 Oh deer, I can't bear this much Andover.
This place specializes in pizza and Italian food and have a pretty extensive menu. I was there in the middle of a Saturday afternoon between lunch and dinner, but there was a fairly steady stream of customers and phone orders. Good. I like this place.
My giant $14 hot grinder wound up feeding me for two days. It was very good and the key component, the bread, was fresh enough and held up to the weight and wetness of the sautéed components. I absconded to the outdoor patio overlooking the empty and vast asphalt parking lot.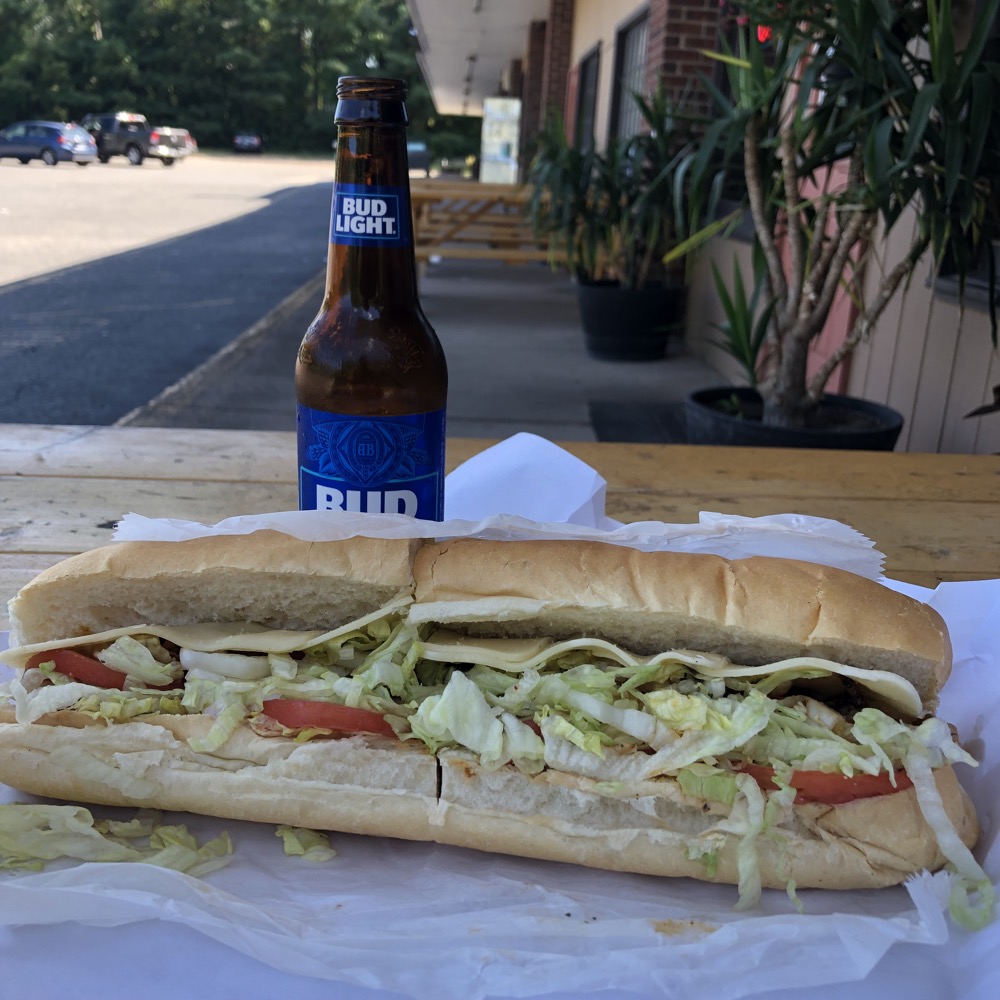 Okay, the setting isn't beautiful, but so what. Andover has acres and acres of forests and fields to enjoy when not scarfing down an Andover specialty. Eating my giant sandwich and drinking my refreshing Bud Light gave me some time to reflect on all that I did in the little Tolland County town to reach this point of celebration.
Thank you for existing, Andover Pizza & Bar. Seriously.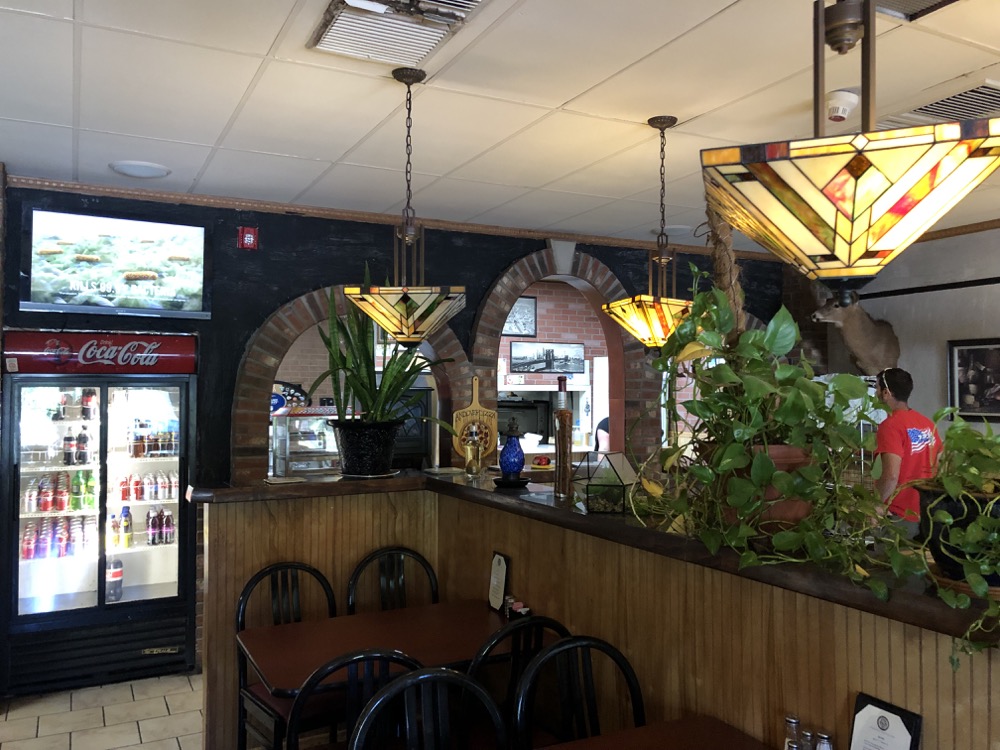 Andover Wrap-Up
Little Andover, it's number one! (alphabetically.) Little Andover, home to one of the greatest store names in the state (Over AndOver, a consignment/curio shop/upcycling shop) and our newest covered bridge, was a bit of tough nut to crack in terms of completion. Sure, Andover is small and compact and didn't really have all that much for me do, but their one little museum proved difficult to visit.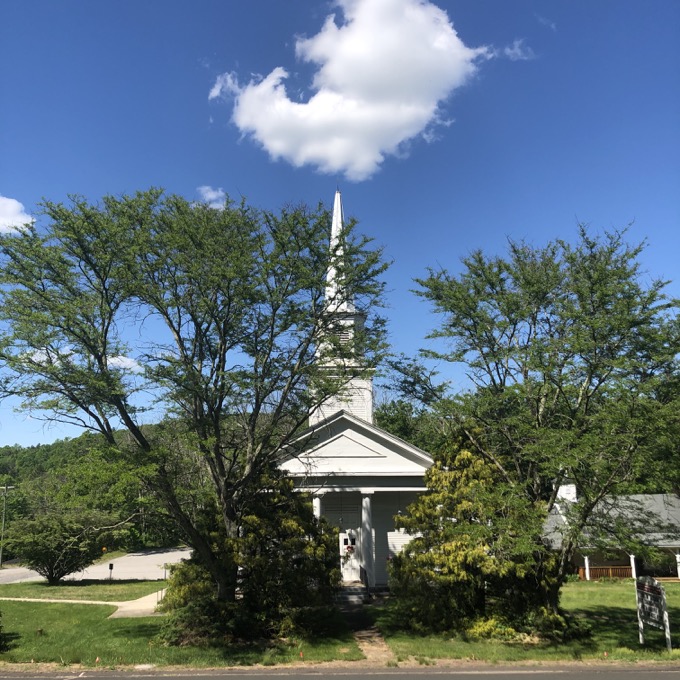 For years I'd drive past the Museum of Andover History, perched proudly on a little hill above Route 6, straining to see the Open flag flying that I knew I saw in the past. Years. My two trips there to ride the excellent Hop River State Park Linear Trail with Calvin passed the rarely-open museum. Every single drive east to further-flung towns for hikes and bikes and drinks and whatever other nonsense I do for this website, I looked longingly up the hill as I passed.
I stalked their Facebook page and once I saw that they'd be open on a late afternoon on September 2021, I pounced. Nothing would stop me from getting to the museum (and the restaurant above) that day. When I'm that close to "completing" a town, I become an animal. Singularly focused. Positively feral. Get out of my way, I was headed to Andover.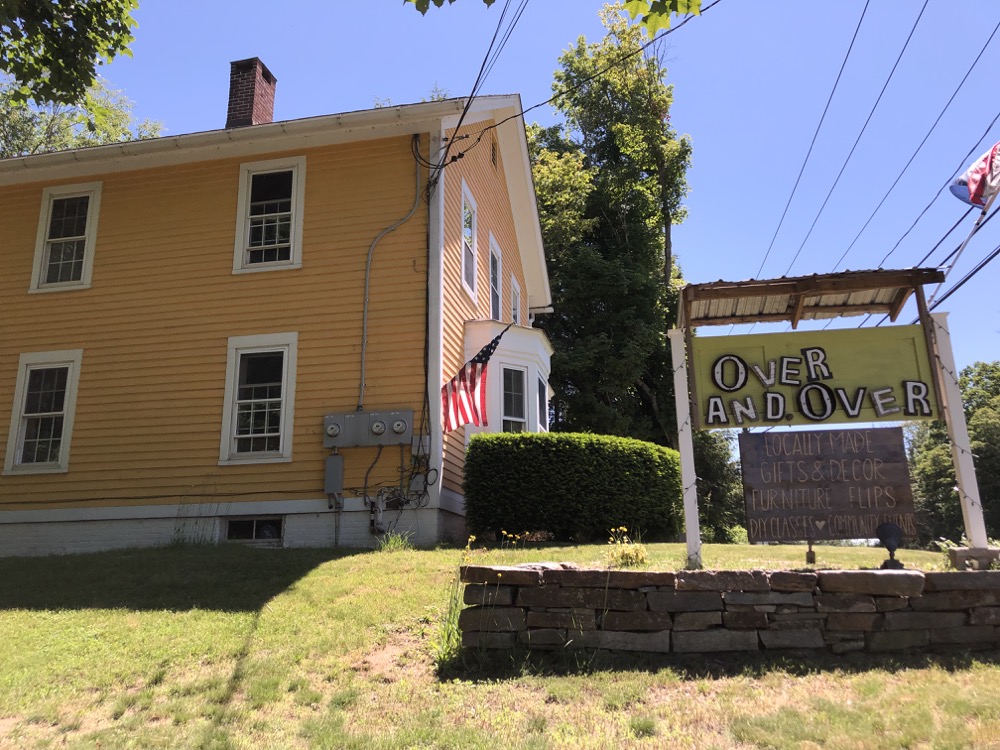 And you know what? The Museum of Andover History is pretty great, at least as far as tiny town history museums go. It was the perfect capper to the town for me. It brought everything together, from the Nathan Hale State Forest to the Hop River Trail to… the covered bridge right out the back door, to… Bishop's Swamp WMA that the town historian and I agreed was a fairly terrible property, to… hey, you leave Andover alone. Even if that's all there is there, it has its charms.
Go visit Andover. Just once though. Not Over And…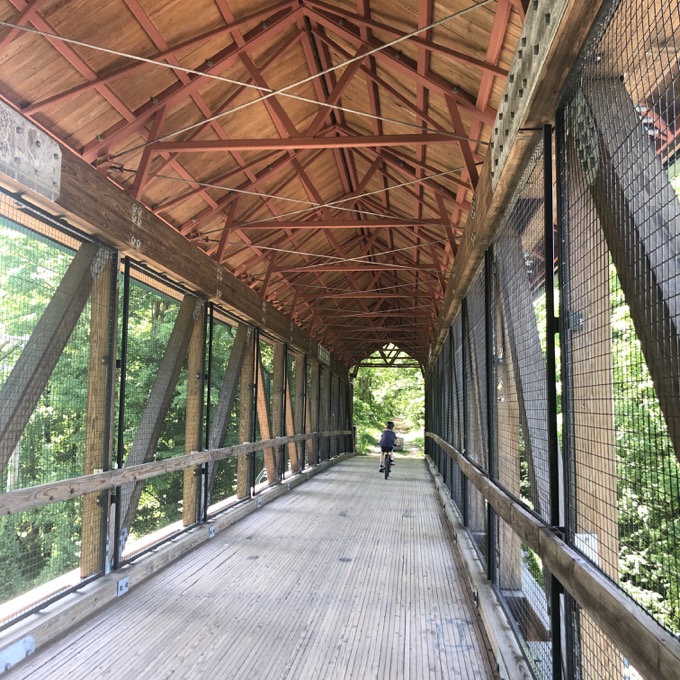 Thought exercise: If I had to send someone to Andover for a day, um, I think I've kind of outlined that already. But the answer is very simple. Ride the Hop River Trail through town and take your time across the covered bridge. In fact, ride the trail twice. Time it for when the museum is open and go check it out; the guy who put the whole thing together deserves your attention. You have time. Now get in your car and go shop at Over AndOver before enjoying one of the four Andover themed menu items at Andover Pizza & Bar. What a wonderful day.
Surprise: Just how good the Museum of Andover History truly is.
Favorite fact: That out of 169 towns, Andover is so uniform in its population (147th), size (146th), and founding (146th) rankings.
Disappointment: Now that I'm done with Andover, I don't get to use the dumb "Over AndOver" joke anymore.
Andover: Done!
Previous completed town: Canton!
Next completed town: Eastford!