Chaplin: Complete!
Hide-A-Way Steaks & Stuff and The Bach Dor Cafe
Here is the CTMQ Guide to Chaplin with my list and stories about everything I've done there!
After a decade of writing CTMQ, I decided to try to "complete" towns. In that decade of traveling and writing, I had already done a lot of stuff in many of our towns already. However, I have been continually surprised by how much more there often is to do. This page includes my "town completion celebration meal" and recap of my Chaplin experiences.
Let's get to it.

Chaplin, Windham County
Population: 2,305 (156th)
Founded: 1822 (124th)
Size: 19.43 sq. mi. (125th)
Chaplin was my: 28th town completed!
First CTMQ Visit: Natchaug Trail section, July 2017

The Celebration Meal
This was an interesting one. I started planning to wrap up Chaplin in the summer of 2021 and began looking for where I'd have my celebratory meal. There's only one short strip of commercial property along Route 6 near Windham so you'd think this would have been easy.
No. Ribbits has been closed for many years and still sits vacant: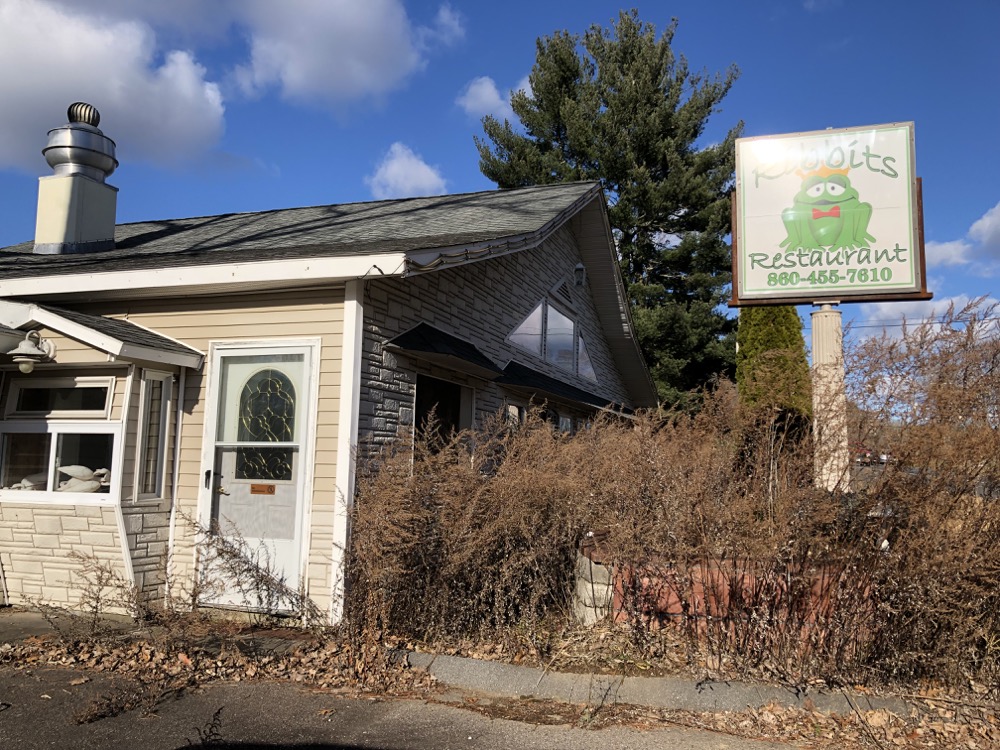 Pine Acres Restaurant seemed to be a good option but it closed at some point in 2021. The building was taken over and opened as Blondie's Country Diner though, and people seemed to really enjoy the food and service.
Well, service was the problem when I rolled up for my celebratory meal:
No Blondie's. There is a seasonal food truck here called the Big Blue Food Truck. It has a spot at the corner of Route 6 and Lynch Road, and… leaves that spot often to go to various events around eastern Connecticut. Also, it hibernates in winter. No Big Blue Food Truck for me.
I was running out of options… what about a Big Boy?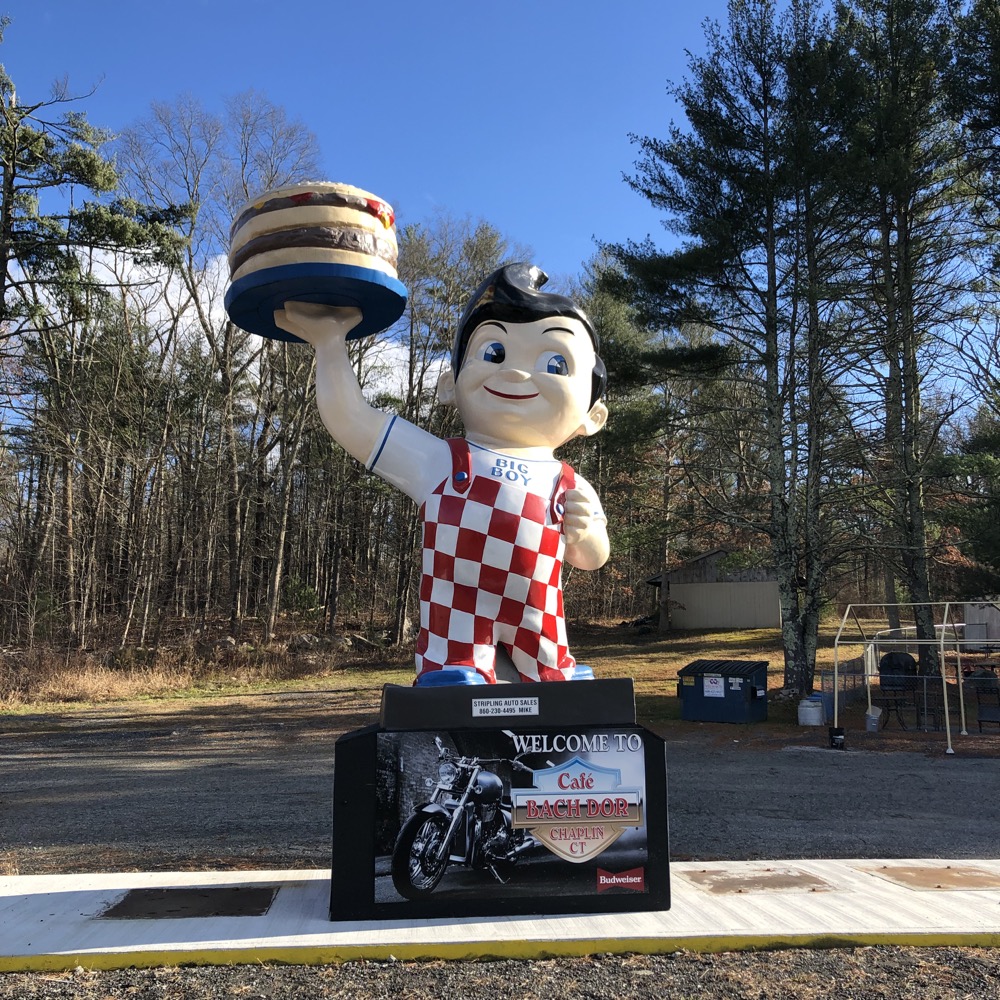 This very nicely restored Big Boy sits in the parking lot of the Bach Dor Cafe. "The Bach Dor Cafe!! Connecticut's #1 bike destination! Cold beer! Great people! Good times!" Hm. They were not yet open when I drove through the parking lot, but I was also sure there wouldn't be food for my dang celebratory meal at that early time anyway!
There was (literally) one option left. I had done everything in Chaplin, finishing up with a hike through the Goodwin and Natchaug State Forests. I was hungry. I wanted to take some time to think back on all my time in Chaplin. C'mon Hide-A-Way Steaks & Stuff, let's do this!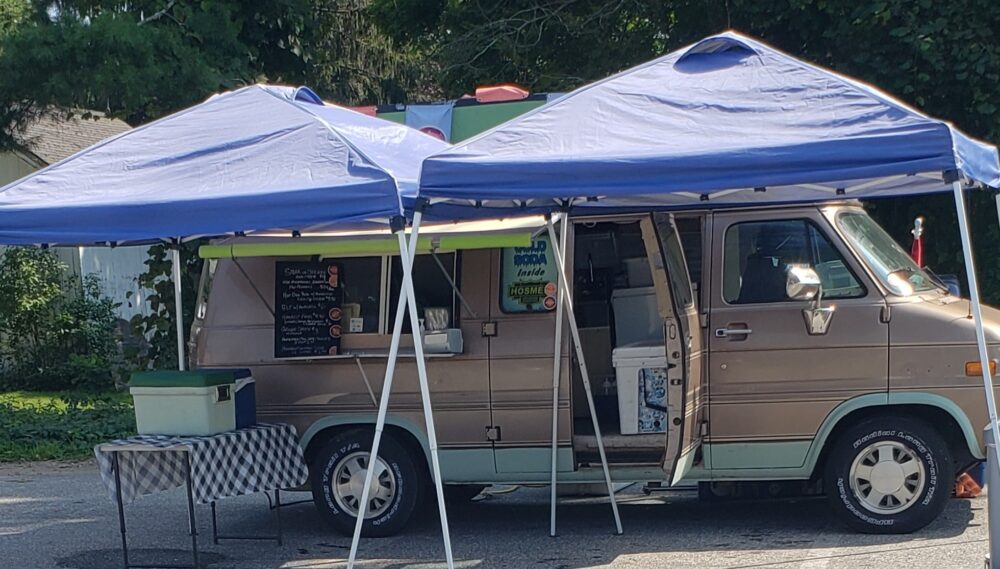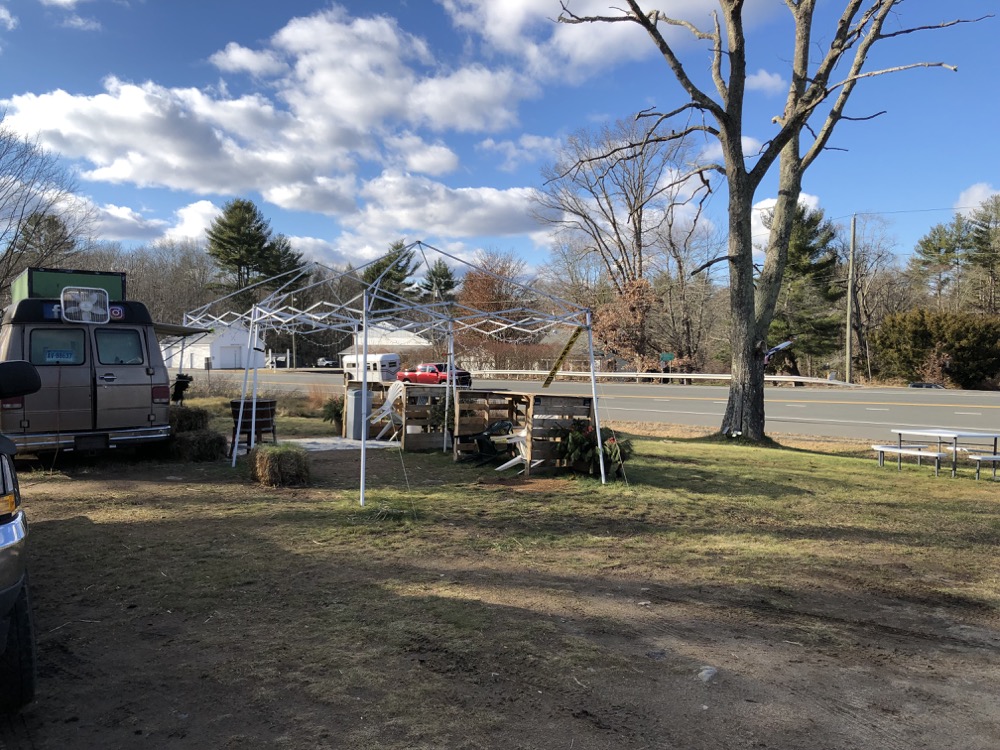 Fancy this is not. Hideaway Steaks & Stuff is a van. Literally a van, parked off of Route 6, essentially in a turnout next to someone's driveway. Oh I see some out you out there in fancy Fairfield Countyland rolling your eyes… "Of course Steve had to eat from some random van in Chaplin. It's Chaplin!" Well, yes, I did have to eat from some van in Chaplin, but this is no random van. This place has some respect on it. None other than Ruth Hartunian-Alumbaugh in her September 2021 "Ravings & Cravings" column in the Willimantic Chronicle, said, in reference to the van's cheesesteaks, "Philly has nothing on this."
I'm sorry to tell you that I did not get the Philly cheesesteak here. As a Philadelphian who grew up on proper Philly cheesesteaks, I didn't want to ding the random van chef with my snobbery. I hope you all understand. No, I went with the 1/4 pound hot dog with nothing but mustard. Realizing this was a celebratory meal, I also ordered some $5 tater tots. Plain. There was a "loaded" option, but… I'm boring.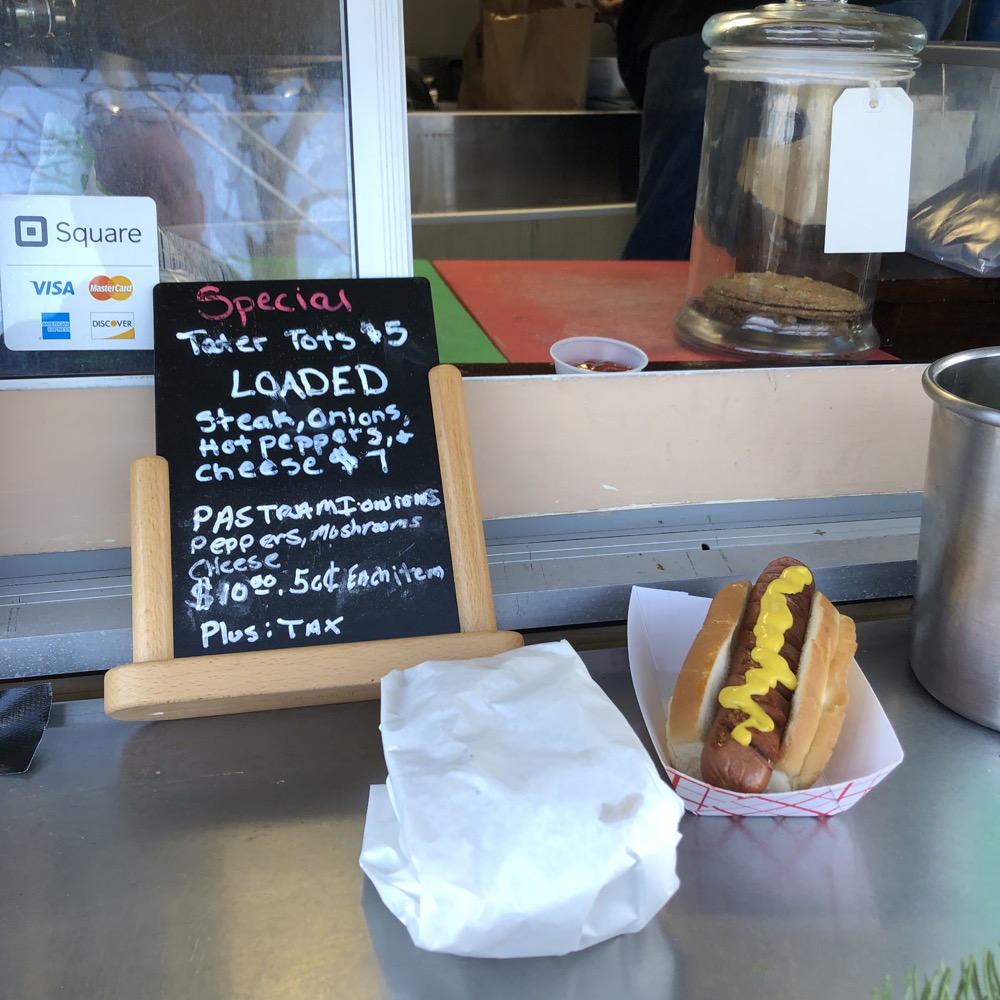 The hot dog can be had with homemade sauerkraut. "The homemade kraut on the quality quarter-pound beef/pork combo hot dog with bacon, with or without mustard, is the best ever," according to Hartunian-Alumbaugh. The best ever! Me? I hate sauerkraut and I love quality hot dogs and I love mustard. Again, boring.
The man in the van was Chef Floyd Cross. I pulled up, parked, and approached the tiny ordering window not sure what to expect. It was a cold and blustery December day, but Chef Cross was pleasant and seemed unsurprised that he had a customer. Please understand that this is a van in Chaplin I want nothing but success for Chef Floyd, but the location just isn't ideal. Or maybe it is because everything else in town is closed?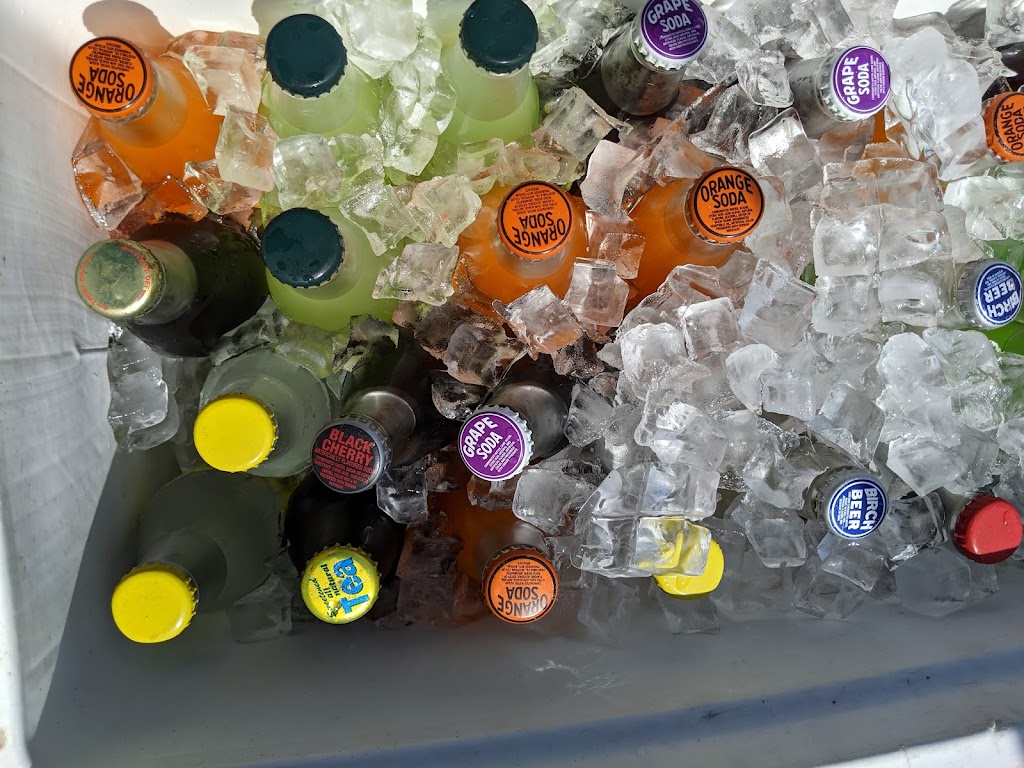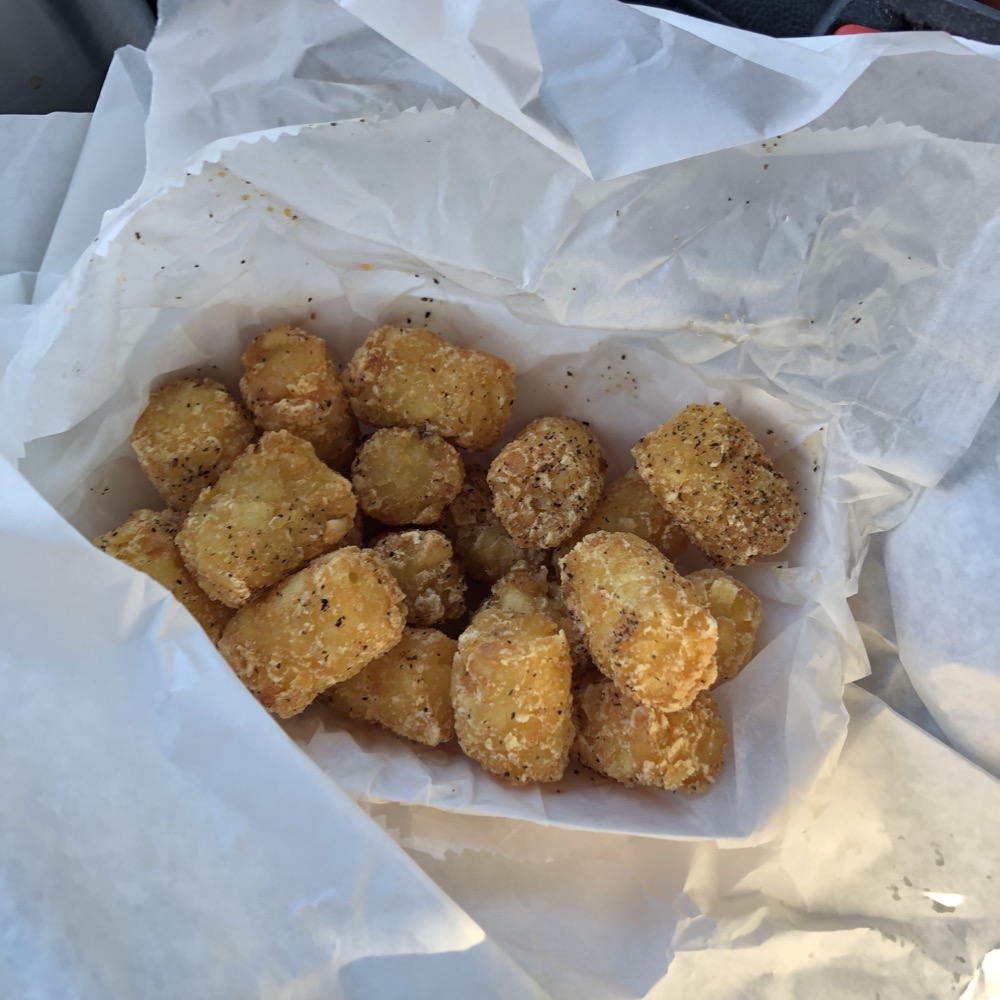 I don't know Chef Cross's story, but he was pleasant and efficient and that's all that matters. Well, except for the food of course. My grilled and slightly charred hot dog was delicious. Dare I say perfect. The tots were salted and had a heavy dose of black pepper. I happen to like black pepper, but I could see some people being turned off by the heavy hand here.
Hideaway Steaks & Stuff has a little seating area for use on warmer days. There's a little tent covering and everything. As for me, I paid and absconded to my (mini)van to devour the food. It was steaming hot and hit the spot after a hike. They sell the excellent Hosmer Mountain Soda here, but darnit, I was celebrating Chaplin. The town (and I) deserved more. (The van sells homemade chocolate chip cookies which are supposedly fantastic, but I wasn't looking for dessert, I was looking for a drink…)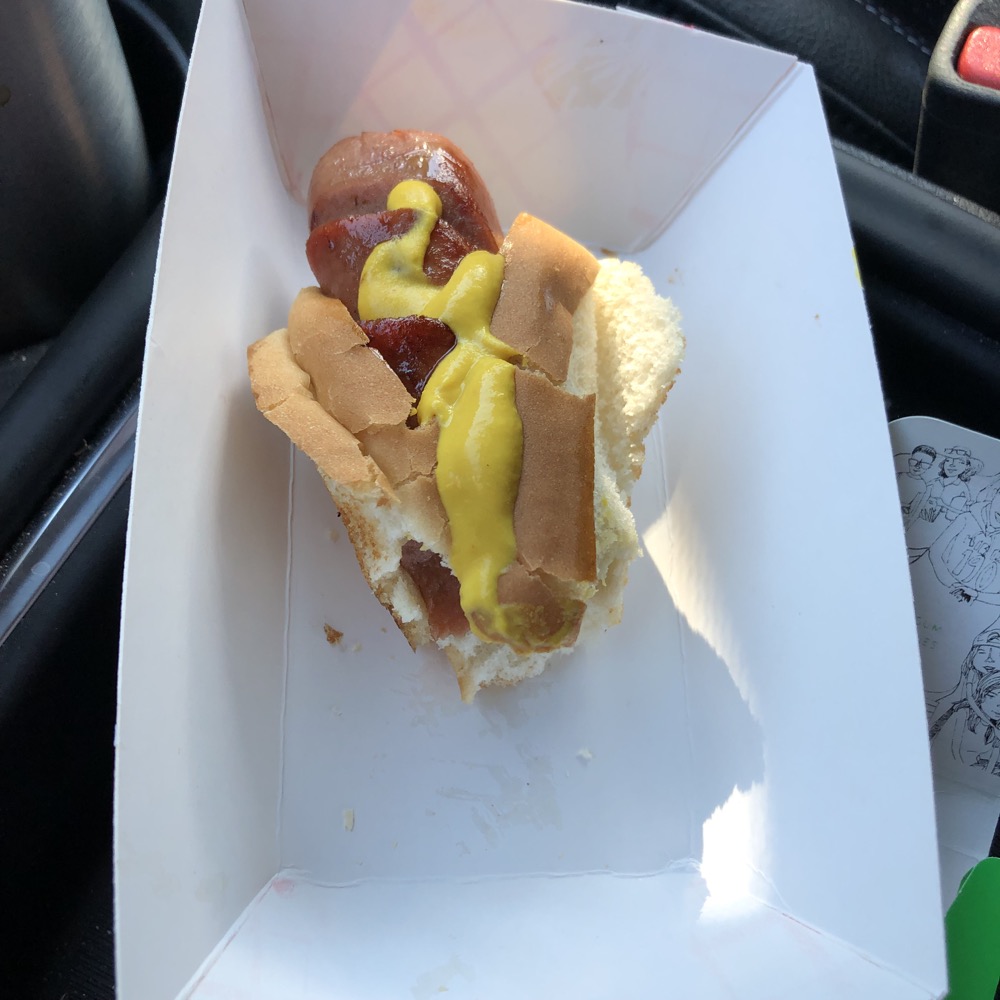 The van is pretty much right next to The Bach Dor Cafe. (I have absolutely no idea why they spell it like that.) This is a biker bar. Like, a real biker bar. On my travels east on Route 6 over the years, I've seen it packed with hundreds of motocycles. If you missed it in the last paragraph, I own a minivan.
I also don't care. The clock had ticked just past one and the neon lights were now on. Huzzah! I can toast to Chaplin properly now!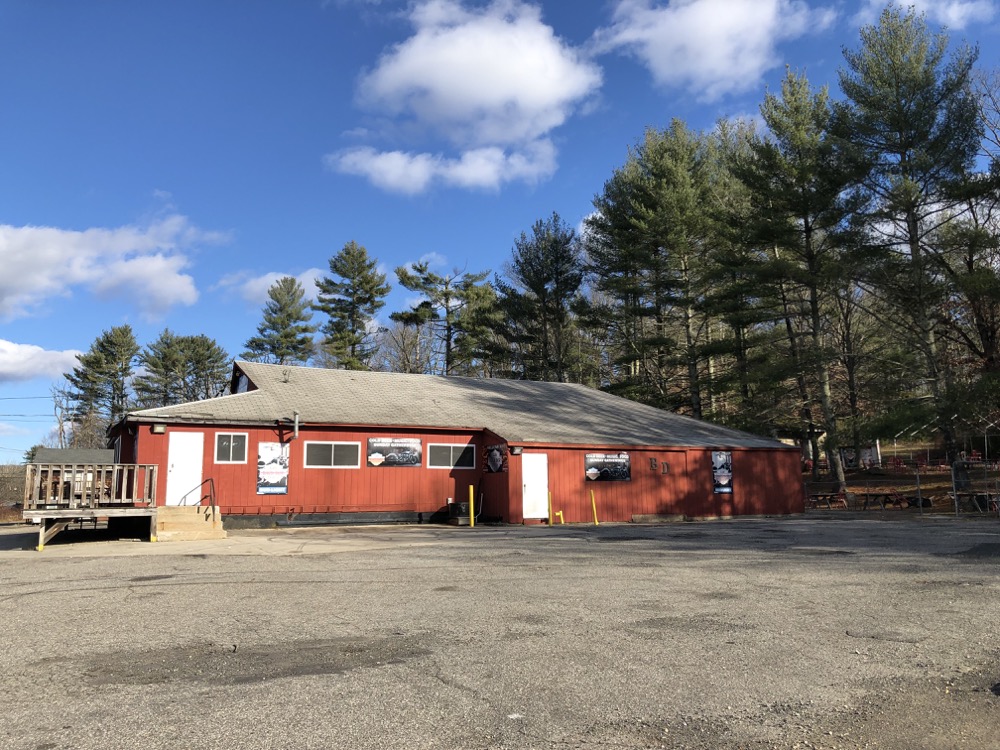 I entered as the lone employee was turning on lights and prepping the place. One other patron was sitting forlornly at the bar, staring at FOX News on the television. This was a Sunday afternoon and NFL games were starting. This place kept FOX News on. "I'll have a Miller Light please."
It came in a can. I was not offered a glass. I was fine with this situation. I scanned the bar area and noticed that there was a rack of those cheap sunglasses every goateed dude in every failed insurrection wears. Who buys sunglasses at bars? I found this to be the most interesting thing about my Back Dor Cafe experience, other than the spelling of its name.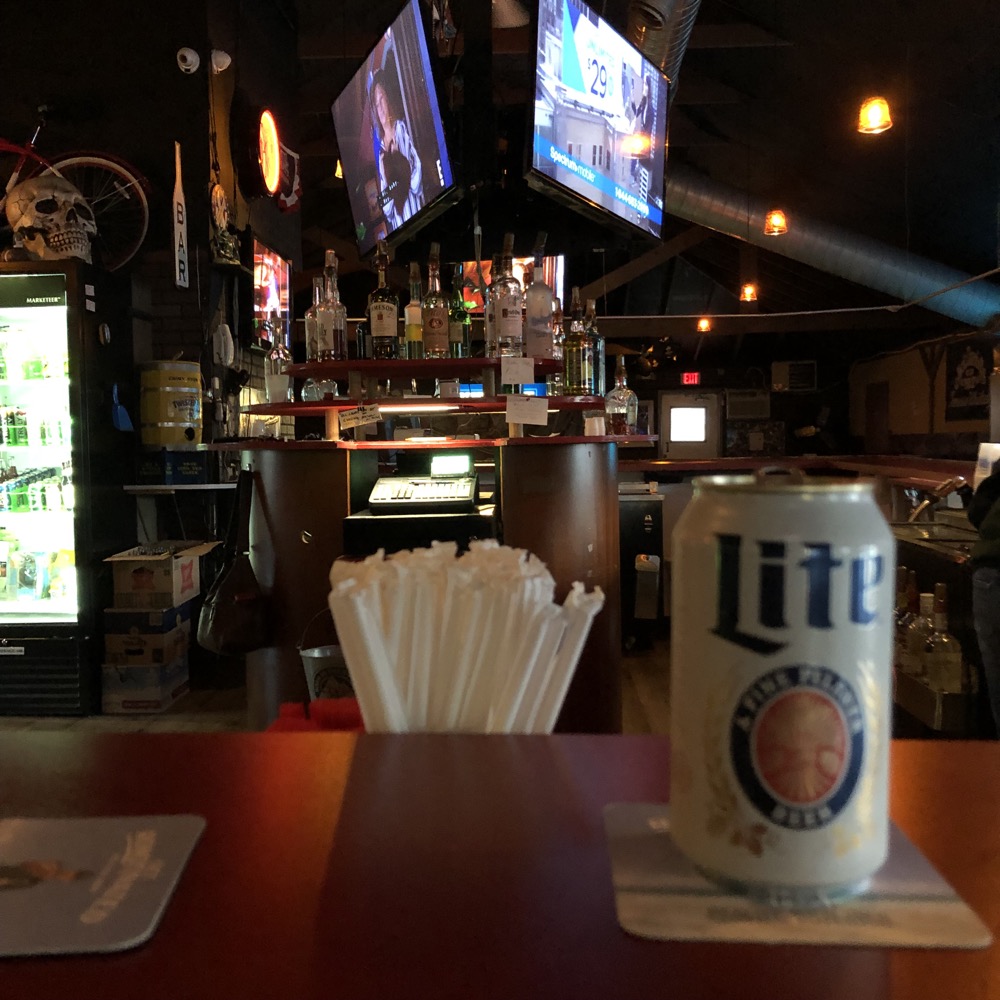 The bar has giant pig roasts and prime rib dinners and such. They are hugely popular from what I can gather and I'm sure they're a grand time for the men and women who come here regularly. Sadly, I didn't get to experience that as I downed my 12 ounces of light American lager, interrupted the bartender from her own 16-ounce Cape Codder to say thank you, and retreated out into the sunlight – just as some guy with a cowboy's gait entered smoking a cigarette.
I love bar bars. This place is certainly that and even if I don't remotely match the typical clientele (my wife would like to remind you that I am missing a front tooth), it seemed like a decent enough place.
Hideaway Steaks & Stuff (Facebook)
Bach Dor Cafe (Facebook)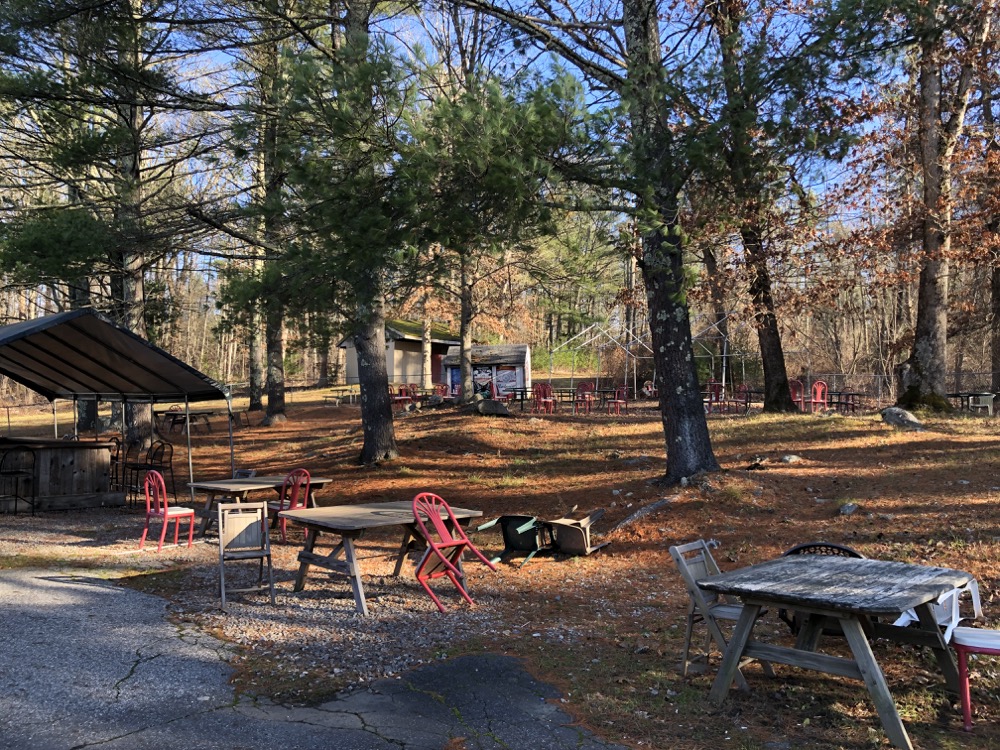 Chaplin Wrap-up
There's really not that much to Chaplin. I'm sure that doesn't come as a surprise to any of you, many of whom have probably never even heard of it. For the rest of my life I'll always remember my wife saying goodbye to my son and I one day when we were headed out for some hikes in the town, "Oh Chaplin, that's a beautiful town!"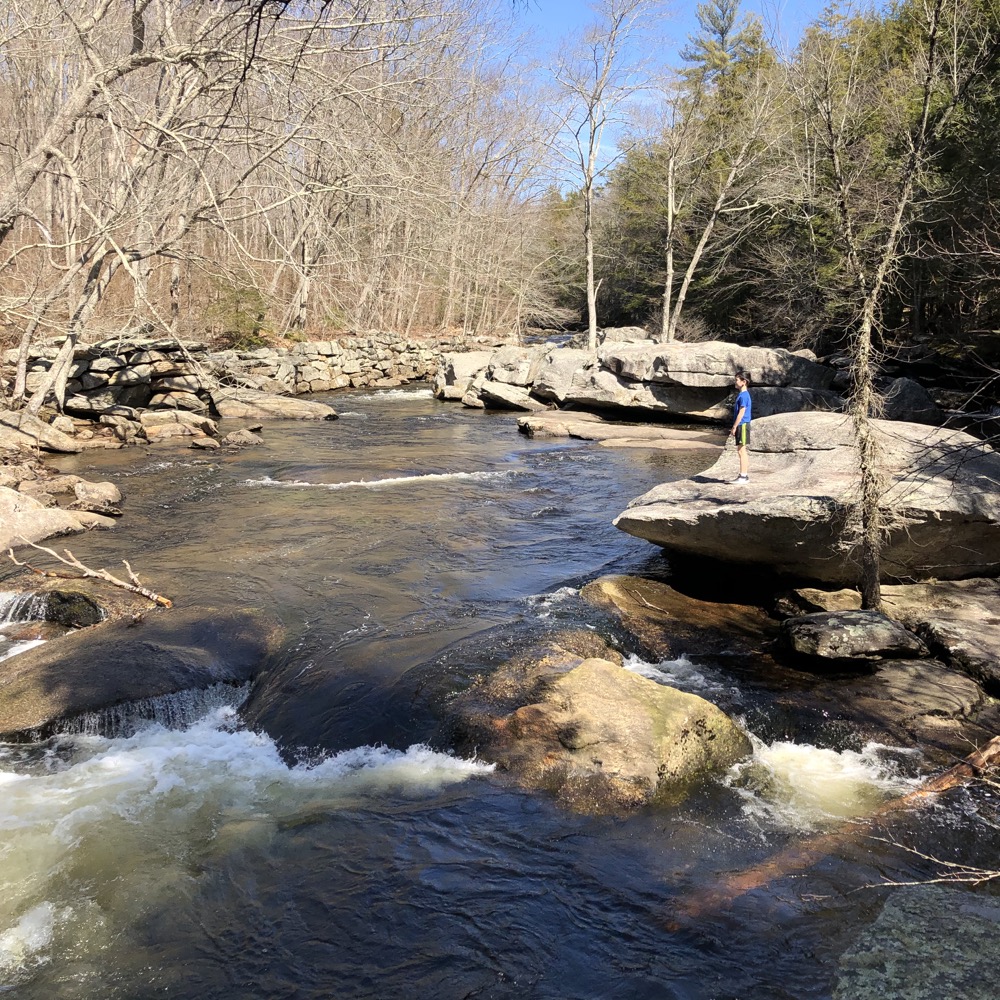 I stopped and looked at her to see that she was being serious. I asked, "really? Is it?" It was then that she admitted that she had no idea, but it sounded like it should be. I told her that I didn't think it was a particularly beautiful town, and then spent the next few hours texting her pictures of not-particularly beautiful Chaplin things.
Then Calvin and I went to Diana's Pool. Oh. Okay. "This is beautiful," I thought.
But yeah. That's about it for beauty spots. That's not to say that the town is ugly. It's not. At all. In fact, it's a lovely town; heavily forested and sparsely populated. I enjoyed almost all of my hikes here and although the one Chaplin museum closed years ago and there's no actual town center of any sort, I'd be happy enough to come back here someday.
Maybe for some of that cheesesteak goodness from the van.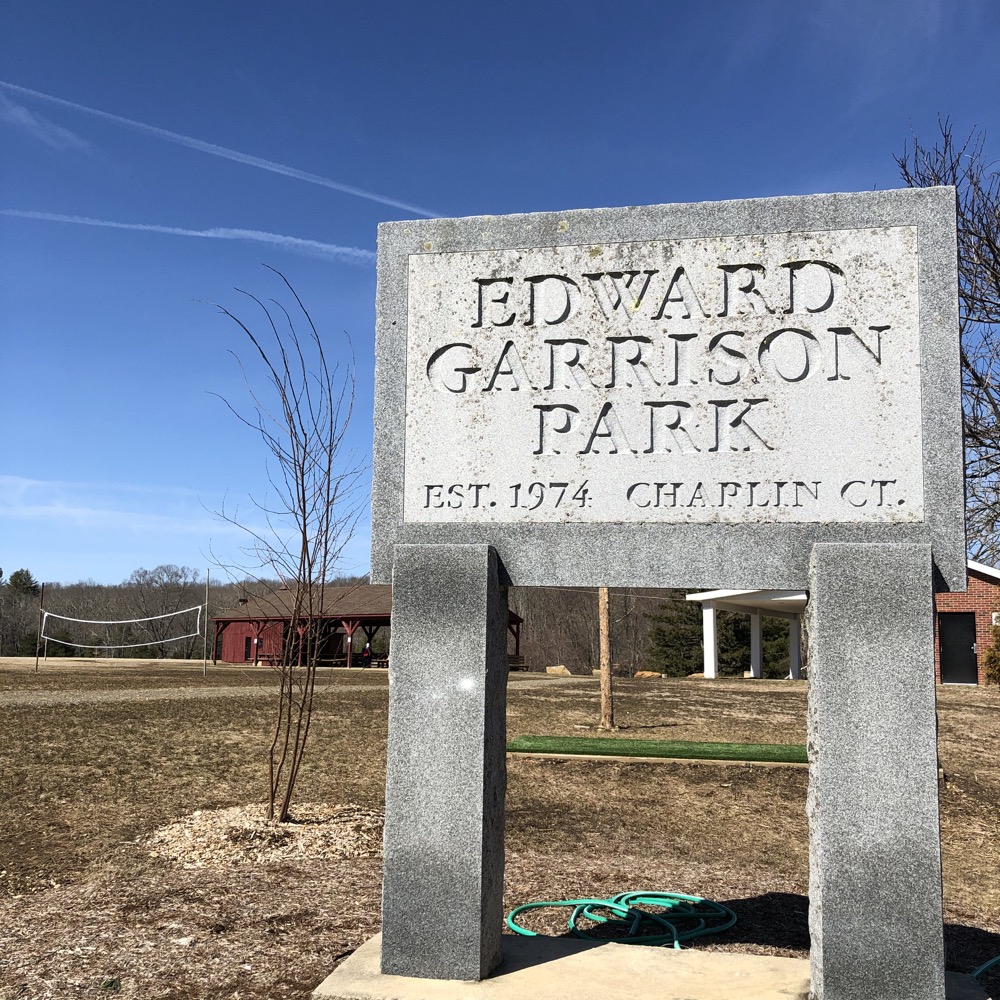 Thought exercise: If I had to send someone to Chaplin for a daytrip, I would tell to go to Hideaway Steaks & Stuff and buy a bunch of food, stick it in a picnic basket and head over to Diana's Pool. Walk along the Natchaug River and find a nice sunny flat rock in the river and enjoy a picnic lunch. Honestly, that sounds kind of perfect and would make anyone a Chaplin convert. Then go play disc golf at Garrison Park or something.
Surprise(s): Hideaway Steaks & Stuff, man. Food is legit.
Favorite fact: The town was named for Deacon Benjamin Chaplin, who was a Deacon and not a chaplain.
Disappointment: The closure of the Chaplin Museum.
Chaplin: Done!
Previous completed town: Eastford!
Next completed town: Windsor!