I Wonder if There's an Actual Hosmer Mountain Around Here?
Hosmer Mountain Soda, Manchester/Windham
My title question was answered by a Hosmer employee in the comments. Yes, there is. See below.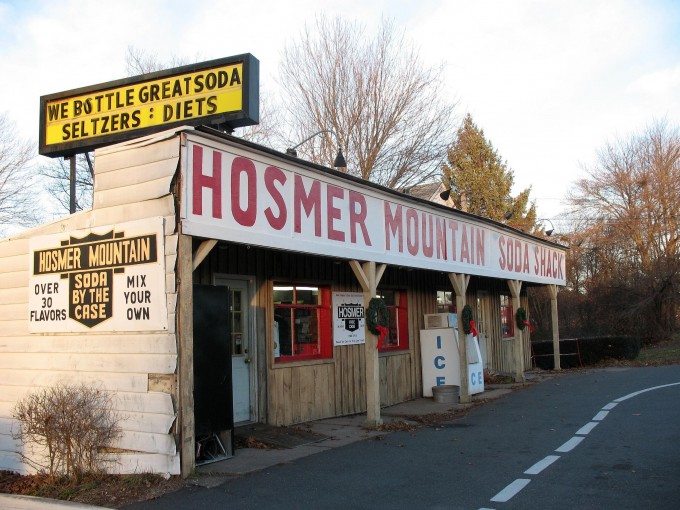 No disrespect to Manchester and Willimantic, but Hosmer Mountain Soda may be the best thing about those two towns. While both have a bunch of very good museums and some fun places to eat and drink, the fact that Hosmer Mountain is made in Willimantic and sold in outlet stores in both towns is the main reason I find myself there from time to time.
In fact, when I used to live in Manchester – I did two stints in the town after college – the only soda I ever drank was from Hosmer Mountain. Especially their orange dry flavor – perhaps my favorite soda in the world. But I'm getting ahead of myself.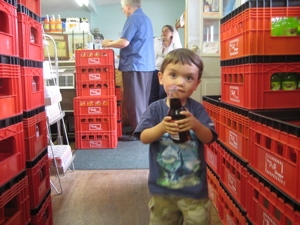 Let's get the company's history from Roadfood.com:
Since 1912, Hosmer Mountain has been bottling the finest sodas in a state that still boasts a handful of independent soda bottlers. Low carbonation and lip-smacking flavors attract fans from all over New England, but residents of Connecticut's Quiet Corner have a special advantage: home delivery. Just like milkmen of yesteryear, Hosmer route men will pick up a case of empty bottles once a month and refill it with your choice of over thirty flavors of soda, seltzer, and spring water. For those who like to marvel at the selections, Hosmer's main branch in Willimantic is a soda-only grocery store. (A second store is located at 15 Spencer Street in Manchester.) Grab a flatbed cart and an empty case, and fill it at your leisure.
The writer hits on the two key points that make Hosmer Soda great: low carbonation and not too sweet. Also, when I lived at The Mills in Manchester, we used to have them deliver the soda to us. I think we did it for the kitsch factor more than anything, as the Manchester shop was only a couple miles away, if that. Note: I've only been to the Manchester store, but they are pretty much the same. Continuing…
Hosmer's premium Antique line features cane and brown sugars and includes their award-winning root beer, clear birch beer, and a dark crimson sarsaparilla. Fabulous fruit flavors count peach, orange, pineapple, strawberry cream, raspberry, grape, and the occasional Lime Rickey among its ranks, but the clincher comes with Hosmer's taste-alikes. Cola-Blue and Cola-Red (their versions of Pepsi and Coke, respectively) are utterly phenomenal and, in our estimation, make their mega-label cousins lose their fizz. The delicious Orange Dry resembles Orangina, Lemon-Clear tastes like 7-Up, and they even carry an equivalent of Moxie, Maine's bitter cola, called Buddie.
Again, the writer nails several highlights. Though I found some of their fruit flavors a bit too fruity, the Orange Dry – I'll say it again – is ridiculously good. By the way, I just had the new Peach Fresca… Which is actually awesome too. And another thing: Moxie (and therefore, I'm sure, Buddie, is disgusting. If you've never had either, consider yourself lucky… But people in Maine love the stuff and I don't know why. It's hands down one of the worst regional favorite foods I can think of off the top of my head. Go on…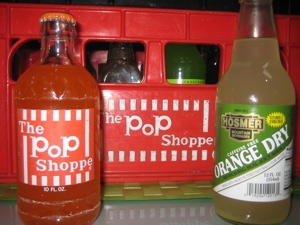 Hosmer always uses recyclable glass bottles, both in twelve- and twenty-four-ounce sizes. There is a certain gratification in purchasing locally made products, and at about thirty-five cents per bottle (per case), Hosmer makes it easy to think globally while drinking delicious soda. Hosmer sodas are also available in area restaurants and businesses.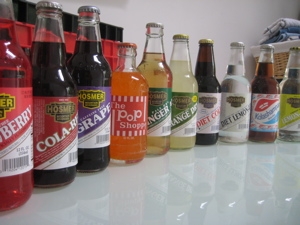 That price still stands today (in 2009). A case is $8.44 (plus a $4 deposit for the case and bottles) and you can mix-n-match to your heart's content. Although those "Antique" flavors do cost a little more.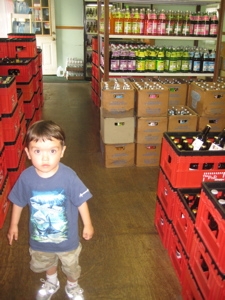 My 2009 case review:
Orange Dry (2 bottles): tart yet sweet; orangey and simply delicious.
Cream Soda: I hate cream soda, but Hoang deemed it "excellent."
Lemon-Lime: Spritey, but again, less sweet and fizzy.
Orange: Eh. Good, but gimme the "dry" version (Bonus for old school "Pop Shoppe" bottle though.)
Jamaican Ginger Beer: Labeled "Dangerous" and "HOT," it's not for me, but Hoang loves it.
Black Cherry: Their best fruit flavor
Cola Red and Blue: Their Coke/Pepsi knock-offs, just as good.
Lemon-Up: Very subtle flavoring, I liked it.
Peach: Too sweet for me
Diet Cola: Hoang drank it, and she's a Diet Coke fiend. That's a ringing endorsement.
Grape: Almost perfect amount of tart/sweet ratio.
Lemon Clear: Lemony seltzer water. My kind of soda.
Strawberry: Clearly the worst of the case. Scary bright red coloring too.
Tangerine Sparkling Water: Refreshing. Like the Stop and Shop Zazz I buy.
Pale Dry Ginger Ale: Ah, now we're talking. Perfect soda.
Grapefruit/Half&Half: I almost forgot how much I loved this one too.
Red Lightning: Hosmer's "energy Drink" Red Bull knock-off. Not my thing.
Kolashampan: Say what? I asked the lady today when I returned the case about this and she said it was their most popular flavor in 1926. Some call it "burnt cola" and a pre-cursor to cherry cola. It has a very unique flavor profile that I couldn't quite sort out, but it's pretty good.
The Antique Line
Root Beer, Sarsaparilla, Cream Soda, White Birch Beer, Ginger Beer: All excellent and natural tasting. I even drank some of the cream soda flavor and didn't hate it.
I once had their Chocolate Cream Soda which sounds horrifying – but it's not. I ended up really liking it.
If you're ever near Manchester or Willimantic, you really should stop in and pick up some locally made soda. The people that work there are always willing and eager to talk history as well, which is always a bonus.
Now seven years after originally writing this page, I'm happy to say Hosmer is still in business and I see their sodas all over the place. I was just in Mystic yesterday and saw it down there. I still love Hosmer, still stop in whenever we trek up 384, and miss the gruff old guy who doesn't seem to be around anymore.

Hosmer Mountain Soda
Olde Timey Soda Makers & Bottlers