This Place is Bananas!
Bloomfield (Closed)
May 7, 2011
Since I can only assume you've all read the hundreds of other museum visit pages that I've written, I want to let you know at the outset here that this one will be a bit different than most of the others. For one, this museum no longer exists as it did in Bloomfield in 2011, so I don't want you to get too excited about visiting it yourselves.
Because you can't. Sad face.
But aside from that, my visit to this museum was defined far more by the owner and my experience there than by the museum pieces themselves. That's not to say the bikes (etc.) on display here weren't great, for they were! – but really, Damian's behavior and the kindness shown towards him by one Mr. Jim Barnard was more memorable for me.
And when I look back at all the stuff I've done for this website, it's these types of memories that stand out far and above anything else. Being the parent of a very challenging special needs child is not easy… but every once in a while, we have these experiences that make everything worthwhile. And I apologize in advance for not being able to capture those feelings properly on this page.
I forget where I first heard about this museum you've never heard of. But I did, and then a couple months later there was at least one, maybe two, wacky local news guys' reports on the place. Haney and/or Hawkins and/or that other Jim guy on Fox went here and did a little 4-minute vignette. Even with such coverage, the New England Muscle Bicycle Museum didn't become a huge destination.
It's also true that this museum was perhaps THE museum to make me realize just how many museums there are in Connecticut. I had spent months on my massive list of Connecticut museums and did a few updates over the next few years, so I was pretty set that I had found them all.
But then to learn of one that I had been passing within a quarter mile every day driving to work, in a town that abuts my own, was the sort of comeuppance I needed. I would never again say, "my list is complete." It's a constant work in progress… albeit lovely and fun "work."
My youngest son, Calvin, was born in the spring of 2011. The months immediately preceding and following his birth involved a lot of older-brother-Damian and me time. Our visit to the New England Muscle Bicycle Museum was one of those days when my wife was exhausted from feeding Calvin. And with Calvin being less than a month old, neither I nor Damian could help out much, so we just said, "peace out, we're gonna go look at some old kids' bikes in Bloomfield."
As this is a fairly normally abnormal thing to say in the CTMQ house, my wife just blinked and said, "Okay. I'm going to take a nap."
I had contacted Jim Barnard and set up the visit. Even though this place no longer exists for anyone reading this, I still feel that Jim and his collection deserve the full CTMQ treatment.
(The website still exists as of 2020, as Jim sold it and most of the contents of his museum to some guy in Massachusetts who only displays whatever he has online these days. Or something like that… Suffice it to say, you can't go to Bloomfield, CT and see this collection anymore. Sorry.)
I really didn't know what to expect as I pulled into the row of nondescript warehouses tucked away off the beaten track in western Bloomfield, right near the Windsor town line. I found the building that is home to Northeast Lightning Protection Systems, and knew I'd found it. You see, Jim is an owner of this business and I came to learn that it's a fairly good business to own. Apparently installing lightning rods is pretty niche and if the fact that Jim was building a house somewhere in Madison or Clinton or something like that, it appears to be a money-maker. (Pure assumption on my part. I am not familiar with the vagaries of the lightning rod business.)
At the least, a few extra bucks were needed for Jim to amass this massive collection of what he calls "muscle bicycles." I was wholly unprepared for what greeted me as Jim lifted the garage door – holy cow. There was an enormous number of bicycles from my 1970's youth and thereabouts.
But before we got to the bikes, Damian was more interested in the car that was hidden underneath a giant cloth. It turns out that Jim is as much of a collector and restorer of cars and motorcycles as he is of bicycles.
Jim nonchalantly removed the car cover to reveal an old(ish) Rolls Royce. Wow. Okay. I can't say I've ever sat in a Rolls before, and I wasn't sure he wanted Damian eating a banana inside it, but that's just what happened. Like I said, Jim is a really, really cool guy.
There were all sorts of vehicles under wraps – mostly motorcycles – and really, that's all Damian wanted to do – remove the covers from them to see what was doing. But I sort of made that the carrot on the end of the stick and instead guided him into the back room with all the bicycles.
Lots and lots and lots of bicycles; bicycles on the ground, bicycles on the walls, bicycles hanging from the ceiling… And most were in near-pristine condition too.
I don't know what sets a man on a path to collect (mostly) kids' bikes from the (mostly) 1960's and 70's, but Jim Barnard is such a man. And really, there are probably 100 museums in Connecticut that are nothing more than one person's obsession with one particular thing. Be they kerosene lamps, magic tricks, nuts… or kids' bikes from a few decades ago.
We looked at the bikes. Unfortunately, Damian couldn't actually ride a bike and really had no interest in them. (In fact, Damian was still non-verbal at this point, a few months past his fifth birthday. You'll see him signing in a few of the pictures on this page. Wish I remembered what they meant.)
Let's check out some more of the bikes: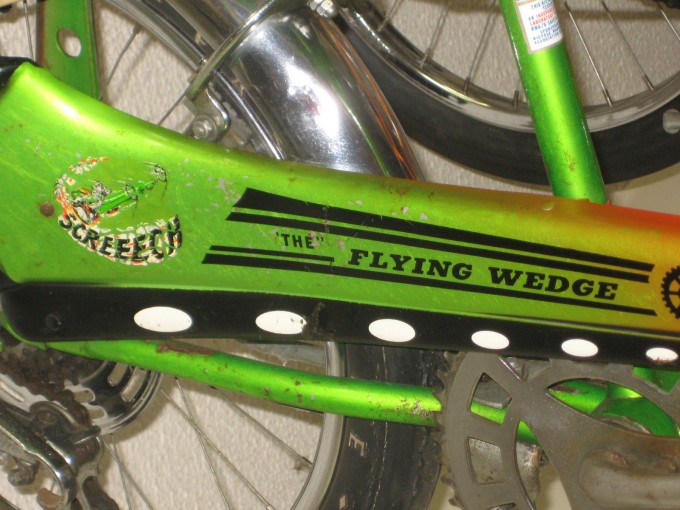 Who is George Barris? Sigh… George Barris was an American designer and builder of many famous Hollywood custom cars, most notably the Munster Koach and 1966 Batmobile. C'mon.
He did all sorts of cool Hollywood stuff beyond that, like K.I.T.T. for Knight Rider for example. But for me, this fact might be the coolest: Barris is the subject of the title story in writer Tom Wolfe's first collection of essays The Kandy-Kolored Tangerine-Flake Streamline Baby.
Oh, and he apparently designed some trippy bicycles back in the day as well.
Cool, right? I've only captured a small percentage of them all. Jim used to lend them out for local parades all the time. So if you ever went to some little parade in Simsbury or West Hartford or whatever, and saw a bunch of people riding bikes you remember from your youth, they were from Jim's collection.
Damian being Damian, he decided to wonder the offices of the facility. Jim is a man of many talents – lightning rod installation, bike collecting, and… he plays in a band. Damian found the practice room and played around with stuff for a while, allowing me and Jim to chat a bit.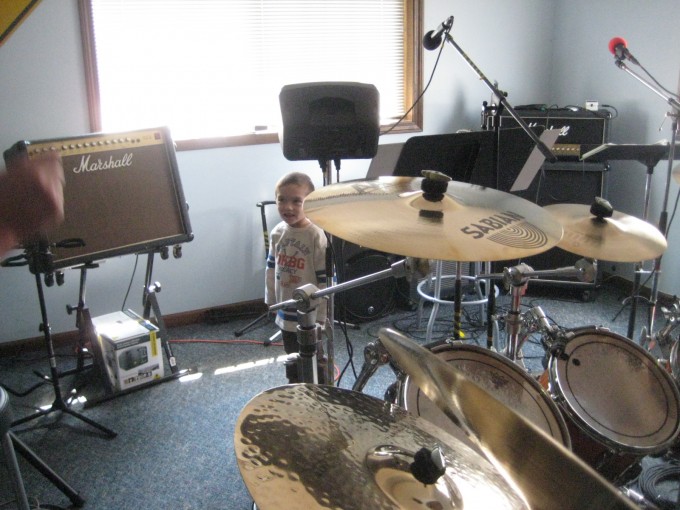 Jim was interested in what I do with CTMQ, sure, but he was genuinely interested in Damian. He could tell that he was a bit unique. And by that I mean, that Damian was unique in the special needs world. Damian's Smith-Magenis Syndrome is incredibly rare and can be very confusing to anyone who is unfamiliar with it (read: everyone).
So we chilled for a while and talked. About Damian, about parenting (he's a dad), and about what it is I do with Damian to try to keep us all above water. Y'know, stuff like taking him to little muscle bicycle museums in garages, having absolutely no idea what to expect once we got there.
Jim definitely "got it." My whole ethos about raising Damian. How I still take him out all the time, violent behaviors be damned.
Jim connected with Damian. Being non-verbal at the time, this was quite a feat. The two of them hit it off, as Jim instinctively knew which things would interest Damian after a very short while. He knew when to look to me for assistance in understanding. It was a rather beautiful afternoon.
I love meeting people who "get it." Who try their very best to understand some of what we go through as Damian's parents – and more importantly, try to understand Damian. That is much more rare than you think, trust me.
Now, finally, Damian got to remove the covers off the motorcycles back in the garage. There were some real beauts here, including this one, a 1975 Rupp Centaur. This thing was probably my favorite find of the day.
It's so absurd, yet so sublime. I'd feel like the coolest idiot on the road in the Centaur.
Of course I'd never heard of this vehicle before either. Then again, I don't really know anything about motorcycles. Which is a shame, because there were a ton of them here. One by one, Damian removed the sheets, revealing all sorts of motorcycles (Jim's prize possession was a 1971 Harley Davidson), scooters, mopeds… and awkward looking hybrids of them all:
There were a bunch more motorcycles. But we've seen enough and – what's that? You want to see some more?*
*You probably don't, really, but let me tell a bit more about Jim and Damian: Best Buddies. As I mentioned, Damian loved "helping" to remove the sheets/tarps off the vehicles. There were probably at least 30 in the large garage. There was no reason in the world to remove them all, other than to satisfy my son.
What a pain in the butt this would be to put the covers back onto everything, one by one by one by one… But Jim never flinched. Never showed any sign of frustration with my son's obsessive one-track mind.
This was the sort of stuff that I appreciate. But man, did I feel bad about the cleanup we'd have no part of…
Sigh. I did try to put a bunch back on when Damian wasn't looking. But it wasn't worth it – when he saw what I was up to, he would flip out on me and scream and "engage in behaviors."
That's the way some of Damian's caregivers reference "punching himself in the head and face." It does sound almost pleasant though, doesn't it? As in, "Pardon me, Smithson, I shall go about my way to engage in behaviors with alacrity!"
I don't usually talk about the specifics of Damian's SMS, but I'm making a point on this page. Take, for instance, Damian in the totally awesome Centaur.
Oh, Damian. Jim just acted like this was a normal part of his day. It didn't phase him. I could see in his eyes a sort of caring for Damian as well as some sympathy for me. I really like this Jim Barnard.
Anyway, Jim had an idea! Check out this old car! An even BIGGER cover to unfurl! (and put back on. Poor guy.)
Oh the treasures of that garage in Booomfield.
The amazing part of all of Jim's collection is that, to my knowledge, every bike, ever motorcycle, ever car, ever everything – still worked and ran. And unlike many museum pieces, The New England Muscle Bicycle Museum actually took their display pieces out and about around town. In fact, that Rolls Royce was going to Jim's (at the time) teenaged daughter to tool around in.
I sure hope she appreciated that… I got my grandmother's 1977 Chevy Malibu which was basically the opposite of a Rolls Royce.
Anyway, somehow Jim knew what would occupy and delight Damian: A gas tank. I have no idea how he figured this, but holy cow did Damian love it. On this beast of a car, it's located in the rear grill and operated by a button. No more self-injury, no more caterwauling… Just a boy and his gas tank button.
Over and over and over again.
My son's obsession with the gas cap afforded some more time for me to chat with the proprietor. At that time, he was thinking of selling off the collection/museum as it was just something he didn't really have time for anymore. As such, the "museum" would cease to be a museum.
Granted, this place was never really a typical museum, but the fact that it was ending its run made me sad. I had only just learned of its existence a few months prior! Such is the life of your intrepid Connecticut museum observer I guess.
Jim gave Damian a laminated picture of the Fleetwood to take him. He loved it. We put it on our fridge and for several weeks, Damian would point to the gas cap's odd location and open and close his clasped hands with glee.
Jim is still around, still in the ligtning rod business, still being a good dude. I reached out to him in 2015 as I began to think about writing a book. Spoiler alert: I was mulling the idea of starting it off with my experience at this museum. It sort of had everything: Unknown but really cool, a passionate curator, Smith-Magenis Syndrome behaviors, compassion, humor, ridiculousness.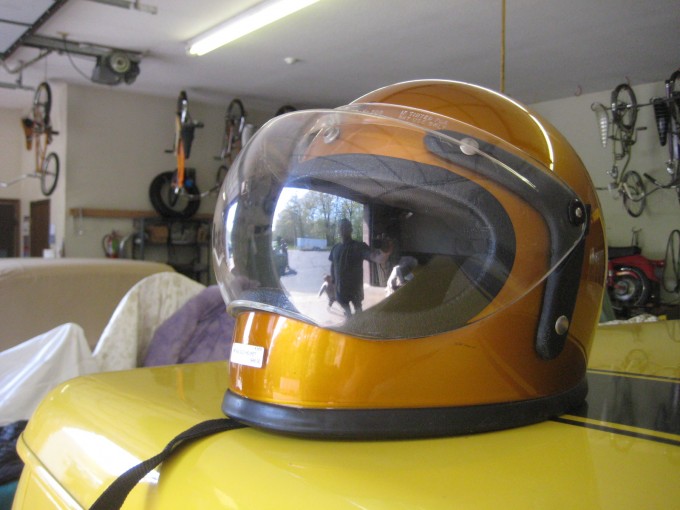 So I asked Jim if we could meet up and chat to get some details I'm missing. He remembered me and he remembered Damian. He would certainly be willing to help.
I have not yet met up with him again, nor have I made any inroads on a book. But the kernel of the idea has been germinating for a while now… And now you know how this hypothetical book may very well begin.
Though with more panache, of course. I'm just writing a doofy blog here, y'know.