An Auer of Chaos
Auer Farm, Bloomfield
December 2020
All Things Auer Farm, which is also called Auerfarm.
This page is a bit silly. Not that Auer Farm is silly – it's not. The page is silly because I have too many separate pages on Auer Farm. And now two separate pages on the trails at the property. (The southern part of the farm is the state's Auerfarm State Park Scenic Reserve, which, if I'm being honest, is more or less the same place.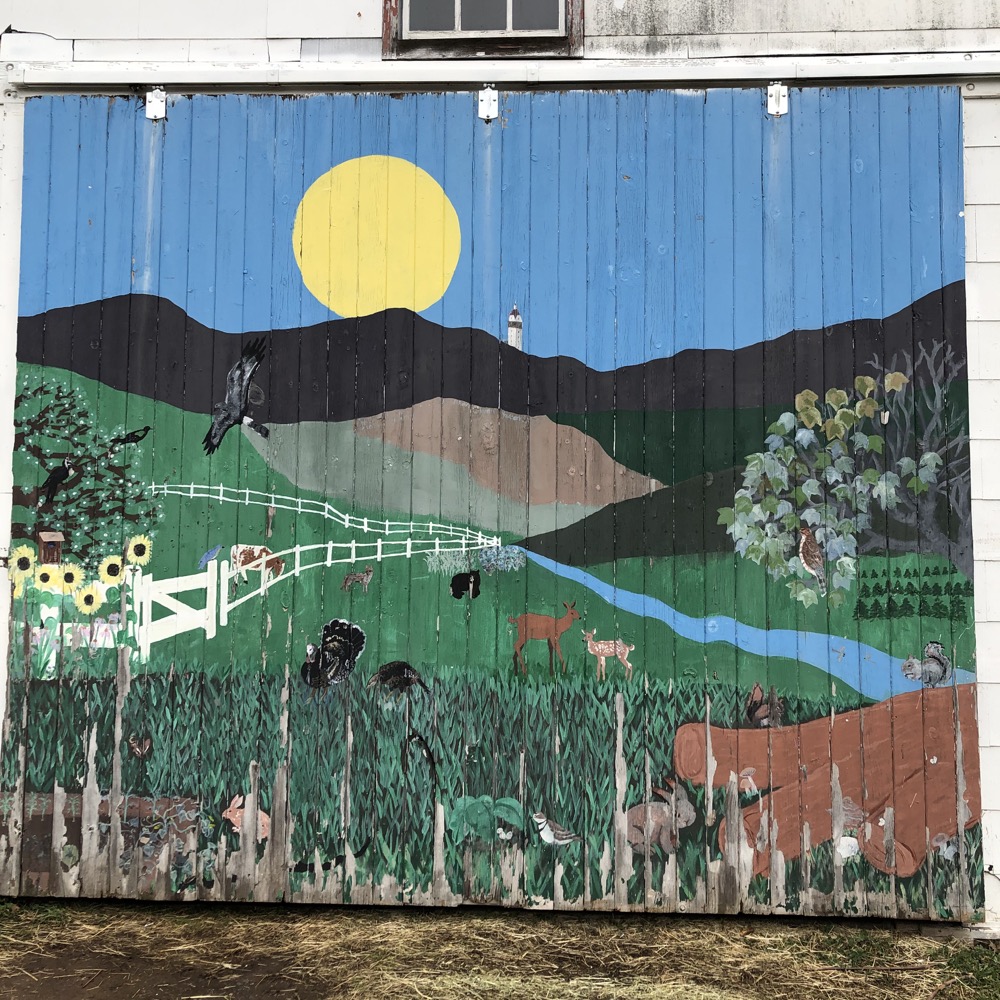 Except it's not.
Because that's a state park scenic reserve and everything on this page is not. This page is about the trails at the privately owned Auer Farm. You see. Never mind they abut each other on the same sweeping hillside in Bloomfield. (And yes, if you plan to go hiking here, you can do both properties in an hour.)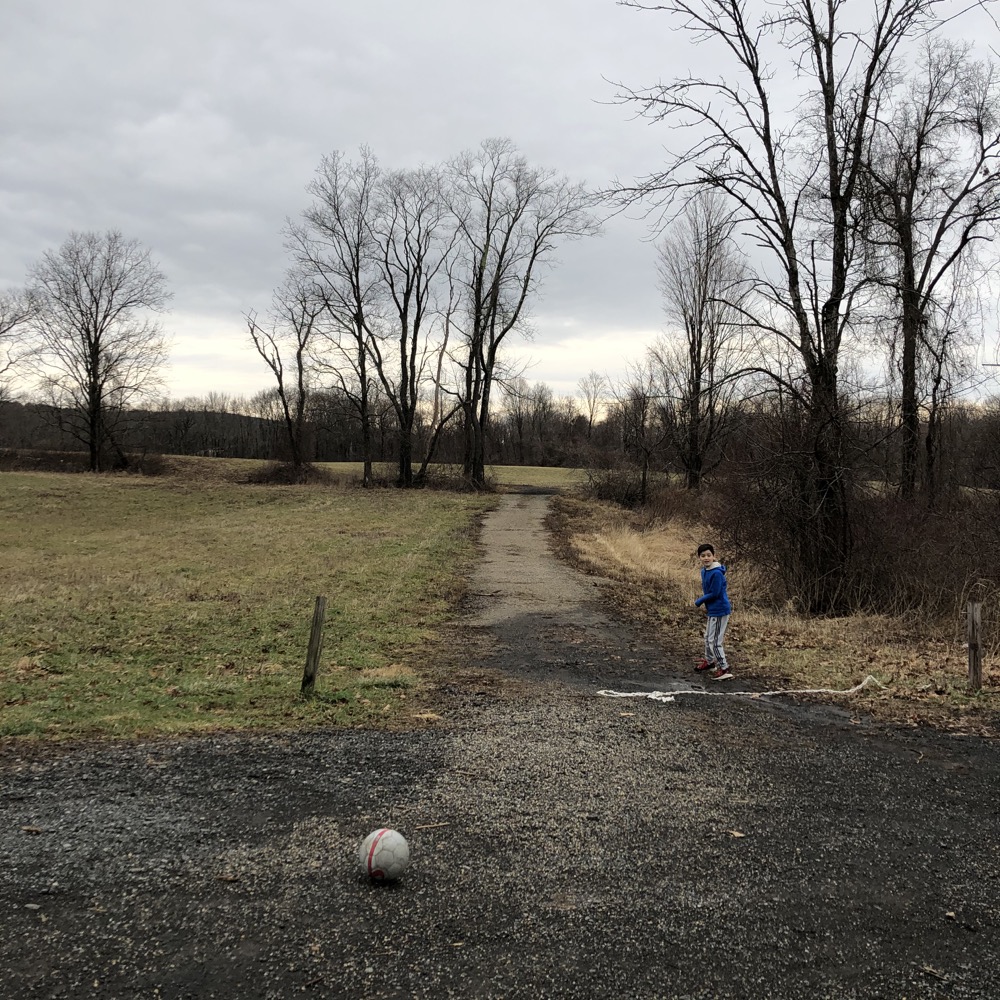 But when I did the state park part, the farm trails didn't really exist in the way they do now, several years later. And since Auer Farm is less than ten minutes from my house, here I am again, trudging along farm trails on a non-descript gray December day with my son.
My son who was driving us batty at home during pandemic winter vacation when we should have been at my parents house celebrating the holidays. Stupid pandemic.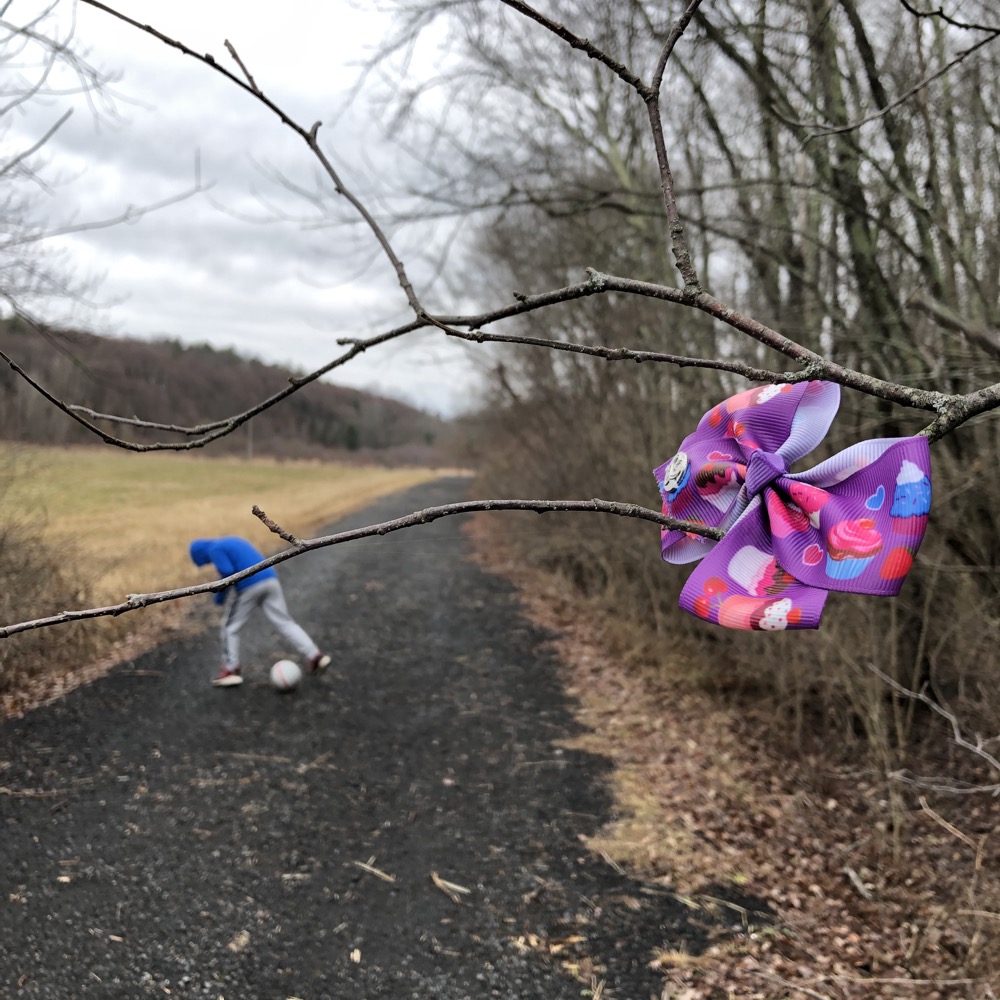 As mentioned, there are several CTMQ-worthy things here at Auer Farm. The property is historic and the farm was famously run by Beatrice Fox Auerbach from the G. Fox family. Today it's a 4-H educational farm…
The 4-H Education Center at Auer Farm is a private, non-profit education center located just minutes from Hartford, off Route 185 in Bloomfield. A partner with the University of Connecticut, College of Agriculture, the 4-H Education Center programs are based on current scientific research. This 120-acre farm provides valuable hands-on experiences to more than 18,000 children throughout the year. Seasonal programs are offered to school classes, community groups, and the public in the Center's animal barn, gardens, farmland and orchards.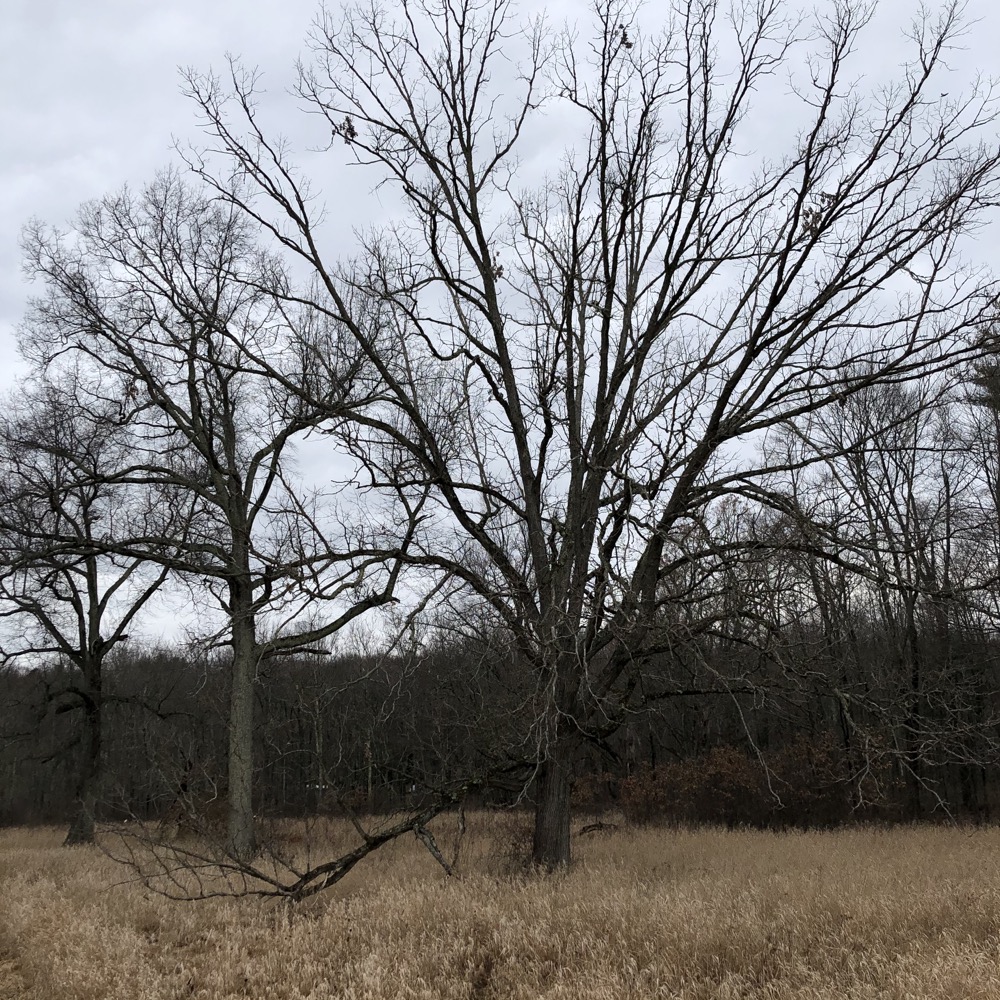 In this setting, students see cows, chickens, pigs and goats. They plant seeds, harvest apples, pick pumpkins, observe milking and make ice cream. Through interaction with educational staff, students learn how agricultural science affects everyday life. Lessons on biology, biotechnology, horticulture and math address content standards and expected performances in science. These are based on the Connecticut State Department of Education Core Science Curriculum Framework for students pre-K through high school. Programs encourage critical thinking and curiosity, while providing all the concrete hands-on discovery experiences essential to motivate and inspire scientific literacy.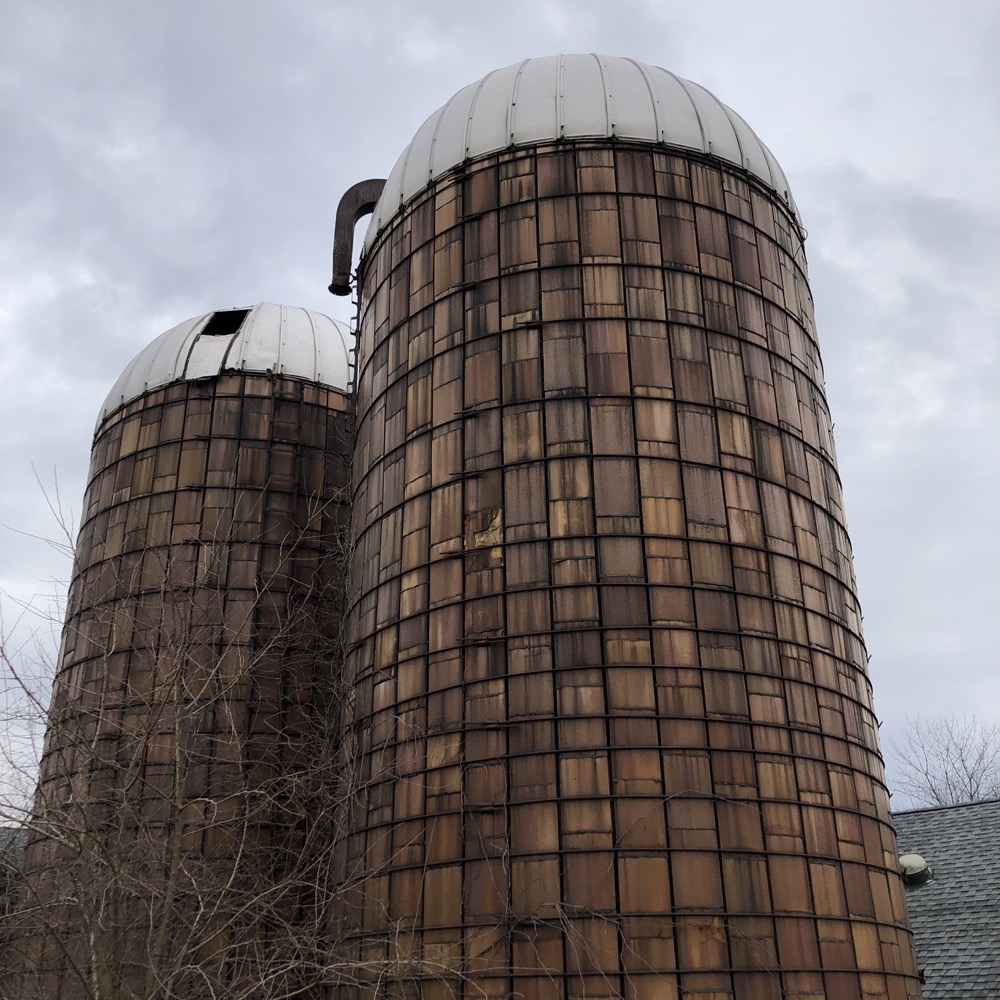 The same son who appears in the pictures here, Calvin, used to go to Auer Farm every month in pre-school and did all of the above. His memories of the place are scant, but as we walked the trails they came trickling back into his brain.
This led to a conversation about memory and why he knows that just a few years ago he would have been able to tell me many more stories about four-year-old Calvin's exploits on his many trips here. He grew frustrated about his advanced age (nine) and failing capacity to remember things.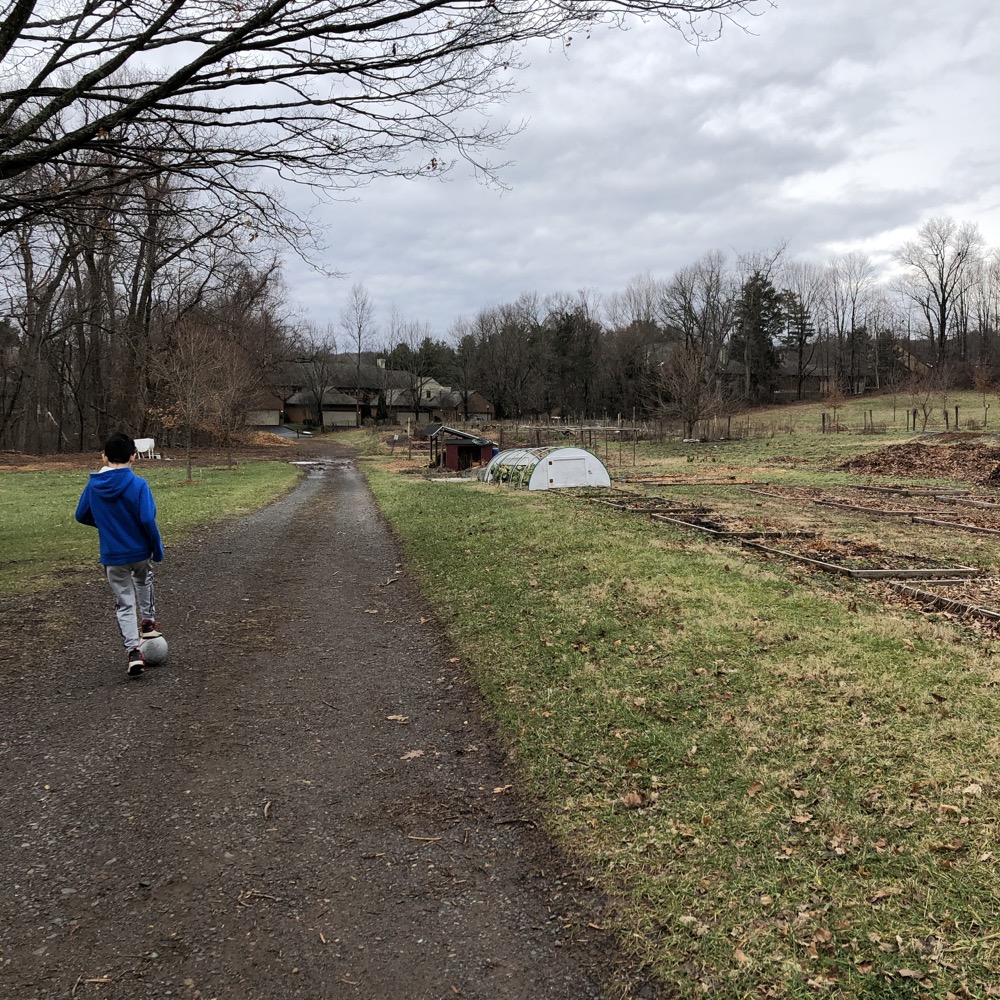 There are few trail here; mostly farm roads and mowed field paths. One lower trail heads to the historic mushroom barn and others course through the many buildings and animal pens.
It was all stuff we'd both seen before, but I wanted to make it "official" and hike everything we could. Calvin kicked his soccer ball along and we enjoyed the time out of the house. The trail map is a bit deceiving, as some of the mapped paths either don't really exist as paths, or are hemmed in by barbed wire.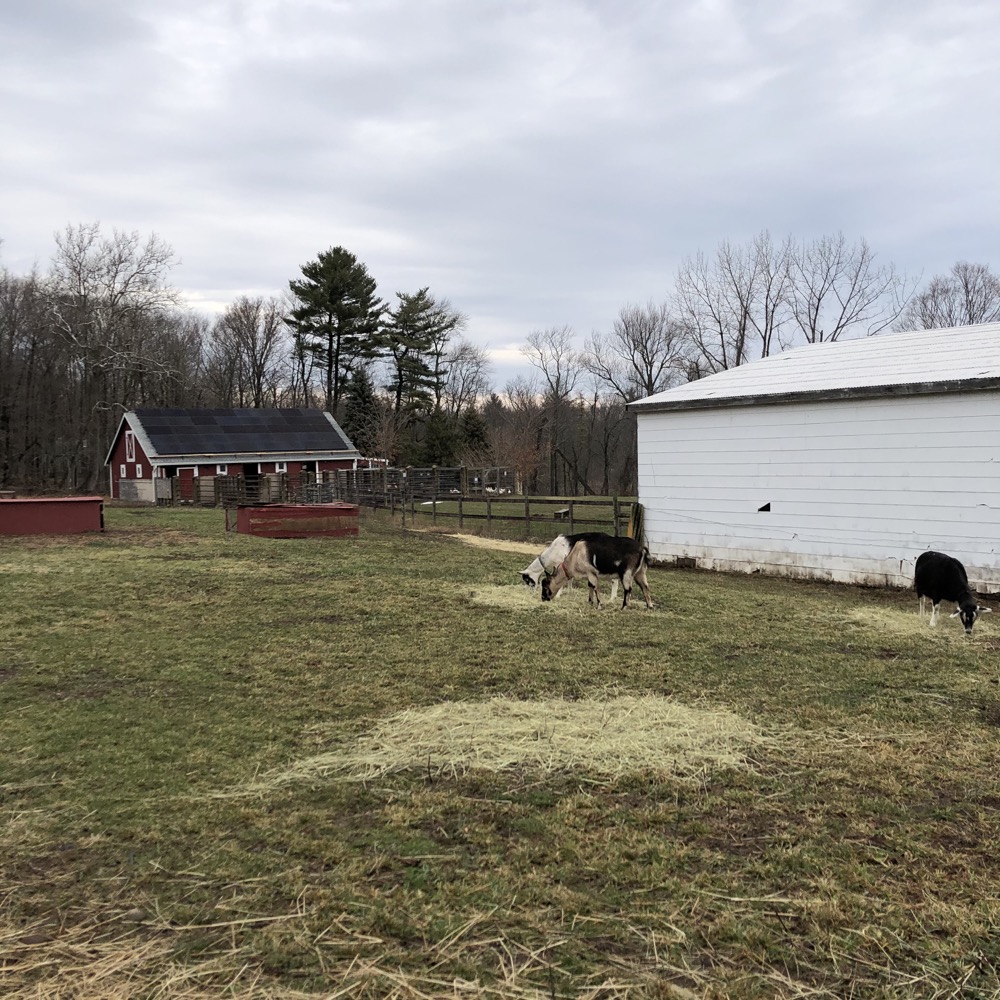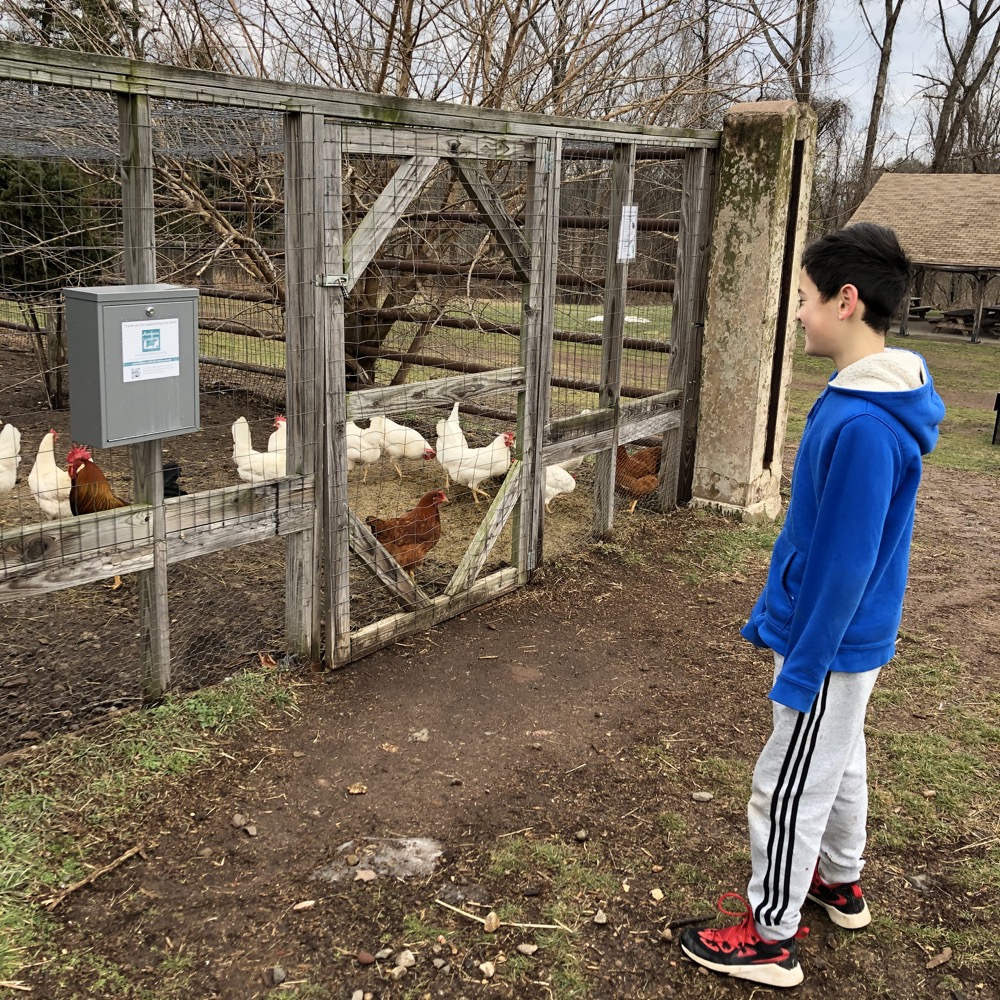 We went back and forth up the hill, past the main buildings and animals, past the gardens and towards the woods. Through those woods is a rogue her path that connect to the MDC's Reservoir No. 6 – from which the Metacomet Trail will connect you anywhere you please.
Calvin loves animals so we spent some time clucking at chickens and admiring cows. I enjoyed the directional "road sign" made by an obvious fan of "New Girl" (of which I am one).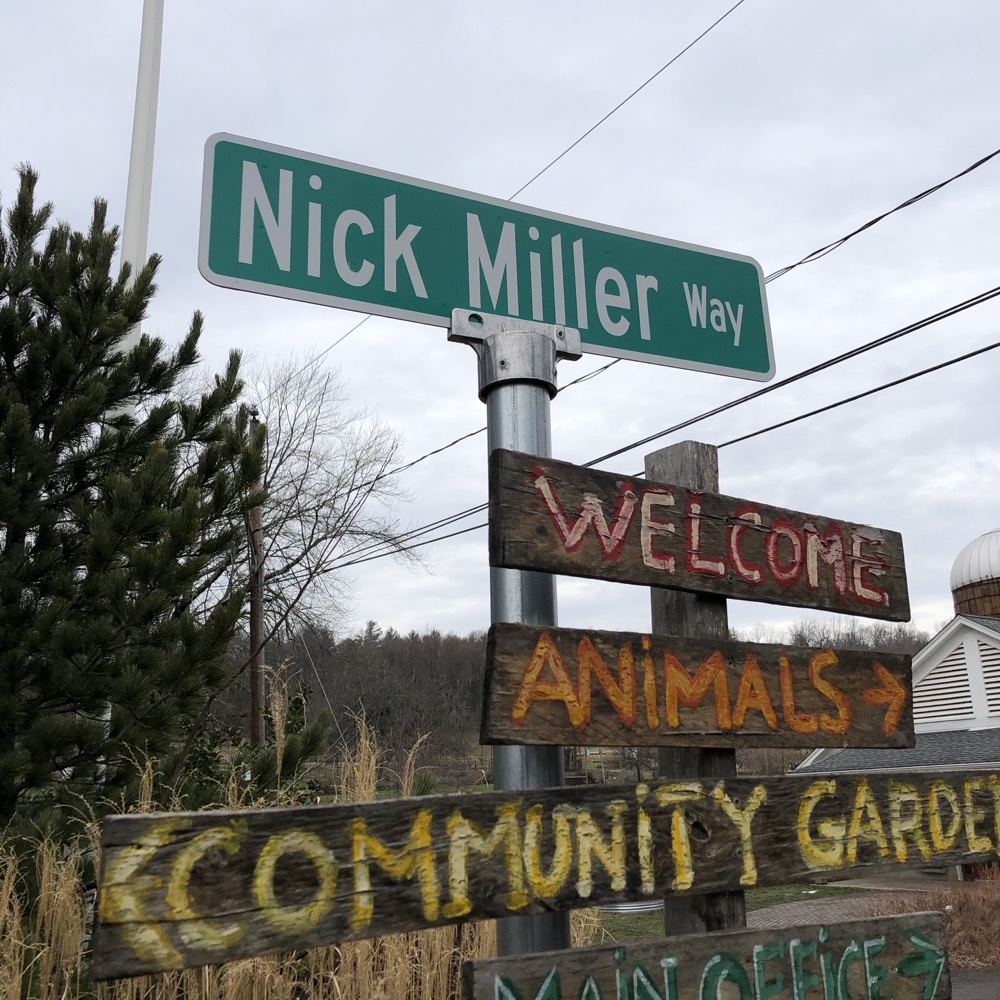 As we made our way back to our car, back through the old barns and buildings, Calvin was getting antsy with his soccer ball. The pandemic screwed up his fall and winter seasons and he had some pent up anger in his legs. So he ripped a shot at a barn: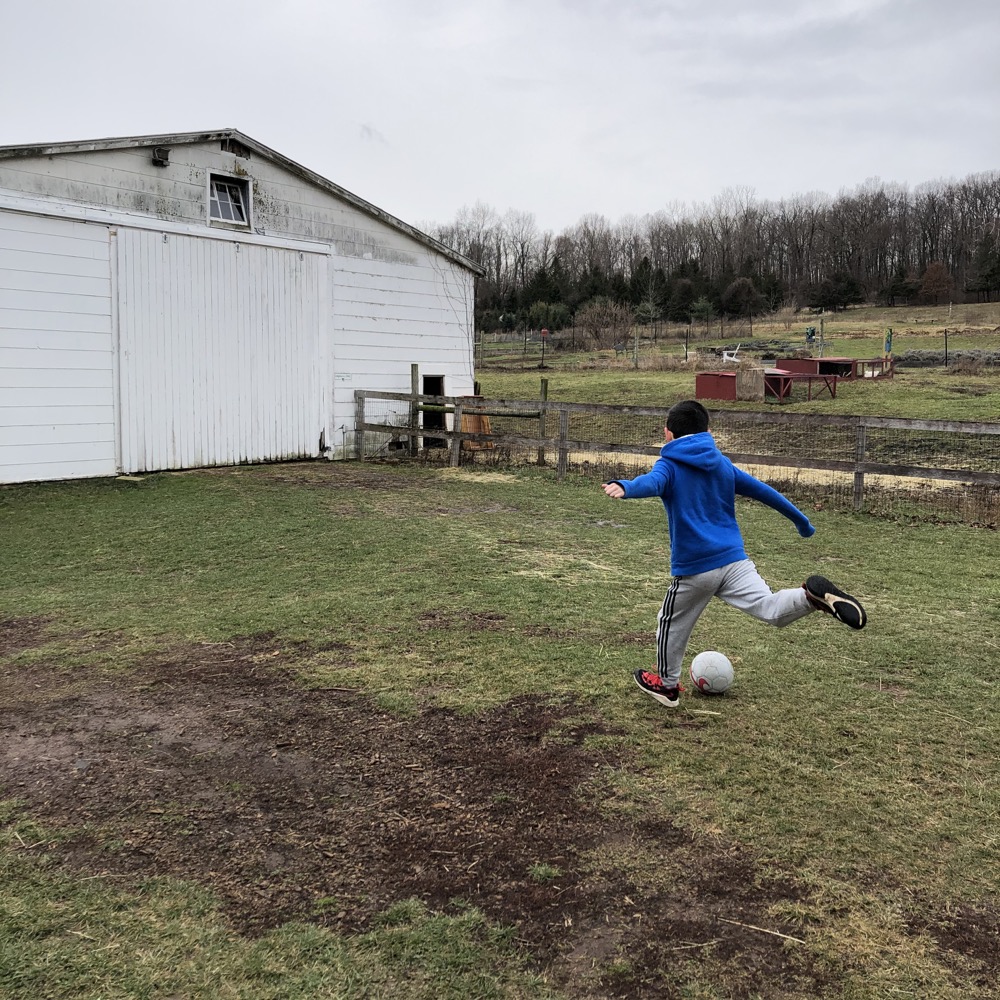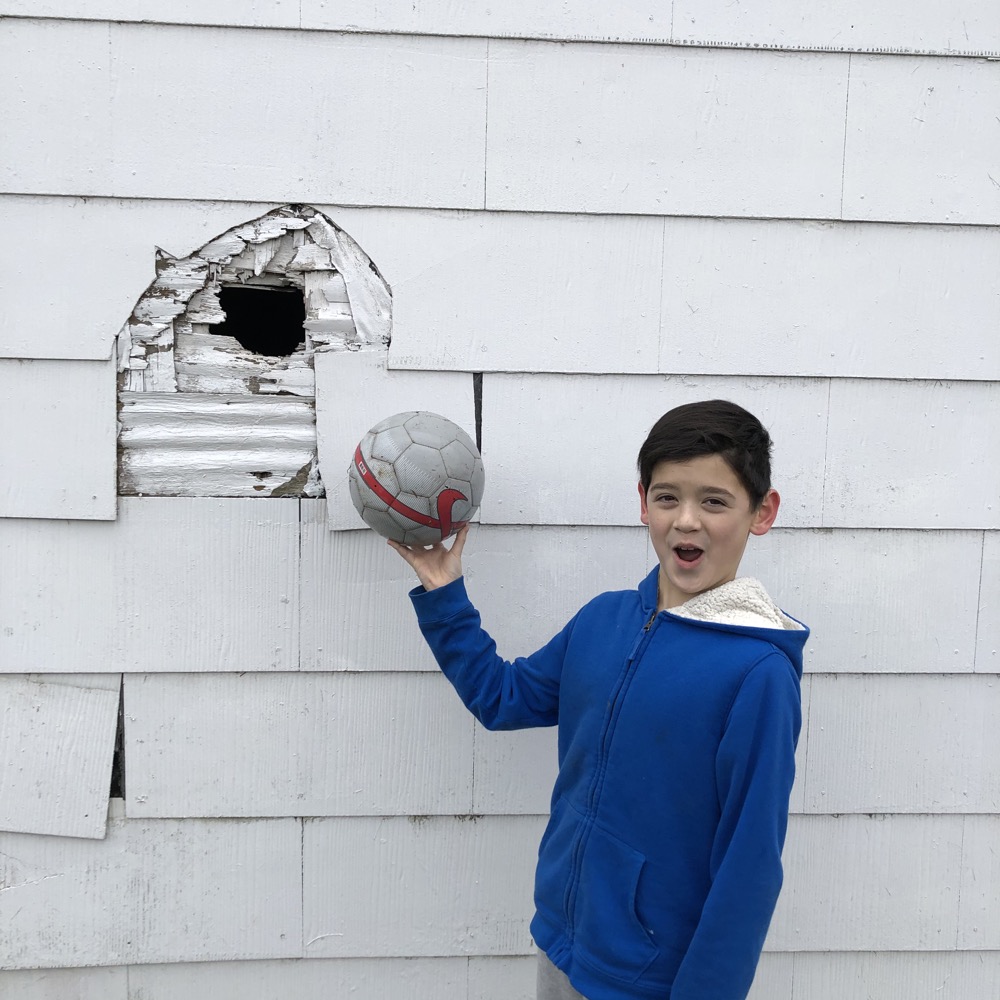 Oops.
(Okay, the kid is a good little player with a decent shot, but no, he did not create that hole. I promise.)
Proud of his photo joke, we happily made our way to the car and back home to sit around and do nothing for several more days. Stupid pandemic.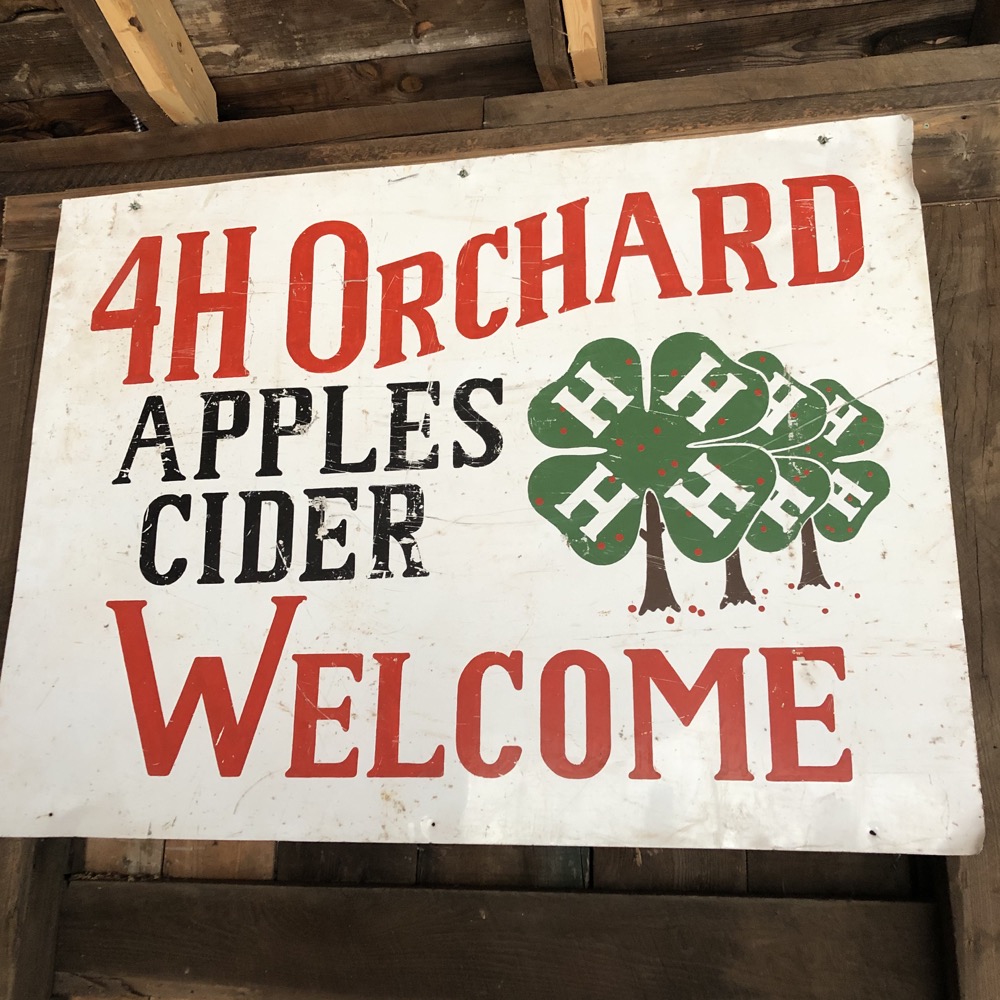 Auer Farm
CTMQ's All Things Auer Farm
Bloomfield's Town Trails