Two Words: Free. Cheesecake
David Glass Factory, Bloomfield/South Windsor
November 8, 2008 (Plus many more).
[Sad Update 2010: Desserts by David Glass is closed. I guess the writing was sort of on the wall as you read below.]
[Happy Update 2011: They're back! And they've moved over to South Windsor and still have the Saturday tastings!]
[Sad Update 2012: Desserts by David Glass moved to Vermont to be closer to family. We'll miss them, of course, but respect the decision. You can still order their stuff through the mail.]
[Happy Update 2016: After posting this on facebook I learned, "David Glass has a weekly(?) pop up store in Bloomfield. By pop up store, I mean he drives down from VT and opens up his trunk and sells what is in it." I'll let you sort out how to make that happen for you.]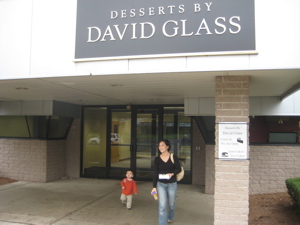 This page was written way back in 2008 when it made sense.
Put it this way: I was never a huge cheesecake fan… until I had a David Glass cake. Simply put, these are perhaps the best cheesecakes available to the masses.
Consider this post a public service announcement – This is certainly one of Connecticut's hidden treasures; something so great, yet so few know about. I've been twice and both times only had a few people with whom to compete for free cake. (Not really true, they put out about 10 cakes for you to eat to your heart's content – and really, if you leave without purchasing a cake you're kind of a jerk.)
And who knew that the factory that churns these things our is right up the road from me in Bloomfield? "I believe that using high-quality natural ingredients is the only way to bake and cook," says David Glass. "I would never use partially hydrogenated fats or oils. I taste a difference between natural and synthetically formulated products and am conscious of what I eat from a health standpoint."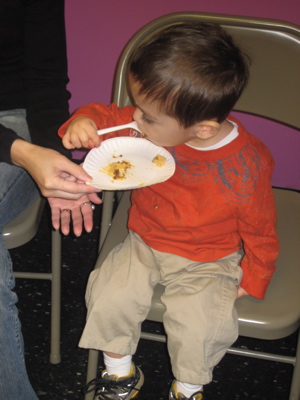 Nice. Now I don't feel guilty about serving it to my son for lunch. Or breakfast when he was home sick a few weeks ago. Or for dessert last night at dinner.
What's more, "Since we use a minimal amount of machinery, our desserts are very close to handmade. In fact, every machine that we have purchased over the years has resulted in an improvement in the quality of our cakes.
We donate a portion of our profits to local, national, and international charities as well as to our employees and their families for educational advancement."
That's cool… The variety of cakes by David Glass is expansive, but it appears that the chocolate truffle cake earns the ravest of reviews. The best one has to be from then President-Elect Bill Clinton: "Thank you for the delicious desserts made by David. It is a very thoughtful gift and I want to take a moment to let you know how much it means to me. As you know, I am busy working on the transition and preparing to assume the responsibility of governing this great country. Thank you for your continued support."
Awesome.
Also awesome is that when we were there tasting his cakes on a Saturday late morning, Mr. Glass himself appeared and said hello. We had no idea who he was at the time, but now that I've seen his picture on his site, it was indeed him.
The factory is tucked away in an industrial section of Bloomfield off of Blue Hills Avenue that you'd never know existed if you weren't looking for it.
***Again, please note that this was written back when they were in Bloomfield. As of July 2011, they were across the Connecticut River in South Windsor, and in 2012, they moved to Vermont to be closer to family. Oh well. They also left behind a legacy of unpaid bills and had filed for bankruptcy in 2009 and other sorts of headaches.
Now (in 2017), they're still plugging away up in Vermont and I think they still show up in Bloomfield now and again with a trunkful of desserts.
At least I have my delicious memories.

Desserts by David Glass
CTMQ's Unique & Historic Restaurants & Food