Section 9: Weather Or Not… We Hike
Prattling Pond Road, Farmington to Reservoir # 6, West Hartford, 6.1 Miles
October 12, 2007
Through the years, Hoang and I have generally been fortunate weather-wise on our hikes. Even our ascent of Mt. Washington, home to the worst weather in the world, was under sunny skies. We've hit some rain before (Olympic National Park, Mt. Katahdin, Mt. Marcy) but pretty much nothing more than a drizzle. Of course, I'm not too keen on dragging my wife out in horrid weather, but I've never really had to postpone a hike in seven years that I remember.
We had a day off from work and our son was in daycare, so we planned to complete another chunk of the Metacomet Trail. The weather had been iffy all week, but we were assured that we'd only see clouds and then some gradual clearing the morning of our jaunt. Ah, to be a weatherman in New England… if I failed as much as they do, I'd be out of a job in a week.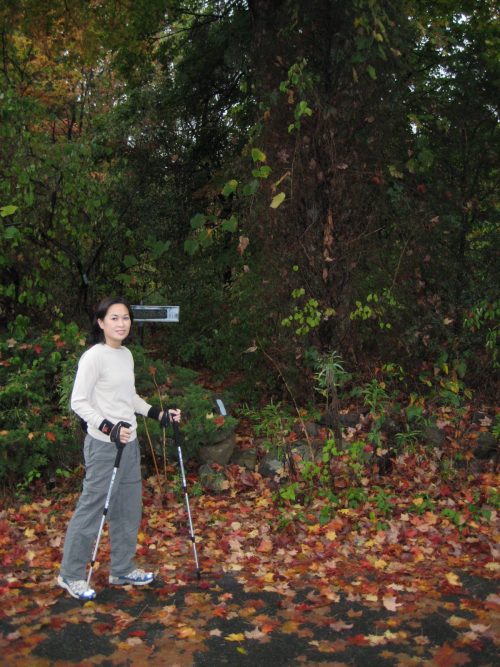 We parked the car in the tiniest Park And Ride lot in the state – seriously, it only fits about 15 cars, which is just absurd. If the state wants us to take public transportation more, they might want to provide a little better for it. We were the 16th car, but squeezed in a safe, but not marked, space. After my previous Metacomet parking ticket, I've become wary of such games but went for it anyway.
We had to wait about 5 minutes to cross Farmington Avenue to pick up the trail at Prattling Pond Road in a very light misting drizzle. The trail crossed the road and entered a weird little meadow of sorts with random signs and a bench. It's not exactly an ideal spot for relaxation, so close to a major road, but it's better than another Dunkin Donuts. (Along the 8.6 mile route from my house to my inlaws – during which we pass Prattling Pond Road – we drive past 5 Dunkin Donuts shops.)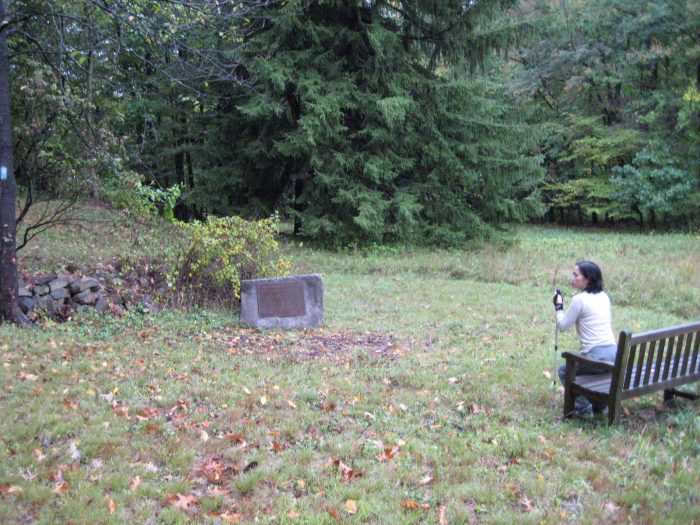 The Farmington Land Trust owns this little parklet. Though this patch was small, the FLT does some good work around town. (If you're weird/curious, here's my FLT Intro page.)
Hoang tried to enjoy the parcel of greenspace by relaxing on the bench, but it was too wet for her delicate nature. Looking at this picture now is funny knowing what would happen 10 minutes afterwards. Heading north, the trail wound its way through some maples, oaks, and birch trees before popping out onto Prattling Pond Road again.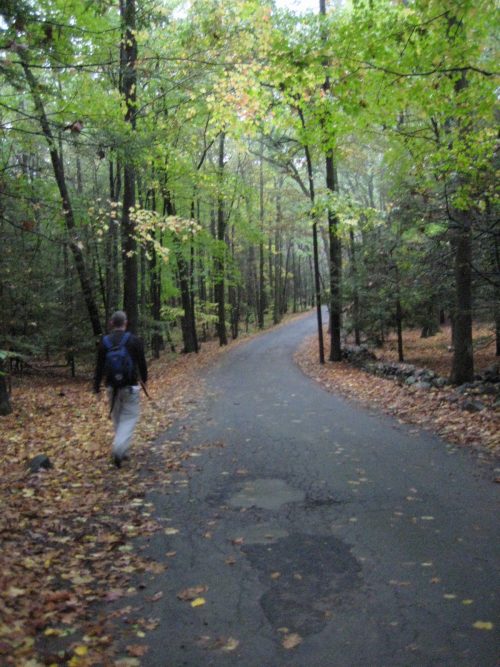 Wow. There are some stunning properties along this dead-end street; most of them at the end of long gated driveways. As we gawked at the houses, the rain picked up to a steadier drizzle and we put on our rain jackets. Thank goodness because a couple minutes later the skies opened up in a downpour.
Fortunately it was relatively warm (especially for mid-October) so we trudged along the road. At the end, there was a brand new house smackdab in front of us and the trail sort of disappeared. I poked around in the rain and found a newly cut "trail" around the eastern side of the house. (The blazes are there, but there wasn't really much of a trail.) Behind the backyard the new trail rejoined the old and we continued north.
How dare they build a McMansion in the middle of the Metacomet Trail!
By the time we got to the next short roadwalk, it was raining very, very hard. This was the second (of three, I think) so-named Metacomet Roads we'll be walking on/passing over the course of the whole trail. We crossed a busier road (Talclott Notch) and dipped down into a field. The clingy grasses ensured that every square inch of us was properly soaked, but amazingly, Hoang didn't seem too affected. Only one more short road walk to go until we would cross into our hometown of West Hartford.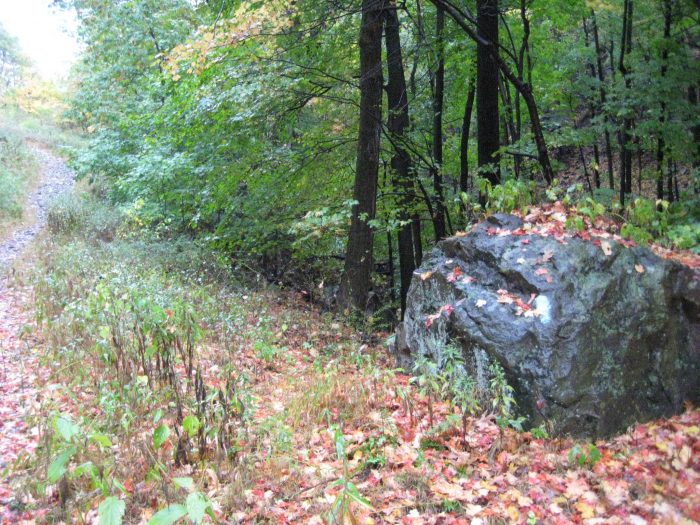 But that roadwalk is a doozy; The trail followed Old Mountain Road which is a relatively busy, hilly, and windy two-lane road. There is no shoulder and no real cut path. In driving rain, this is just not fun because we had to stay off the road and more or less bushwhack the eighth of a mile or so.
2018 Update: This roadwalk has mostly been taken off the road and into the woods now, thankfully.
A right turn off the road and through a fence took us onto the West Hartford Reservoir property. After a few minutes, we left the town the Farmington for good and began walking on some very familiar land. Back when I was in shape, I'd come here to run – but quickly found that the Metacomet does a good job of avoiding the more popular trails and roads. Of course, since it was apparently monsoon season, no trails were very popular the day we were there.
The trail skirts the westernmost portion of the park property, straddling the Avon town line. I took a quick side trail to check out Kilkenny Rock and its great view of the UConn Hospital and surroundings. I'd been up there a million times – so I wasn't too disappointed when my "view" consisted of gray fog 50 feet in front of my face. Hoang had continued north on the main trail so I was playing catch up. It was kind of nice for both of us to be alone in the autumn woods, with only the sound of the rain keeping up company.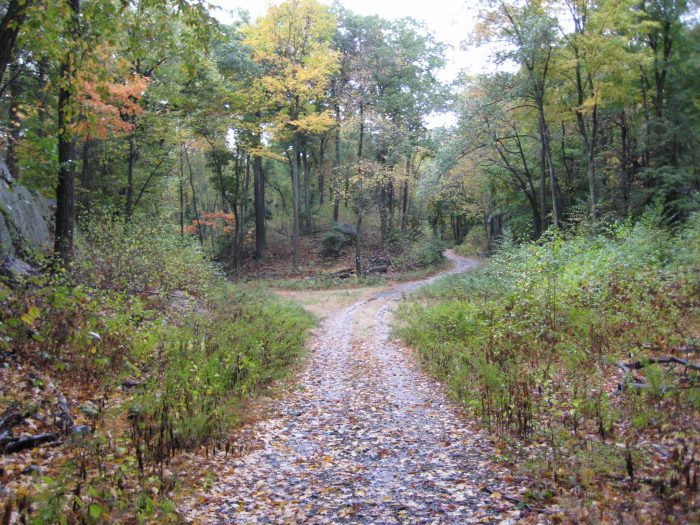 Quintessential Robert Frost stuff. I found the next mile or so of trail really pretty interesting. This area was hit hard by the woolly adelgid hemlock blight, but the trail somehow misses much of that. It follows that ridgeline (the one we've been following for the entire trail) which affords a few views west. Unfortunately, those views are becoming more and more clogged with giant new houses. Along the way, there are several outcroppings to attempt non-house views at least.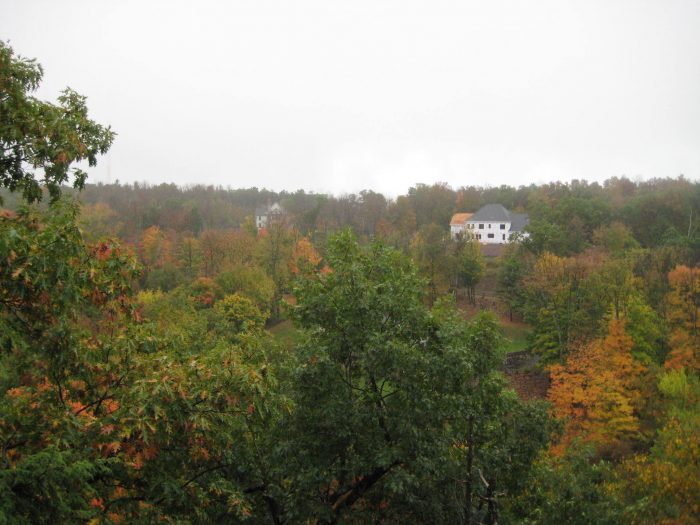 A turn to the east and we were treated to several cool rock formations. I always appreciate the effort someone made to blaze the most interesting trail for us to enjoy… Once up and over a slight little incline, the trail left the ridgeline and descended down towards a little stream. The last section of the Metacomet passes near 50 Cent's mansion. Now, we got to skirt local businessman and philanthropist Arnold Chase's estate. I wrote about here.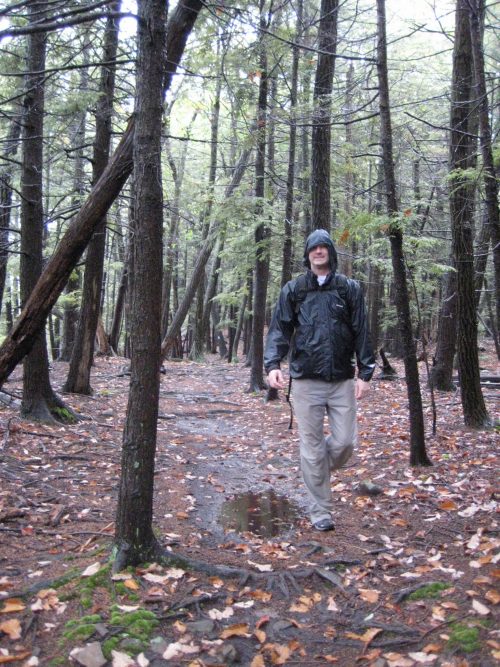 Once off the ridge, the trail turns north again and travels atop a long water control dyke, which offered a unique setting for hiking. After all the woods and ridgetops and roadwalks, I found this half mile or so pretty neat. We crossed Route 44 and entered another MDC Reservoir property.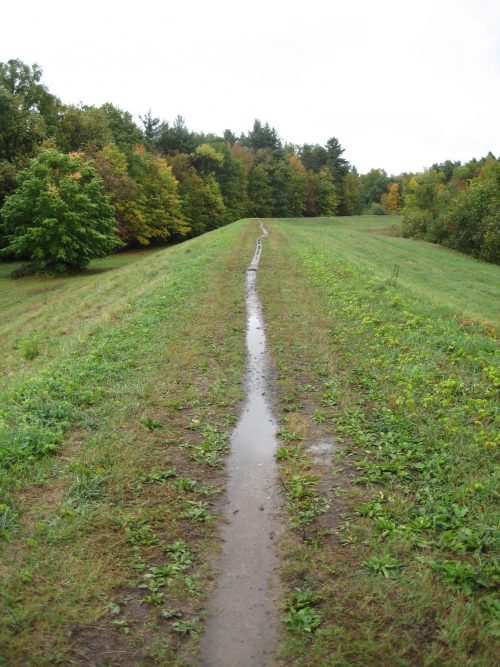 The parking lot was just a short distance in, so we got to our car, toweled off, and headed for home. Speaking of home, I believe this picture of me finishing the day's hike below will be the closest I am during CTMQ to my own house. I just confirmed it with Google maps – less than a half mile from my front door.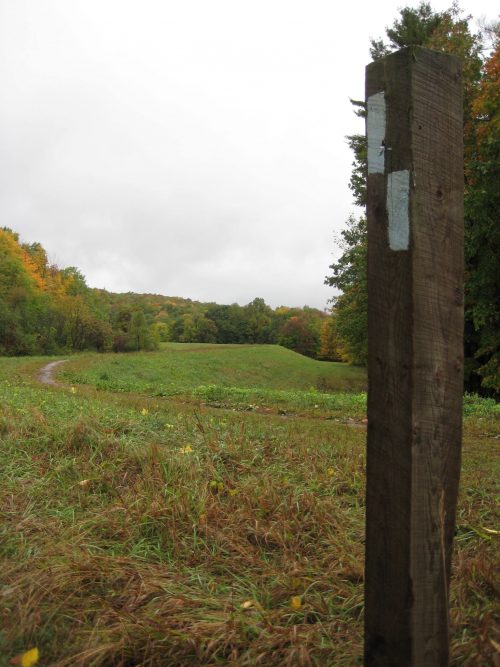 By the time we made that 3 minute drive home (it's NOT a walk you'd want to make, down Avon Mountain, trust me), the rain had stopped and the clouds were already parting. We laughed about it, took hot showers, and treated ourselves to a movie for the first time all year. And the best part? My sketchy parking job went unticketed as well.

Continue on to Section 10: A Towering Achievement
CFPA Trails Map
CTMQ's Metacomet Trail Intro