Secret Hazen Ritual
Hazen Park & Skyline Trails, Avon Land Trust (Avon)
January 2011
Hazen Park is Town of Avon property. The Hazen Trail Extension and the Skyline Trail are on Avon Land Trust land. Now you know.
The Skyline Trail had been on my to-do list for a couple years. I'd heard from a hiking friend that it offered a more challenging and much more solitary climb up the "secret" side of Talcott (Avon) Mountain. Good enough for me… But why not make it more fun and do it with snowshoes?
This was one of those times I could have made the hike in normal boots with microspikes I guess, but I was glad for the shoes once up near and on the ridgeline. It was very cold and once on top, incredibly windy – but it was a great hike. It's true, the Skyline Trail up to Heublein Tower (read more about the tower here) is steeper than the Metacomet or Tower Trail that 99% of those seeking the summit take.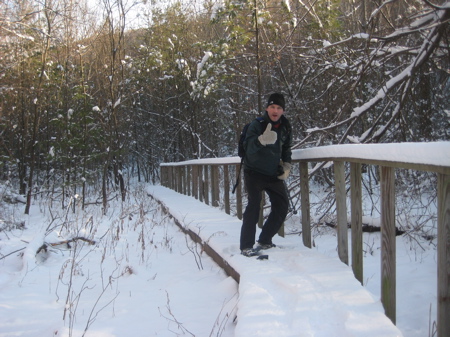 But it is blazed well and obvious care was taken to decide the exact route up. Of course I didn't see anyone during my sunrise hike through snow, but there were tracks once I hit the Metacomet on the ridge, which made me happy. I'm not alone!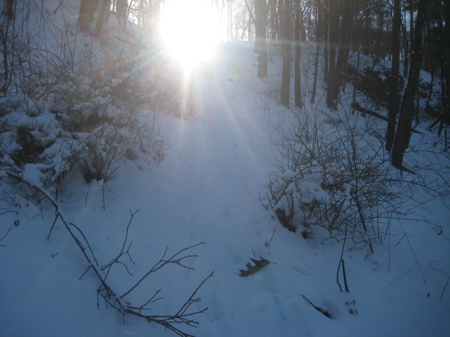 Parking is certainly an issue with snow, as the steep dirt road up to the Hazen Park lot off of Nod Road looked to be impassable and parking along Nod Way to access the grassway up the mountain to the connector Trail was also impossible. Fortunately, the Hazen Trail crosses a wide and straight Hazen Road – so that's where I parked.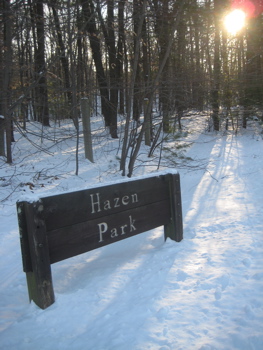 I would guess the up and back trail is maybe 2.5 miles total? I don't really know and its hard to gauge in the snow. It's not too long and it's never too hard at all, but it IS a unique way to climb what is perhaps Connecticut's most-climbed mountain.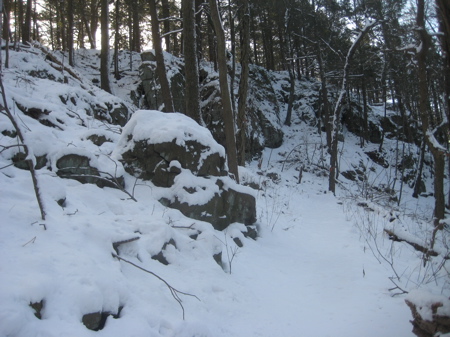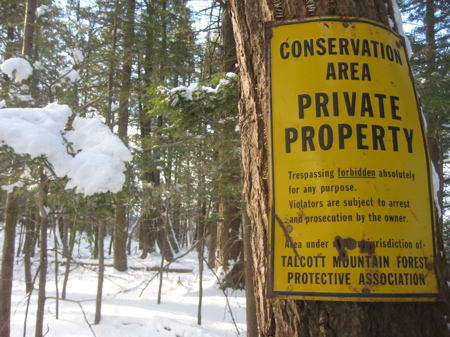 I totally recommend this hike. If you take the Hazen Connector over to the Grassway off of Nod Way, you can hook up and do the Garvin-Maher Trail system – which I did almost exactly a year later, in 2012. So, you may ask, why would anyone hike in such conditions at that time of day? Because I get to have scenes like this all to my selfish self: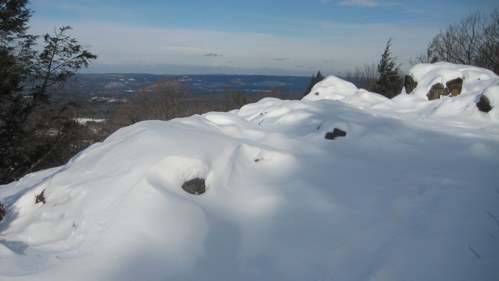 Avon Land Trust
CTMQ's Avon Land Trust Hikes
CTMQ's Avon Town Trail Hikes