Dommmm-dom-dom-Domp!
Dom's Creamery, Avon
July 2022
The way things are trending, Avon might be renamed Dom at some point. Unrelated, but I just remembered that in the 17th century, the area that is now Avon used to be called Nod (and Nod Road still exists along the Farmington River here), so Dom is sort of like Nod. Kind of a nice throwback that no one will appreciate.
Except, I suppose, Dom. You know, since he'd have a whole town named after him.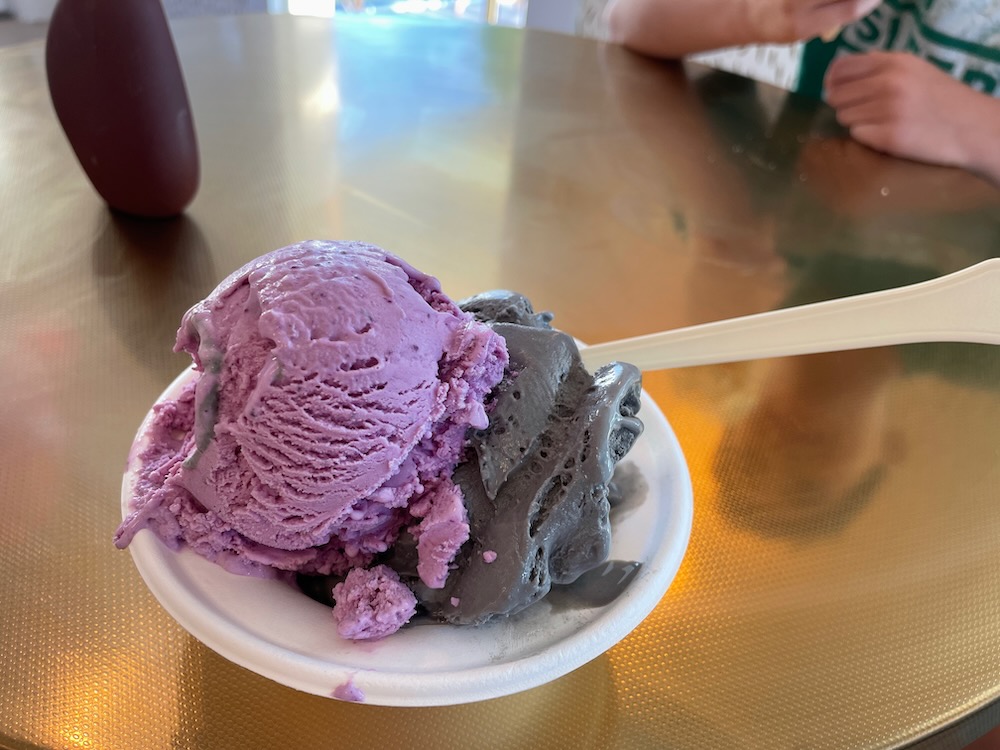 The DOMination started in 2015 with Dom's Coffee on Route 44. The coffee here is ridiculously good and the stand-alone building is really nice. Dom's Coffee is a few rungs above Starbucks to be sure. A few years later, along came Dom's Cheese.
While they don't make cheese here, they do sell high-end cheeses, charcuterie, and other related foods from around the world – and Connecticut. Good stuff.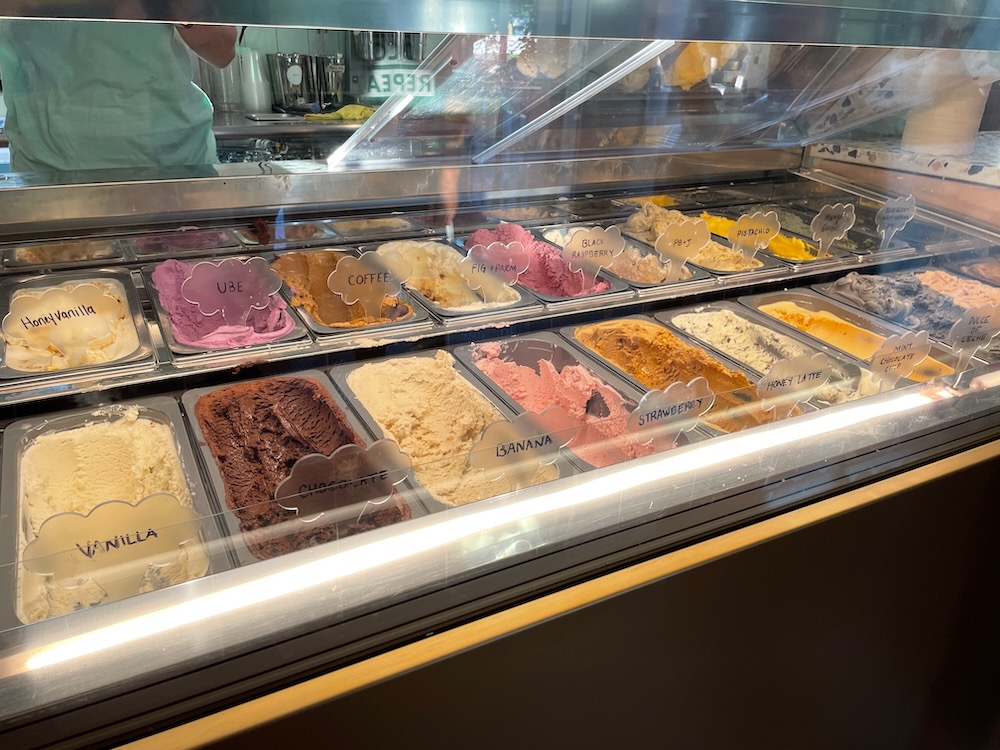 Not done yet, the Dom's team opened Dom's Creamery next door to Dom's Coffee in May 2022. It's another stand-alone building with plenty of parking and seating. These Dom's people don't do anything half-heartedly. They go all-in. So who are "they?"
They are Asta Plankiene and her husband, Andrius Plankis; Lithuanian immigrants who came to Avon to join Pankis' mother Gitana. The couple's son is Dominic, who was a baby when they settled in the US. So, yeah, kid's getting a whole Connecticut town named after him before he can drive. Good on you, Dom.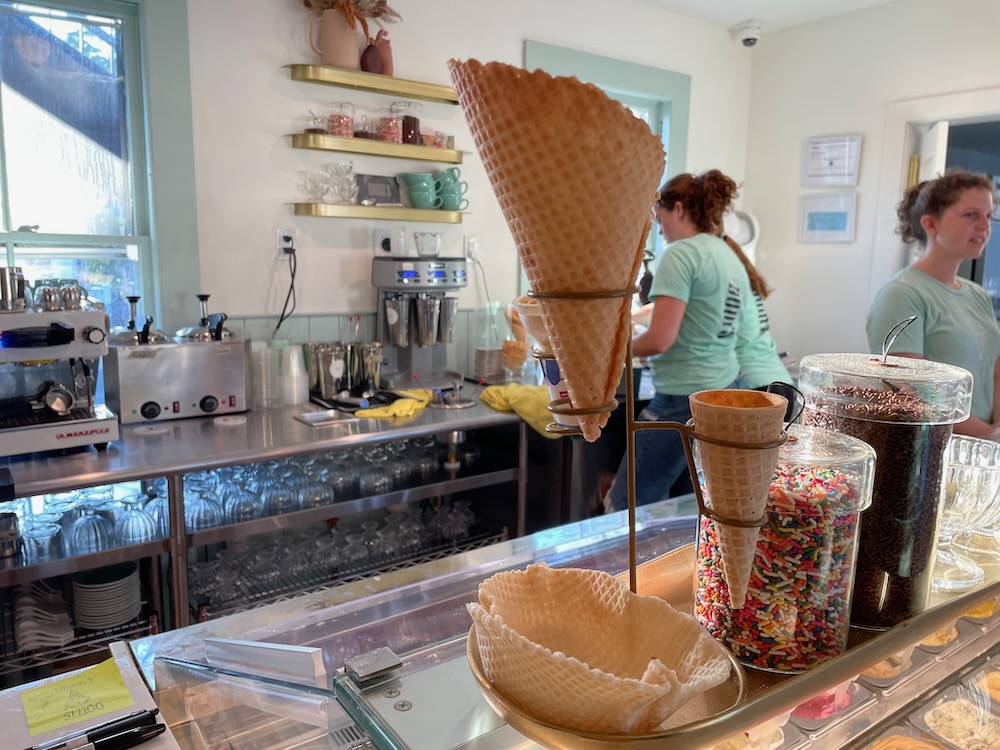 The Creamery is also "European" like the coffee shop. I don't know what that means, really, other than their insistence on providing glass dishes for sit-and-stay ice cream. Actually, I guess it's that whole sit-and-stay ethic. The space is large, airy, bright, and while pastels aren't my cup of tea, I can see why people love it here.
It's all very "Instagrammable" but not in a ridiculous over-the-top way like some places try to be. It's… cute. Pretty, even. Calvin and I just wanted ice cream.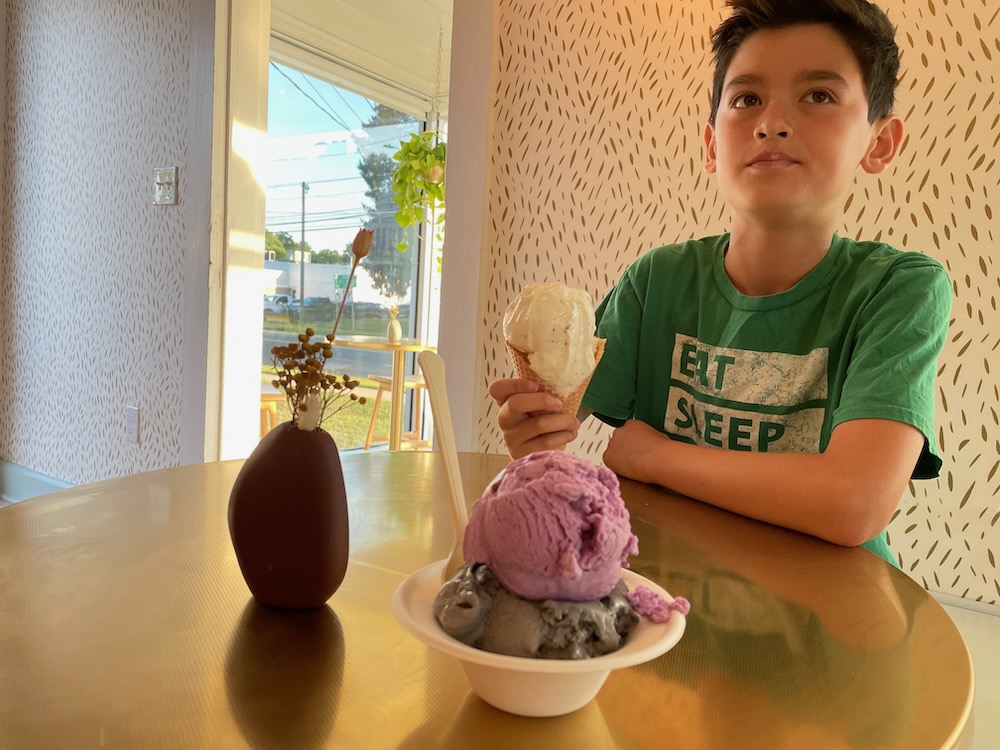 The one glaring negative thing here is their mirror. At least for their first few months, they used a white market on a mirror. It's unreadable. The funniest part of this is that they took a picture of it to use as their menu on Facebook except… it's even more unreadable via a photo than in person. Easy fix – and one I'm sure they'll make since I heard no less than three random customers complain about it during our visit.
Okay, I did hear one elderly woman complain that the flavors were "weird," but that's on here. There are plenty of "normal" options here. But it's the "weird" flavors that get the publicity, and it's the "weird" flavors I tried.
Charcoal is one. I know activated charcoal as a coloring ingredient was a thing a while back, and I know it's silly, but… I got it. It was fine. It can taste like anything they want it to taste like, really. Here, it is subtly sweet and nutty I guess.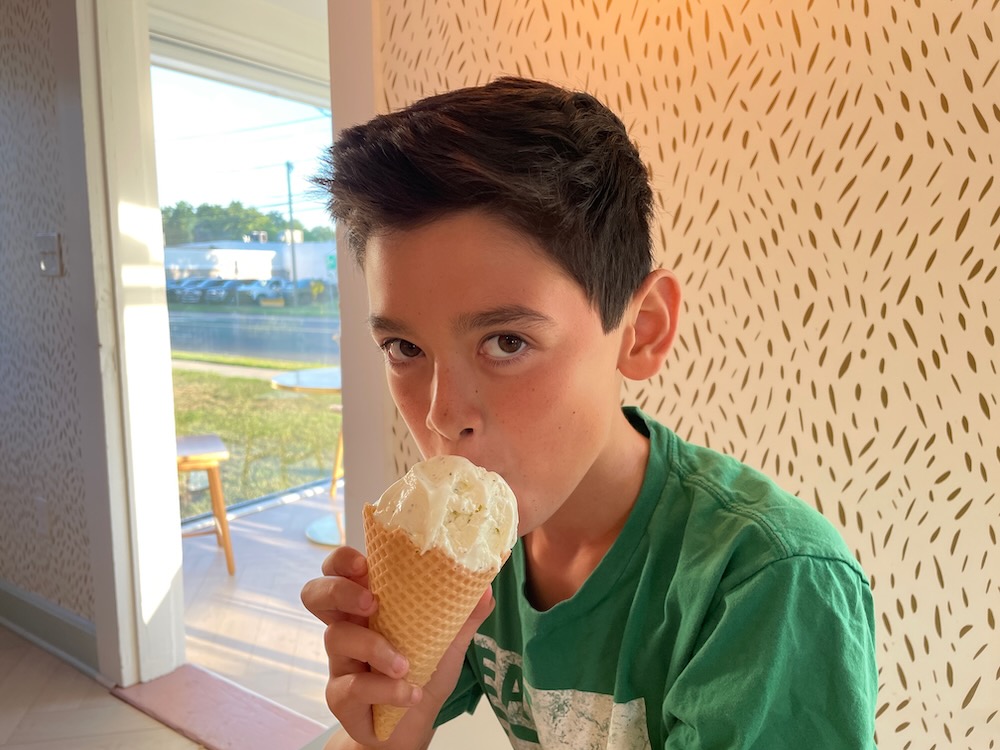 The owners took an online ice cream making course through Scoop School and I guess it's a good program. The ice creams here are rich, creamy, and by all accounts, delicious. Calvin loved his… whatever it was. I believe it was mint chocolate chip, despite the white color. In fact, lots of typically green or yellow ice creams are white here, as they don't feel the need to add coloring. And good for them.
The couple also makes a unique fig-Parmesan ice cream made with "top-quality Reggiano", presumably inspired by their cheese shop. There's also a PBJ flavor that I'm curious about, lavender-vanilla, and a honey latte, which mimics one of their more popular drinks next door. There's also ube, which I also got a scoop of. Ube is a purple Filipino sweet potato. I don't really recommend the ube flavor simply because it tastes like sweet potato, and that's not the best ice cream flavor. It is visually striking however.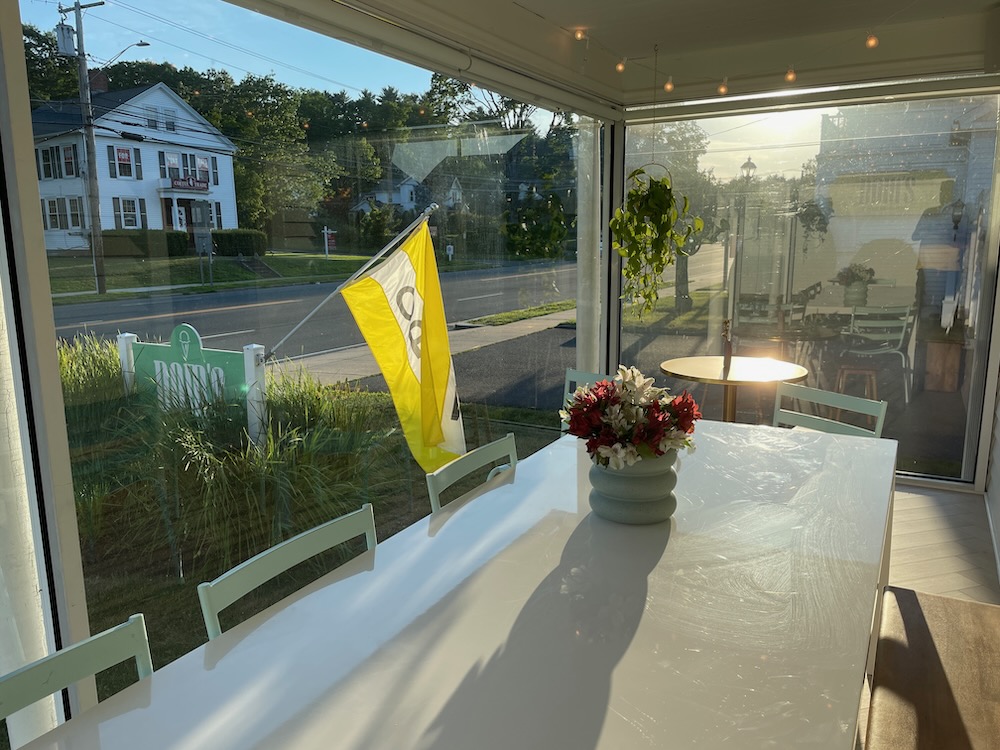 They make some dairy-free options too, which is nice.
Dom's is not the cheapest ice cream option around ($6.50 for two scoops), and it's a destination shop, as Route 44 is entirely unwalkable for the most part. But they envision big things, as there's an entire second floor for parties and gatherings, and a large glassed-in patio as well. They have more than just the ice cream too… Milkshakes, crepes, and Belgian waffles are also available. For what it's worth, we saw maybe 30 customers during our visit and all 30 stuck to ice cream – although that may have been due to the time of day.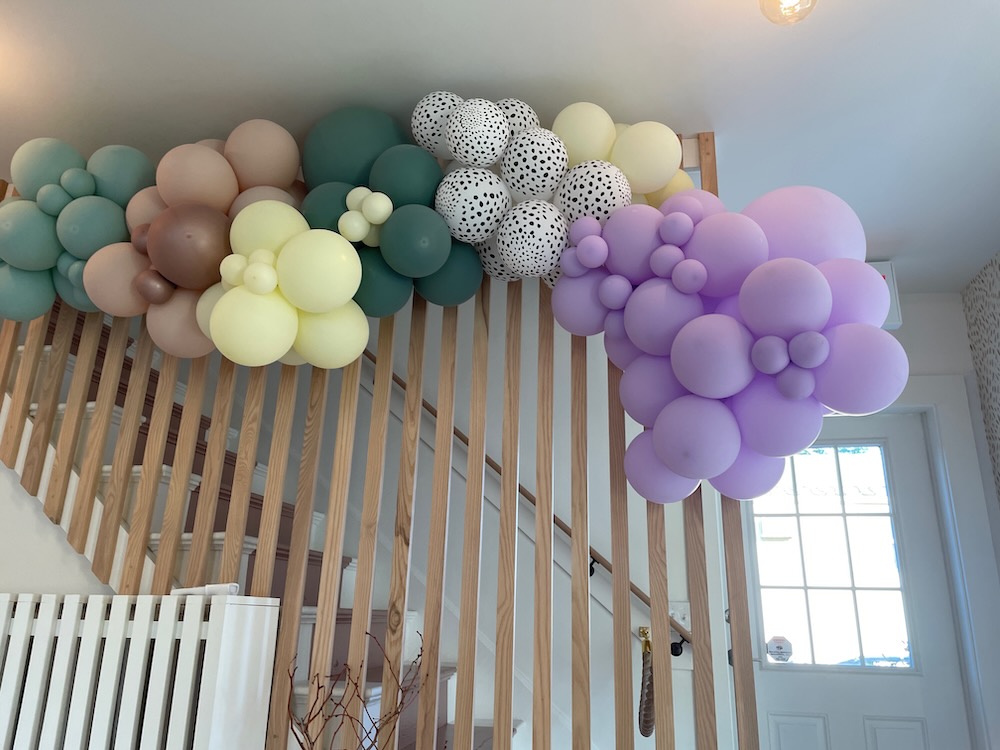 Dom Coffee has succeeded. Dom's Cheese has succeeded. So I have no reason to believe Dom's Creamery won't as well. The family clearly cares about presentation, customer experience, and quality. You need all three of those things to succeed in business, and especially in a busy place like Route 44 in Avon.
Or should I say, in the future kingDom of Dom.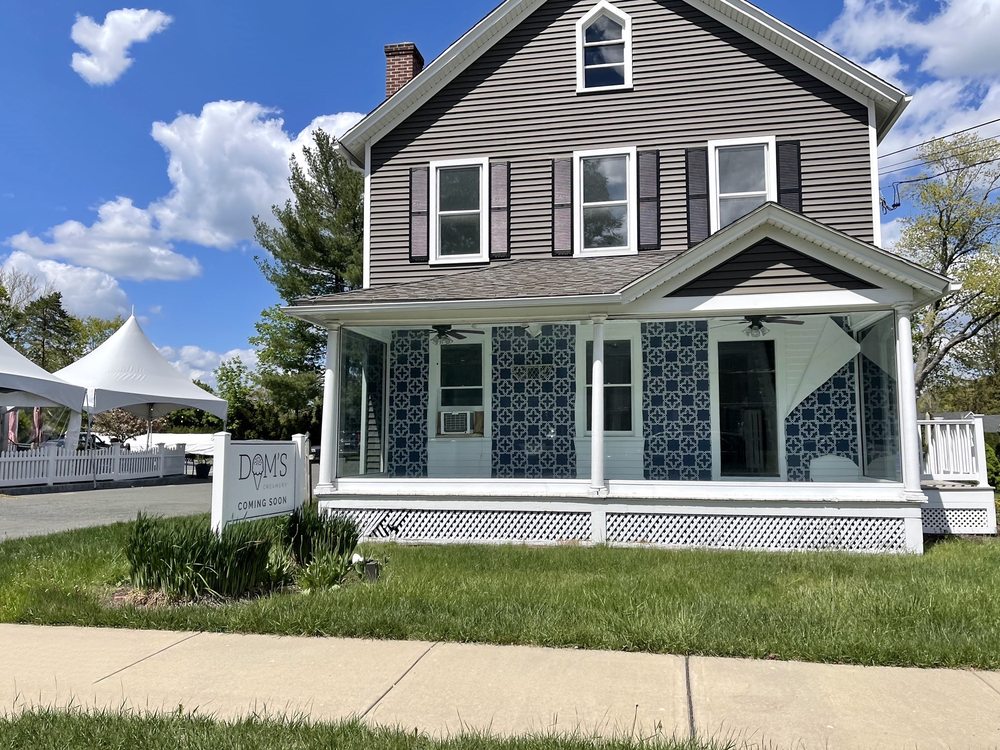 Dom's
CTMQ's Homemade Ice Cream Trail