Avon: Complete!
The North House
Here is my list of everything I've done in Avon!
I'm very excited to write this page. This is the 17th of what may ultimately be 169 town completion celebration pages! Yes, of course I am fully aware of how absurd that is. But I love it.
For those of you who are new here… In late 2016, after a decade of writing CTMQ, I decided to try to "complete" towns. In that decade of traveling and writing, I had already done a lot of stuff in most of our towns already. However, I have been continually surprised by how much more there often is to do. This page you're reading includes my "town completion celebration meal." These will sometimes be at the best restaurant in town. Or the most historic. Or the most iconic. Or the most unique. Or the only one. Or at a gas station. Every town is different!
Let's get to it.

Avon, Hartford County
Population: 18,098 as of the 2010 census. (65th in Connecticut)
Founded: 1830 (130th)
Size: 23.12 sq. miles (104th)
Here's the Wikipedia page and the town page
Avon was my: 17th town completed
First CTMQ Visit: Metacomet Trail: Section 9, October 2007

The Celebration Meal
I'm not a sentimental sort and I don't generally hang on to old stuff because I "should." I love getting rid of stuff. Fortunately, so does my wife. This is one of the things, I think, that probably attracted me to her in 2000 when we started dating.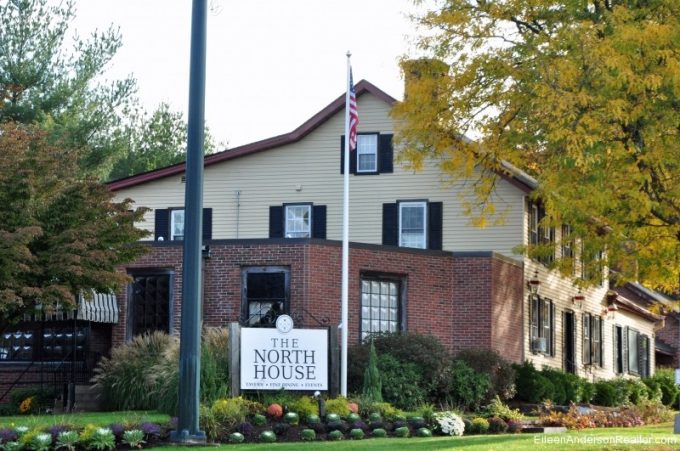 And one of the things that compelled me to propose to her in October 2001. Which was 20 months before we got married in 2003. Which was one day after we had our rehearsal dinner… in Avon.
At the Avon Old Farms Inn at the bottom of Talcott/Avon Mountain on route 44. 2003 was two years before the horrible dump truck crash that killed four people and injured 19 right in front of the restaurant/banquet space. The state built a runaway truck ramp that has catch bars/chains that ends, literally, right before the restaurant space.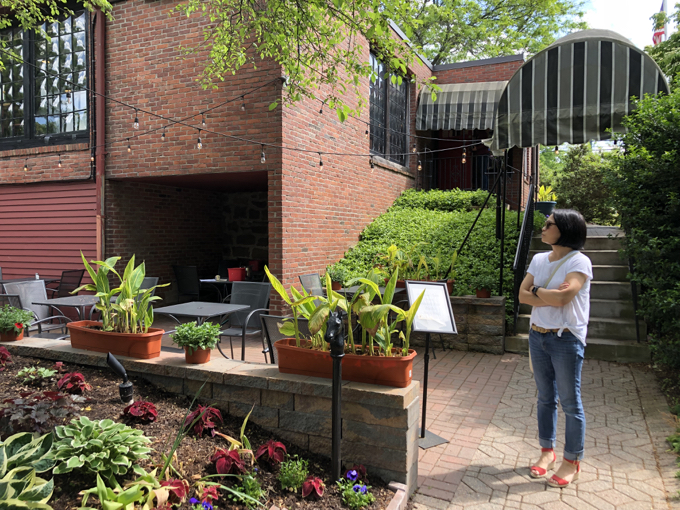 The owners cited that ramp as the main reason for closing in 2010. (I cite what had become an uninspired menu and poor service, but that's just me.) The space sat unoccupied for years until 2016 when new owners opened The North House here. New owners, new name, new menu… but it's still where we had our rehearsal dinner all those years ago. So it's naturally where I celebrated my "completion" of Avon.
Speaking of history, The North House begins their restaurant history section on their website thusly:
Four million years ago, a shallow sea covered Connecticut, and mountains as grand as the Alps rose up. Time blew the mountains away bit by bit, and rivers carried their pieces to the Farmington Valley, located low and central. Over eons this sediment hardened into sandstone and shale. Then came fiery lava and the land twisted itself into the steep cliffs of Talcott Mountain.

Two million years ago, glaciers came and went and thick ice buried Avon at least four times. One thousand years ago, the Tunxis people of the Algonquian family of tribes settled the area, and in 1640 they sold their land to the English. The thirty-one families of Avon, then known as the Northington Parish of Farmington, built their first meetinghouse in 1754, at the end of what is today Riverknolls Road.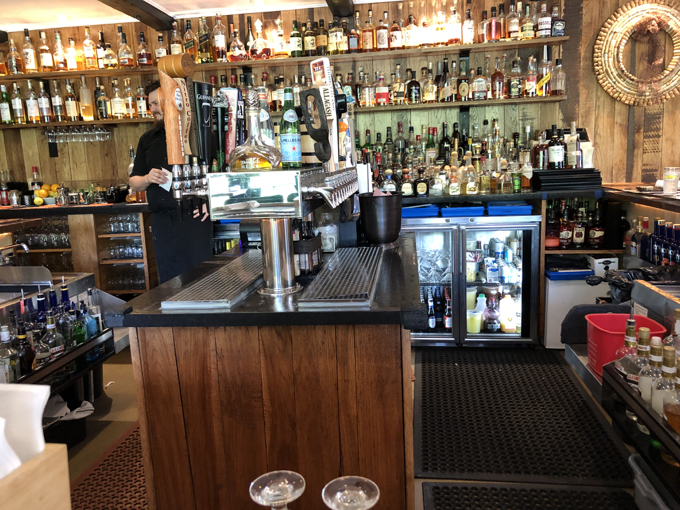 Holy cow. That's a serious historical deep dive for a restaurant. Hoang and I just want some Happy Hour appetizers and a couple drinks. I ordered the classic New England Brewing Sea Hag IPA, which is pretty much a historic Connecticut beer these days. Also delicious. Hoang, wanted to commemorate the momentous CTMQ occasion, went with the Old Farms Spritzer, as a nod to the building's former name.
While we drink and reminisce about all I've done in Avon, let's learn some more about the building.
Thomas North, son of John North, settled on the present site in 1678. After fighting the British Colonial Army in King Phillip's War…
Okay, let's skip ahead a bit. Sheesh.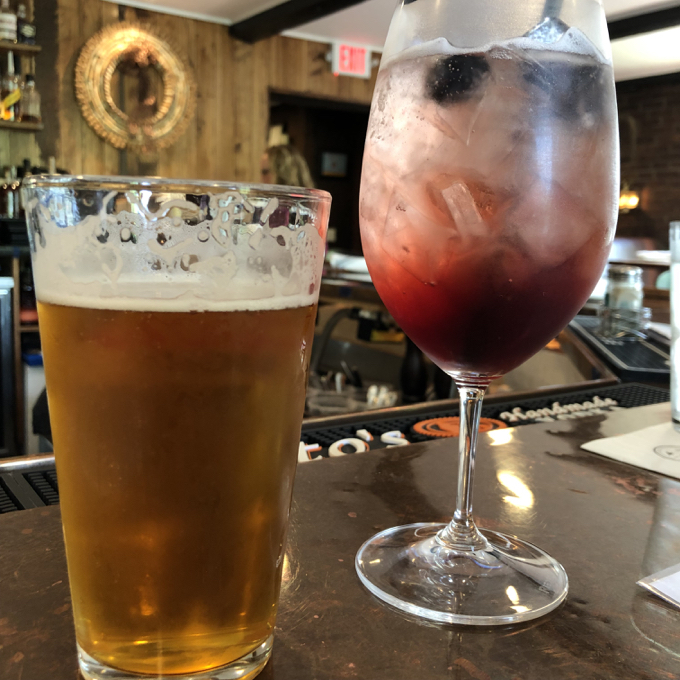 In 1832, Joseph North, a blacksmith in the Nod area, remodeled his shop, erecting a fine stone building, now known as the Forge Room. Joseph North's Forge Room has the longest continuously operating fireplace in the state of Connecticut. An Inn was established around 1678 across the turnpike from North's Blacksmith shop and was known as Marshall Tavern. It was here that the Hartford-Albany-Boston stagecoach stopped overnight.

Passengers and horses were accommodated both at Marshall Tavern and at Joseph North's home and shop. It is rumored that both Presidents and founding fathers, George Washington and John Adams took shelter and imbibed at the North House while traveling through the area.
Yeah, yeah, that rumor exists for every old building in Connecticut. But… "the longest continually operating fireplace in Connecticut?!" That's hilariously ridiculous. And you know I love my hilarious and ridiculous superlatives. Well done, North House.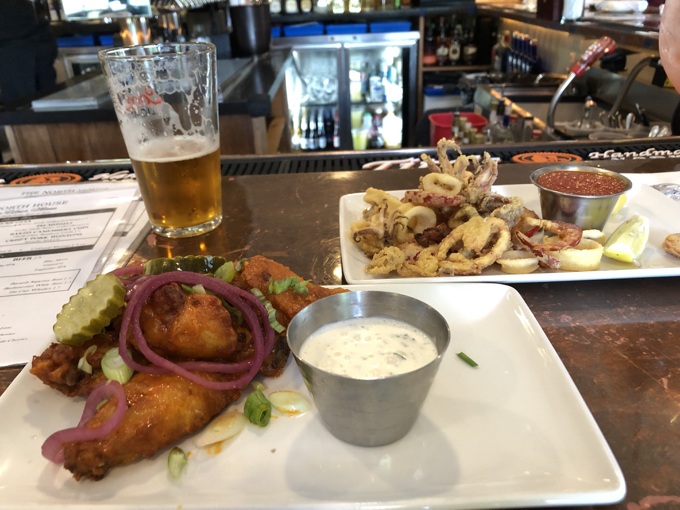 It became the Old Farms Inn in 1923 and remained more or less the same until it was expanded in 1992. Then it hosted the awesome Wood-Tinh rehearsal dinner in 2003. Then it closed in 2010. Then it reopened as the North House. Then we had a late lunch here in 2019 to celebrate having done "everything" in Avon and here we are.
The Avon Old Farms Hotel still operates across the street, and of course Avon Old Farms School continues to be its Hogwarts self across town. Our calamari was delicious and the wings were okay. The baked Camembert cups were straight up Trader Joe's frozen aisle fare, but the whipped ricotta with crusty bread made it all worthwhile. So, so good.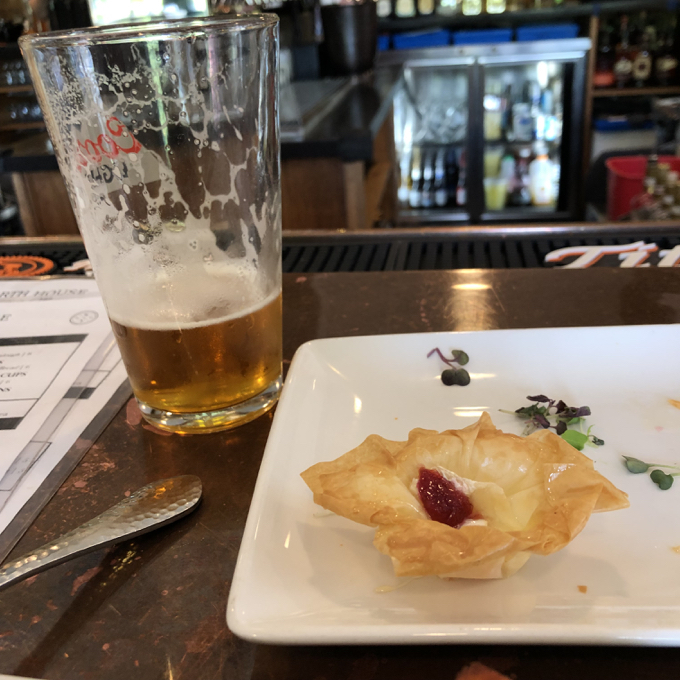 Brunch and dinner here are also really good. A bit pricey, sure, but where else can you dine next to the longest continuously operating fireplace in Connecticut… (the building was operated as a catered event space from 2011-2016, so going by the "continuously" rules I've learned, if a fire was lit there once per year, it counts.)
Living in the area, I am fortunate to have my choice of dozens of top level restaurants. I'd put the North House in the top of the second tier I think. But that's not what sets the place apart. In a Hartford Courant article, the owner said he's been thrilled to hear from guests who have emotional, nostalgic attachments to the Avon Old Farms Inn.
I don't know how many stories I've heard: 'My wife and I had our first date here,' Sweet 16 parties [or] 'I remember this baptism over here,'" he said. "The memories, you just can't replace them."
Hey, that's us! My sister-in-law ordering a glass of wine that my Temperance Movement father refused to pay for at our wedding rehearsal dinner? Never forget.

Avon Wrap-Up
I like Avon. As a 20-year West Hartford resident, I'm not sure if I'm supposed to have some natural rivalry for my neighboring towns. If I am, that's ridiculous. When my wife and I were looking for a new house, I pushed for Simsbury and Avon (and Canton and Farmington and Glastonbury) almost more than staying in our same zip code. Alas, we're not moving to any of those towns.
As far as CTMQ-stuff in Avon, the town's historical society has had some serious setbacks. Their Derrin House Museum nearly burned to the ground. Their Schoolhouse No. 3 Museum is in a period of transition and doesn't expect to reopen for many years. They have purchased a barn from the state's horse guard and has plans on making that a museum someday too. These things take time.
Avon was also where the tragic accident at the bottom of the mountain occurred in 2005; something I think about every time I travel that intersection.
But while many think of the route 44 mess when they think of Avon, which is only getting worse with the Climax Road development (yeah, that's right, Climax Road), Avon has a ton of beauty spots as well. The private Avon Old Farms School is ridiculous, sure, but the Talcott Mountain Science Center high atop Talcott Mountain wins the day for me. It's quirky, unique, and the views across the Farmington River Valley are simply breathtaking.
Other views from the Horse Guard State Scenic Reserve and the Skyline Trail are equal to almost any in the state. Canton is wilder, Simsbury is prettier, West Hartford has a better "downtown," but Avon holds its own.

Thought exercise: If I had to send someone to Avon for a day… I'd actually start them off in West Hartford and have them drive over "the mountain." People not from around here always seem quite surprised by it for some reason; and you can enjoy brunch at the bottom on the Avon side at The North House, followed by a quick jaunt up Nod Road to climb Talcott Mountain on foot via the backside routes through Hazen Park and the Skyline Trail. Hang out up on the ridge for a few hours before touring the Avon Old Farms campus. have some J. Foster's Ice Cream before heading up to the Talcott Mountain Science Center for the sunset and one of their programs.
Surprise: The view at Horse Guard State Scenic Reserve
Favorite facts: Pretty much everything associated with Avon Old Farms and Talcott Mountain Science Academy
Disappointments: The demise of the world's largest scale model of our solar system.
Avon: Done
Previous completed town: East Hartford!
Next completed town: Cromwell!