Everything Glastonbury
I've been exploring and writing about Connecticut since 2006. After a decade, I began compiling CTMQ guides for each town in the state. I plan on "completing" Glastonbury CTMQ-style… as well as the other 168 towns, cities, and boroughs in Connecticut. That is the ultimate goal of CTMQ.
If I've missed anything in town or if anything has closed or changed, please let me know.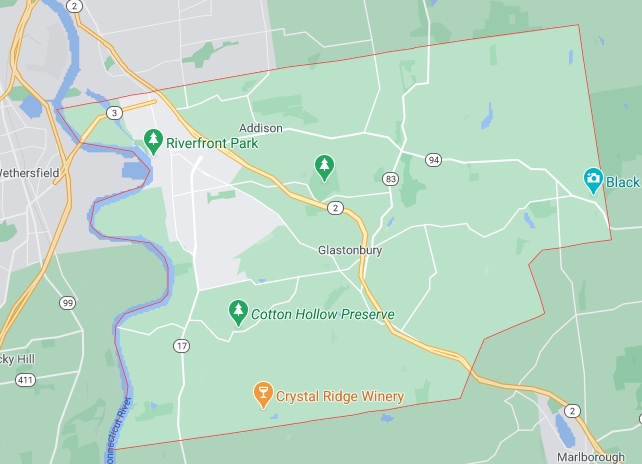 Museums
Audubon Center at Glastonbury (Closed)
GEHMS Planetarium
Museum on the Green
Tobacco Museum (Potential future museum)
Welles-Shipman-Ward House
Hikes & Bikes
Explore Connecticut's Glastonbury Outdoor Guide
Gay City State Park – Intro
Meshomasic State Forest – Intro
CFPA's Shenipsit Trail – Intro
CFPA's Shenipsit Regional Trails – Intro
Kongscut Land Trust – Intro
Manchester Land Trust – Intro
Glastonbury's Town Trails – Intro
Multi-Use/Rail Trails
Bell-Hebron Linear Park
Salmon Brook Trail
Food & Drink
CT Ice Cream Trail: Robb's Farm
CT Wine Trail: Crystal Ridge Winery
CT Wine Trail: Joseph Preli Farm Winery
CT Beer Trail: Hops and the Hill Farm Brewery
CT Cider Trail: Deercrest Farm
Looking for your favorite restaurant? Here is an explanation as to why it's not here.
Everything Else
National Historic Landmark: Kimberly Mansion
US Oldest: The Old Cider Mill
US Oldest: Rocky Hill-Glastonbury Ferry
US First: Bible Translation by a Woman
National Champion: Serviceberry Tree (Former)
National Champion: Poison Sumac (Former)
National Champion: Striped Maple (Former)
CT Underground Railroad Trail: Kimberly Mansion
Blackledge Falls
Cotton Hollow Cascades
Flat Brook Falls
Al E. Gator Rock
Riverview Farms
Toggy the Two-Headed Goat (Gone)
Cotton Hollow Mill Ruins
Abandoned Gas Station Pillars
The Route 2 Culverts
The Peach King & Arbor Acres Farm (Gone)
Everett Hurlburt House
Cedar Bridge House
A Cardinal House Model Trains
Billy Joel's "The River of Dreams" video
Glastonbury, Border Town
Glastonbury Wrap-Up
Completion Celebration TBD