You Say Tomato, I Say Don't Make Tomato Wine
Joseph Preli Farm & Winery, Glastonbury
July 2019
Ugh. Here we are again. In that awkward place.
You know, that place with wonderful people in a beautiful setting on a gorgeous day… serving me criminally bad product. With the massive growth in the brewery, winery, cidery, and distillery sectors in Connecticut since I began this website, I've found myself in this awkward place more and more as I make my way 'round the state to visit them all.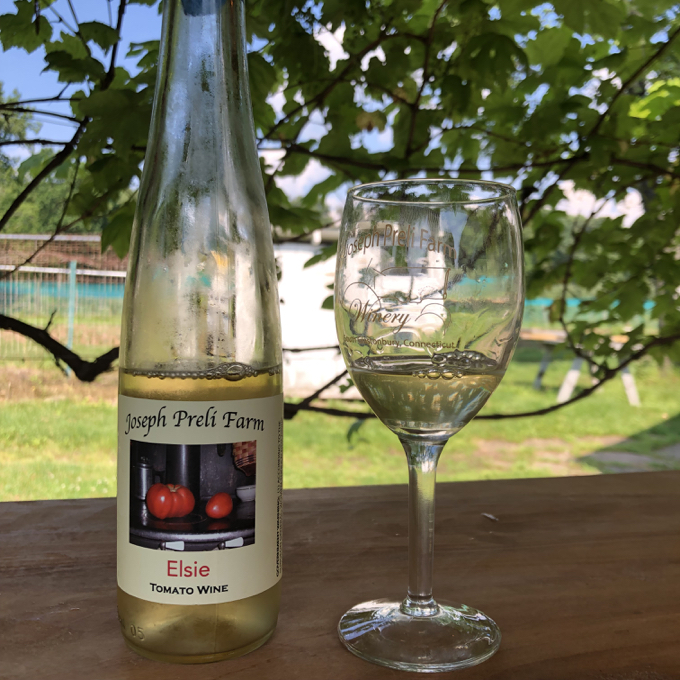 You'd be hard pressed to find a prettier area of Connecticut than the orchard-covered hills of South Glastonbury. If you've never been, some of the views from the hills of the Connecticut River Valley and Hartford are stunning. The mere fact that there are still so many orchards and farms up there is a credit to the town of Glastonbury for retaining a good part of what makes Glastonbury… Glastonbury.
The Joseph Preli Farm is not on a hilltop or even in a particularly lovely part of town, but it has its charms. Berry and veggie picking, bee keeping, and wine producing. This small family farm does it all.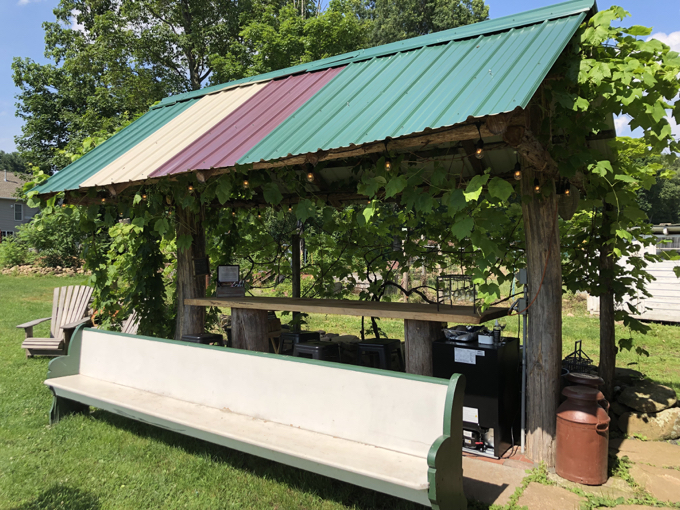 It all started when Joseph Preli came to the US from Northern Italy with his wife Rose and started a farm in 1920. That's cool. A real go-getter. Being an Italian immigrant, Preli began making wine right away. That's just what Italian immigrants do.
He made wine for his family and friends from the Concord grapes that were growing on the property. Then Joseph and Rose had six daughters who continued stewardship of the farm. The sisters carried on the tradition of making wine from the Concord grapes.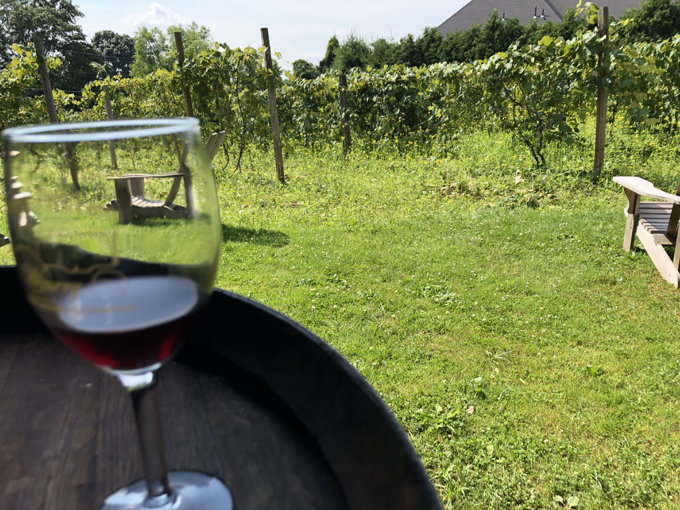 So far so good. The farm grew to what it is today and it's a nice little farm. People go there to pick blueberries and other stuff. There's a farm stand for lazy bums like me to purchase freshly picked items – including dandelion greens. I'm not sure too many Connecticut farms offer dandelion greens, but it's cool that Preli's does.
I wandered a bit before finding the "tasting room." It's not a room at all, but an outdoor table with a little roof over it. Homey. Rustic. Salt of the earth stuff. There are maybe 5 stools upon which to sit and, in a sense, infinite room to stand. The grape vines are directly behind the stools, the apiary buzzes nearby, and an old tractor barn full of rotting equipment adds even more "realness."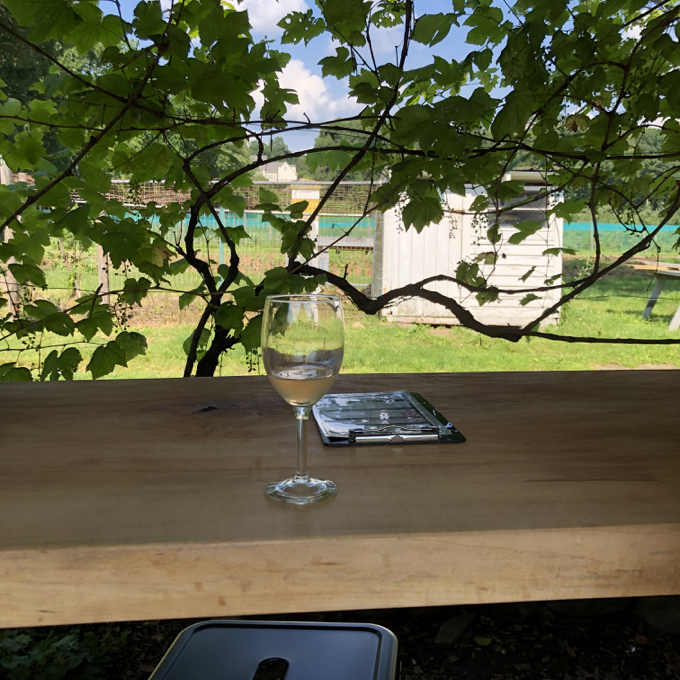 A woman appeared and began a tasting for several of us who had gathered. Choices were made and wine was poured. We had camaraderie, smiles, and tales of giant blueberries. Nothing could go wrong! We learned that all of the wines are handcrafted in small batches from fruit grown on the farm. They make some hard ciders too, which is cool. They use old-world methods to make "natural farm wines" — which I take to mean that they never add additional chemicals or sulfites to their wines.
We learned that ol' Joseph's grandson John now runs the joint and in addition to the winery, he farms with antique tractors he has restored. Seriously, this is a storybook place.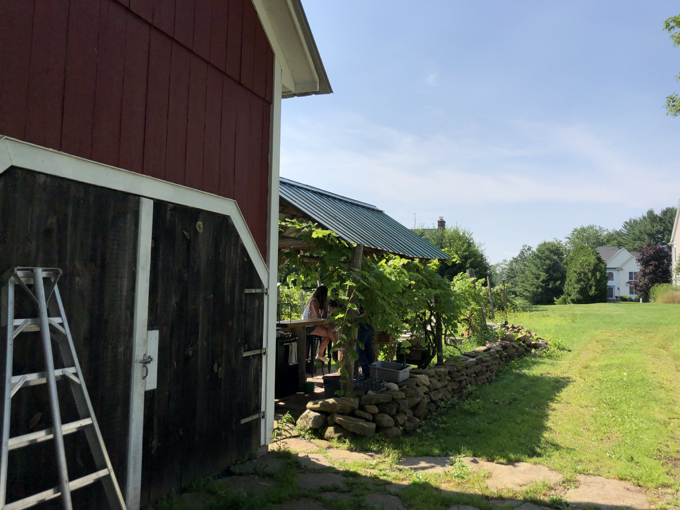 I read some more from the available material; sustainable farming, dry irrigation techniques, no insecticides, "wines are made with no chemical or technological manipulation…", paleo friendly, gluten free… all the buzzwords. Not buzzwords that do anything for me, but whatever. What's truly interesting and unique here is that they only use native grapes. Concord and Niagara. The farm's aforementioned Concord grape vines are now nearly 100 years old. The wines are spontaneously fermented with native yeast and are "alive," so to speak, with no chemicals used to stop the process.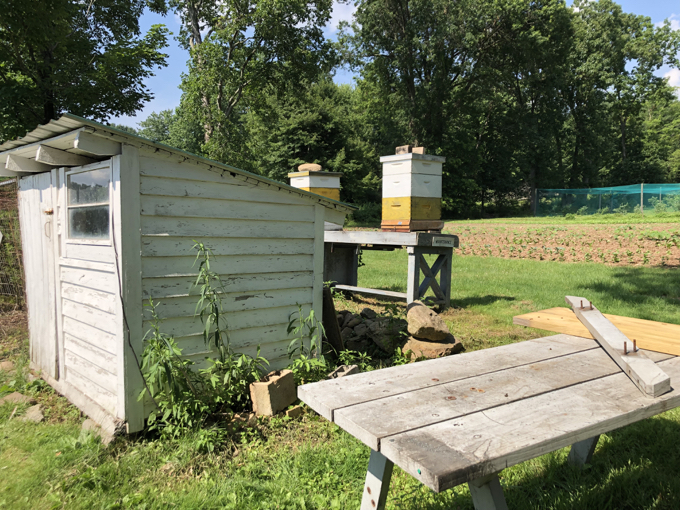 Their fruit wines are pure fruit wines – not mixed with grapes at all. This is a true farm winery. It is principled and old school. Several of the "workers" there are volunteers who simply love the family, the farm, or both. Just a super cool place all around.
Then the wines were poured. For $11, I was to choose 5 wines/ciders from the available ten on offer. Several of the wines and ciders they make here are creative and, let's say, weird. I started traditionally, with Giuseppe, the original (more or less) Concord Grape wine. It wasn't good.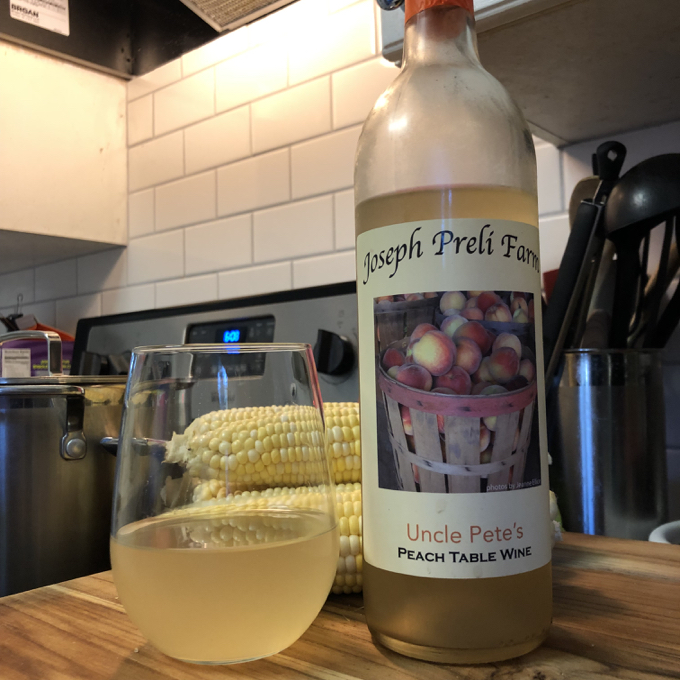 As I was doing my tasting, a family group was doing the same with me. An elderly woman was included in the group and she was fantastic. You know how older people just don't care? As they sampled whatever wines they chose, she gave her opinions on each one.
"This is horrible."
"Awful, who would drink that?"
"This one's not for me."
"I need water to get this taste out of my mouth."
"I can't even swallow this."
I laughed and wondered if direct honesty is always the best policy. As I sampled my second choice, a blueberry wine, I was put to the test. It was "not for me," and I, too, questioned who would drink this stuff. But I said nothing. It was boozy, thin, and the fruitiness was almost lost. As one who does not like sweet wines, I kind of appreciated the understated flavors here. But also as one who likes decently made wine, I just couldn't abide by this stuff.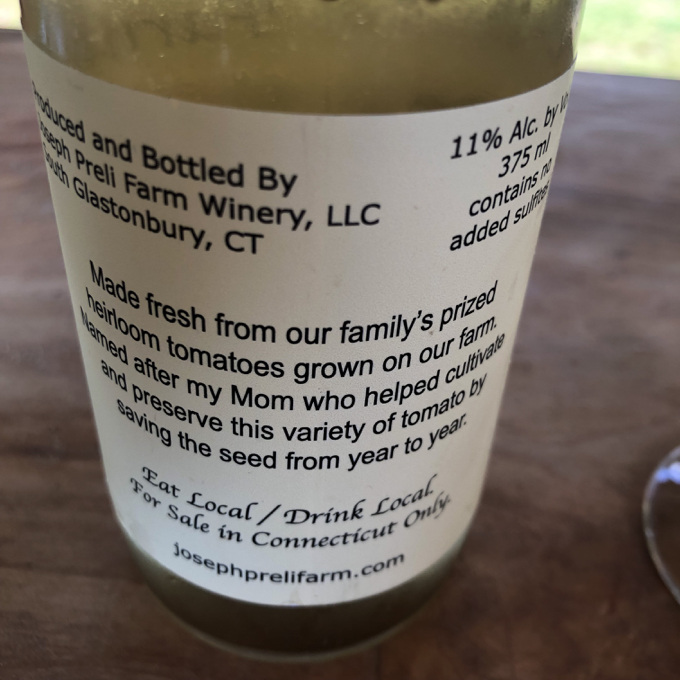 On to the peach wine, which wasn't bad. It tasted of peach and ethanol, but I didn't mind it so much. In fact, I promised to buy a bottle of it; more out of respect for the farm's ethics, hard work, and pleasantness than a desire to drink a full bottle of the stuff.
The "traditional cider" was awful. Thin and boozy again but it got me to the finish line with the tomato wine. I've no idea why I chose to drink a tomato wine, but I did. Or I tried to. If the other wines were ethanol forward, the tomato was like an eau-de-vie. Literally no fruit flavor. None. Just sort of bitter booze. It was, perhaps, the worst wine I've ever drunk.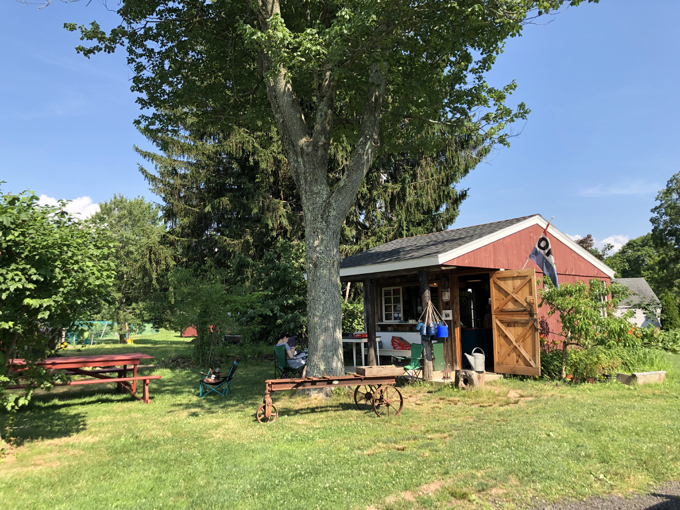 But lo! That was the dry version! Here at Preli Farm & Winery they also make a sweet version! I was offered a sip of the sweet and, wishing I was more like the old woman, I accepted and took my shot. Which is what it was like. A shot of Dubra Vodka. I merely smiled and said thank you.
Afterwards, I made my way to the farm stand and yes, I bought that bottle of peach wine for 20 bucks or so. Why? (I also happily bought some sugar snap peas and gorgeous blueberries.) I took it home, chilled it, and served it to my wife. Hoang has a less discerning palate when it comes to wine, so I didn't think twice.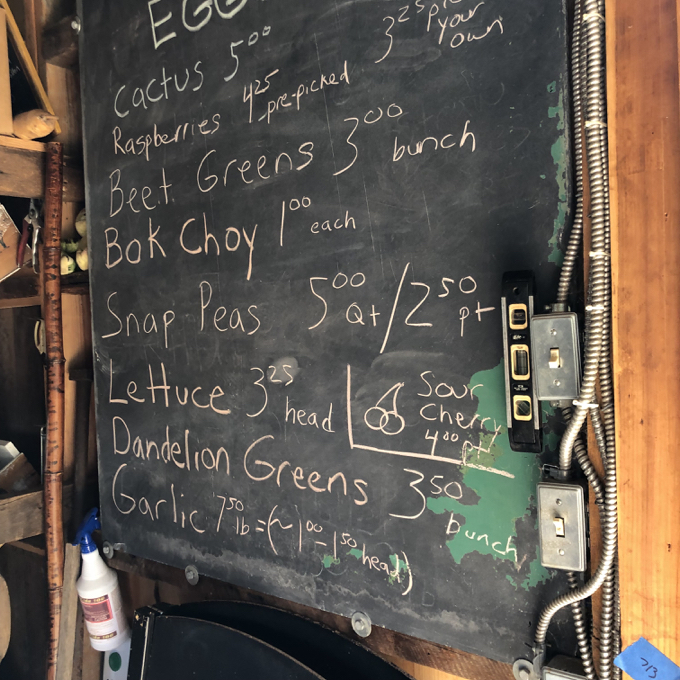 This wine made her angry. She was mad at me for serving it to her, and mad that a winery sells it. She, too, felt it tasted like bad eau-de-vie with barely a hint of peach and a weird bitter burn. She took the rest of the bottle and dumped it out. I'm not kidding.
And I really wish I was. I want this farm and winery to succeed! They were so nice! I believe in what they're doing and I love where they're doing it! I take no pleasure in writing this page. Maybe I'm the crazy one! (Well, me and my wife and the very few Yelpers who agree with us.)
I'm somewhat confident that this is a farm first and a winery second. At least I hope that's the case.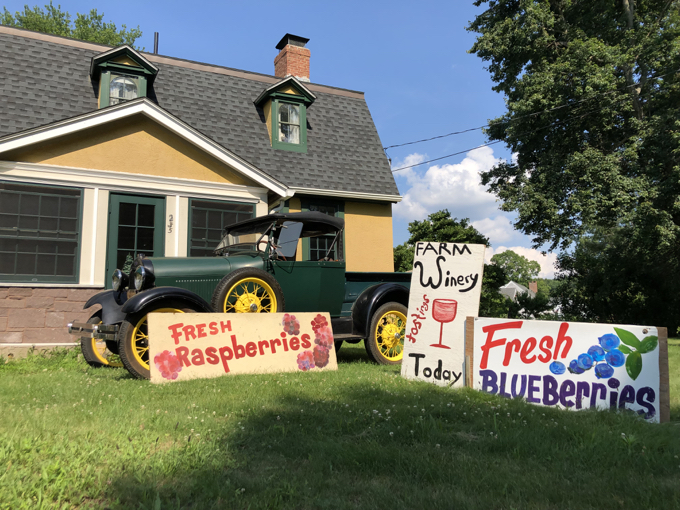 Joseph Preli Farm & Winery
CTMQ's Visits to Connecticut Wineries