Old Ferries Never Die…
Rocky Hill-Glastonbury Ferry
June 14, 2008
Oof. This page is OLD and therefore the pictures are, shall we say, not good. Oh well… good story though.
This is one of those Connecticut things that everyone should know about. I'd heard rumors about this ferry on the dingy back streets and grimy tenement alleys that I frequent for the skinny on secret museum happenings and such.
"Pssst, hey you! Over here! I got somethin' for ya! There's an old ferry in the middle of the state that you might be interested in. But it'll cost ya!"
"Hey buddy, thanks but no thanks – I'm not really into that sorta thing," I countered. But the pitches and come-ons continued; "Psst! Old Ferry rides, real nice ride, you'll be finished in minutes, only cost ya 3 bucks!"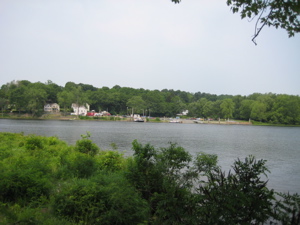 I ignored the licentious provocations until, finally, my interest was piqued. "Hey, you… Buddy, yes you! This ain't no typical old ferry. This here is the oldest continually operating ferry in these here YOU-nited States!"
Hmmm, maybe I'd been misunderstanding the CT museum underworld all along. I prodded further; "Oh yeah? Where might that be?"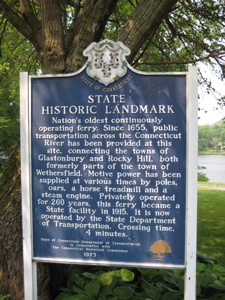 "Arrr, she be crossin' the river — " You know what? I've veered too far. Now I'm writing conversations with fictional alley-dwelling pirates who have an unhealthy obsession for Connecticut historic landmarks. I'll stop.
'Tis true though, right here, in our fair little state, runs the oldest ferry in continuous use in the country. Pretty cool, I think. I had planned my day's route to cross the Connecticut River via the ferry – which was extra exciting because I was doing it on Connecticut Open House Day – which meant it would be free!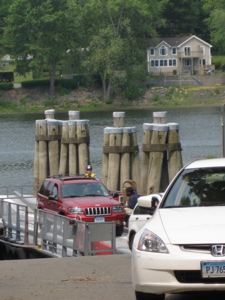 After finishing up over at a little in Glastonbury, I drove down one of Connecticut's designated scenic routes, Route 160. At only 1.06 miles, I figured that would be the shortest one in the state, but I was wrong. (There are several under a mile.) And honestly, the road is really pretty lame and not very scenic at all; it crosses a flood plain dotted with rows of corn to the ferry landing at the river. Aha! The trick is that the ferry is actually part of Route 160 too. So therefore, designation approved!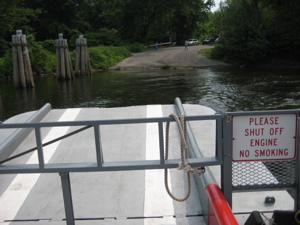 Upon arrival, I was pleased to find only two cars ahead of me. This meant I'd make it on the next trip – yes, this thing only ferries 3 cars at a time. I waited and walked around the pleasant little riverside park. Some cyclists milled about and an elderly lady was chatting everyone up. She was even more excited than I about the free fare for the day.
So… some history?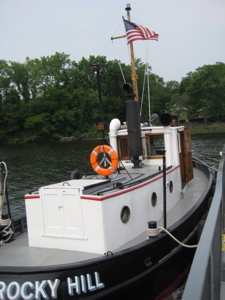 The nation's oldest continuously operating ferry service crosses the Connecticut River between Rocky Hill and Glastonbury. The original ferry, which dates back to 1655, was a small raft pushed across the river using long poles. Under State charter, the ferry service was operated by local families throughout most of its existence. The ferry service was such a vital transportation link within the region that crossing would cease only during the most adverse conditions.

When river flood levels escalated, the ferry would use alternate landings such as the old coal dock in South Glastonbury, or the ferry operator would skid the craft across inundated meadows to an old dock near Tryon Street.
At one time, a horse on a treadmill in the center of the craft supplied the power to propel the craft across the river. In 1876, the ferry was "modernized" into a steam driven craft. Today's craft is an open flatboat named the "Hollister III". The three-car barge is towed back and forth by the "Cumberland," a diesel powered towboat.

The Rocky Hill – Glastonbury Ferry is a seasonal ferry and has an annual average daily traffic of 400. The ferry is the only river crossing accessible to pedestrians and bicyclists between Hartford and Middletown, preventing what would otherwise be a thirteen mile detour for them (It would be about 8 miles for cars).
The ride is a bit plodding but very smooth. The landing was soft and accurate. And that was that… on to the Captain John Francis House in Old Wethersfield!

The Rocky Hill – Glastonbury Ferry
CTMQ's Airports & Ferries
CTMQ's Firsts, Onlies, Oldests, Largests, Longests, Mosts, Smallests, & Bests