The Wethersfield Triangle
Keeney Point/Hockanum Meadow, East Hartford, Glastonbury, Wethersfield
November 2020
People often ask me how I continue to get excited about hikes in Connecticut. Especially anywhere outside of northwestern Connecticut. My answer is always the same: I like to try to find what's unique about each hike and focus on that. The "backyard adventure" philosophy and all that.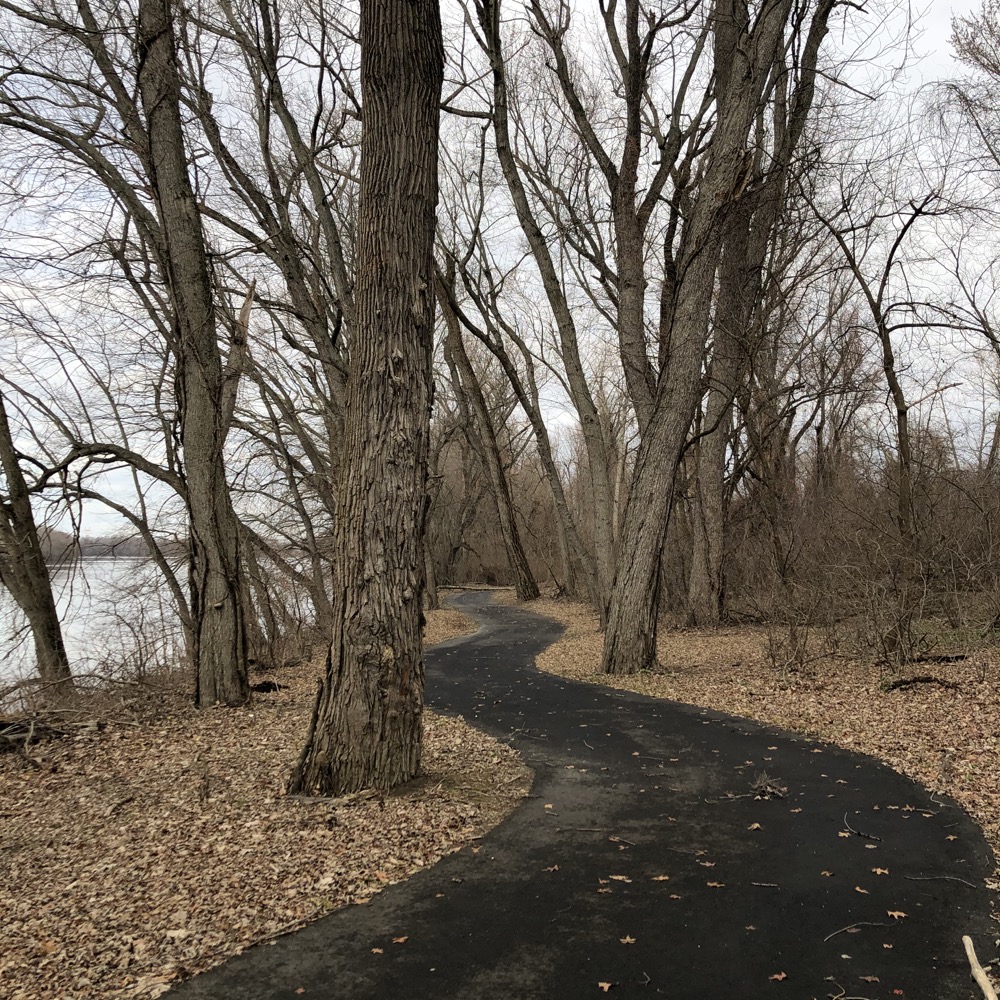 Whether it's geology or history or geography or whatever. There's always something. And in the case of the Hockanum Meadow and Keeney Point, all three of those boxes are ticked. Maybe even throw in some natural beauty, but that's certainly not a highlight here.
After all, the hike is a pan flat, buggy, often muddy, out and back affair along the Connecticut River. Trails from Enfield to Old Lyme provide that. But no other trail offers the geographic quirk that this one does.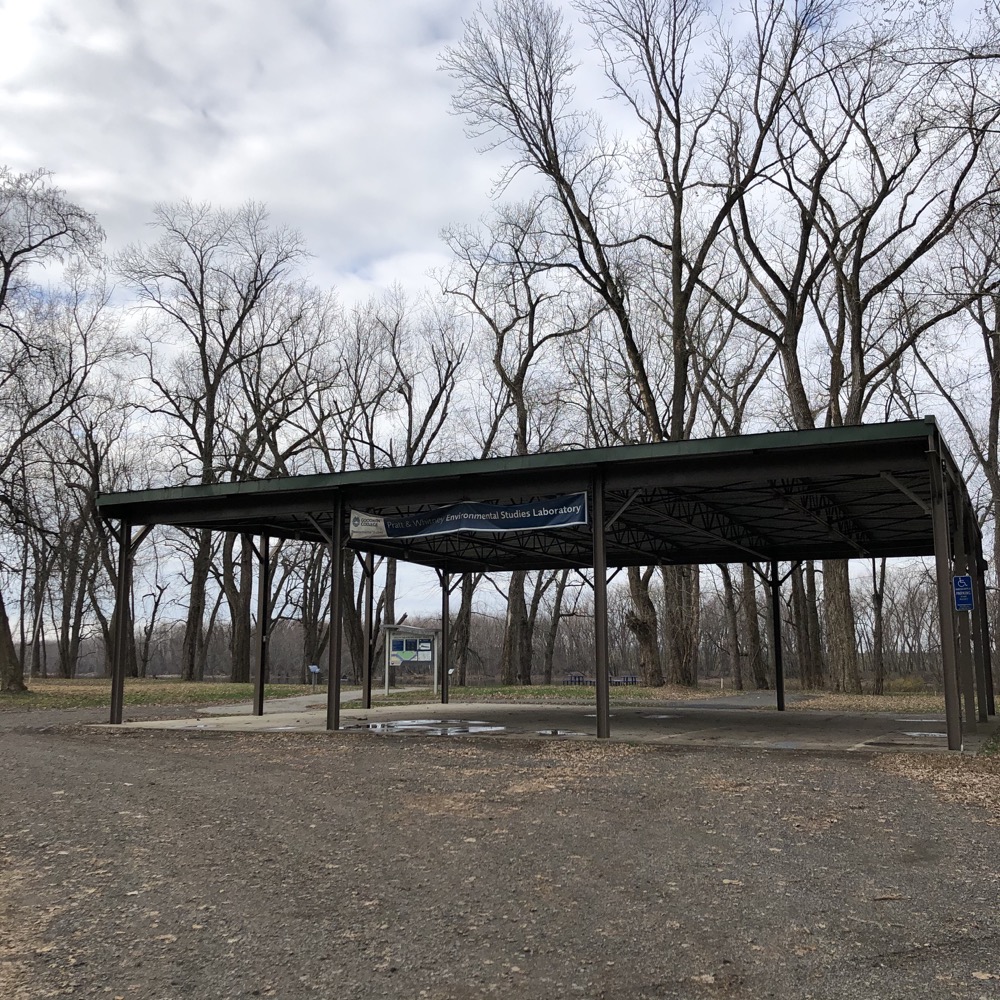 I keep calling it "the trail" because in the first quarter of the 21st century, access to and through this area keeps changing. Loosely, we're talking about a the land between Goodwin College in East Hartford and the Putnam Bridge (Route 3) in Glastonbury. This includes Keeney Cove Marsh State Wildlife Area, Hockanum Meadow, Keeney Point, Richard Strong Open Space, and someday, a full stretch of the South Meadows Greenway Trail, current called South Meadows Walking Trail.
And in the middle of the 3 mile out-and-back walk is The Wethersfield Triangle – easily the second most exciting geographic oddity in Hartford County after the Southwick Jog. We'll get to The Triangle in a bit. First we have to find the trailhead…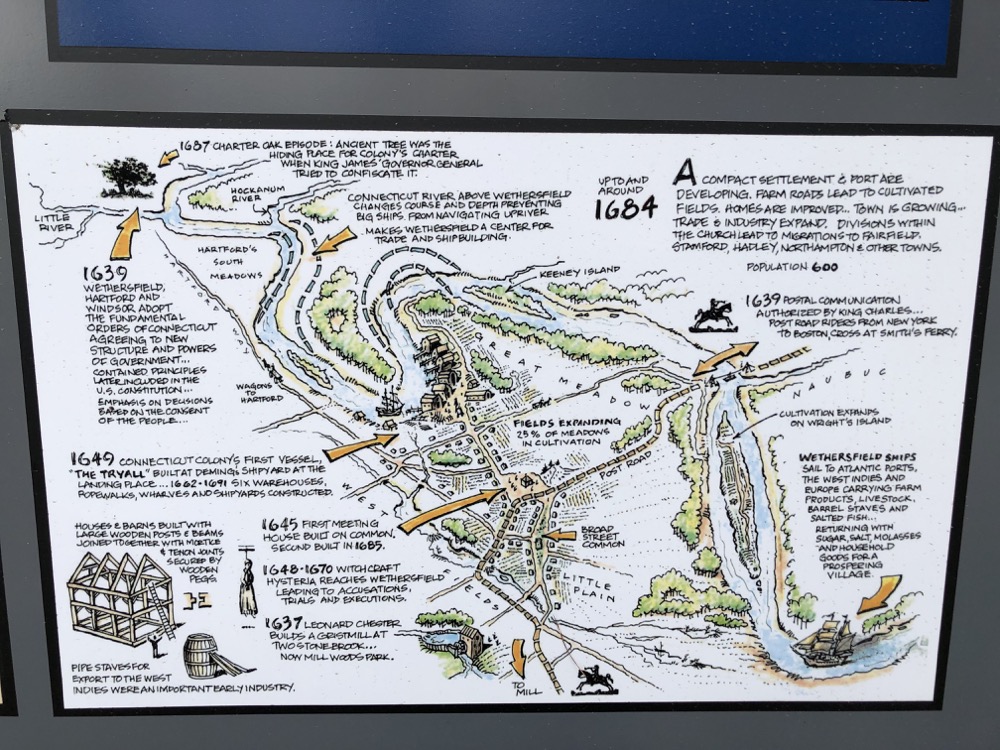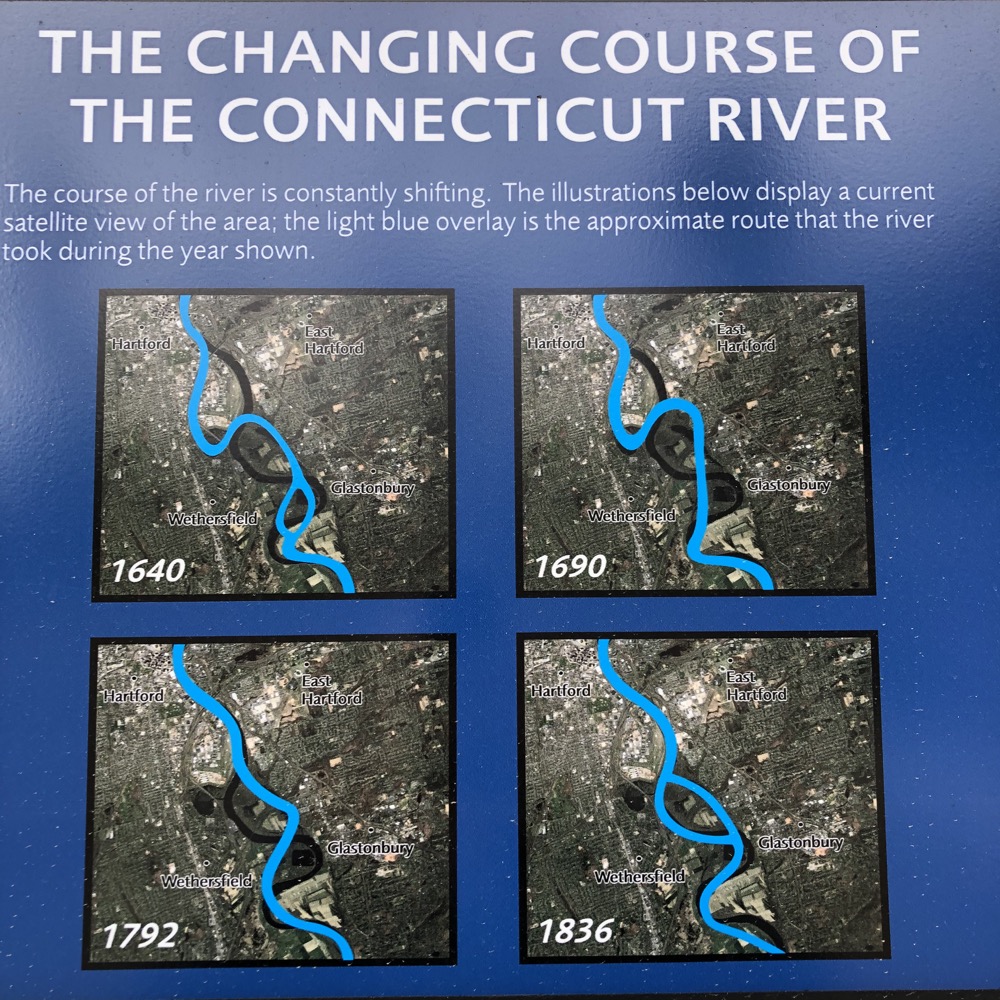 Someday you'll be able to walk or bike from East Hartford's Great River Park via the Charter Oak Greenway. Until that happens, the main entrance is accessed by taking East Hartford's South Meadow Lane, off of High Street. South Meadow Lane starts off paved, then switches to single lane gravel, ending at the river.
Oddly, there's a large sort of carpark here. With a roof and concrete and everything. I have no idea why this exists and cynically imagine some organization was given a certain amount of money to improve the trail and they couldn't spend it all on trail work so… they built a roofed parking area. Weird.
I cynically imagined wrong; see comment at bottom.
They also added a lot of signage. A lot. There are large signs with maps every few tenths of a mile that tell the reader they've done nothing but walk a few more tenths of a mile. Then there's signs about things I hate: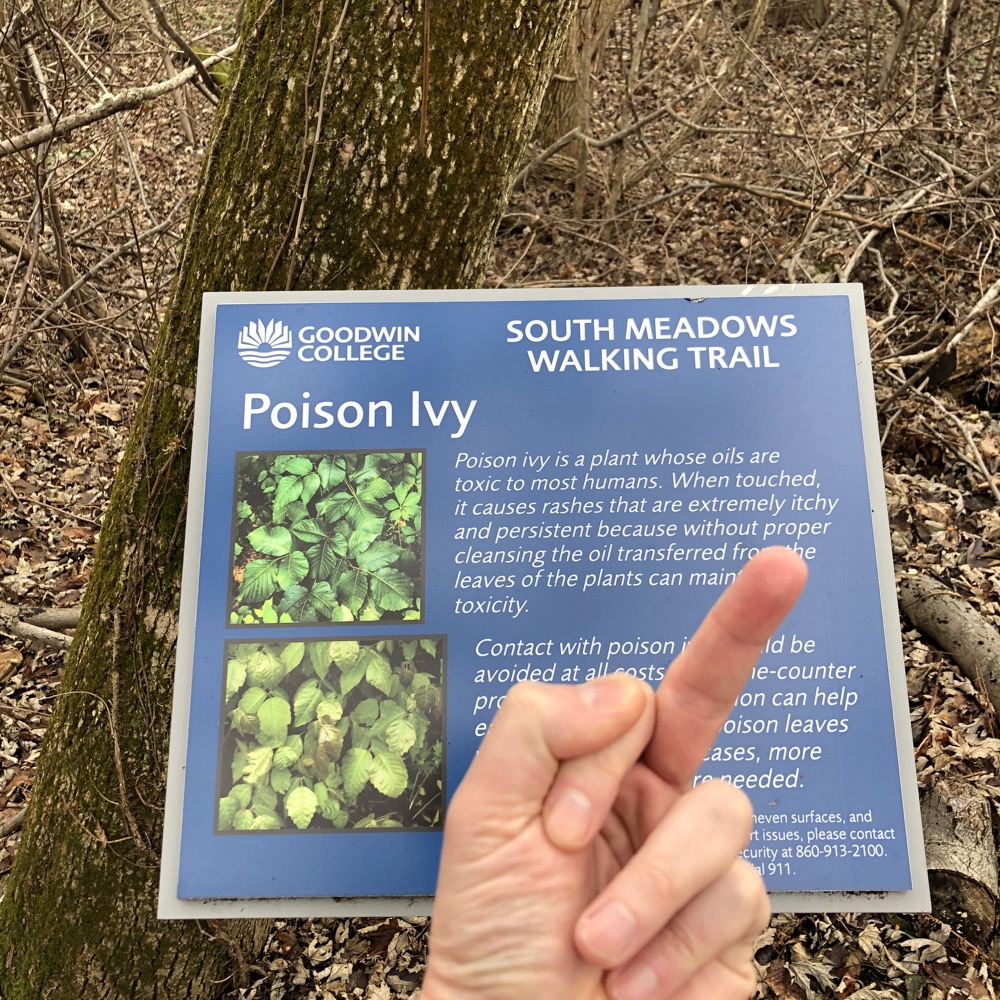 And there are signs about the history of this area, the birds on the river, archaeological digs, old bridges, bats… lots and lots of signs. I don't mean to sound like I'm complaining; just reporting.
I first headed north towards Goodwin College… University? Whatever it is now along the newly paved path. It's very nicely paved and you can catch a glimpse of Hartford's skyline along the way. Then it ends abruptly about a quarter mile from Goodwin's campus. It may very well be connected by the time you read this.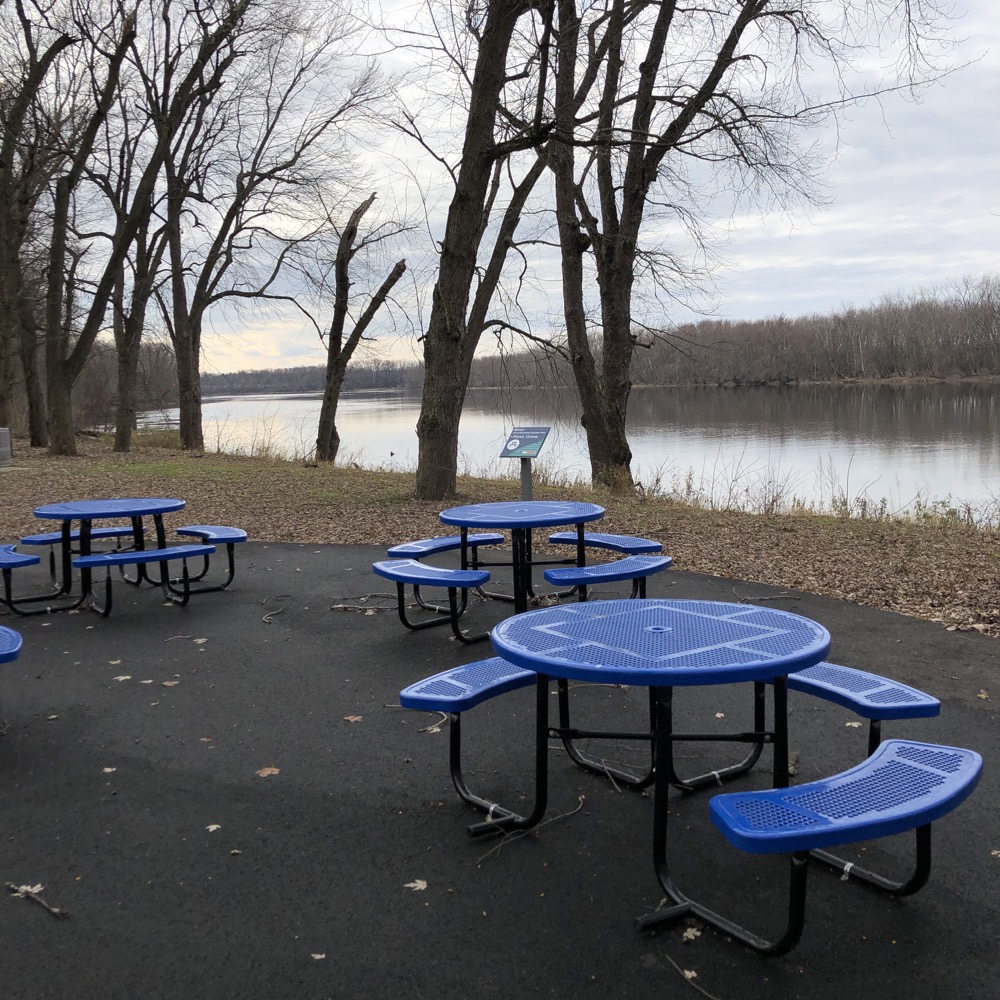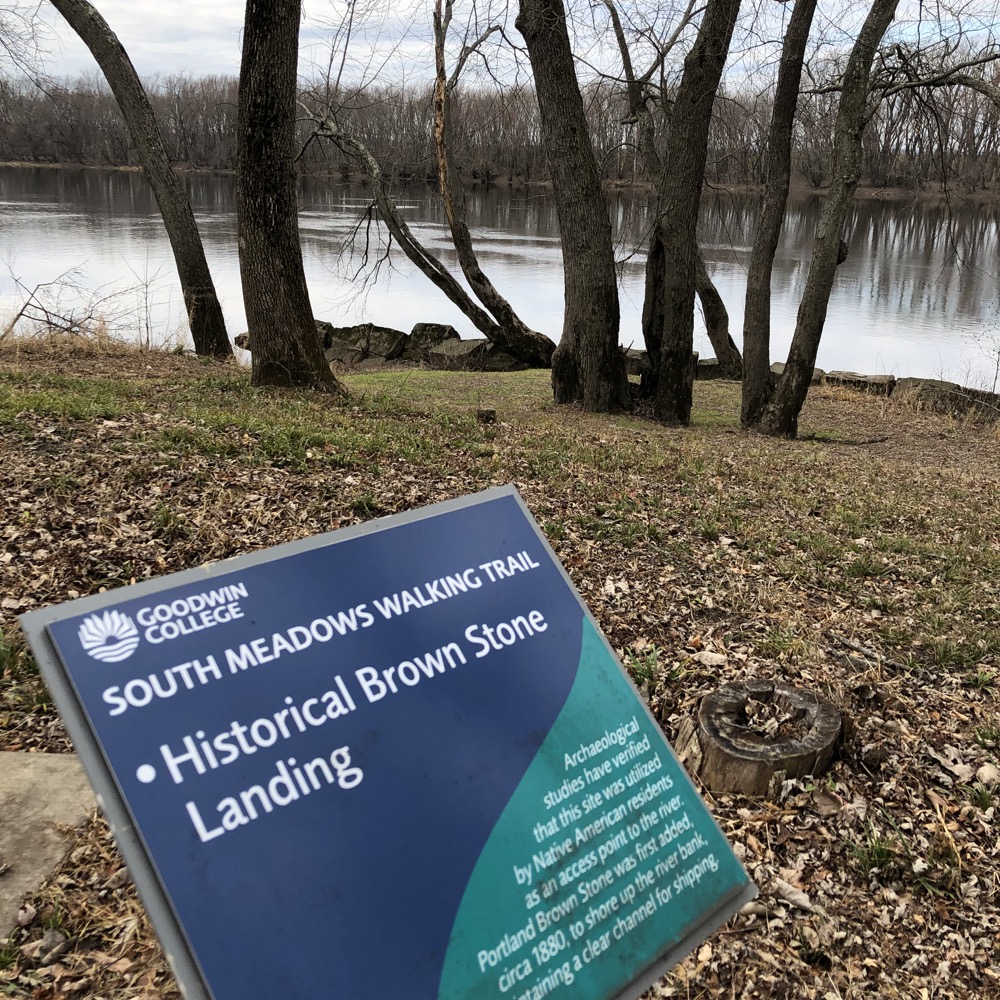 I turned around, passed all the signs again, passed my well-protected car, passed the picnic area, and continued south. In short order I came upon what the trail makers from Goodwin deems "Historic Brownstone Landing." That is a very fancy name for a clump of land that extends of few extra feet into the Connecticut. Back in the late 1800's, a retaining wall made of brownstone was added along the bank to preserve a shipping lane.
Today, it provides a nice view upriver of our capital city.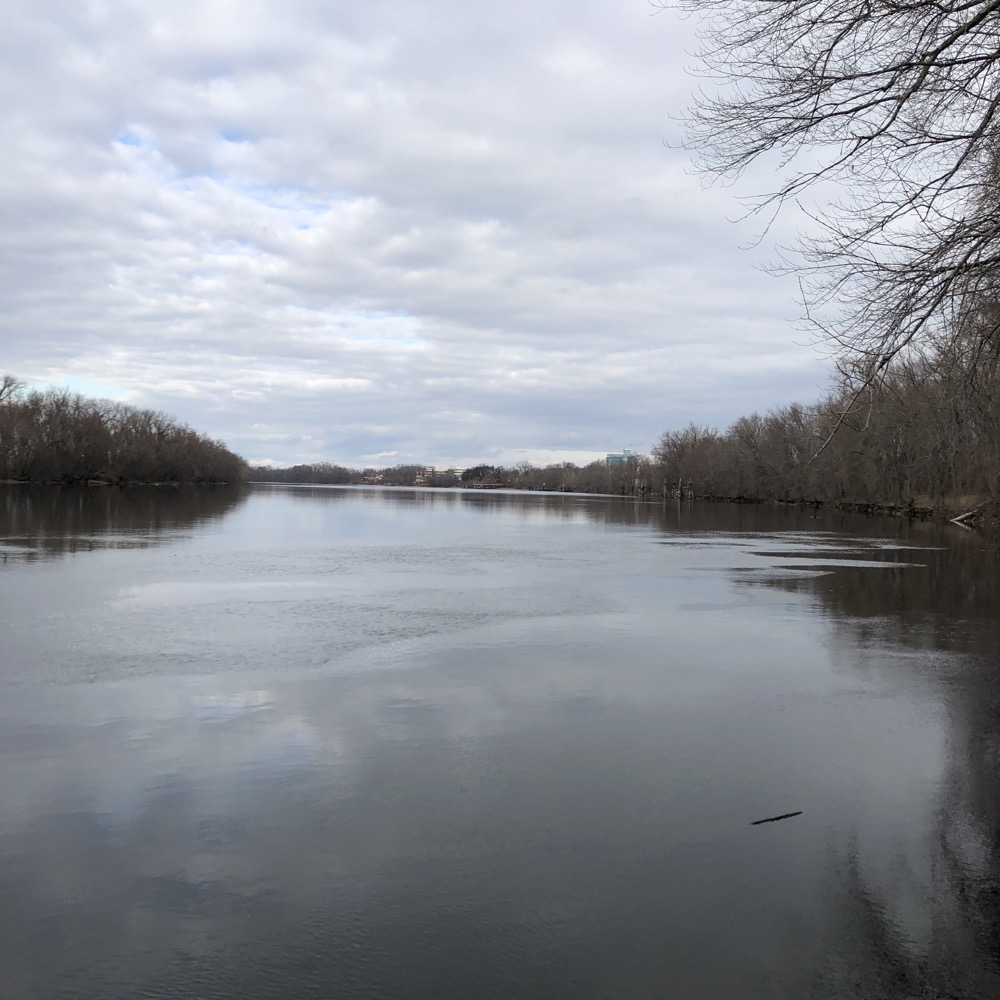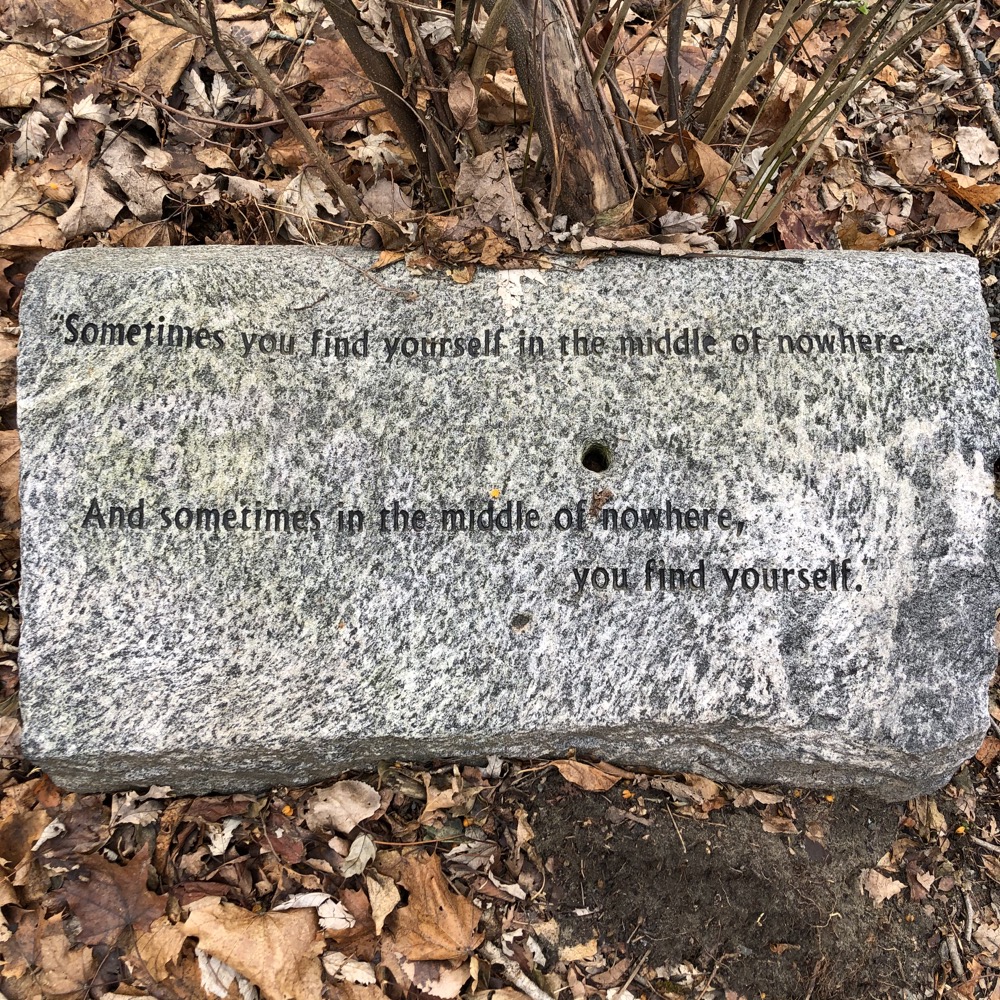 Continuing south, the asphalt runs out at some point and some side trails appear. An orange trail and a blue trail, which ultimately loop back to the main riverside trail. One is short and one is longer… I forget which is which, but you'll be fine because there are 19 signs telling you where you are. (Just checked, the orange trail takes you to the blue trail. If you care. You don't care.)
Once onto the blue trail that heads further away from the river, things become a bit messier. It heads towards Keeney Cove proper. Near the Cove's stagnant water, several unmarked trails branch off left and right. I assume one can make one's way all the way out to Naubuc Avenue and if I lived near here and was a kid, I'd be BMX'ing all over the place in here.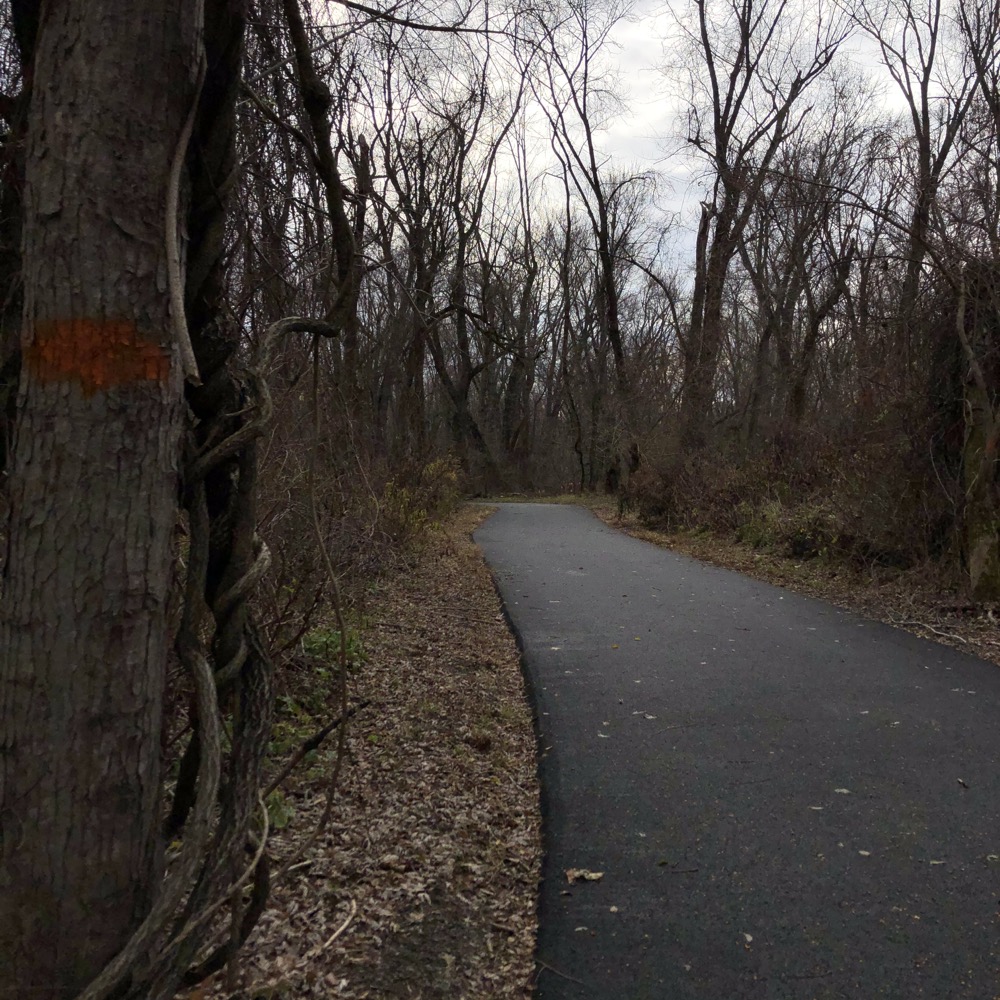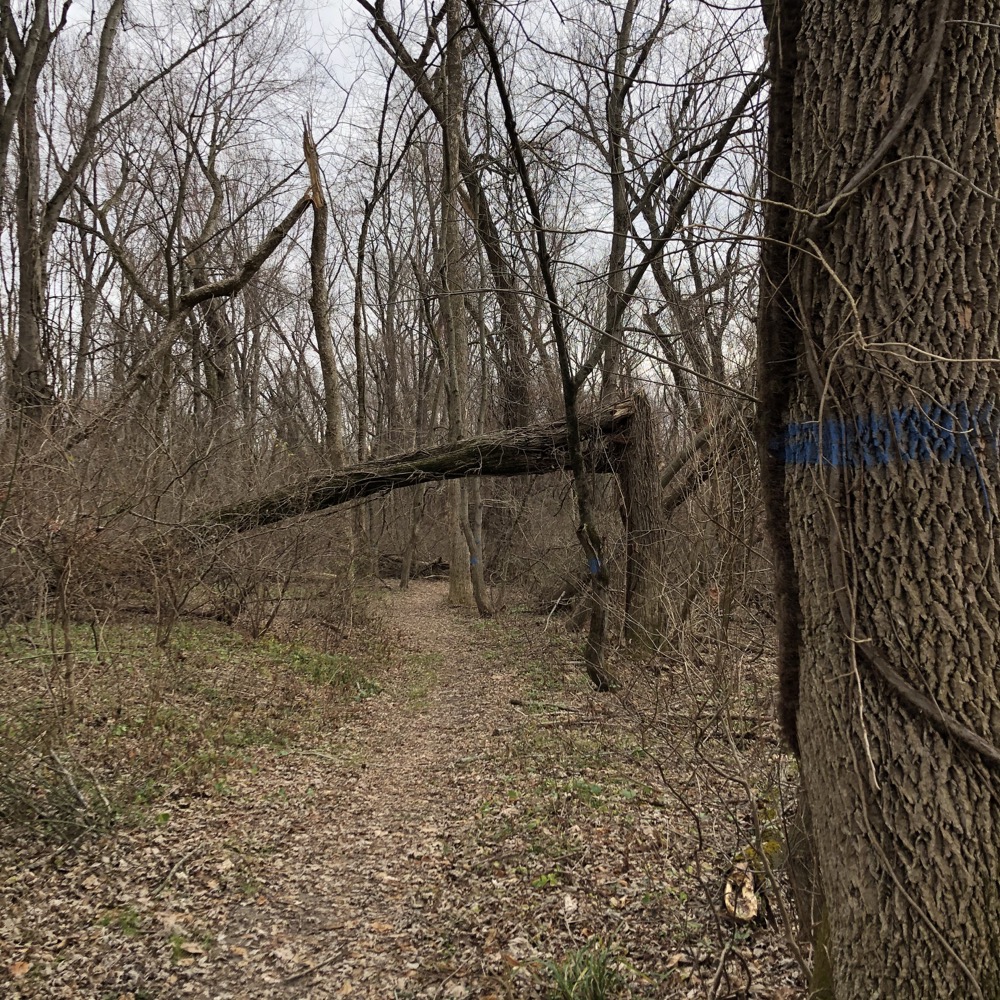 As for old man BMX-less me, I reached a point near the pond and decided I'd seen enough. Back to the main trail along the river for me. And time to get excited.
I'd wanted to come to this area for years. I don't know why it took me so long, but I'm glad it did. When I first learned of the geographic oddity here, I immediately wanted to go check it out. But back then there were no trails and the place was a mess.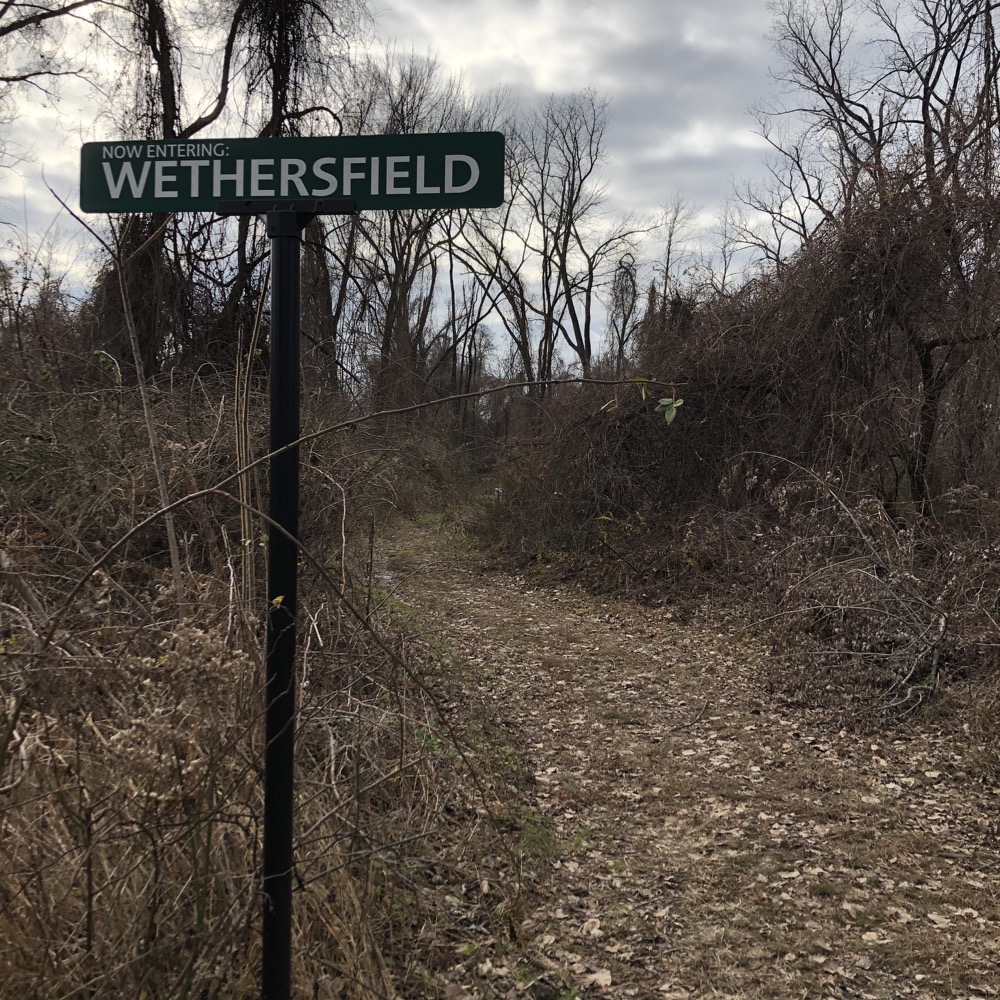 Now? Now there's a nicely cleared wide trail and a giant carport. Of course I'm talking about the Wethersfield Triangle.
Something else that's been on my mind for over a decade now is the Wikipedia entry for Haddam, several miles down the river:
Haddam is the only town in Connecticut divided by the Connecticut River, and only one of three divided towns along the entire Connecticut River, the other two being Northfield, Massachusetts, and Pittsburg, New Hampshire.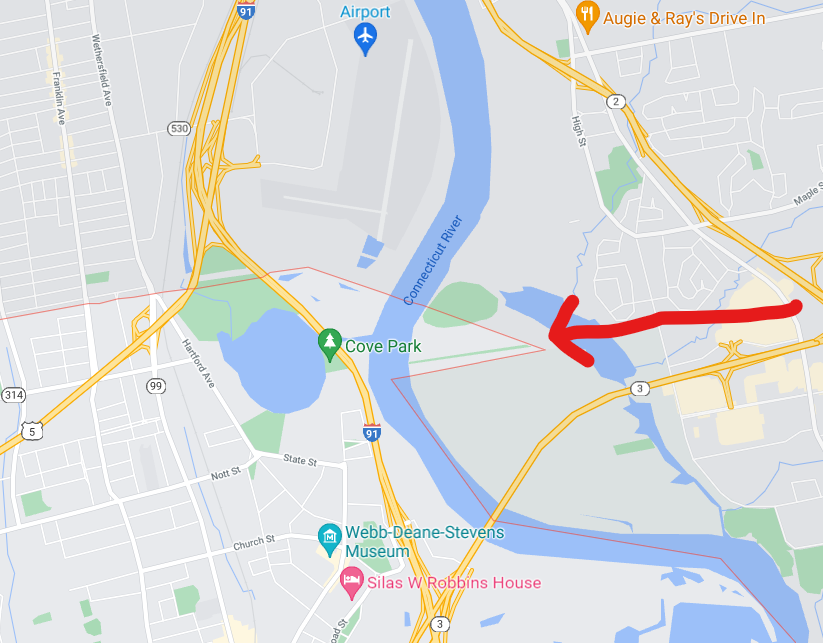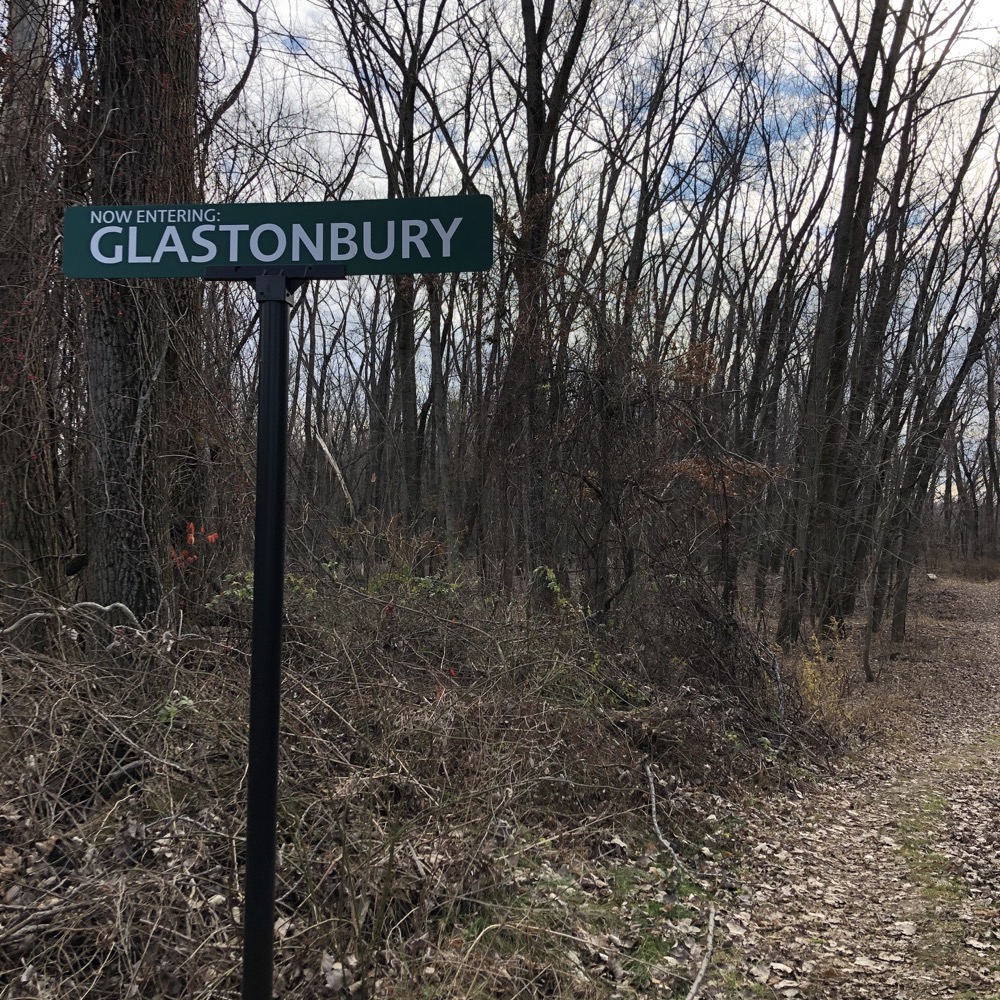 Students, I know your teachers tell you to never use Wiki as source material. Listen to them. Because it lies (Haddam is the only Connecticut town with residences on both sides of the river). And you can prove it by walking this path, on the east side of the Connecticut, from East Hartford to Glastonbury… with a slice of Wethersfield in between.
Welcome to the Wethersfield Triangle. The Courant's former reporter Peter Marteka explains:
The almost perfect isosceles triangle of 55 acres was marooned during a great flood in 1692, separating the land from the town. Despite attempts over the years by East Hartford and Glastonbury to annex it to their borders, the triangle remains part of Wethersfield.
Yes, apparently Glastonbury asked for the Triangle when they were planning their tercentennial in 1991. I'm guessing it was mostly in jest – especially because there's nothing of value in the Triangle at all. It's 55 acres of nearly impenetrable swampy bramble and brush.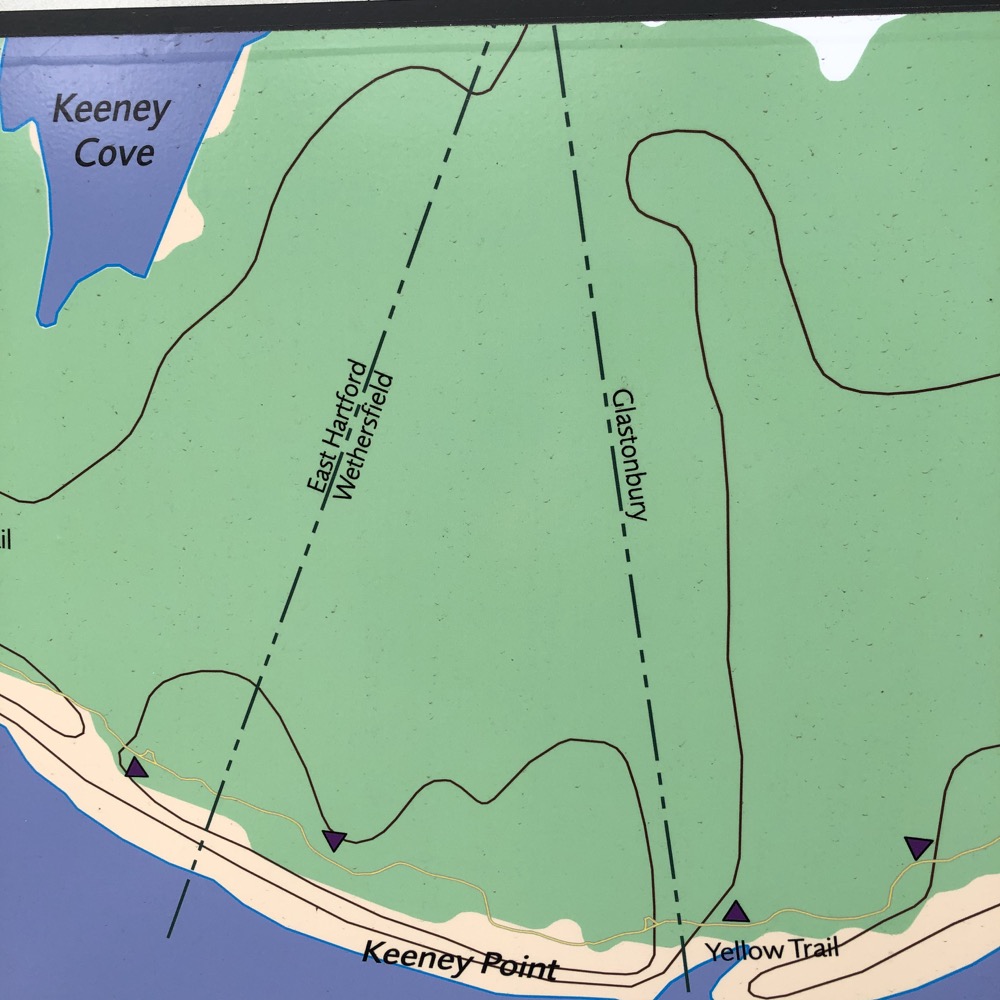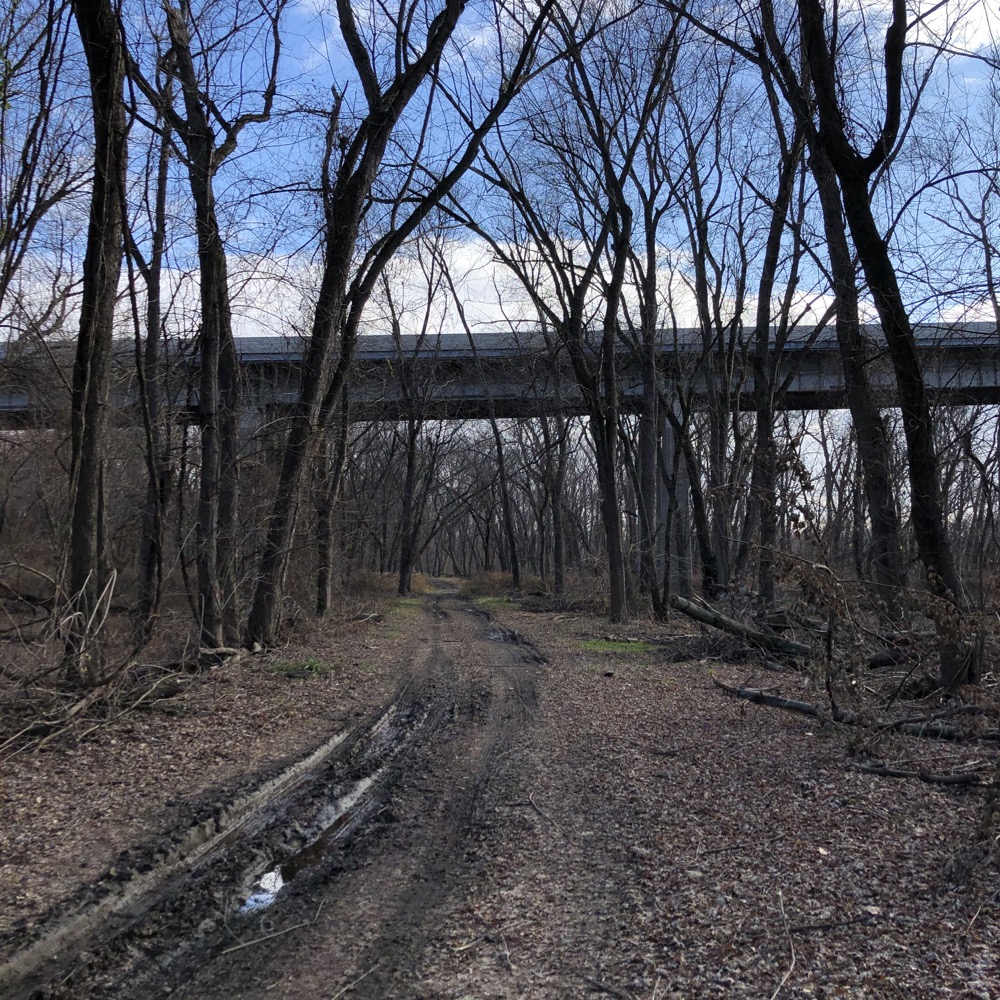 The river has changed course around here a few times in the last 500 years – resulting in its serpentine shape we see today in southern Hartford County. As I was thinking about all of that, I quickly crossed into Glastonbury. I love that someone has installed the town border signs out here. It makes this unique hike one hundred percent better.
The rest of the trail down to the Putnam bridge is through a floodplain, so I imagine it's pretty difficult after spring snowmelt and rains. There are large berms and dikes here separating the path from the river but they can only do so much after a heavy snow year up north.
Near the bridge underpass, there's a trailhead of sorts, but to reach it from anywhere in Glastonbury requires a hike and knowledge of the area. You can continue under the bridge along a dirt road into the Richard Strong Open Space, which appears to contain some farmed fields still.
That dirt road will ultimately take you to Point Road and the fishing bridge frequented by locals in the know. (Point Road connects to Naubuc Avenue near Glastonbury Boulevard and its sprawling commercial area and I assume the completed South Meadows multiuse trail may do exactly this.)
After poking around a bit, I did what I had to do and began heading north to my car. Back through Wethersfield again and into East Hartford. I finally did it. I hiked through the Wethersfield Triangle and survived to tell the tale.
Anyone who is a fan of geographic or cartographic quirks needs to do this hike. If you're one of those people, you understand why. If you're not, you won't. Simple as that.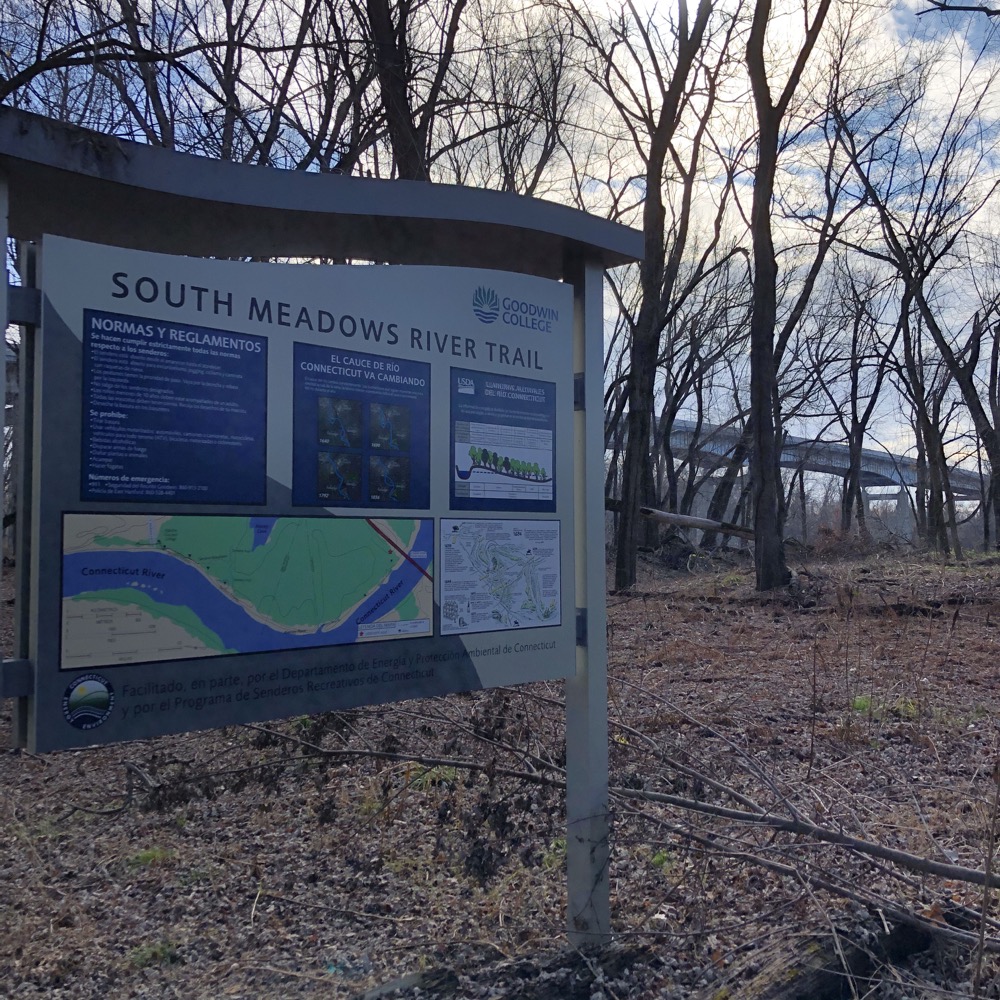 Connecticut's Geographic Oddities
CTMQ's East Hartford Town Trails
CTMQ's Glastonbury Town Trails
CTMQ's Wethersfield Town Trails