Avon Mountain is No Joke
Smoke, Fire and Angels by Mark Robinson (2009)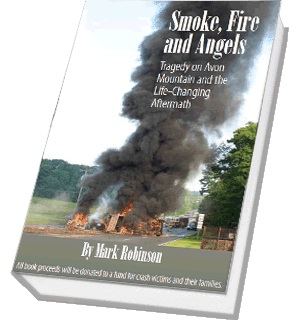 After three years of writing this blog, it's time for a blatant advertisement. [2016 Update: I now have unobtrusive ads.]
Please, visit this website and buy the book. And here's the thing: The author, Mark Robinson, won't get a dime of your money. Nor will the publisher. Or the printer. Or me for that matter. Nope… 100% of money the book generates will go to the families affected by the Avon Mountain truck disaster.
Those of you from around these parts are familiar with "The Mountain." I've written about it in several different contexts on CTMQ and while I love that it casts a shadow on my house, I don't love that the road over it is an indiscriminate killer. I've joked about driving over it many times – as I take that route quite often. [I'm updating my book pages in May 2016 and yup, a young woman just died up there a few weeks ago. Again.]
But it's no joke. And neither is the book, Smoke, Fire and Angels. Mark spoke at my work a few weeks ago and I bought a copy. It's a very readable, very moving and somewhat startling book. Mark delves into all the lives affected by the crash (5 dead, another dozen severely injured) and picks apart the company whose negligence led to the horror and the state law that didn't stop it before it happened.
Hey, if anything, just buy the book in order to help out the victims – the killer truck was not insured.
It was July 29, 2005, a beautiful summer day in Connecticut's Farmington River Valley. I was one of a few dozen drivers heading toward Hartford. Most of us were doing what we did hundreds of times a year: simply going to work. There was no way to know what was coming as we approached the traffic light at the base of Avon Mountain and the intersection of Nod Road and Routes 44 and 10, of chance and fate, of wrong place and wrong time.

This is a true story about real people, the best and the most irresponsible among us. It's about what happened before, during and after one of the worst crashes in Connecticut history. It's about innocent victims and heroes – everyday people who did extraordinary things, literally picking up the pieces of the broken lives left in the wake of a poorly maintained, uninsured, fully loaded, out-of-control Mack dump truck.
Reading it, I learned some crazy coincidences. Namely, one of the women who tragically died, Maureen Edlund of Canton, was on her way to work that morning at Jacobs Vehicle Systems in Bloomfield. Since you probably don't know what Jacobs is most known for making and selling, I'll tell you. They make truck engine retarders for large trucks. These slow trucks down when brakes alone cannot do it.
Jacobs is in an industrial area and its neighbor in Bloomfield was American Crushing and Recyling. That happens to be the criminally negligent company who owned the poorly maintained dumptruck that killed Maureen and the others. This little tidbit freaks me out a bit.
It also freaked me out when another giant truck screamed through that same intersection and wound up in the middle of the (now closed) Nassau Furniture store. Avon Mountain does not screw around.
In the meantime, the state has installed some truck stopping ramp things, some minimal median protection, more police presence, and my man Arnold Chase installed a helicopter pad for LifeStar usage – as well as his own.

CTMQ's List and Reviews of Connecticut Books