East Windsor: Complete!
Maine Fish Market Restaurant
Here is my list of everything I've done in East Windsor!
I'm very excited to write this page. This is the 19th of what may ultimately be 169 town completion celebration pages! Yes, of course I am fully aware of how absurd that is. But I love it.
For those of you who are new here… In late 2016, after a decade of writing CTMQ, I decided to try to "complete" towns. In that decade of traveling and writing, I had already done a lot of stuff in most of our towns already. However, I have been continually surprised by how much more there often is to do. This page you're reading includes my "town completion celebration meal." These will sometimes be at the best restaurant in town. Or the most historic. Or the most iconic. Or the most unique. Or the only one. Or at a gas station. Every town is different!
Let's get to it.

East Windsor, Hartford County
Population: 11,162 as of the 2010 census. (94th in Connecticut)
Founded: 1768 (72nd)
Size: 26.29 sq. miles (92nd)
Here's the Wikipedia page and the town page
East Windsor was my: 19th town completed
First CTMQ Visit: East Windsor Academy Museum, June 2014
Last CTMQ Visit: Barber Hill Schcool House, August 2019

The Celebration Meal
I had a few choices of restaurants at which to celebrate my "completion" of East Windsor, so I asked my friend who lives there. She gave a fairly tepid nod to the Maine Fish Market Restaurant after naming one of the ten breakfast joints in town. (Seriously East Windsor, why do you have so many breakfast places? It's weird.)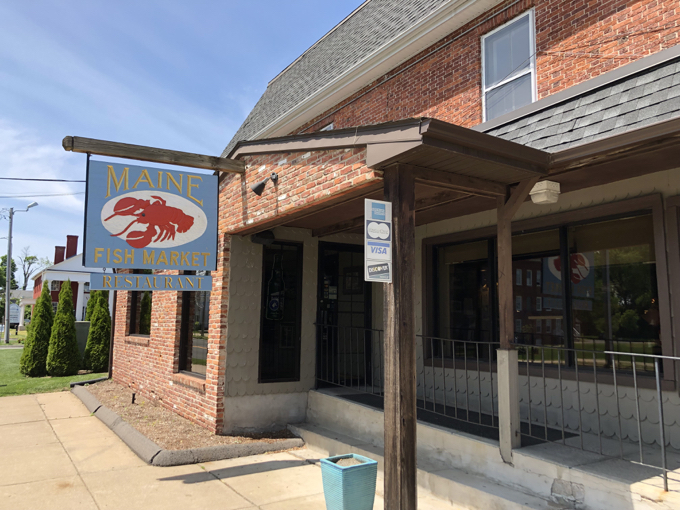 The Maine Fish Market Restaurant is exactly what I thought it would be: one of those sort of outdated old school seafood restaurants with fish tanks and lobster bibs. The kind of place that weathered the storm of the Red Lobster glut of the 1990's because it's better than Red Lobster could ever have been. The kind of place where locals go to celebrate high school graduations and 80th birthdays. The kind of place with a massive menu, serving pretty much every type of seafood dish you'd expect at a New England seafood restaurant.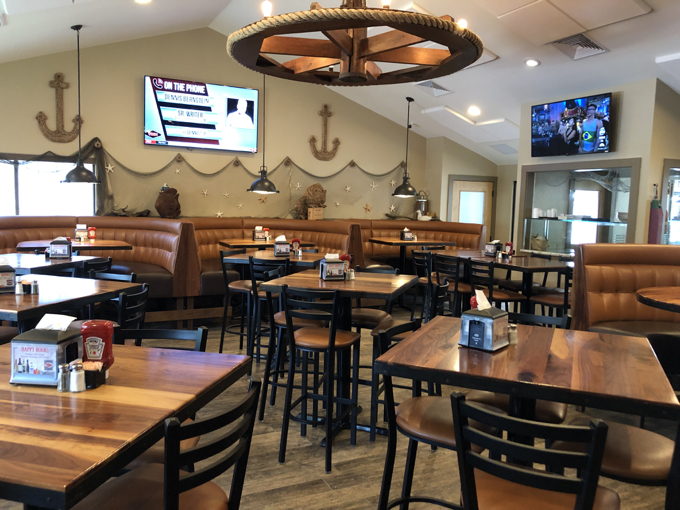 They also have a bunch of non-seafood items on the menu. All the stuff people celebrating 80th birthday parties might want. In addition to that, the restaurant has a full bar as well as a retail store where you can buy lobsters and fish. I liked The Maine Fish Market before I was seated. It was only then that I learned the history:
The Maine Fish Market building is one of the oldest commercial buildings in the state, dating back to 1780's. The Vamvilis family began a Fish Market in 1980 that had a retail market and served take out fish & chips and other entrees. Nick and John Vamvilis have run the restaurant in the current location since 1986.
Whoa. A seafood lunch and a near-CTMQ-worthy superlative? Fantastic.
I made my way past the anchors and fishing nets on the walls and took a seat. It's a special feeling being in a restaurant in a town and knowing that I'm the only person there who has done everything there is to do in the town. Visited all the museums, hiked all the trails… if that doesn't deserve a Maine Fish Market Signature Bloody Mary, I don't know what does.
"I'll have a Maine Fish Market Signature Bloody Mary, please."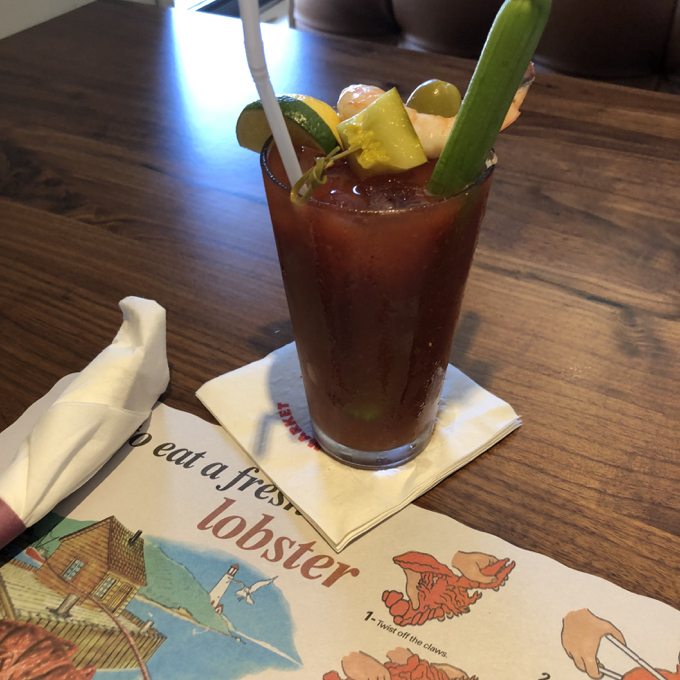 LOL, I love these ridiculous things. I mean, who doesn't want a drink with a shrimp in it, complemented by some blue cheese stuffed olives? Here's to East Windsor!
Maine Fish Market boasts a friendly, neighborhood bar where you can enjoy Happy Hour specials, catch a game, or just relax with friends. Enjoy a cocktail, a cold beer, or items from our menu at our bar. WiFi access is available throughout the bar and lounge area. Our lounge has several flat screen televisions and we'd be glad to turn one on to your favorite show or team. Stay and root on your favorite team with our friendly customers and bartenders.
I'm sure those friendly bartenders laugh every time some clown orders the clownshow Bloody Mary. I don't care. To East Windsor!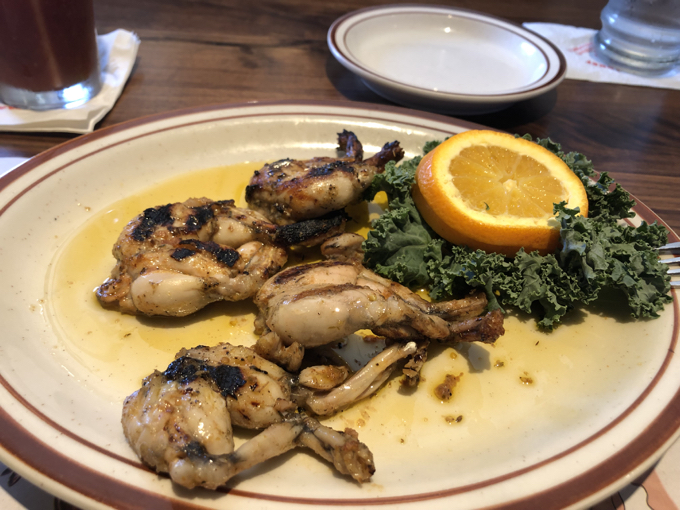 And when at the Maine Fish Market in East Windsor, one must have frog legs. Broiled Cajun frog legs to be exact. I'm not joking and I know that many people shy away from eating amphibians, but hot dang these things are delicious. I don't know how many restaurants in Connecticut serve frog legs, but more should. These were cooked perfectly and I sucked every bit of meat off the bones.
I followed that with a fried clam roll. The Maine Fish Market does not skimp on the fried clams; my roll had an absurd amount of clams in it – way too many to actually eat it like a sandwich. Perhaps a bit heavy on the breading, but whatever. Fried clams bring me back to my youth; the once every few months dinners out at HoJo's and the fried clam platters.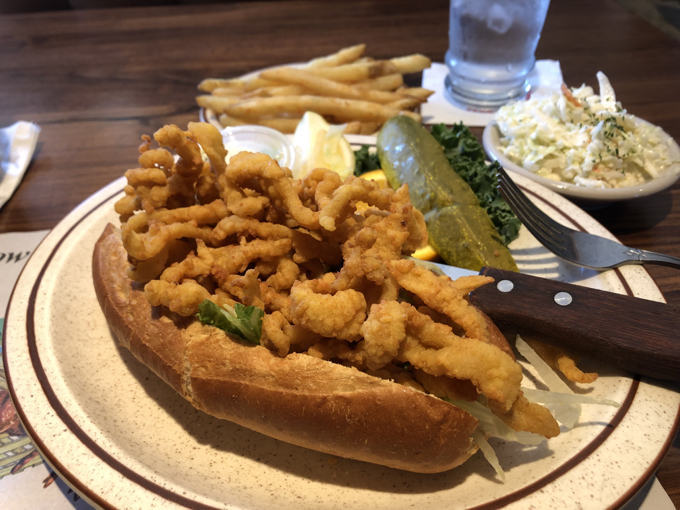 Back then I'd never touch the coleslaw, but now? I love a good slaw. Maine Fish Market's slaw is good.
I can only assume all of the seafood dishes here are good, based on my small sample and the happiness on everyone else's faces here. Granted, I was the happiest – having "completed" East Windsor and all – but I am pleased to know that an old school seafood restaurant a hundred miles from the sea still exists and does things right.
Corny décor and all.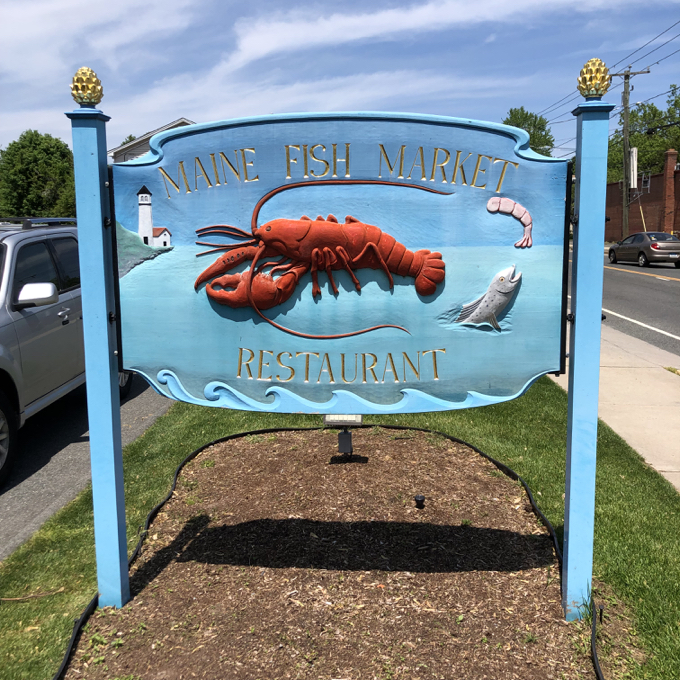 East Windsor Wrap-Up
True story: When I had one more place to go to in East Windsor and explained to my wife why I had to race up to the town for a 5-minute visit of the Barber Hill School House because that would "complete" East Windsor for me, Hoang said, "East Windsor? I don't know anything about that town. Whatever." Oh, my love, what isn't there to do in East Windsor?
When thinking about East Windsor, most people think of the Connecticut Trolley Museum – if they're not the type of person who thinks about the strip club across the street. And most people would be fine in doing so, for the Trolley Museum really is the thing to do in the town. Just make sure you check off the Connecticut Motor Coach Museum and the Connecticut Fire Museum too, both located on the same property.
There's the rather nice East Windsor Historical Society museum complex as well, with some impressive buildings and interpretations if that's your thing. Broad Brook Brewing was in town but then they left and Problem Solved Brewing backfilled the space and has improved it. It's a decent little brewery, which is all anyone can ask for.
That's all well and good but the coolest thing in East Windsor is, by far, Thrall Hall. Unfortunately, the chances of you getting access and a tour are very slim. I do hope that someday it is somehow open to the public, so more people can appreciate the eccentric genius of Ed Thrall. It really is one of the most interesting two hours I've spent for this entire website – which if you're familiar with all I've done here, is a massive endorsement.

Thought exercise: If I had to send someone to East Windsor for a day… You kind of have to go to the Connecticut Trolley Museum. Then you can have a beer or two at Problem Solved Brewing before exploring, um, some roads! In truth, if you can get a tour of Thrall Hall somehow, which is doubtful, that is by far the best thing in town. In lieu of that, go have another beer at Problem Solved and some frog legs and other seafood at the Maine Fish Market Restaurant.
Surprise: How awesome Calvin was hiking the Tough Mudder-like Scantic River State Park trail
Favorite fact: Everything about Thrall Hall
Disappointment: I can't believe they took down the Nike Missile Site Steeple
East Windsor: Done!
Previous completed town: Cromwell!
Next completed town: Columbia!