Frantic Along the Scantic
Scantic River State Park, East Windsor
~2 miles, April 2019
Many hikes are ultimately calculated risks. Whether you are in the Andes hugging a vertical wall for dear life or trekking through a snowstorm or a desert. We don't have to make too many of these life or death choices here in Connecticut, but we have choices to make nonetheless.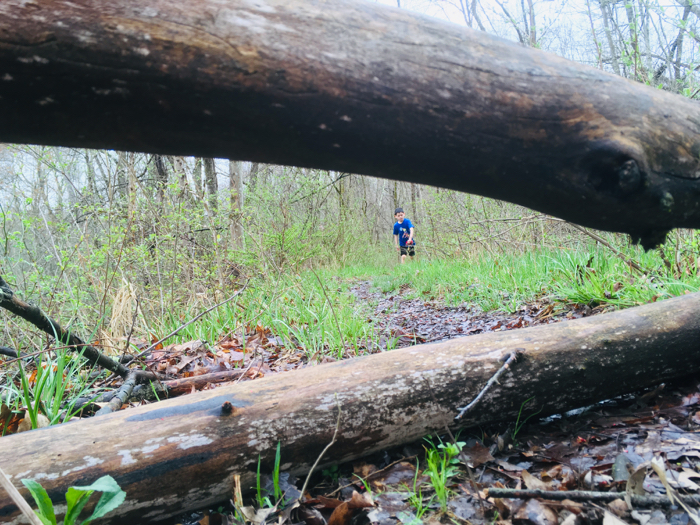 I was forced off of physical activity for a few weeks due to a fairly serious ankle sprain, so by the time I felt ready to roll again, I really needed to get out there. Frankly, I didn't really care where, so long as I was walking.
Which is how we ended up in East Windsor. On Easter Sunday. In the rain. And mud.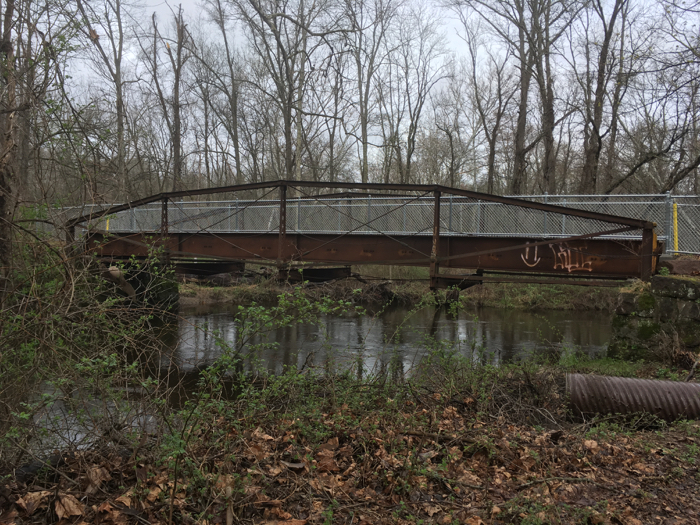 I had already hiked the other sections of the sprawling Scantic River State Park in Enfield and Somers, so my expectations for the East Windsor section were in check. I knew the trek would be muddy and wet and had come prepared for that eventuality. I psyched Calvin up for an hour of messy wet fun and we hit the trail.
There's a weird, kind of useless well-built bridge at the trailhead. I guess that Melrose Street used to span the river but the bridge had washed out years ago and was never replaced. However, someone thought to build a bike/pedestrian bridge that connects to… the woods.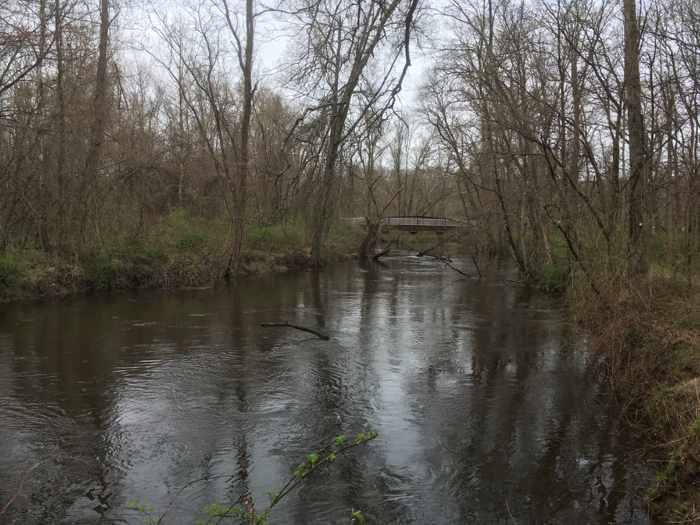 The real trails here are incredibly well-marked and incredibly well cleared. I have no clue how the maintainers do it here, but they do it well. Unlike the messy trail networks at the other Scantic River parcels, is essentially one two-mile loop trail here called the River Loop.
There's the Ridge Loop too, but half of it is closed and the other half is along the River Loop and… oh you don't care.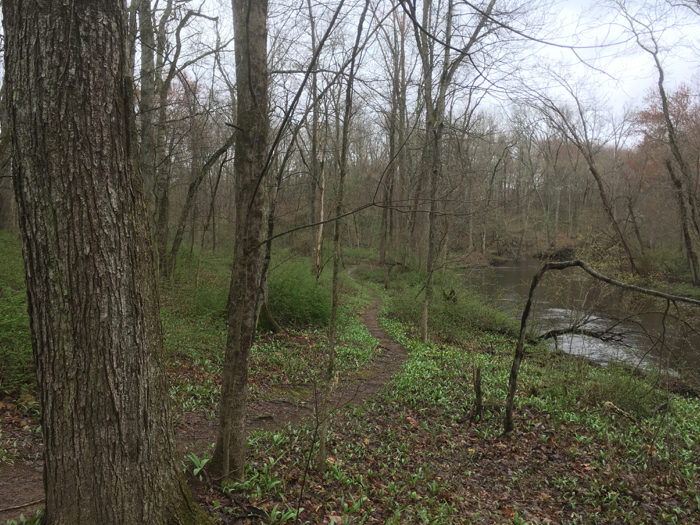 What you do care about is the absurdity of this hike and the awesomeness of Calvin for powering through. He has always fancied himself a bit of a ninja. Well, today we got to test his Ninja Warrior skills! Of the dozen or so bridges along our hike, only a handful were operational.
Let's recap The Ninja Test of the 10 Crossings… Up first, The Elephant Step: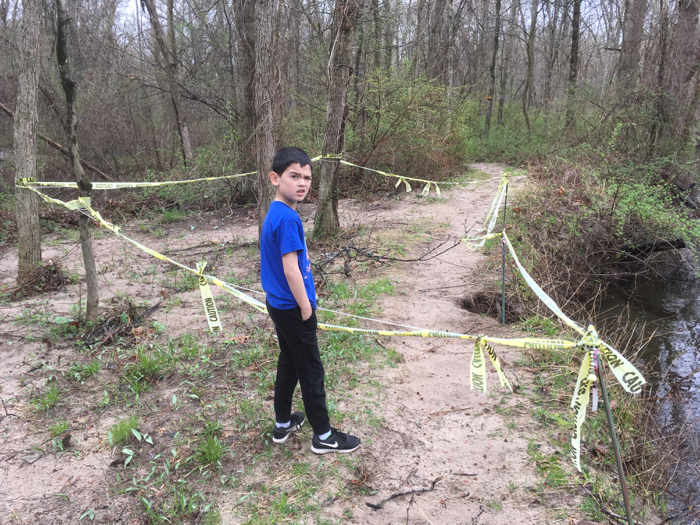 A simple obstacle, yet the true test is for the young warrior to decide to obey the rules or not. The path looks safe, but the caution tape clearly advises against traverse. Young Calvin felt strongly he could navigate the crumbling path, but chose wisely and went around.
Well done. Up next, The Sunken Garden: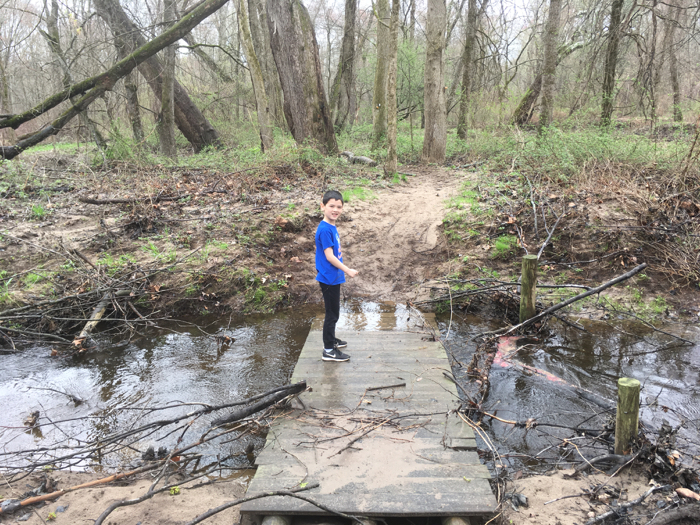 Another deceptively easy challenge, but skilled warriors know what dangers may lurk beneath the murky waters… Young Calvin chose wisely, steadied his footing, and made the leap to safety required to continue…
… to continue on to Ninja Test of the 10 Crossings number 3 – The Slick Serpent: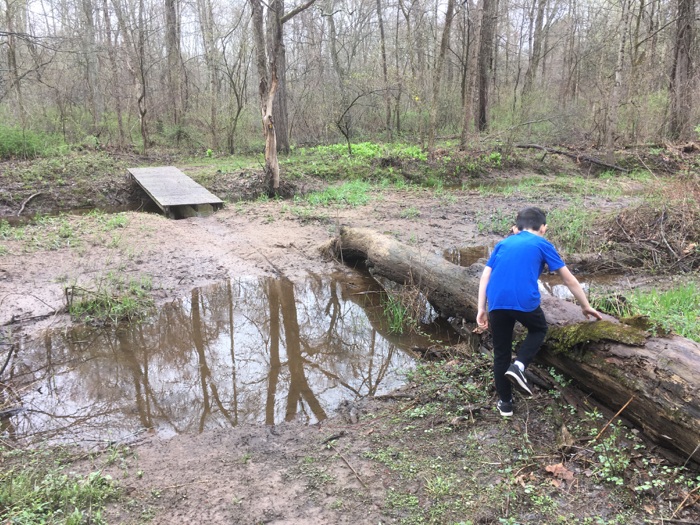 All ninjas know that muddy shoe bottoms and smooth, wet wood has potential for disaster. Steady balance and intense focus is required to find success on the other side. Young Calvin took some tentative steps before pausing to summon pure concentration before continuing on successfully.
On to Test number 4 – The Stickleback: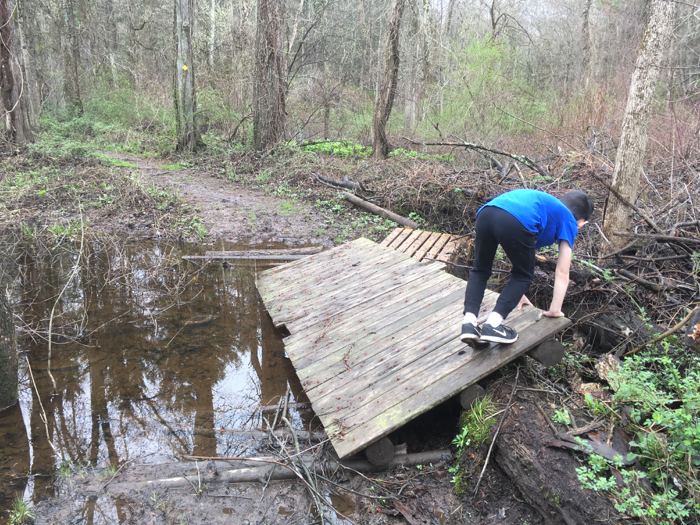 Despite telling his sensei (me) before his traverse, "I'll just use my hands like this," Young Calvin became complacent and felt he could navigate the angled bridge as though it was a simple walk.
He found that it was not, but was able to nimbly catch himself before sliding into the brackish black murk below. A close one, but well done.
(Note: My glasses fell out of my pocket here into the black water. They were recovered.)
Up next, The Precursor: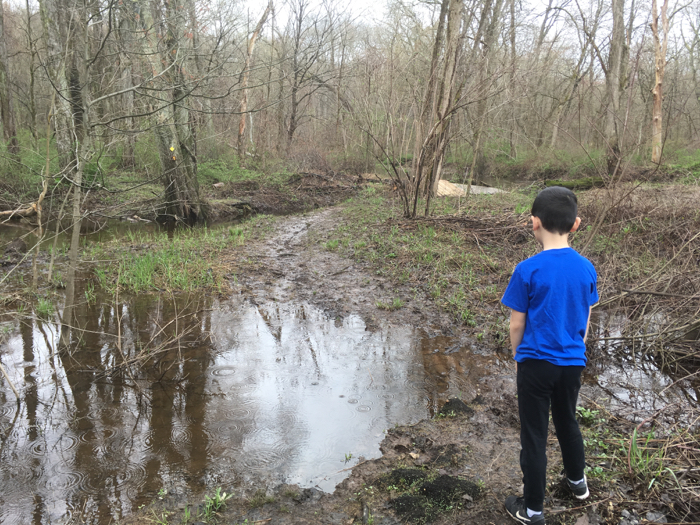 Life is all about decisions. With young ninja eyes, Calvin could see that the Test of the 10 Crossings' toughest challenge lie just ahead. If he could safely scamper across this muddy expanse, he'd immediately have to have a serious think about challenge number 6.
With that in mind, was it worth it to continue with muddy and wet shoes? With a mile and a half of hiking ahead? Yes, Young Calvin decided it was and his sensei (again, me. His dad.) was proud.
But now the true test, Number 6 – The Leap of Wu!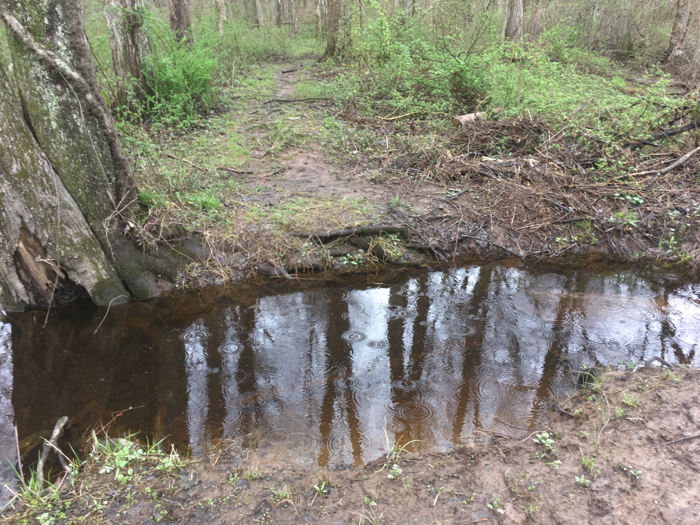 Legend has it that Wu Tang of Shaolin created this obstacle to deter all the but best ninjas. The water here is deep; about 3-feet in fact. The run-up is muddy, slippery, and riddled with roots placed in such a way as to trip the most fleet of foot.
To add a cruel twist, the masters placed a bridge 15-feet away, washed up on the far shore… taunting would-be ninjas: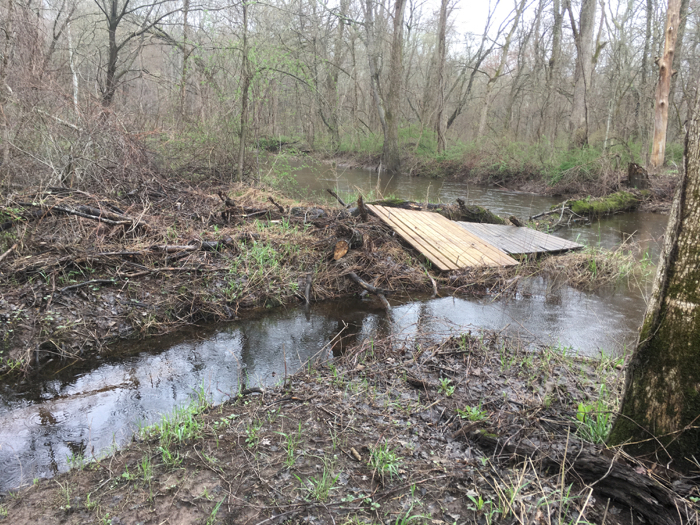 Calvin took a moment to look inward. He had a chat with his sensei (yeah, me again) who encouraged him to really thing about what he was hoping to do. There was no way he would make the jump. He needed to understand and accept the fact that he would have to complete the hike with wet shoes.
Deep breaths. Inhale… exhale. He wanted to go for it. (I didn't want him to go for it, but since it was over 60-degrees, I had a change of clothes and a towel in the car, and… frankly, it would be kind of a cool thing and he'd know what it was like to hike with soaked shoes and pants.)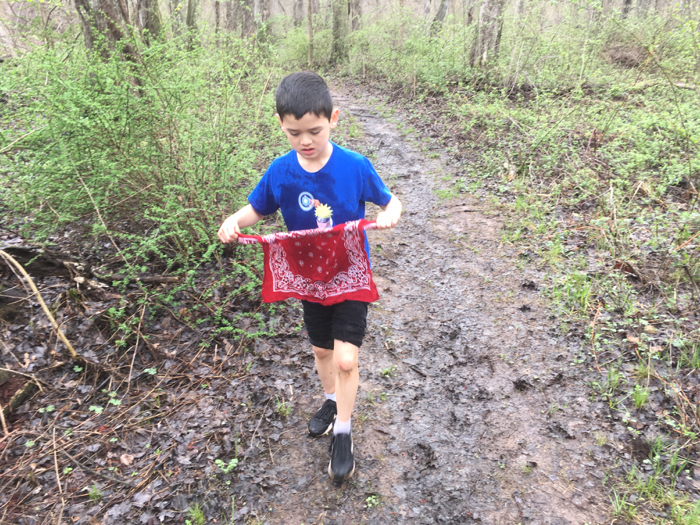 I tossed the pack across. I now had to do it at the least. So I did. I explained to Calvin where to jump towards. He ran, he jumped… not to where I told him to jump. Splash!
I half caught him and pulled him out. He looked surprised that he didn't make it (which was ridiculous), but was generally okay. Only 3 more Tests of the 10 Crossings to go! Next up… Sunken Rhino: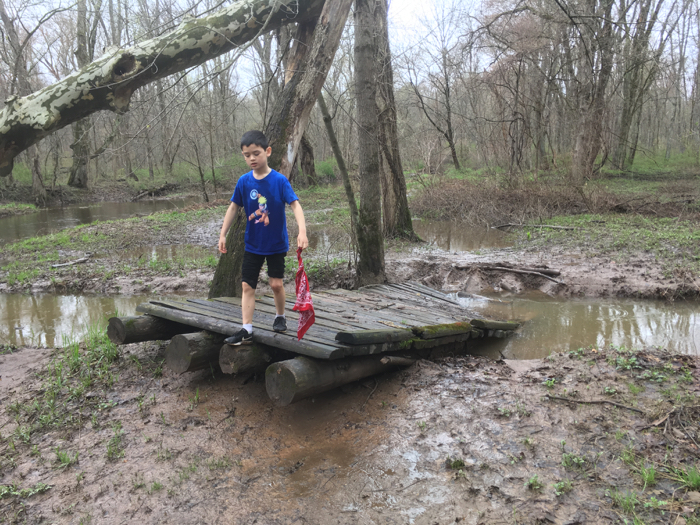 This obstacle required a leap to a tilted, slippery bridge. No sweat.
Young Calvin, now a bit discouraged, was facing the true test of the 10 Crossings. Self doubt. Feelings of failure. Squishy toes. He looked up at his sensei with dewy doe eyes and said "I kind of wish I listened to you and didn't get all wet, but I'm okay."
We moved forward. Test number 8, Sixteen Snakes: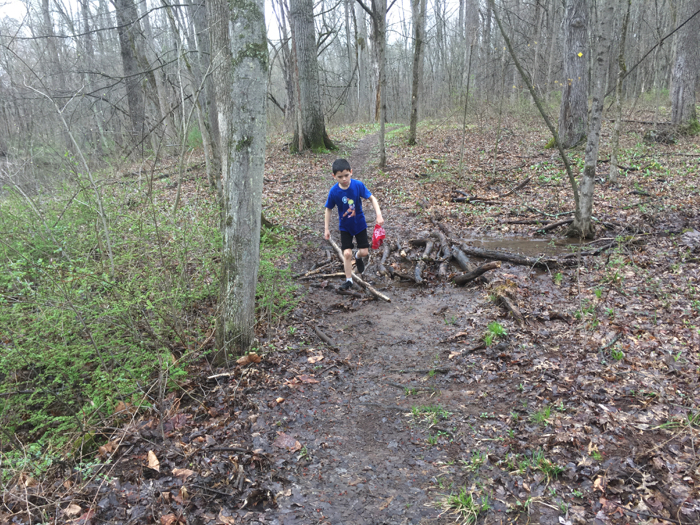 They jiggled and wobbled and threatened to give way, but… regaining a bit of confidence, Young Calvin crossed the obstacle without difficulty.
We were both wondering at this point how much more of the trail along the river did we have to go, I could hear route 140 now and knew we'd be looping back on higher ground soon. Calvin got excited by this news. Then we turned a corner and faced Test number 9, The Turtles: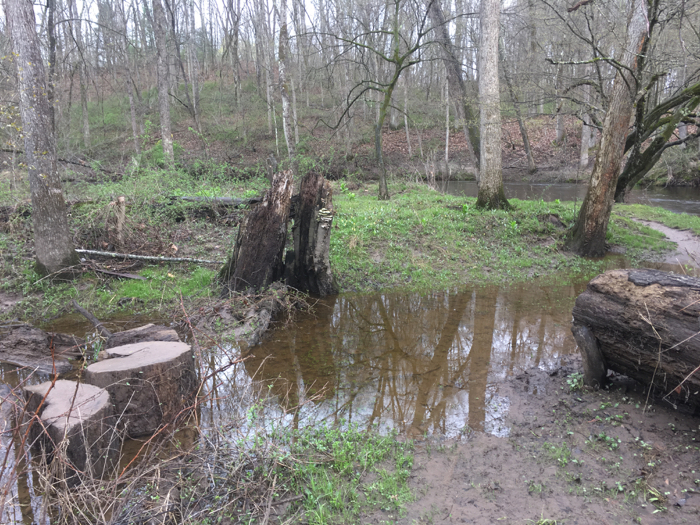 Okay, we didn't really have to walk across the stumps and leap into the unknown; we merely had to scooch around that fallen tree on the right, squap through some mud and move on. We were so close to turning away from the river now, I could taste it! One last curve and… The final test. Number 10, The Seriously? C'mon. Enough already: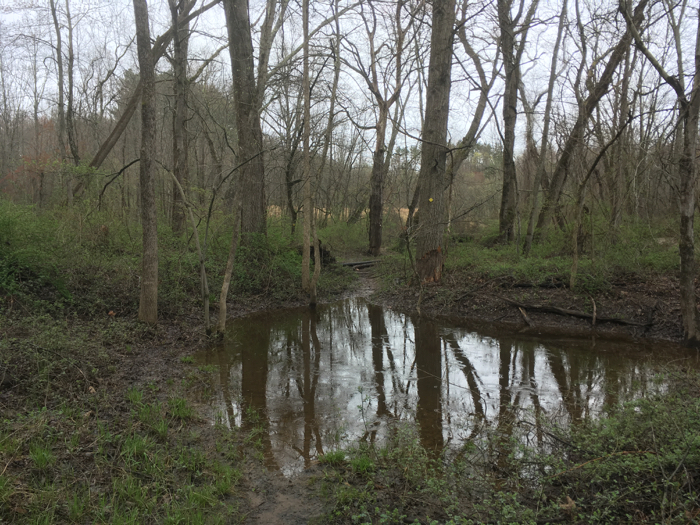 After that, we walked a short distance eager to do a nearly 180-degree turn and hike the return mile along higher ground. Where was that wonderful point in the trail…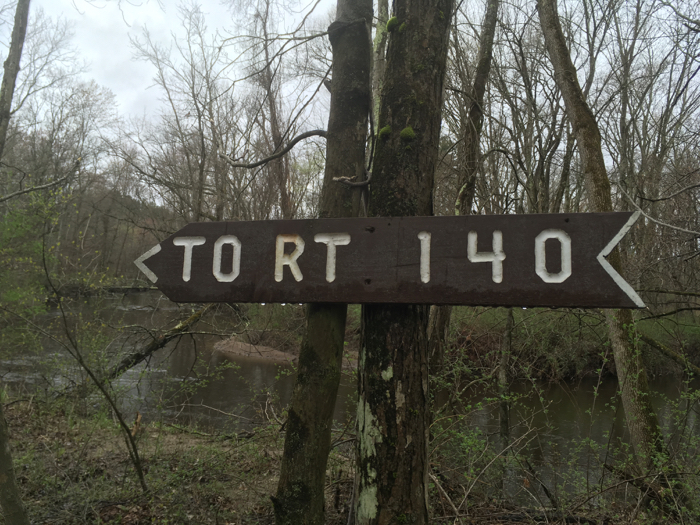 Aha! Calvin was actually fine knowing we were only halfway done with our hike. I had promised him that he had passed the 10 Tests and now he'd have time to reflect upon his training. He had done it!
Young Calvin was now Master Calvin and could enjoy his (relatively) simple hike that remained. The trail through the woods away from the river is somewhat serene and offers a completely different view of the Scantic area.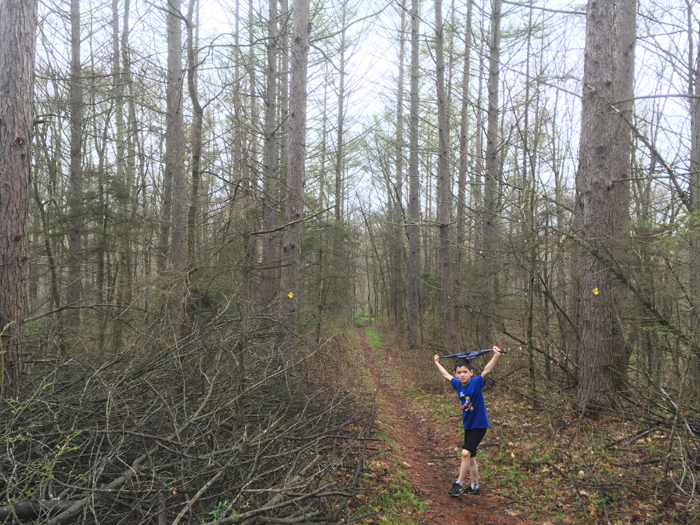 There are stands of pine and hemlock here, and some interesting riverine features. Calvin began to revel in his success and began a long monologue on a challenging hike across endless puddles and creeks which were home to a different evil superhero, video game villain, and other fictional nemeses.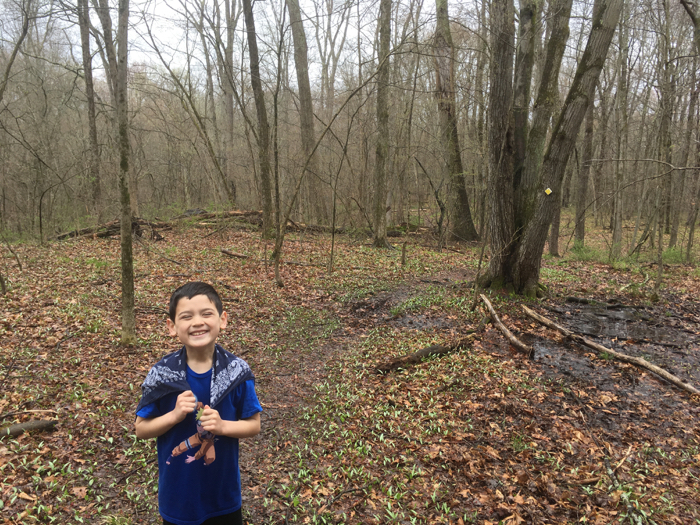 I'll mention one last time how impressive the trail clearing is here. Perhaps it'll be worse in June, but the path cut through swaths of awful stuff like multiflora rose was amazing. I'm sure this place is covered in Japanese knotweed in the summer as well. Hats off to the trail maintainers.
And to the random teepee builder I guess: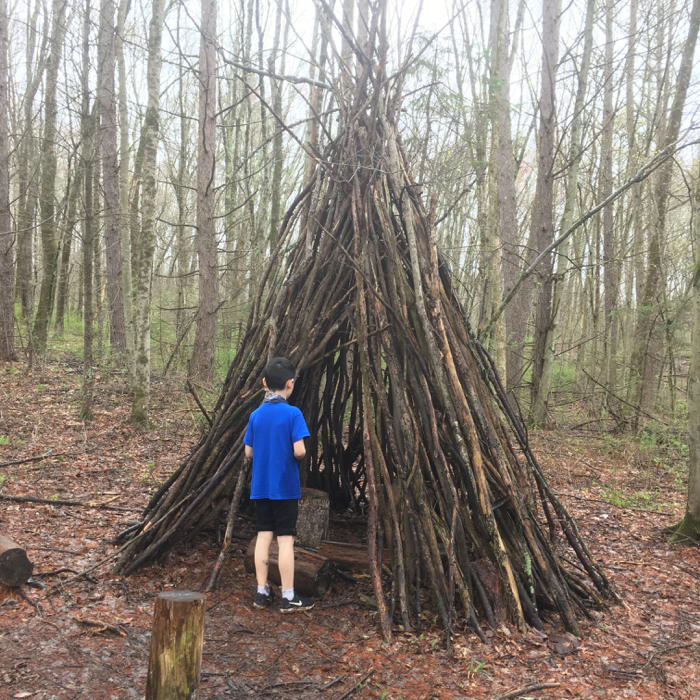 The Enfield and Somers sections just a mile or two north of here were littered, scarred by unofficial trails, and often visited for drunken hijinks. This area was clean and there were only the two trails, really. Of course, this can be attributed to the fact that not many people pass the Ninja Test of the 10 Crossings.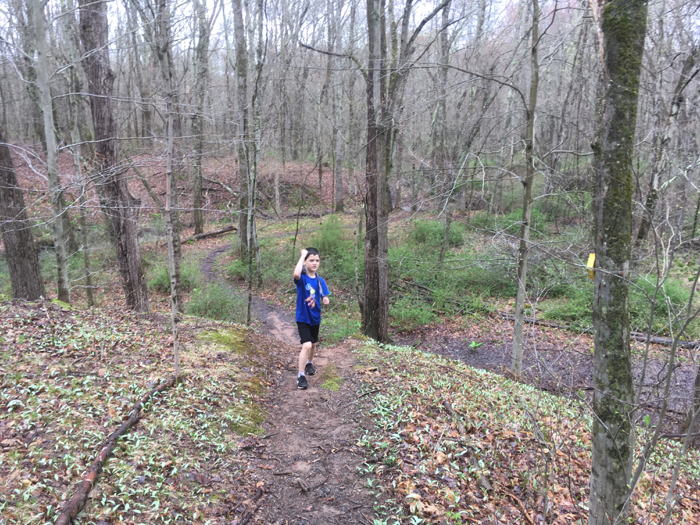 CTMQ's Scantic River State Park posts
DEEP Map