enThralling
East Windsor
May 21, 2019
Thrall Hall, y'al!
Yo, I said, THRALL HALL, Y'ALL! Yeah, that's right. You better recognize.
Recognize what? Recognize THRALL DANG HALL, that's all. Since y'all likely have no idea what so enthralling about Thrall Halling, I'll begin with two quick statements from my Thrall Hall tour guide, Howard Epstein:
"I think this is the coolest thing in East Windsor."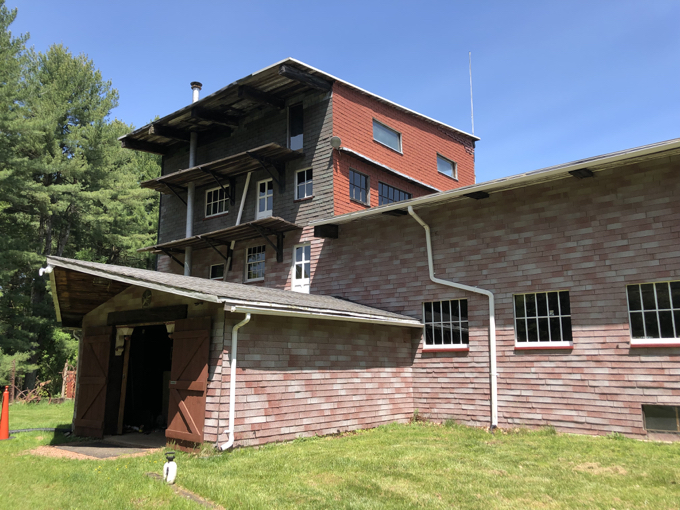 Um, okay. While that's still somewhat debatable – WHAT?! THRALL HALL Y'ALL! – I guess being the "coolest thing in East Windsor" is not really going to get everyone as curious as they should be. How about this one, which Howard told me on the phone during a sort of pre-interview – his way of determining if I was worthy to be in the thrall of the Hall:
"I think this place is on par with Gillette Castle and should be a landmark like Gillette Castle is."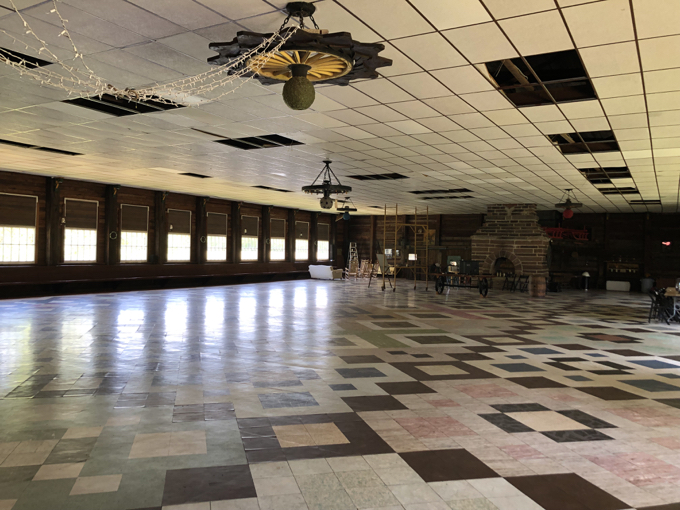 It's okay to roll your eyes. I certainly did. In fact, mine almost rolled mine out of my head when I first heard that. I distinctly recall writing that quote down and thinking that this Epstein guy was off his rocker. I had done a bit of research before our initial chat, and learned a bit about him and how he came to be involved with Thrall Hall.
By the way, Thrall Hall is known locally as "The Building," which, should give you a sense of its uniqueness and yes, importance. There's simply no way I can capture half the awesomeness that Thrall Hall contains… and that bums me out.
A professor of engineering at UConn, Epstein has been involved with the building for years -facilitating student projects and advising the current owners. Those owners are Jeannette and Doug Moore who wanted to have the building's structural integrity assessed – but didn't want to spend a billion dollars doing so.
So they reached out to UConn, got in touch with the civil engineering professor Epstein, and convinced him to come down to East Windsor to have a look-see. And Epstein's been, ahem, enthralled ever since. In fact, he told me, "this building has changed me. Seeing it, being involved with it, is almost a religious experience." Year after year, he brought his senior design students down to Thrall Hall to work on the "real world" project.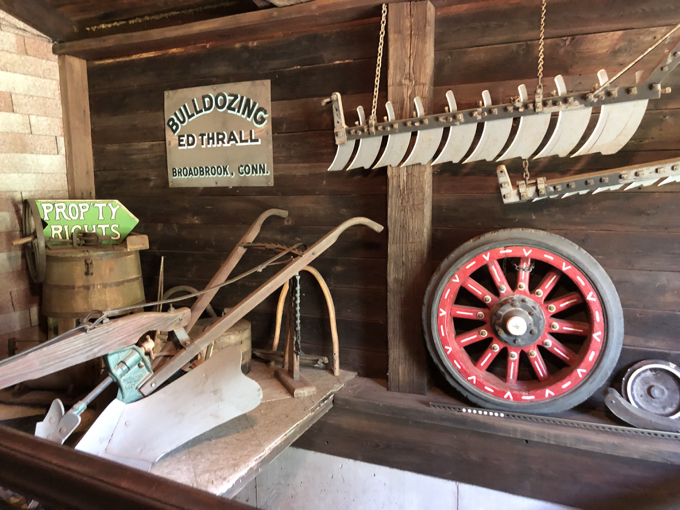 Epstein also called it a "living museum," and after spending two hours there myself, I'm calling this a museum for CTMQ purposes because it is a museum. A glorious, impossible, impressive, insane museum (of sorts) almost entirely built by the hands of a complicated, curmudgeonly, felonious, loving, talented, industrious, thrifty, persistent, bullheaded man: Ed Thrall.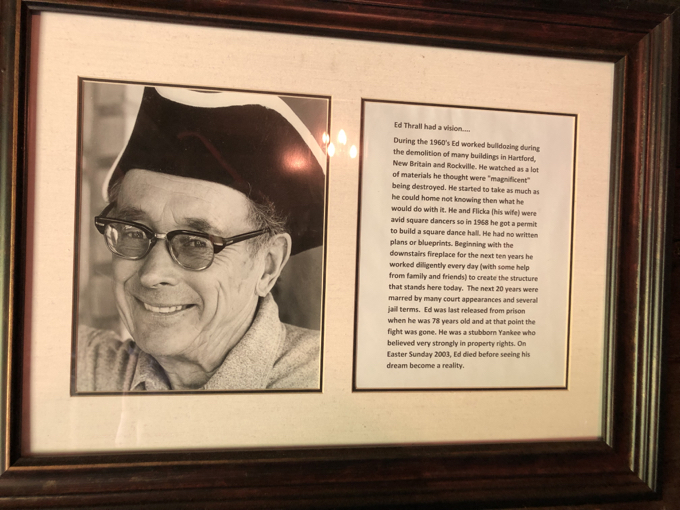 I hadn't heard of Thrall Hall until someone alerted me to its existence upon reading my Town Guide to East Windsor. They wrote, "While the public can't really just visit it, the Thrall Hall is a cool piece of East Windsor controversial history."
I immediately reached out to Howard and asked about the place. As noted, he peppered me with a few questions as to why I'd want to see the place and I guess I passed the test, as I was invited to the property.
It's funny, it's not like you can just Google Thrall Hall and have an address pop up. But you can Google it, look at a few pictures of it, go to Google's satellite imagery, poke around the spots in East Windsor that make the most sense to you, and find its unique roof and footprint in about two minutes of searching.
Hm? What's that? I'm the only person in the world who would do that? I admitted to Howard that I had done exactly that and therefore knew exactly where it was, but I was given the physical address anyway. (It's not exactly hidden or closed off from a road, but still… there's no signage either.)
And please, whatever your level of interest, please don't just go there and trespass like an idiot. The entire building is well-protected by security systems and the owners live within sight of it. There's literally nothing here you can just pick up and steal and if you're the vandalizing type, you surely haven't read down this far so I'll just ignore you.
I arrived on a glorious late spring day and was greeted by Howard and Doug Moore, the owner. Doug's wife Jeannette is Ed Thrall's daughter, so this place is personal to him. He and Jeannette got married here, and other family members and some electrical contractors were busy preparing the place for their daughter's wedding during my visit. (I think I have that right… if not, I'm close enough.)
Thrall Hall is… big. 20,000 square-feet big. It is built with… big things. Ed Thrall was a visionary; a folk artist of a sort. It would be weird to start his story with excerpts of his obituary, but that's what I'm going to do, from The Hartford Courant.
Edwin G. Thrall once looked out on an open field across from his house and envisioned a dance hall; a place to square dance and have a good time. He spent nearly every day for the next 10 years building his dream.

Described as an old-time Yankee by those who knew him, Thrall waged a nearly 20-year battle with East Windsor and state officials over his right to use his beloved dance hall, which is situated near his Chamberlain Road home.
His death is "like the passing of an era," First Selectwoman Linda L. Roberts said. "I truly wish he would have had the opportunity to see something happen at the dance hall."

Thrall began building the dance hall in 1968. He used materials he gathered from razed buildings in the Hartford area after making deals with demolition contractors for whom he worked.

"I worked like a goldurn jackass and built that building practically by myself," Thrall said in a 1998 interview.
Indeed he did. Thrall's path from field to (near) completion was a rocky one, paved with a KKK rally, endless battles over taxes and land-use, and a standoff with police for added intrigue. And through it all, he was generally beloved – even by those he battled.
And now? In memoriam? Now he's revered a bit of a folk hero, inventor, architect, and genius. From the moment I stepped into the main entrance, I was in awe.
In 1968 Ed began building an outdoor fireplace which was the beginning – and true foundation – of the entire structure. Ed had been a potato farmer but found that the banning of DDT would put his farm out of business. So he quit farming and moved into heavy equipment operation.
Everything in the building once was a piece of another building that was razed in the 1960's and 70's in Hartford and Tolland Counties. Ed was involved in those demolitions as a bulldozer operator and at some point, he realized that lots of incredible pieces of building material was going to waste.
He got permission to cart away what he wanted, and thus began the project. I cannot convey to you just how massive some of the pieces are. Everything here is HUGE. The fireplace is huge, crossbeams are the size of redwoods… it's incredible. Giant slabs of brownstone are placed throughout; pieces the size of a car. Brownstone came from the YMCA, Trinity College, the Heublein Hotel. Basically, if I-84 was coming for a building, Ed got a piece.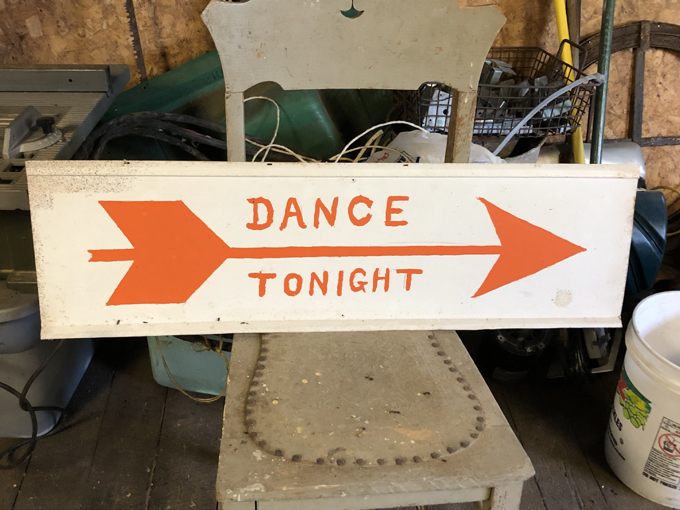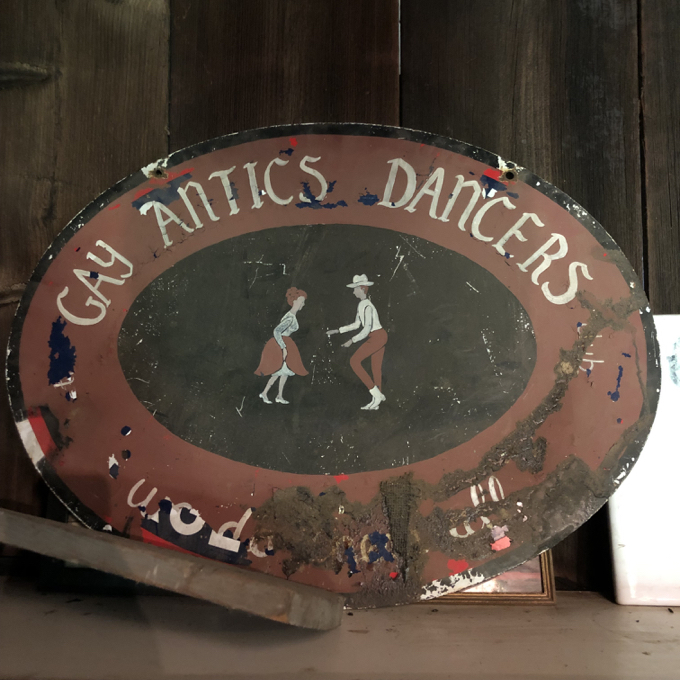 As the "outdoor fireplace" was completed, Ed's vision grew. My man was an avid square dancer and envisioned a giant square dancing hall. So he built one. He wanted to create a fun, safe space for his then teenage daughter and her friends.
The building consists of two main floors, the expansive dance floor that can accommodate 304 dancers. Apparently the tile patterns on the floor are important in square dancing, and Ed was sure to do this bit right. The fireplace stands sentry at one end of the dancefloor, with a raised stage on the other.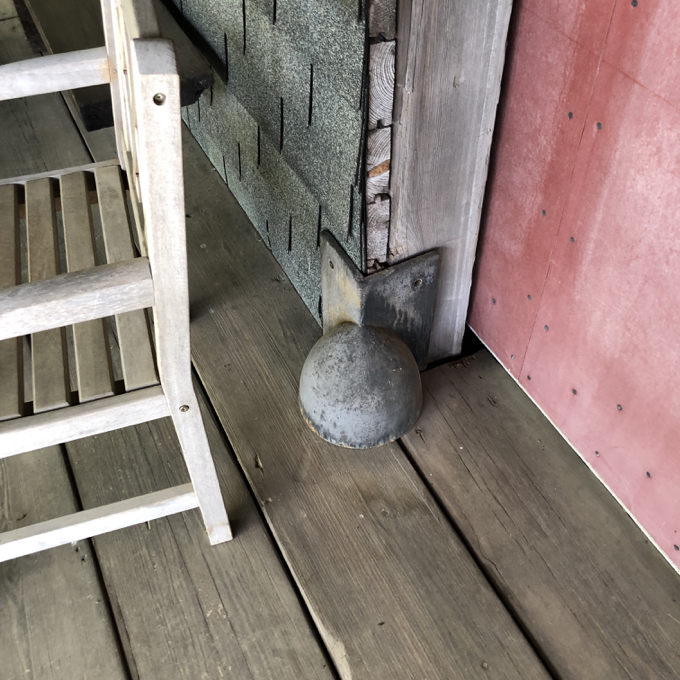 Howard took me to the fireplace end and we both marveled at the sliding door. The thing is the size of a barn door – literally. And it smooths as softly as silk. It's unreal. It leads to a small deck with all sorts of cool little add-ons that Ed integrated into his design.
A tight spiral staircase, courtesy of the P.F. Cobin Company, led us down to the lower level. There are several "rooms" down here. There's a water wheel, a huge brownstone wishing well, and a fish pond. I again marveled at the huge trusses and beams here. How in the world did one guy build this? Sure, he had experience with heavy machinery, but still; Howard explained over and over that the variances and fittings of all these disparate materials is just something he's never seen before or since. As a civil engineer, he was left speechless on more than on occasion – and he knows this place inside and out!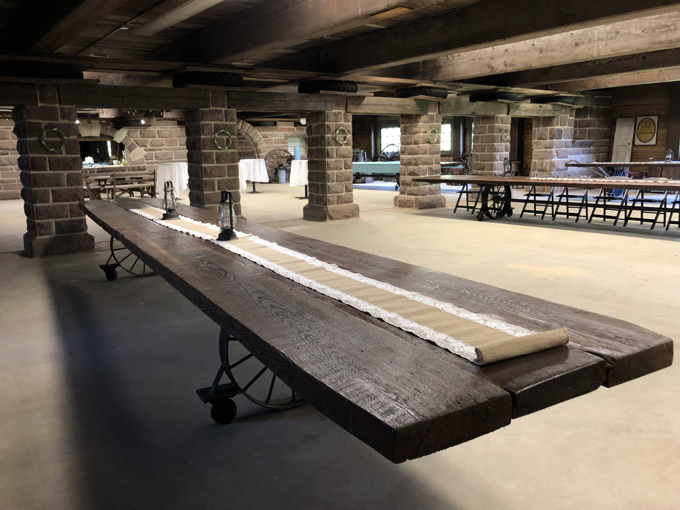 There are huge tables down here as well; akin to ones you'd envision King Henry VIII dining at. Just massive – and they are all on wheels to allow for easy reconfigurations. Looking up at the ceiling, Ed pointed out all the tires. These allow the dance floor above to have give and bounce for all of the square dancing that was to take place up there. The tires could be inflated and deflated depending on how many people were dancing. (Other square dance halls have floors built on springs, but in lieu of such material, Ed invented his own methodology.)
At the far end of the lower level, under the stage above, there's a kitchen and a bathroom. This little bathroom was supposedly a major source of many of the issues Ed had with East Windsor and the state. His plumbing wasn't up to code, and Ed refused to budge on it, so the state and the town kept inspecting and finding other things they had issues with, and… we'll get to that in a second.
But before I forget, that nice little pond out back? Ed dug that himself with no permits. Yeah, East Windsor didn't like that either.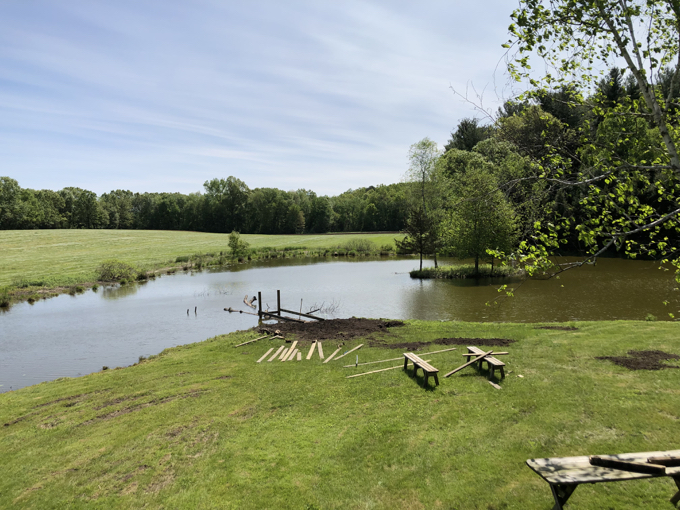 Back upstairs by the stage, there's another spiral staircase up to an "observation deck." The idea up here was to allow people to watch the dancers down below. There's a little private room behind the observation area which was to be Ed's sleeping area for when he moved over to live here permanently – which never happened.
There are more steps up to another level. Fanciful in nature, Ed was going to build a legitimately insane slide from the 3rd story for kids to ride down in burlap sacks. Just looking at the pitch and angle of how the slide was to be, it's probably a good thing it was never completed.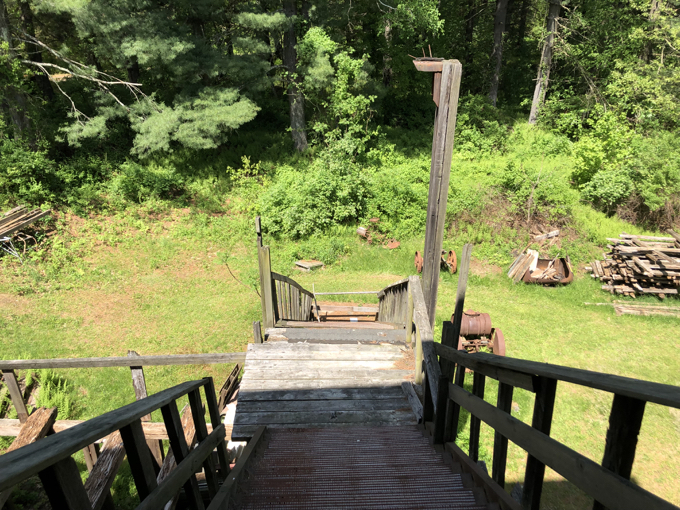 There's a sort of side room up here cluttered with toys. Apparently this was where Ed was when he shot at a policeman. (Though, to be fair, that incident is more accurately termed, "shot well-above a policeman just to make a point." I was told in no uncertain terms that Ed actually wanted to shoot a person, he would not miss. So… that's good?)
But let's back up a bit. And I'm feeling lazy, so let's see what my friends over at NPR have to say…
Not long before his death, Thrall spent six months in prison for getting into a shootout with local police — and it wasn't the first time that happened.

Thrall would say he didn't intend to hurt anyone, but to protect what he considered his: the 20,000-square-foot dance hall that he spent ten years meticulously constructing.

"He had a very strong sense that his property was his, and to do with what he wanted," Moore said. "When he first got the permit, there was no zoning. Then zoning was put into place, and he didn't like it. The town and he started to butt heads, and it got very ugly."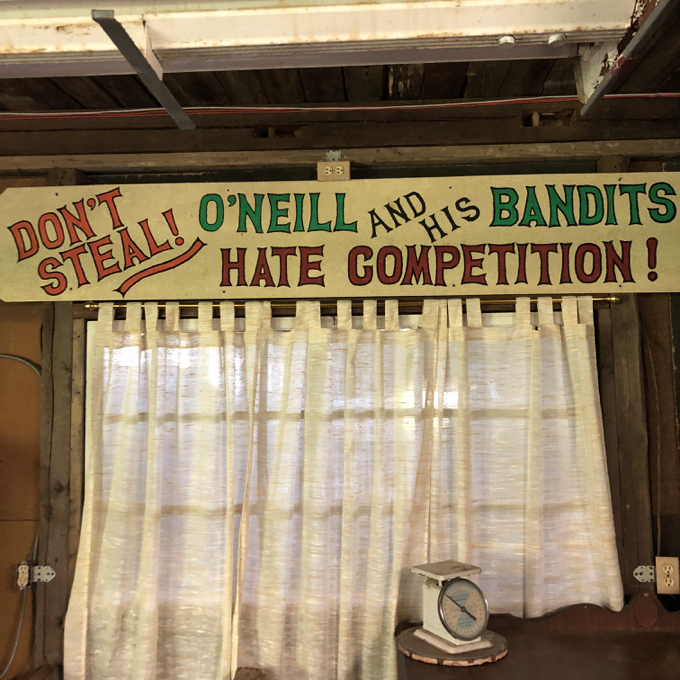 At one point, the town put an injunction on the property, to keep Ed Thrall from hosting events, which they thought were too dangerous. He, of course, didn't listen, and ended up in prison for 50 days.

Thrall held a few events, some where the police actually showed up to dance. But he couldn't shake the bad relations between him and the town.

It wasn't only the police shoot-outs that led to a rift in his own family. The dark stain on Ed Thrall's legacy came when he invited the Klu Klux Klan to town, to have a rally on his property.

Janett and Doug Moore said that the KKK misrepresented themselves, posing as a property rights group, and that the group took advantage of Thrall's anger towards the town and used it for their own publicity.
In interviews, Thrall said the organization was "strictly business people" and not racist, despite the fact they held a cross burning on his yard. Whatever the case, it cost him a lot of credibility in the community. "Every time this story is told, that's obviously the big flash that shows up," Doug Moore said. "It's been misrepresented."
Having looked into Doug Moore's eyes while he told me that his father-in-law really didn't know the KKK's true intent, I tend to believe him, as unbelievable as that is. Unfortunately, the KKK story will never go away, as its part of Ed Thrall's story.
From his first clash in 1978 over the certificate of occupancy, Ed never really quit battling the town. During the next two decades, there was the gun thing, arguments in court with town and law enforcement officials, and several jail terms. As he refused to pay taxes on The Building, the 22-acre property was foreclosed on in 1990 because of $67,000 in back taxes the town said it was owed.
And that was that… for a while. As you now know, the town sold it to the Moores and Howard Epstein found them and I found Howard. My hobby is fun.
It's like the Watts Towers of southern New England. It's just mindboggling.

I think it's one of the outstanding examples of folk architecture in the country.
–members of the Southern New England Chapter of the Society for Industrial Archaeology
I can think of two other "folk architecture" sort of found objects houses in Connecticut: Cadillac Joe's Stone House in Woodbury (set to be demolished) which never got as far as Thrall Hall, and the Gaylordsville Spite House in New Milford (which has been bought and updated beyond the original craziness). But neither builder rose to the level of Ed Thrall.
As I said, Howard called Thrall Hall a living museum. I was party to a fairly long conversation between Howard and Doug about their futures and the building's future. Howard had just retired from full time teaching at UConn. Doug was preparing for his daughter's wedding at the same unique venue (private events aren't held to the same zoning regulations) in which he got married. I had just left my career at LEGO.
Lots of transition for all of us. Ed Thrall's transition from potato farmer to folk-architect to scofflaw to legend is complete. But the building's transition is not. What is its potential? Can it be more than a private under-the-radar curiosity? Howard and Doug had that conversation in my presence – a conversation I know Doug has had probably one-thousand times.
And he still doesn't really know the answer. To get this place "up to code" is cost prohibitive to say the least. It can't really survive as "just" a museum. I just don't know how or what the Moores can do with it that makes sense.
But I do know that it should allow for a panoply of uses that seem totally incongruous but somehow fit together perfectly in the end. Yeah, that'll work well here.