Night of a Quadrillion Stars
Avon (Google Maps location)
May 24, 2019
It's funny that it took me nearly 13 years into this CTMQ adventure to get up to the closest entity on CTMQ to my house. (Maybe Westmoor Park or Crown Market is closer, but not by much. Why am I even qualifying this? You certainly don't care. My point is that the Talcott Mountain Science Center is in my proverbial back yard and I'd never visited until 2019*)
*Not technically true, as any curious resident of the Talcott (aka Avon) Mountain area has driven down Monte Video Road just to a) see the cool houses, b) see where the heck it goes, and c) see if you can access the MDC roads over to Heublein Tower.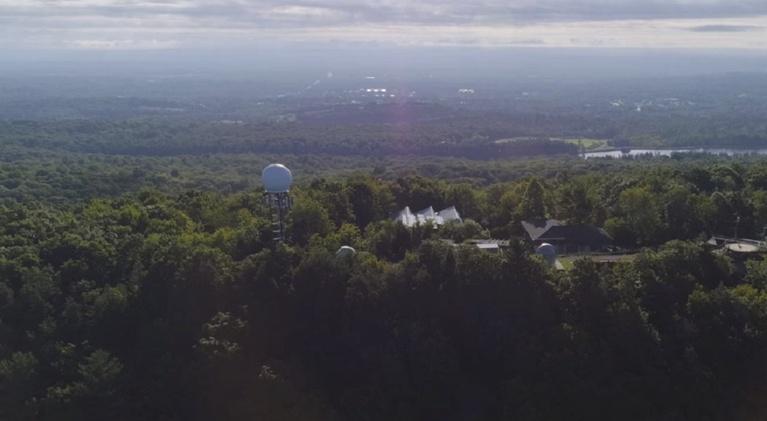 The road more or less ends at the school, although there are a couple more houses beyond it. And the school is fenced in when it's not open, so it's not easily or legally accessible. And when it's open, it's a school full of little kids so creeping around its grounds isn't a cool thing to do.
And you really couldn't creep the grounds back in the 1950's and early 60's. For what is now the Science Center, was then a Nike Radar site. I can't really think of a better location one in central Connecticut, though I suppose it's equivalent to the one that was down on "The Pinnacle" along the same Metacomet ridge at the Plainville/Farmington border. Once the radar technology became obsolete in the mid-60's, the US government gave it up to the town of Avon for a dollar or something.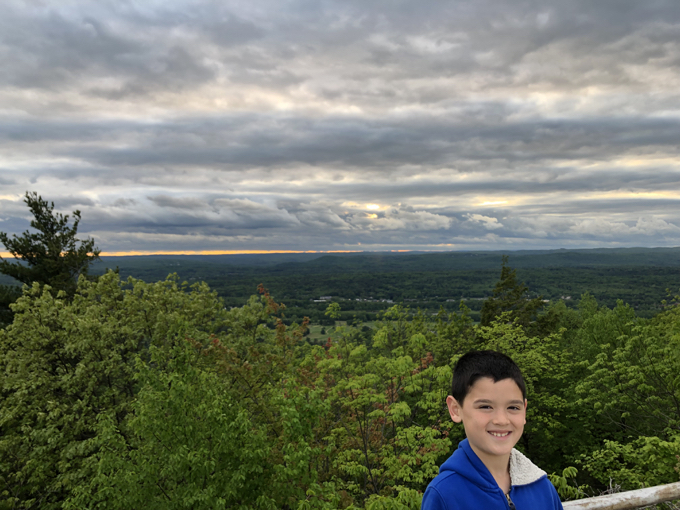 With some progressively minded folks in town governance at that time, Avon thought it would be a good science study site for Avon schools. These folks included Avon School Superintendent Francis Driscoll, Avon School Board member Dr. Alvin Liftig, and science teachers Dr. Donald P. La Salle and George C. Atamian. Hats off to them. These guys envisioned a science-focused educational park where there were only military shacks and concrete platforms. There were some field trips and then a summer science program for the town's gifted kids. Back then, it was just the Science Center.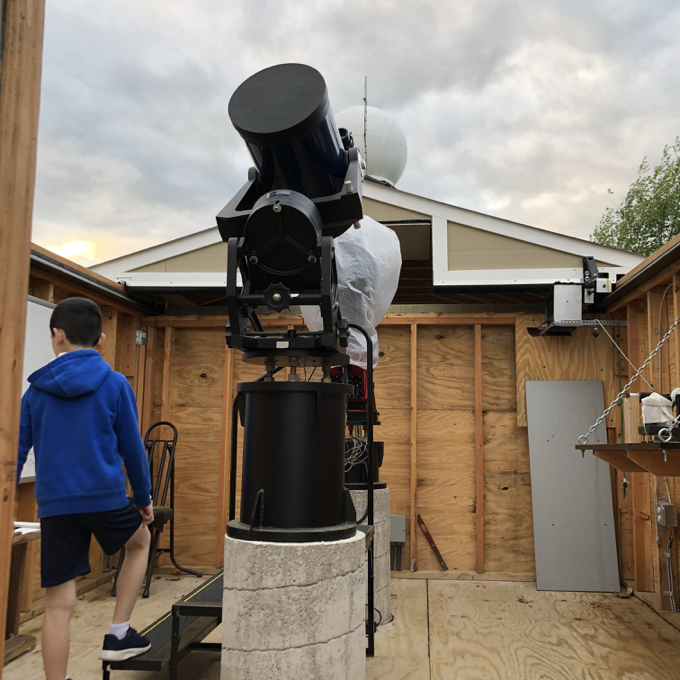 Over its 50+ year existence, TMSC has trained thousands of teachers and educated hundreds of thousands of students through inspirational lessons, state-of-the-art technology and real world applications. 15 years after its conception, the Talcott Mountain Academy was added as a division of TMSC to accommodate the special needs of gifted students built on TMSC's original premises of a hands-on approach and an innovative curriculum that weaves together all aspects of education into an integrated learning experience. In learning about this place, I read one description that said, "Talcott Mountain Academy in Avon, Connecticut, is an independent school for intellectually excited students K-8." I enjoy that way of calling kids brilliant.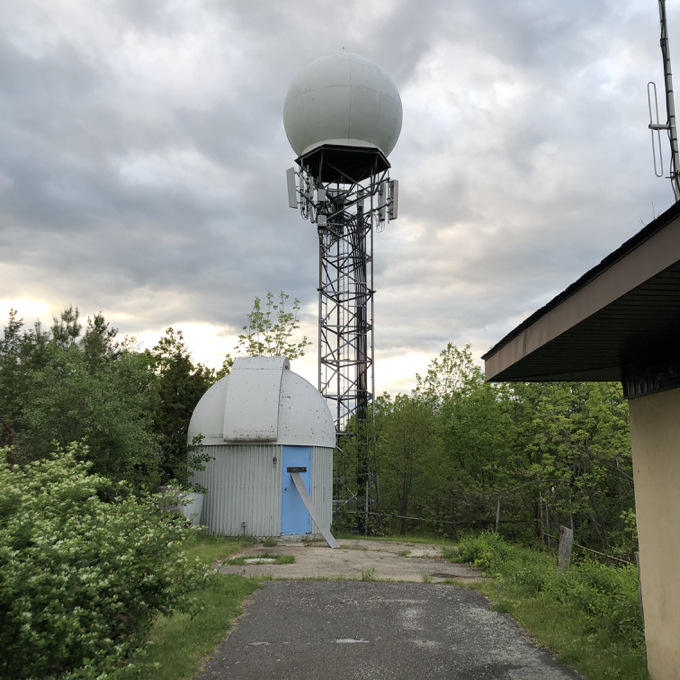 I'm just throwing this bit in here because I can. My friend, TMSC board member, businessman and philanthropist Arnold Chase is a strong supporter of the Academy. He funded the Arnold L. Chase Student Communications & Technology Center in 1997 and provided a quantum leap in production possibilities at Talcott. It has been the cornerstone of our distance learning program through the National Science Foundation and the US Department of Education.
Chase also lives nearby, in one of the largest houses in America. He helped foster satellite and communications and other telecommunications and it appears he helped out the Academy. I know Arnold and have spent time with him. He is humble and generous to say the least.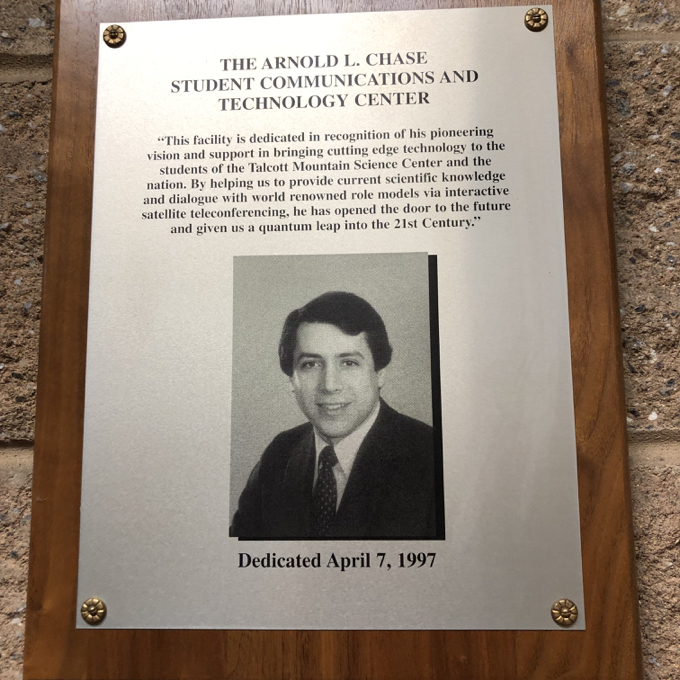 As I was saying, this place is awesome. As CTMQ readers know, I have a special needs child who requires constant aid and supervision. Our town (and its taxpayers) spend a disproportionate amount of money to educate him to the best possible outcome. But, I've often wondered, why not devote similar resources to the "special" brilliant kids too? Talcott Mountain provides that, but at cost (over $20 grand/year). If you think your kid has what it takes, go for it.
Students are grouped in "Suites" of similar age although they may not be working at the same "grade" level. Students' abilities vary among subject areas and can be grouped differently for each subject. The "suite" concept allows for greater differentiation to meet an individual student's needs.

The curriculum is differentiated and individualized to meet the special needs of gifted students with maximum concern for the varying degrees of "giftedness" which exist in such highly qualified students. Using a variety of teaching styles, interdisciplinary and collaborative methods, our teachers encourage the development of problem solving, creativity and critical thinking skills. Our students are of above average ability, creative and task committed.
I believe the class sizes are very small. I overheard some conversation during my visit that the kindergarten and first grades were combined and that there were only two students. (I very well may have misheard, of course.) And how does one select a kindergartner? So many questions…
Other questions like, "holy cow, how bad is it getting home when it snows?" The road up to here is, shall we say, sketchy. "What was it like during the Halloween Ice Storm of 2011 when I lost power for 8 days just down the mountain?" I got a partial answer to that one: "We had 39 trees across the road to clear." The guy running the show up here carries a chainsaw in his car to clear the road of random blowdowns that occur fairly regularly along the long, single lane access road.
That guy clearing blowdowns is Jonathan Craig, Executive Director of the TMSC. I had the pleasure of meeting him during a monthly (or so) Skygazing event. (More on that in a bit.) Mr. Craig took me on a little tour of the grounds and we had a wonderful chat about the school and its mission. In short, it's a hugely impressive place borne of a hugely impressive idea. We walked to a cement platform from which I took in the westward view of the Farmington Valley and beyond. Craig started naming hills far and near and I couldn't help myself from doing the same. (Sorry, I've seen this view 10 billion times – not that it ever gets old or tiresome – and have climbed almost every lump and hump within the viewshed.)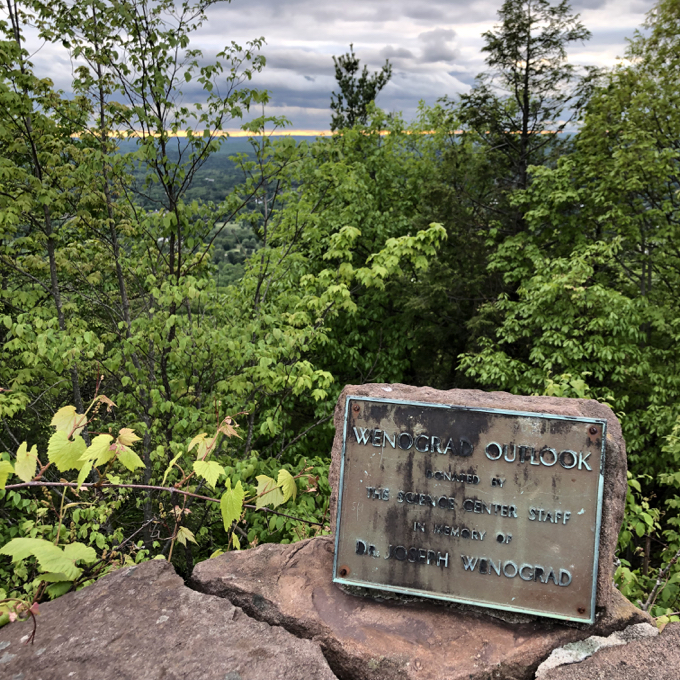 That doesn't make it any less cool. There's another lookout named the Wenograd Outlook. It too is lovely. But Craig mentioned that just below the plaque is a rat snake's den, which got Calvin pretty excited. He started poking around looking for the snake but to no avail. Just beyond that outlook, all of the Center's skygazing and weather tracking equipment is housed. Yeah, this isn't your typical school.
Calvin, Mr. Craig, and I mosied back down the hill to the school's Alan M. Bean Planetarium to watch the show. Oh yeah, another question: "I read that the largest known sundial in the world is right here." Craig chuckled a bit and said, "yeah, that's true." Or at least it used to be. Up on the platform with the overlook, the school had received permission to put "planets" on businesses across Avon, Farmington, Plainville, and Bristol. They were placed at accurate distances relative to the true solar system distances, and kids could view them through telescopes from the top of Talcott Mountain. I can't imagine anything cooler.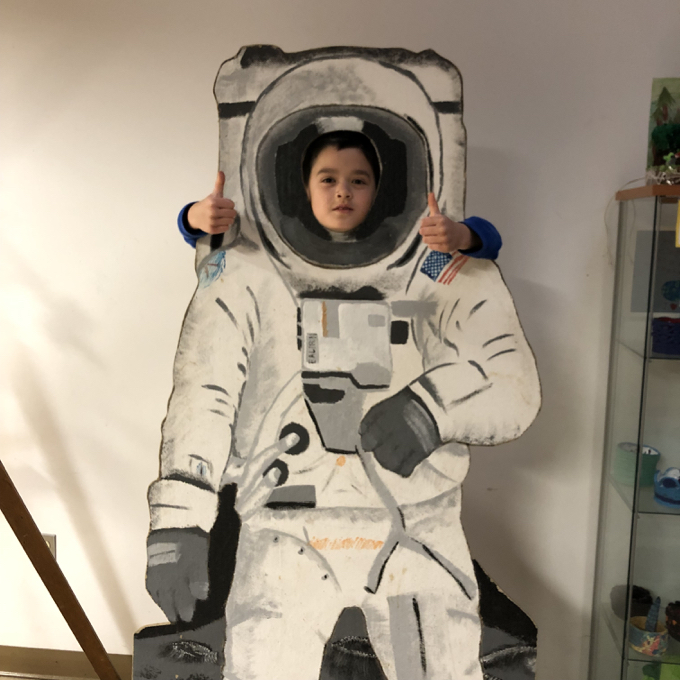 But time and weather took their toll and those orbs on top of car dealerships, homes, and the Otis Elevator test tower blew away or were moved or whatever. Still cool.
Also cool? A bunch of stuff I heard from TMA teachers and administrators from a CPTV production about the unique school.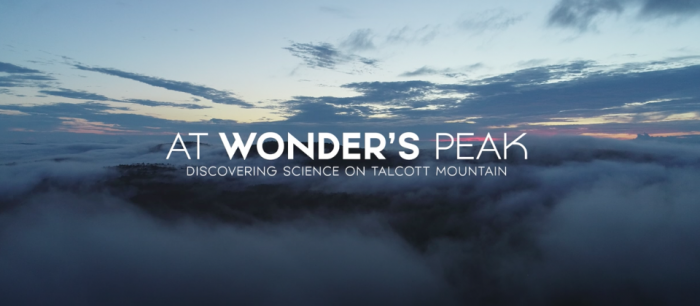 We teach curiosity. Kids need to be actively engaged in the learning process.

We're an interpreter of science; we try to stay on top of new things like in genetics/genomics, earth science, etc. Science books are all in the past; here, they learn what's happening now.

Technology is superseding our ability to learn things – every kid has billions of people helping him learn stuff through Google alone. This paradigm shift has really changed things for teachers, but we work with it and don't fight it.

We don't want to be the sage on the stage, we want to be the guide on the side.

You become attuned to nature when you're surrounded by it.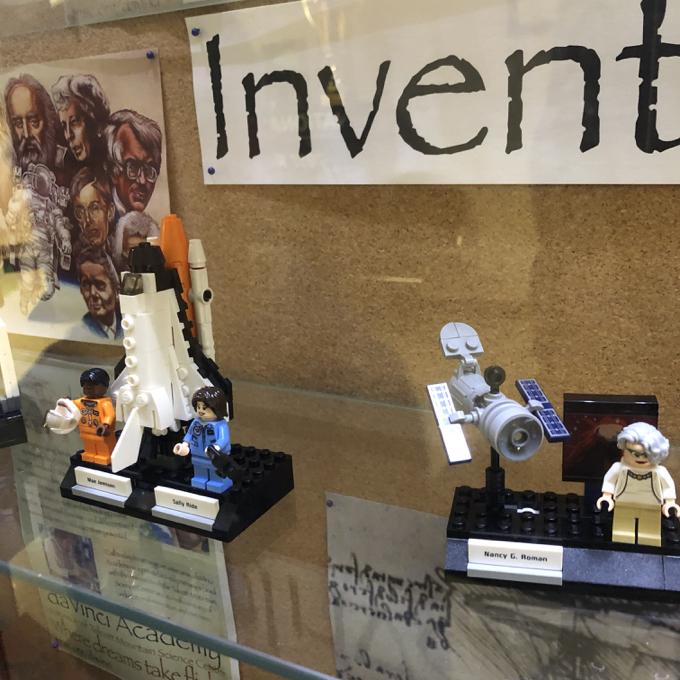 The Academy does teach stuff other than science, of course, I'm not sure they'd be accredited if not. But they really do focus on individualized programs for these kids, most of whom would be bored out of their skulls in typical classrooms. Kids like Emma Ruccio, who invented Got Your Back 2.0. Inspired by Emma's own experience with scoliosis, Got Your Back was designed to give patients the ability to monitor changes in the curvature of their spine at home using infra-red technology — reducing their overall x-ray exposure and minimizing disruption in their everyday life.
In 8th grade, I played tackle football in the street.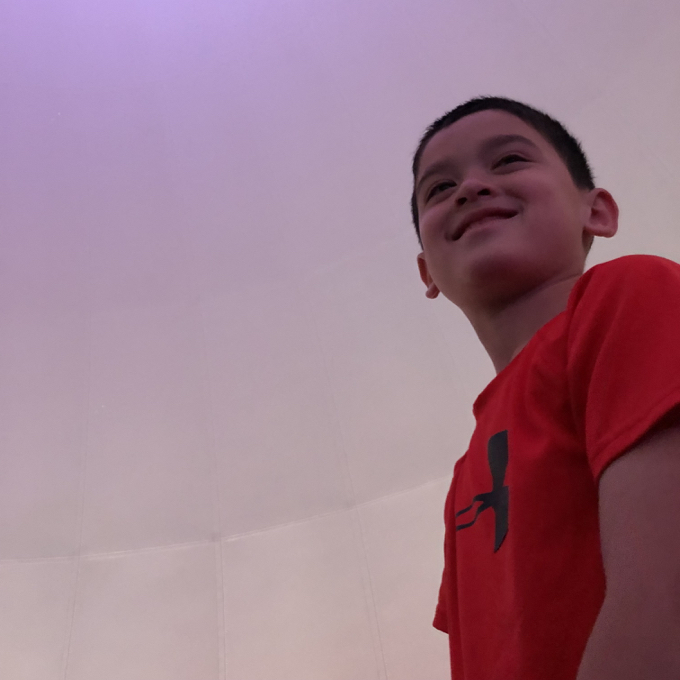 Kids like Julian Kage. While in 8th grade(!), Julian developed Quick Lyme: The Rapid Test to Detect Lyme Bacteria in Ticks. The protocol Julian developed can be done at home and takes between 2-5 minutes to test a tick for Borrelia, the bacteria that causes Lyme disease. Julian's quick, new test offers an affordable alternative to current tick testing methods that require a lab and often take up to two weeks for results. Quick Lyme test results are shown on an easy-to-read test strip.
In 8th grade I skateboarded to school and often arrived with literally frozen hair because I was too dumb to wet it down earlier in my morning routine. On to the show!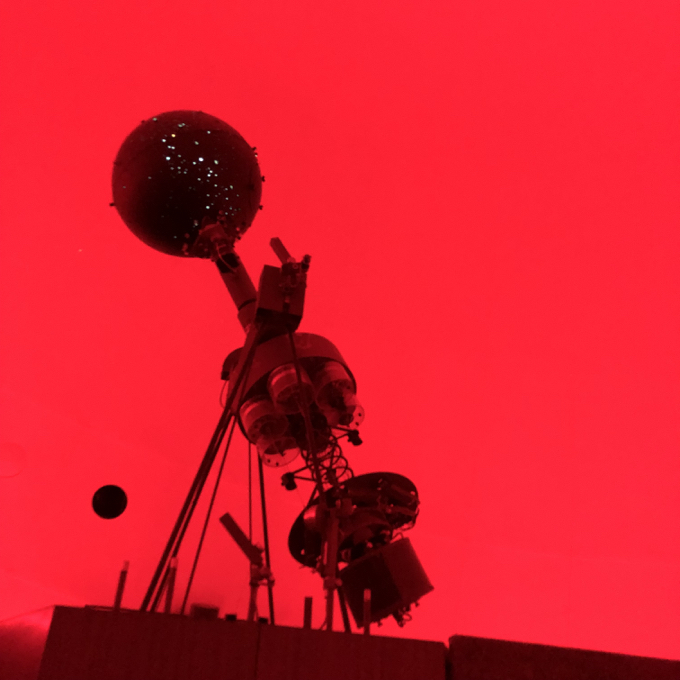 The TMSC has a planetarium that they sometimes call a hypospherium. I've no idea why, but it's named in honor of frequent TMSC visitor and fourth person to walk on the moon, Alan L. Bean! I'm going to drop some more superlatives on you:
Our planetarium is the largest teaching planetarium in the state. It seats 98 and serves as a multimedia theater providing views of the night sky, large screen viewing and special effects.

The Alan L. Bean Hypospherium is our multi-media tilted-dome planetarium, and at 44 feet is the largest "true" planetarium in the state.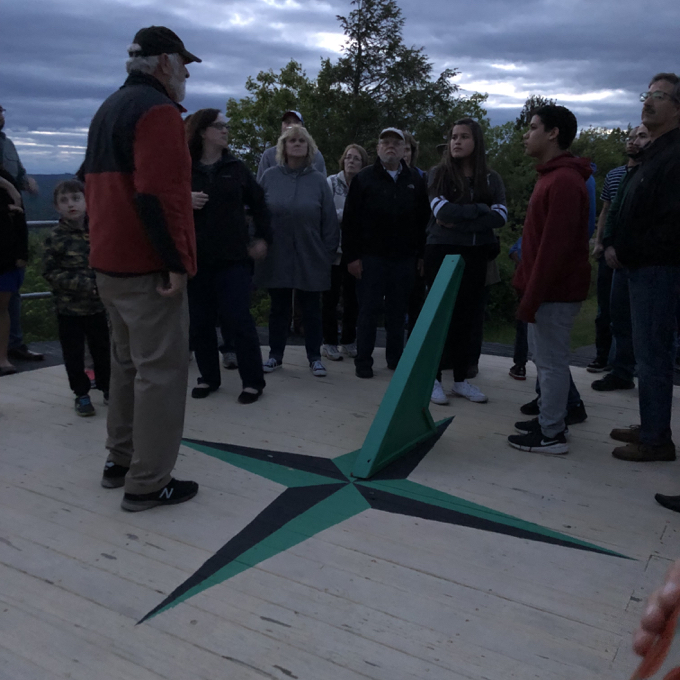 The "show" was a fairly academic discussion/lesson on constellations. The presenter wove in some relevant poetry, but the mix of Native American, Roman, and Greek mythology confused my poor child. I'm not really into constellations, but I enjoyed many of the stories of how they came to be.
Especially the bit about Subaru. The term "Subaru" is also the Japanese name for a cluster of stars in the Taurus constellation, known to many by the name "Pleiades." These stars are also known as "The Seven Sisters," because according to Greek mythology, they were once Atlas' daughters: Alcyone, Asterope, Merope, Maia, Taygeta, Celaeno, and Electra.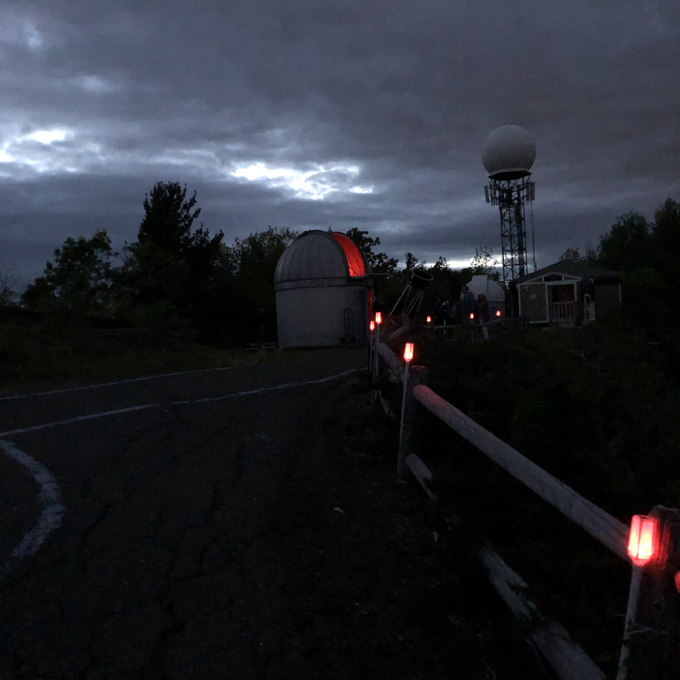 Surely you're already wondering, why are there only six stars in Subaru's logo if it's named after a constellation of seven daughters? The reason is to the naked eye, the cluster of stars appears to only have six stars–two are so close together, they appear as one big star. Thus, the Pleiades constellation is known for being a "unification of the stars."
I learned the story of Orion and all sorts of stuff. The presentation was about 45 minutes long and was a bit much for (non-gifted) kids under… let's say… eight. At one point Calvin whispered in my ear, "I don't understand anything he's talking about." Regardless, the planetarium is cool; changing the sky day by day, season by season. The chairs weren't super comfy, but they're comfortable enough. As this woman will attest to: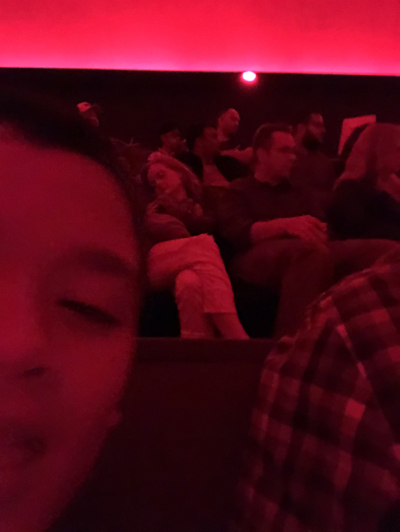 (Calvin made me take that picture.)
The Center has "Skygazing" nights about once a month. For a few bucks you get to see the planetarium show and then the real show. Back outside, back up the hill, and back to all the telescopes. This experience is unique in Connecticut; with so many choices of stargazing equipment at such a prime location.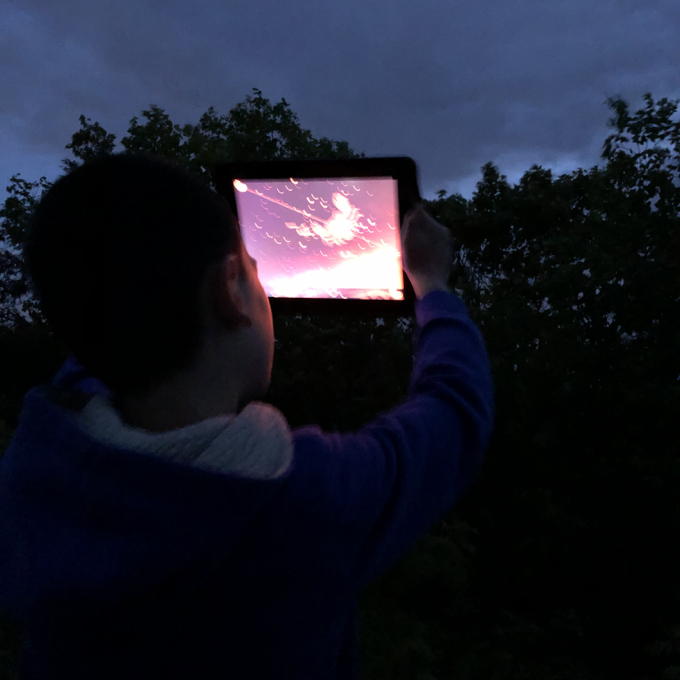 Unfortunately, it was cloudy during our visit. (We received vouchers for a return visit, however.) I'm pretty sure my iPhone camera couldn't have captured anything relevant anyway, so we can all pretend. Other people had traveled from Massachusetts and New York the evening we were there, which is… surprising and really cool – and a bummer about the clouds. I'm guessing we traveled the least of any other visitor.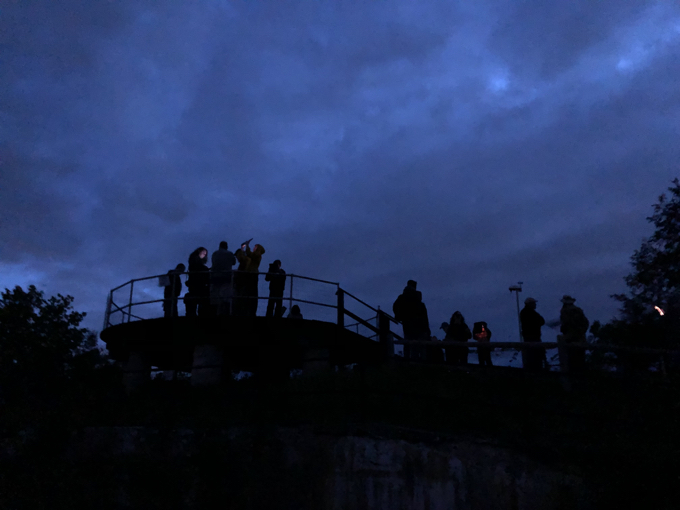 Everyone was given iPads with the GPS-enabled constellations app to at least get a flavor for what we were supposed to be seeing. In the end, Calvin enjoyed himself.
You can sense my appreciation for the TMSC. I know I've written more than you wanted to read, but that's an outcome of how cool I think the whole concept and execution of it is. I recommend you find their skygazing events and get up there yourselves someday.
Oh, and by the way, I also won first place in the Science Olympiad in 8th grade in a cladistics & taxonomy competition and second place in something else. But I still played tackle football in the street.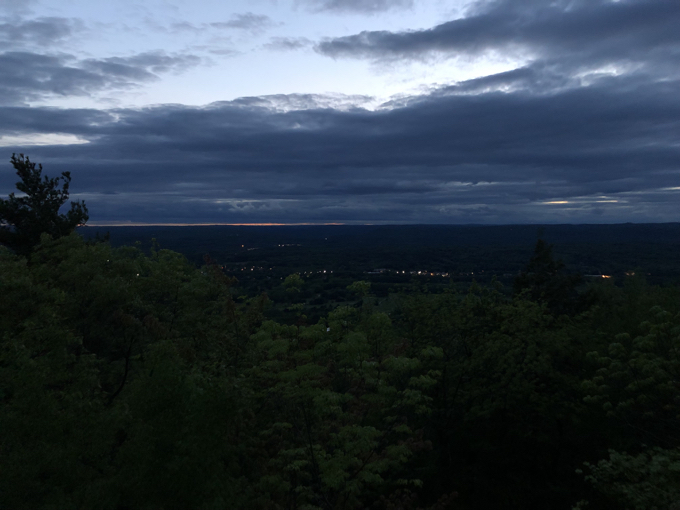 Talcott Mountain Academy
Talcott Mountain Science Center