Farmington Canal Heritage Trail
Hopmeadow Street, Simsbury to Red Oak Hill Road, Farmington (~11 miles)
July 2020
If you'd like to check out section 1, here you are. You can also learn a bit about the history of the failed Farmington Canal and how it became the failed rail line there as well.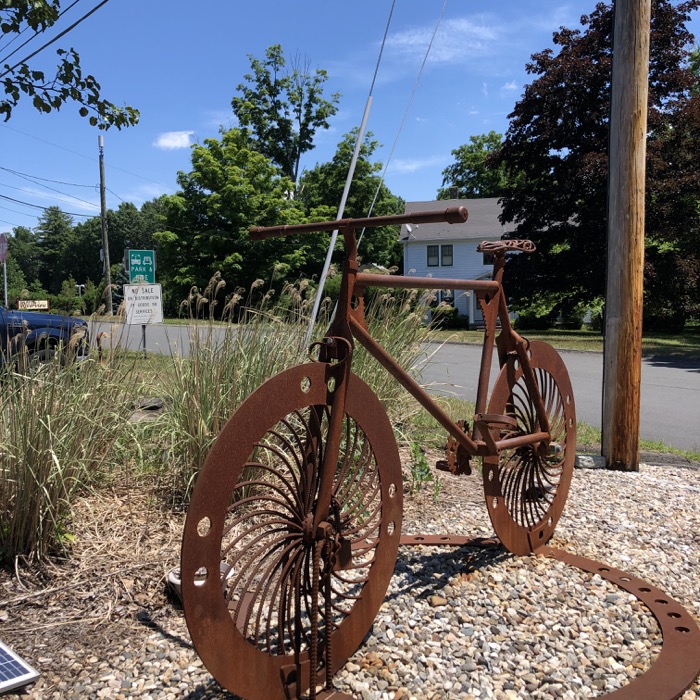 We'll pick up this section at the intersection of Drake Hill Road and Hopmeadow Street (10/202) in Simsbury. There's nearly limitless parking along Iron Horse Boulevard and this is also where the 16-mile Farmington River Trail loop extension connects to the FCHT as well. The famous Drake Hill Flower Bridge is here as well and someday in the future, the CFPA's East-West Trail will share the FCHT/FRT path for a bit as well. Exciting stuff.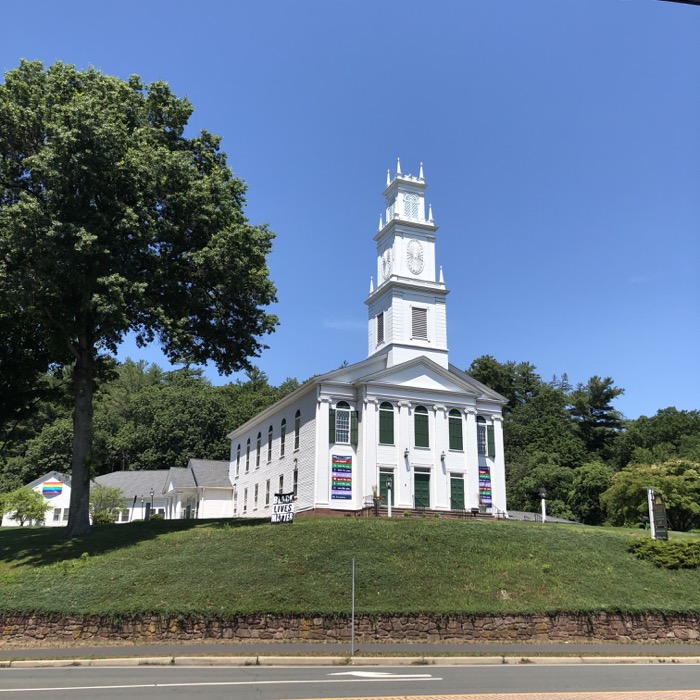 While none of you cares a whit, the first couple miles here are the first couple of miles I ever rode with a young Calvin on his first bike on a rails-to-trails path. He was six and it was simply to show him the ropes before a trip to Cape Cod and a planned day riding the path out there. Now you know.
The first mile or so follows the main road as it passes the Ensign-Bickford/Dyno Nobel complex. In fact, the first building at the intersection is the beautiful Joseph R. Ensign House. It was a Webster Bank for years, and now (in 2020) houses Metro Bis restaurant.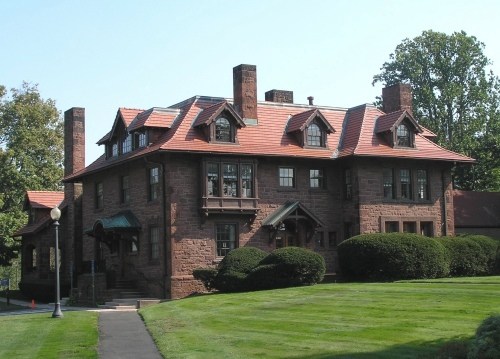 Today, Ensign-Bickford is a leading producer of precision systems used in military demolition, vehicle protection, and tactical weapons construction. But they started out as the Climax Fuse Company – makers of the first "safety fuse" even though there was an infamous explosion in 1905 that killed a bunch of workers. For those of you wondering, yes, Climax Fuse explains the current Climax Road in Simsbury and Avon by the way.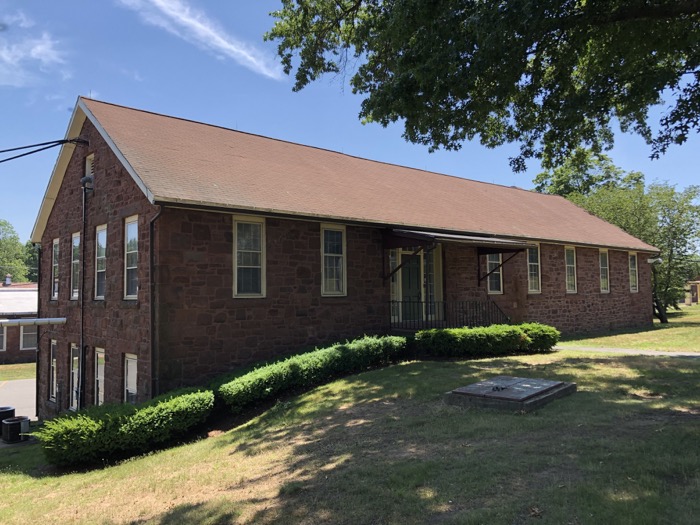 After cycling by the industrial complex – which actually somehow sort of fits in with the center of Simsbury thanks to the brownstone and brick – the trail veers left… then right! then left! down a rails-to-trails steep hill! It's all very exciting as we left the main road and enjoyed the woods again for a moment before a stretch behind a bunch of businesses.
The next major parking lot – seriously, there is a LOT of parking for FCHT riders in Simsbury – is at Hopmeadow Street and Stratton Brook Road. The Riverview is also here; a place that most of you have been to for a wedding I'm sure. It's a nice facility… it's also where LEGO had its annual holiday party for employees. Can I just take a moment to tell you that the food at those things is mind-blowing good.
Anyway, the path crosses Hopmeadow Street away from the Farmington River as it heads south to Avon. The next few miles are flat, straight, and mercilessly unshaded. I happened to ride this section to take pictures on a 98-degree day, which was rather unpleasant.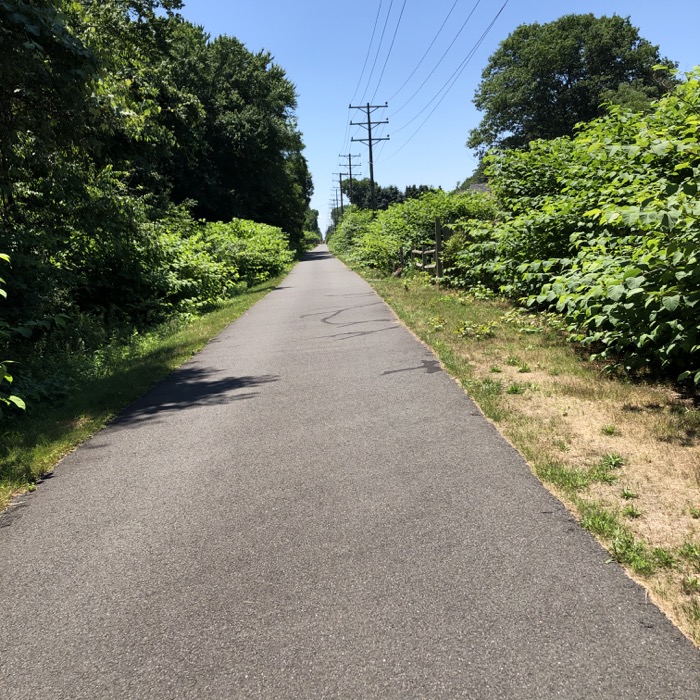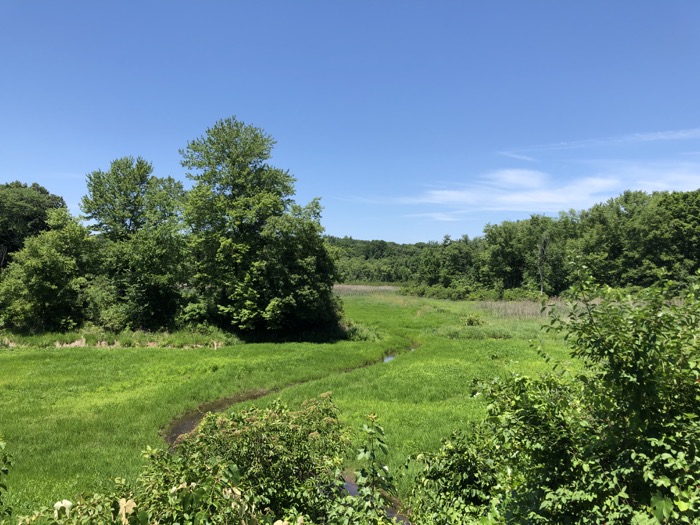 Far more pleasant is the fact that some civic organization has seen fit to place explanatory signage along this stretch. Starting back at the Ensign-Bickford complex and continuing through these marshlands, the signs give visitors a chance to learn a bit about the area; it's history and ecology. And that's nice.
I road across Canal Street, named for the canal that was once here. As you can imagine, we'll be crossing over a lot of Canal Streets. Like how Old Canal Way is a short bit south of Canal Street. And just beyond that, the path crosses back over to the Farmington River side of Hopmeadow Street.
We passed The Chubb Group and the trail crosses its parking lot. I wonder if their office building's back wall is all glass, as it sure would be nice to stare up at Heublein Tower looming above all year.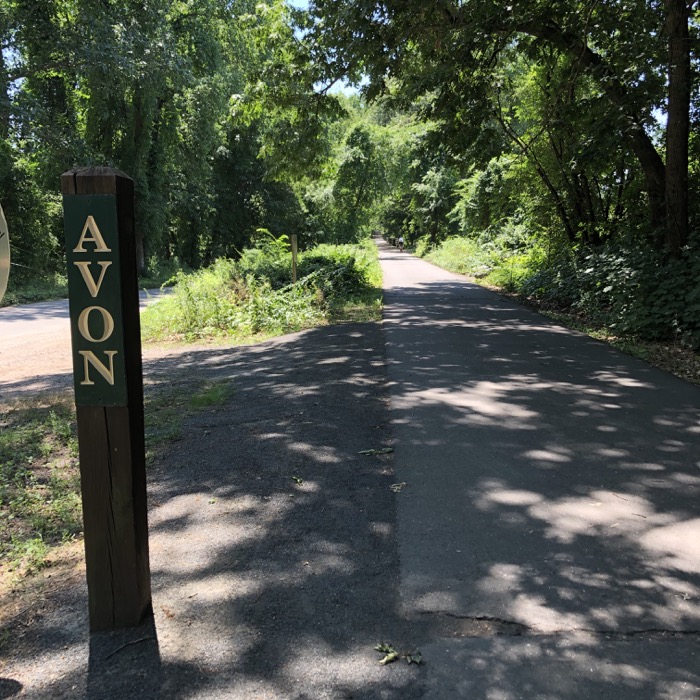 From there, it's a straight shot through the Nod Brook WMA and the town line crossing over into Avon. Nod Brook is an often flooded parcel of state owned land most notably used as a dog training field. I've walked around it a couple times and aside from the views up at Heublein and Talcott Mountain, there's not much to it without a dog.
A turn west and another parking area at Sperry Park, just before crossing Hopmeadow Street – which is actually called Simsbury Street in Avon. Whatever, it's the same route 10/202. There's another one of those cool East Coast Greenway distance markers here as well: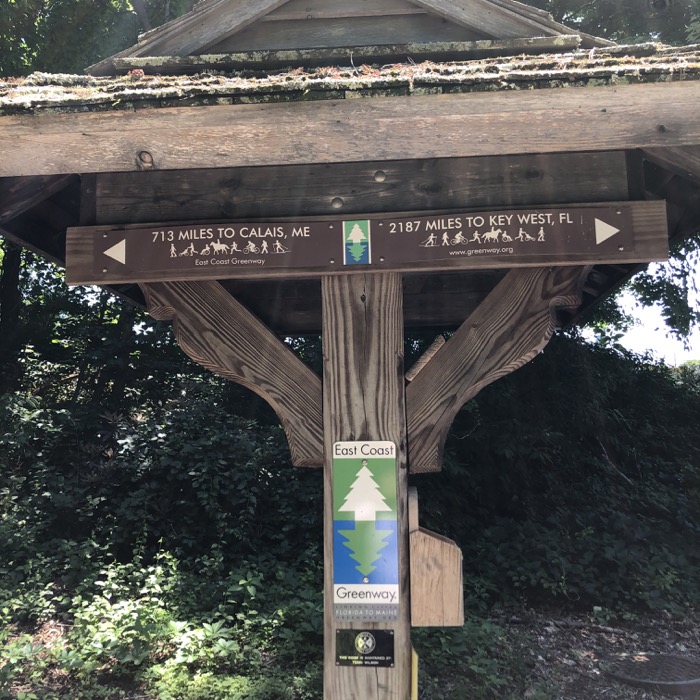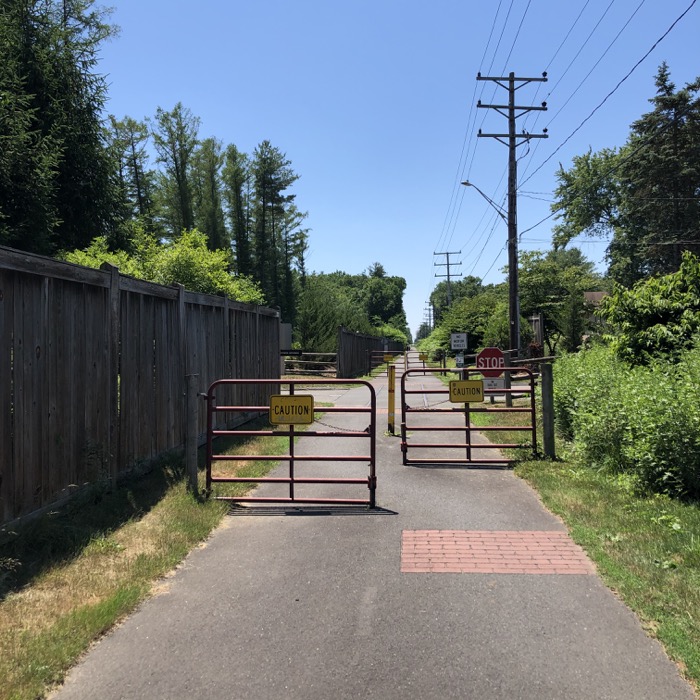 The next bit of trail was a bit hairy during our ride. I'm sure they will improve it once all the new construction is complete, so just be wary of where you are until they do. The path courses through another Ensign-Bickford complex – one no longer used to make explosives. Now it's all art galleries and gynocologists and cupcake shops. And the Avon Police Department. (If you ever want to read a good book that features an Avon cop, check out Stewart O'Nan's The Night Country.)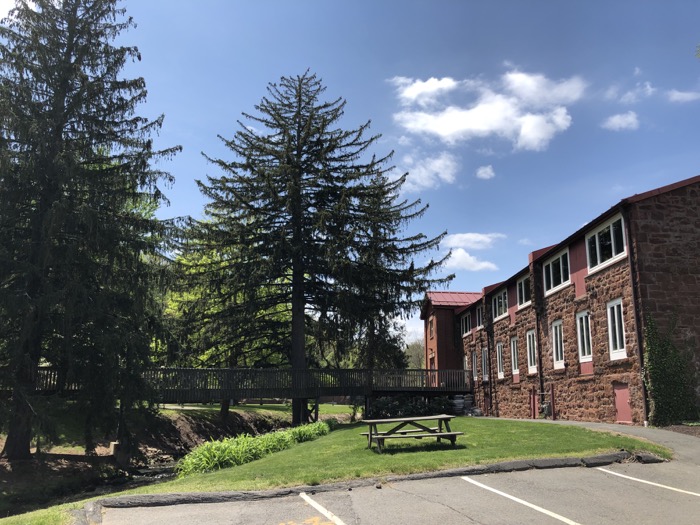 At the time of our ride, a new Whole Foods is being built right where the FCHT winds. So when it's complete, you'll be able to ride right to a brand new, Wholly Unnecessary Whole Foods! Huzzah! You also get to ride along Climax Heights Road! What could be better?
And by the way, the Avon PD is solidly on Climax Heights Road, not West Main Street like their mailing address claims. Just throwing that out there.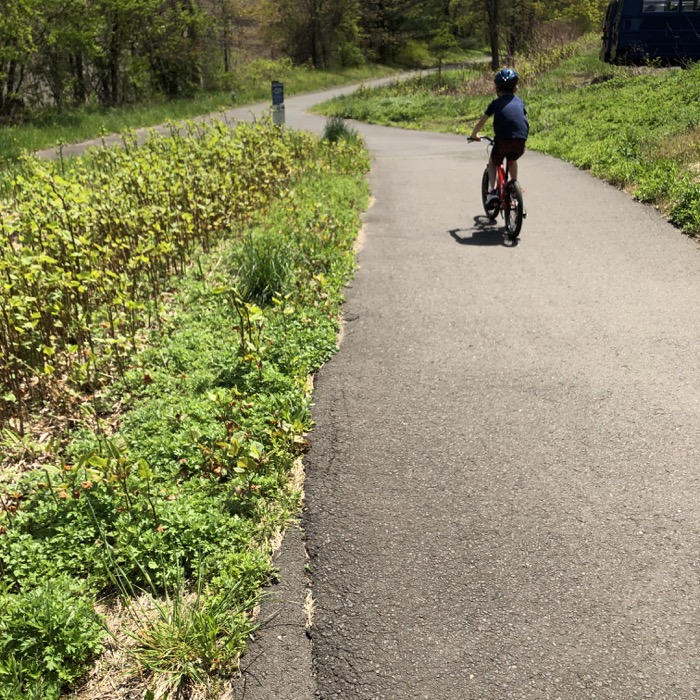 There is a tunnel under West Main Street (route 44), but it wasn't open for us during construction. Regardless, we found our way to Darling Drive, then to Security Drive along the designated path. Another FCHT parking lot at the Avon DPW and onto the final stretch of trail into Farmington, our fifth town on the journey south.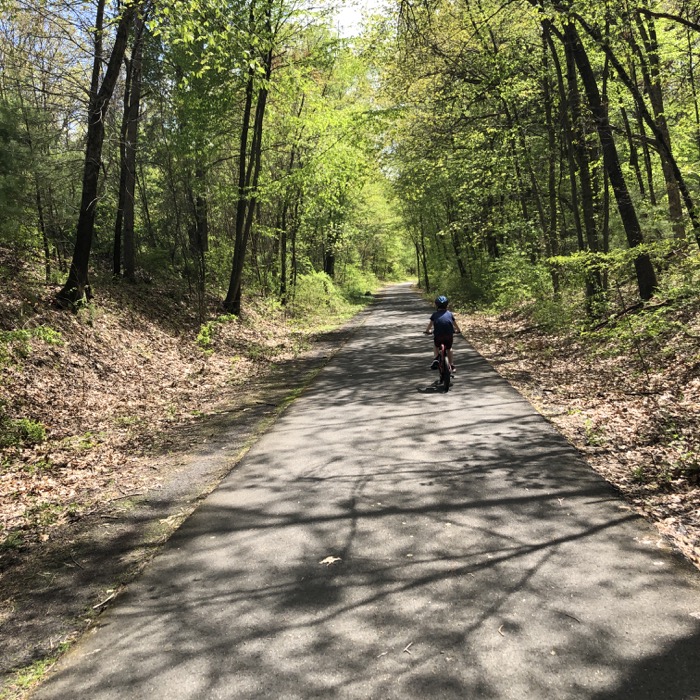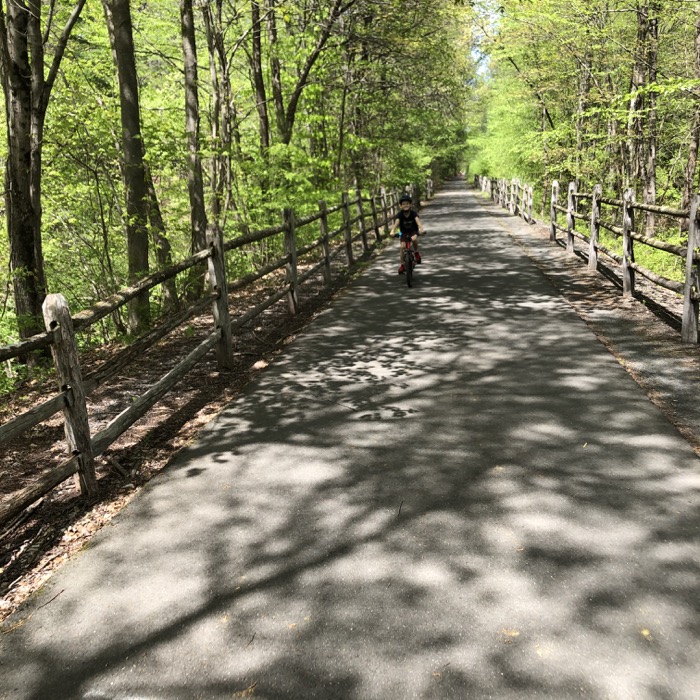 The final few miles of this section are almost pin straight – as you'd imagine a canal path would have to be by default. Just past the DPW, we crossed Sandscreen Drive. Here, maybe a minute down the road to the east, Hopmeadow Brewing Company opened in 2020. Heading south, this is the first of several breweries right along the FCHT and I envision future group rides starting here and hitting all of them in one terribly unsafe, yet stupidly fun day. Good luck to those future ding-dongs.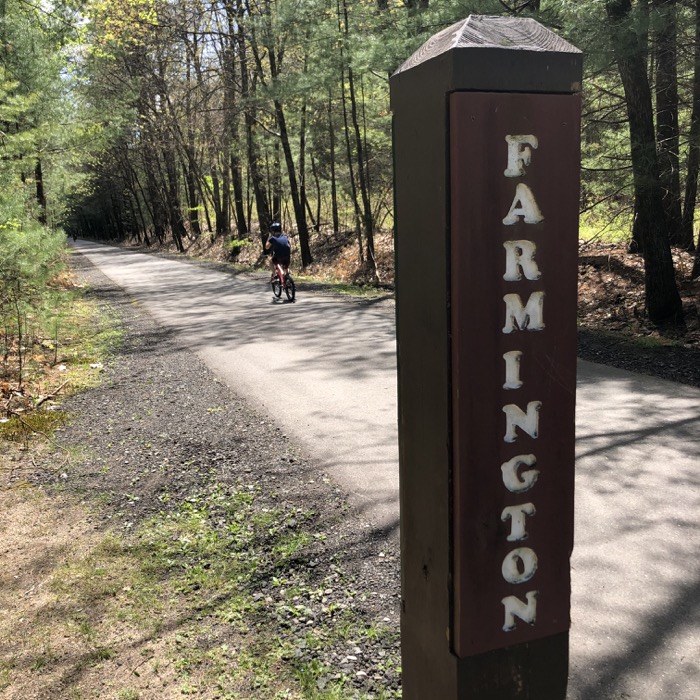 It would be easy to say these final miles are uneventful, but that would miss the point. The FCHT here is beautifully paved blacktop. It's perfect (or was in 2020 anyway.) Earlier I mentioned O'nan's The Night Country. Not only does it feature an Avon cop, it has an entire storyline involving the FCHT. (The cop lives right off of the path and some miscreants use it to access his house, among other details you don't need to know.)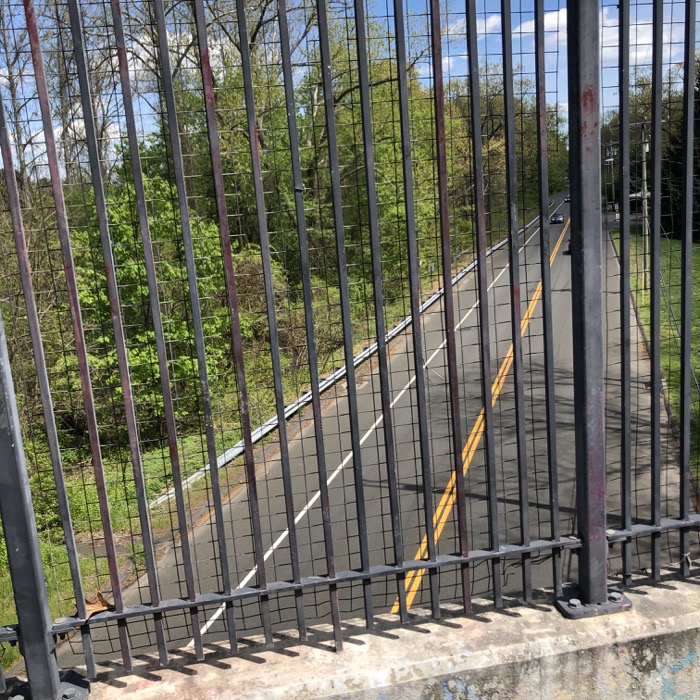 As we rode past the backyards I couldn't help but think the author did the same researching his book. (He used to live in Avon.) It's a neat little section that the town seems to celebrate. One homeowner had set up a whole sound system for riders to enjoy. The Macarena was playing as we rolled past and Calvin loved it. The section was crowded with people enjoying being outside during a pandemic. It was all quite nice.
The trail crosses route 4 via a trail-built bridge and then does the same across the Farmington River. That bridge is super nice and even has pull-outs for people to enjoy the view. I was hugely impressed with the whole experience: the quality of the path and the creativity used to get from here to there.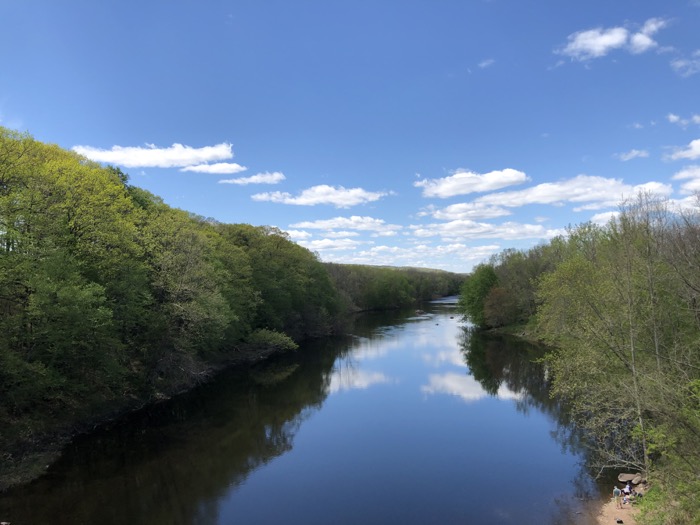 We ended or trip at Red Oak Hill Road in Farmington. Here, a short jaunt takes cyclists or walkers to the southern end of the Farmington River Trail loop and another parking lot. Continuing south is fine for a while, but they're still building out the path through the most of Plainville on its way to Southington and points south. I'm looking forward to the day when the path is complete through the entire state, from Suffield to New Haven. And you should be too… unless you're one of those NIMBYs in Simsbury that held this thing up or years.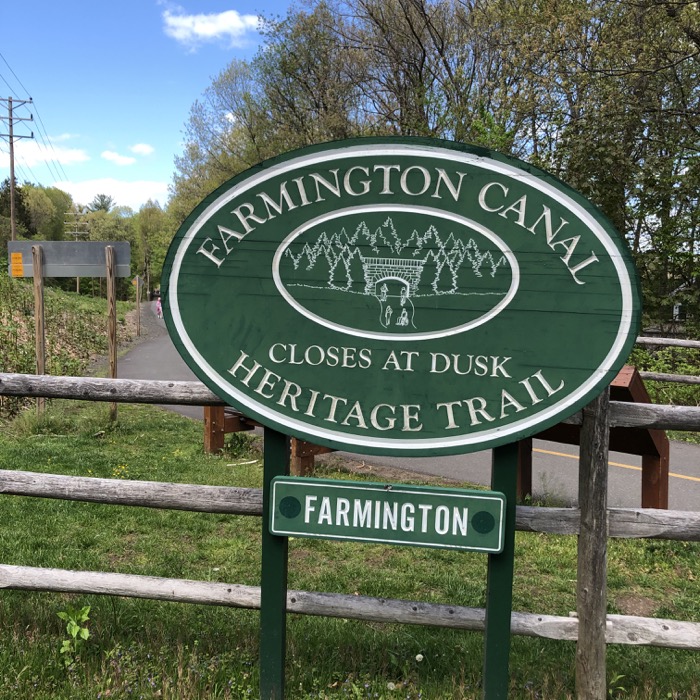 Continue on to FCHT Section 3: Red Oak Hill Drive to Canal Street, Southington
Continue on to the Farmington River Trail Loop
Farmington Canal Heritage Trail & Farmington River Trail
CTMQ's Farmington Canal Heritage Trail Intro
CTMQ's Cycling, Multi-Use, & Rails-to-Trails Paths