Pining For the Past
Avon (Google Maps location)
June 2, 2019
Someone asked me the other day a question I love ("OMG! You read and care about CTMQ?!") and hate ("OMG! If I answer you honestly, you'll think I'm nuts!"). Part of the question was related to the whole "town completion" thing I do. Was there an order to it? Things like that.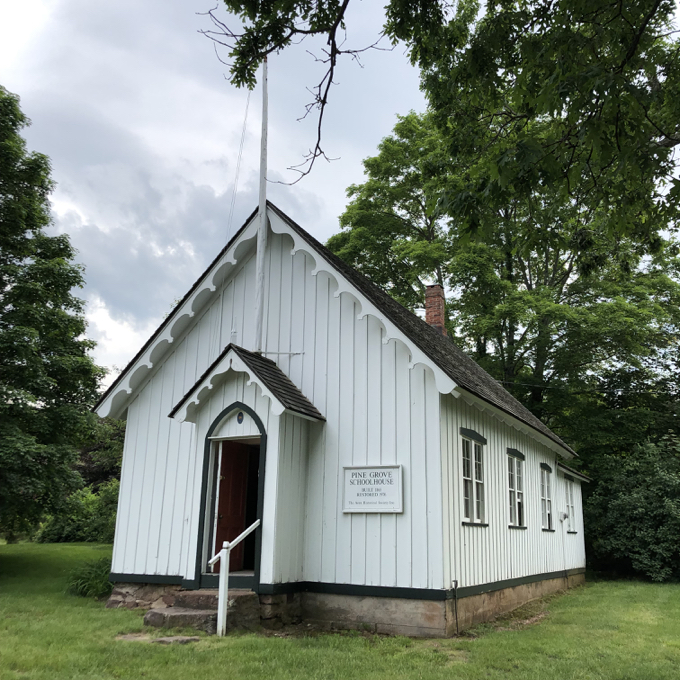 I used Avon as an example as to why there's no order to it and can never be. I could have done everything I could do in Avon in the late summer of 2018, but had to wait until this little school house museum opened for two hours on a Sunday in June of 2019 to "complete" the town. During that wait, I found a few other things around town to do for the purposes of CTMQ and… sigh.
The point of this boring story is that I waited 8 months for the Pine Grove Schoolhouse to open. I put it on my calendar and everything. Even though I darn well knew that this schoolhouse wasn't going to be any different from any of the other one-room schoolhouse museums around the state. Incidentally, as I write this in July 2019, I'm waiting for the East Windsor Historical Society's "new" one-room schoolhouse museum to open in August (fingers crossed!) to "complete" that town.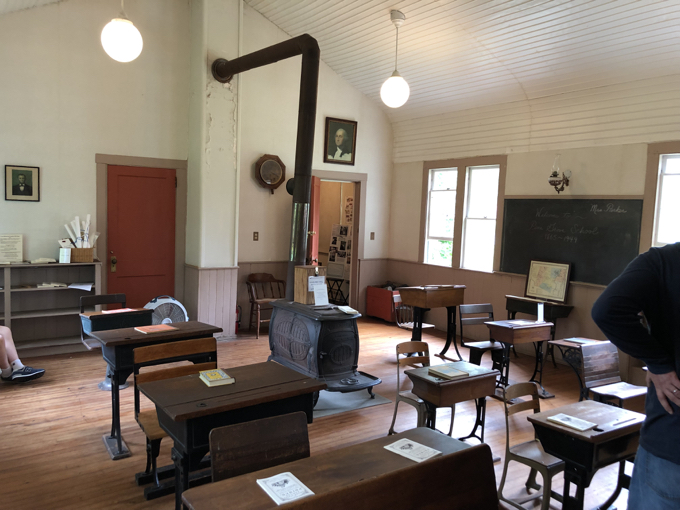 But that's how I roll. And with that, I rolled into Avon Historical Society's Pine Grove Schoolhouse like a man on a mission. What you got for me, schoolhouse?
Like every schoolhouse museum, it was a sauna inside. There were a bunch of desks, old maps, the stove… and some other stuff. A man sat at the front of the room and – holy cow, he was engaged in an interesting conversation with two other visitors! Had they been waiting eight months for this moment as well? They were talking about old timey schools! I wasn't alone! Fantastic.
Pine Grove opened in December of 1865 and Henry Barnard called it the "finest school in the state," which is bonkers to me. And Henry Barnard was a rather important, impressive, and well-respected guy in the world of education. His house in Hartford is a National Historic Landmark for a reason.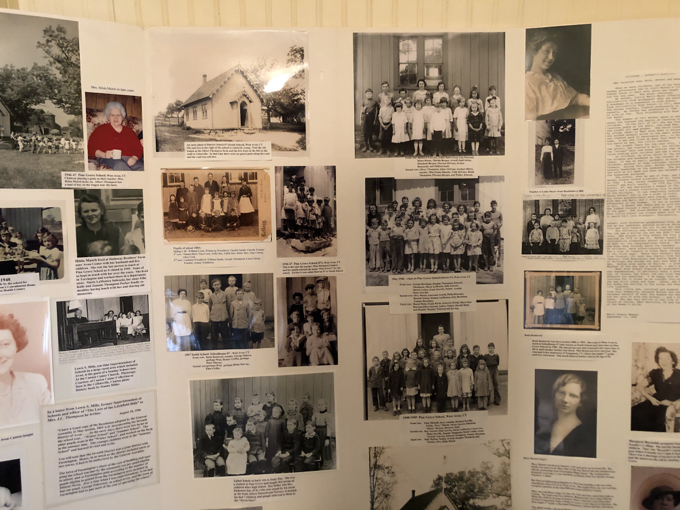 Good ol' Miss Francis was hired on as the first teacher and earned a cool 96 bucks for her four months of work. In 1927 it got the "Pine Grove" name, reportedly because there was a nearby pine grove. I found no evidence of said grove and I'm calling the 1927 Avon School Naming Marm a liar. (Not really. I'm just being ridiculous for no reason. Surely there was a nearby pine grove.) Regardless, this place operated as a school all the way up until 1949. It was then used by several different groups (scouts, choirs, library… the usual) and fell into disrepair.
The Avon Historical Society stepped up in 1975 and restored the joint for its grand re-opening as a museum for the country's bicentennial. And here we are today, in 2019, checking out the bolted desks (c. 1865), hand slates (c. 1900), textbooks (19th – 20th c.) and more!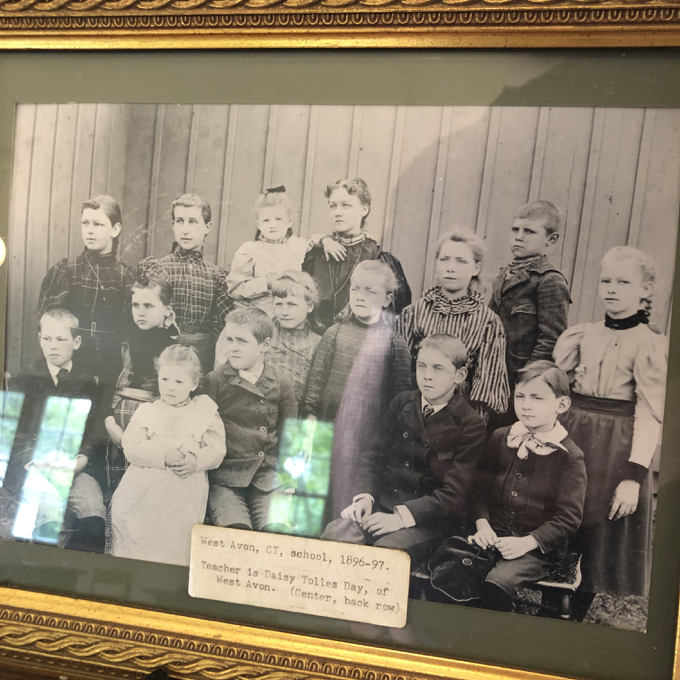 There are a bunch of pictures on display here, and some pretty interesting stories. Of course, many of them are of the "woe is me" variety, and I get that. Long, cold walks to school… gathering wood for the stove… all that stuff. Here's a cool thing – a picture of a student in 1917 at age 8 and in 1989 at 90: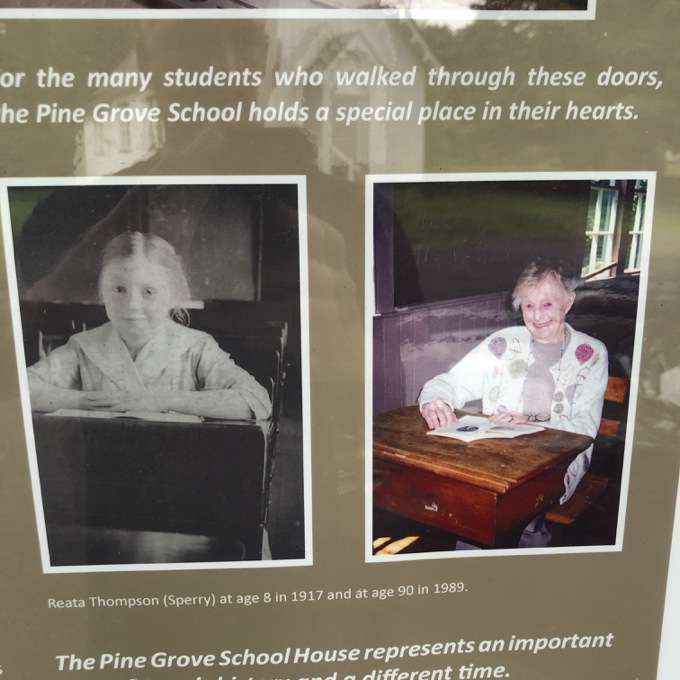 It's a shame that the lovely Reata Thompson (Sperry) never got to see herself in the bright shining lights of a CTMQ schoolhouse museum write up! A page where I feature a featured museum artifact – a high button shoe that was found in a wall of a house a mile or so away! A high button shoe with no buttons! A shoe that the museum posits may have belonged to the mother of a child who may have attended this school!
Which is a really weird thing to display in a museum to be honest. It's just an old shoe. Found in a house a mile away. Points for creativity I guess.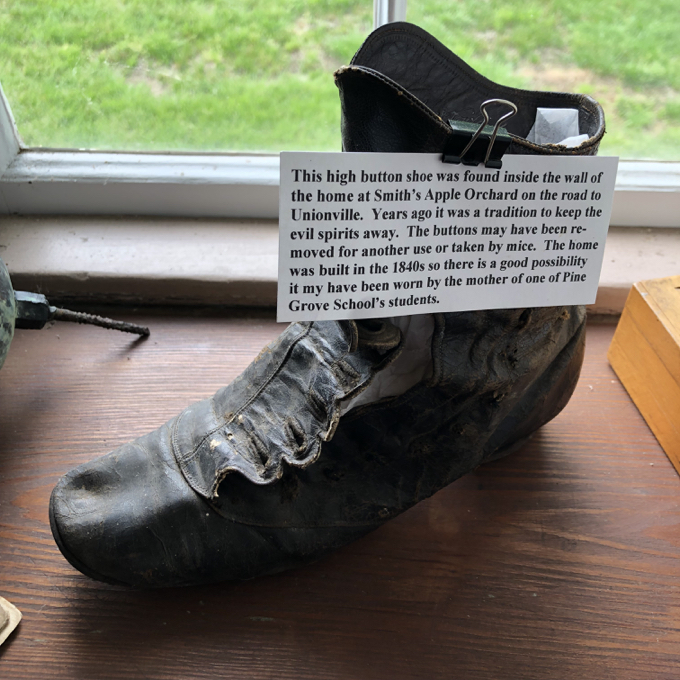 But lo, there was another, far more sinister item on display. The Death King. Lying in state. He lies in a glass sarcophagus, his white beard trimmed and his hands resting on his thighs. Dressed in an austere purple robe, The King, the only surviving puppet from the many puppet shows performed by the students under the direction of Mrs. Eileen Case.
The plays were performed in public in the Farmington Valley and once, a Mr. O'Neill drove the kids in a bus to Boston to perform at the National Education Association Convention!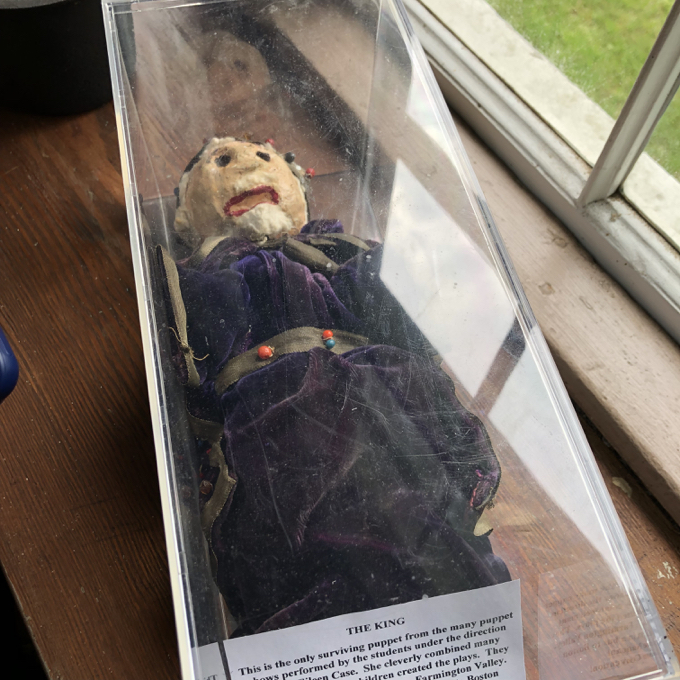 Here's the thing. It's totally creepy, sure, but two paragraphs ago I cribbed from The Guardian's description of Vladimir Lenin:
He lies in a glass sarcophagus, his reddish moustache trimmed and his hands resting on his thighs. Dressed in an austere black suit, Vladimir Lenin, the first Soviet leader, looks at first to be a waxwork.
As creepy as dead Lenin is, I'm not sure if he's creepier than The King of Avon's Pine Grove Schoolhouse. And as weird as they both are, I'm not sure if they're weirder than these past few paragraphs or the fact that I anxiously waited eight months to check this place out.
… CTMQ everybody! You know you love it.