Ôi chúa Ôi!
Vietnamese Night Market, St. Mark the Evangelist Church, West Hartford
July 2023
There are only TWO Night Markets remaining in 2023. Saturdays September 2nd and 16th at 6 PM at St. Mark's The Evangelist Church in West Hartford. If you're reading this after these dates, you're going to have to search online yourselves for 2024, 2025, etc. dates.
My wife is Vietnamese. Born in Da Nang. The story of her family's escape in 1975 during the Fall of Saigon is as harrowing, humbling, and terrifying as any you've heard. My inlaws' determination, luck, and intelligence to get from there to Malaysia to Guam to California to New Britain, Connecticut was nothing short of heroic. My father-in-law was a high ranking officer in the Vietnamese Army and is still likely officially wanted by the communist government – he has never returned to his homeland.
I mostly grew up in the suburbs of Delaware and one time my cat got lost for a couple days. The trauma.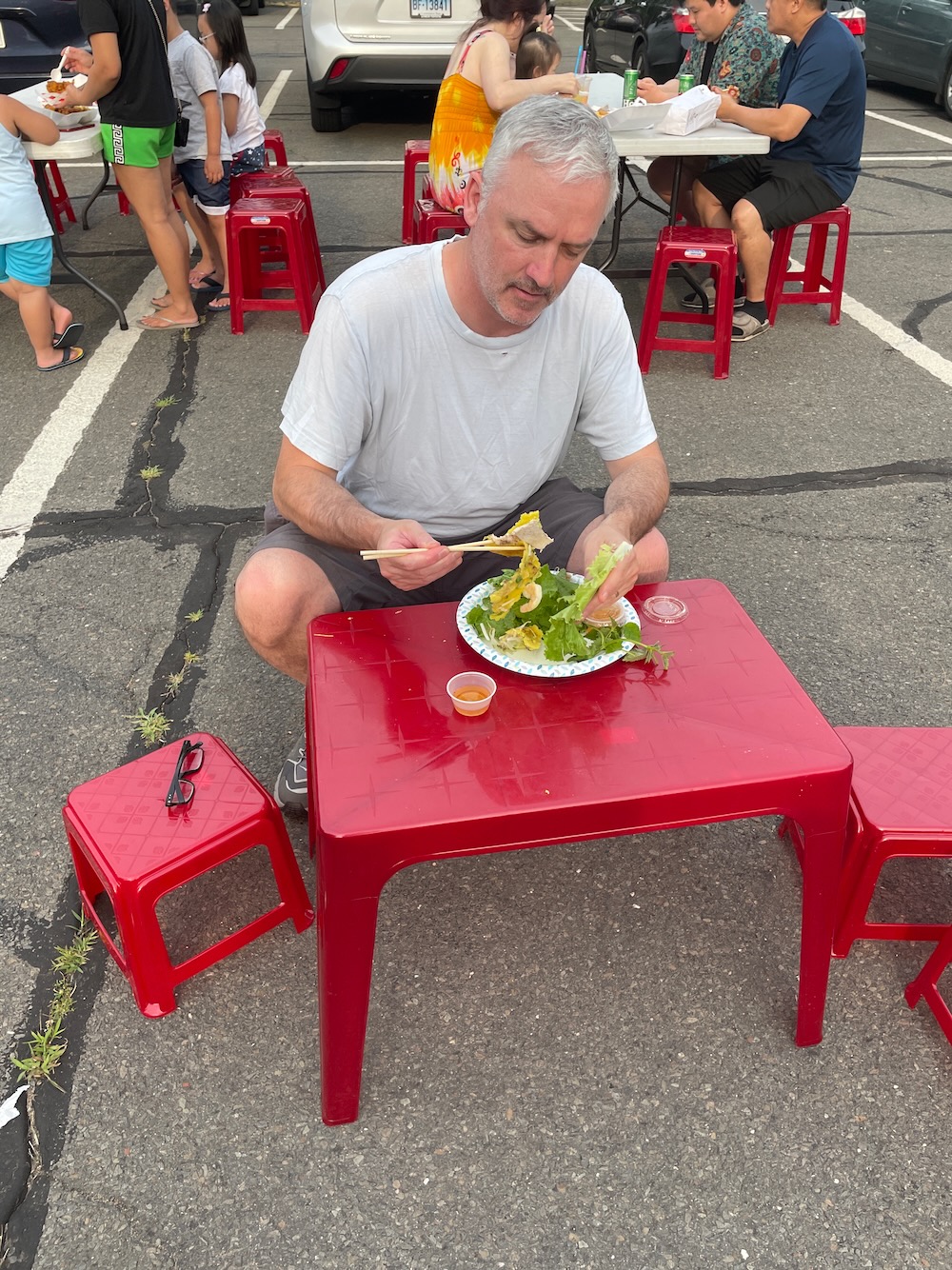 So you see, since I met my wife Hoang in 2000, I've learned a lot.
I've learned things like how when your beautiful country is ripped apart by decades of war, often fought by people you did not want in your country, and you are whisked away to the other side of the world to a country you did not want to live in, you don't always think everything is perfect.
My mother-in-law never felt the need to become proficient in English. She was always going to move back to her country. Her Viet Nam. She, of course, never did.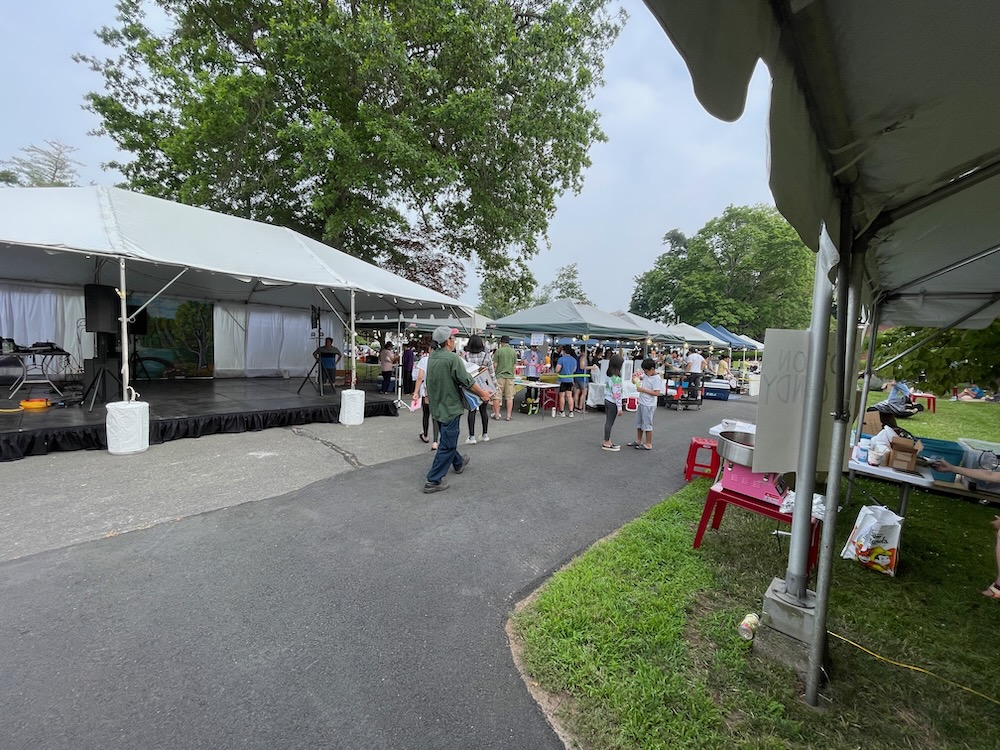 As with many immigrant mothers, she speaks through her food. (She does speak and understand basic English, though begrudgingly.) And hoo boy am I lucky for that. I had never had Vietnamese food before 2000, and once I did my world changed.
For real. No exaggeration. The flavors, the use of herbs, the combinations of heat and sour and salt and sweet blew mind mind then – and continues to do so now. It's an amazing cuisine and if you're not familiar with it, do yourself a favor and fix that.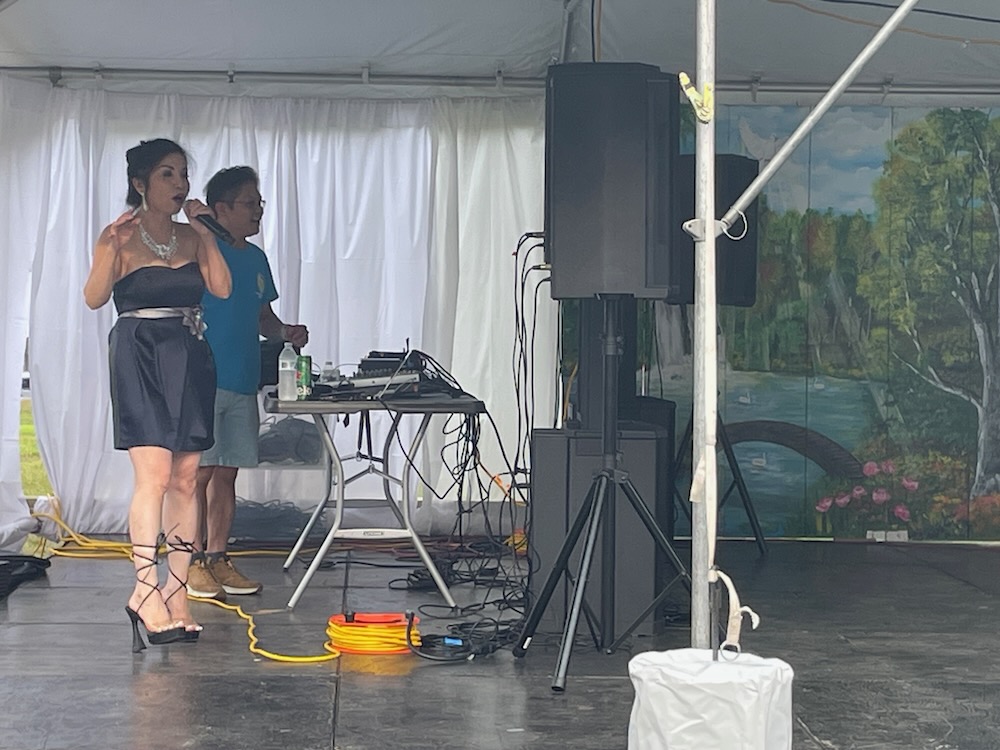 One place you can do it, in a fairly authentic way, is at the Vietnamese Night Market in West Hartford. It's a unique event for Connecticut, held only a couple times a month for only a few months of the year. And it's pretty great.
When the weather is nice enough, it's located in the parking lot and grounds of St. Mark the Evangelist Church. Tenting is set up to cover the cooks and the food stalls. There's a stage for musicians. Tables and chairs, including the iconic red plastic stools and tables like you'd find in Hanoi. The vibe is fantastic.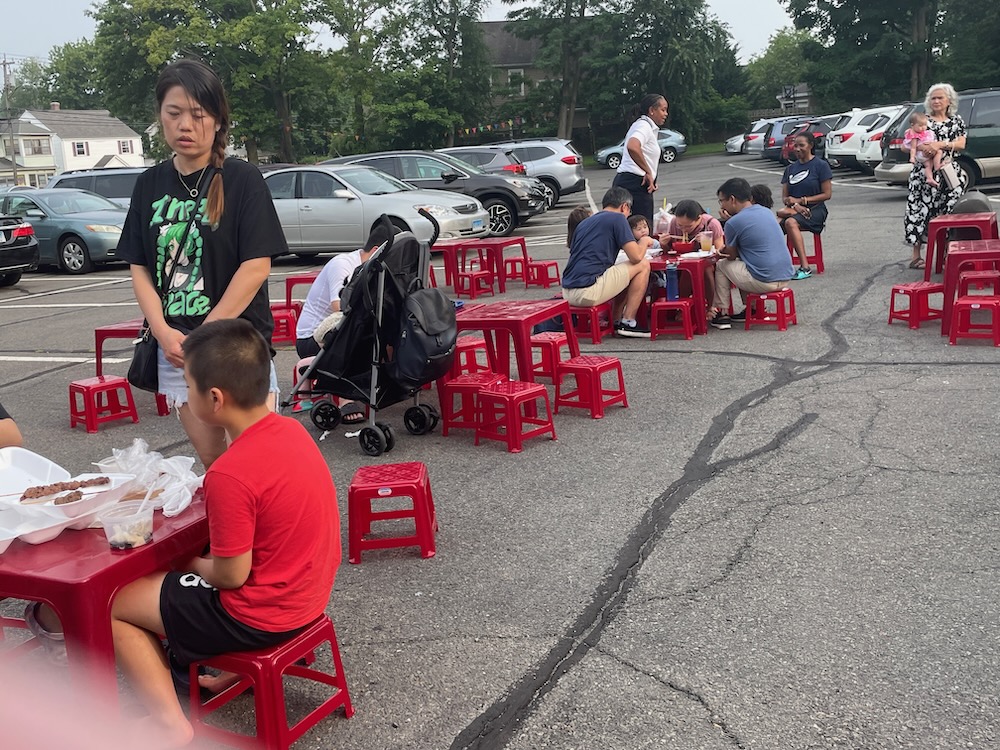 You'll find all the familiar dishes here: pho, banh mi, stir fry, shrimp-taro pancakes, fried quail and chicken, grilled meats, pork patties, spring rolls, duck eggs, soups, baked goods, desserts, beer, wine and sugar cane juice fresh pressed while you wait.
All stuff I can get for free in New Britain at my in-laws. (Which, ironically, was where the rest of my family was while I was here sending pictures of myself eating Vietnamese food two towns away.)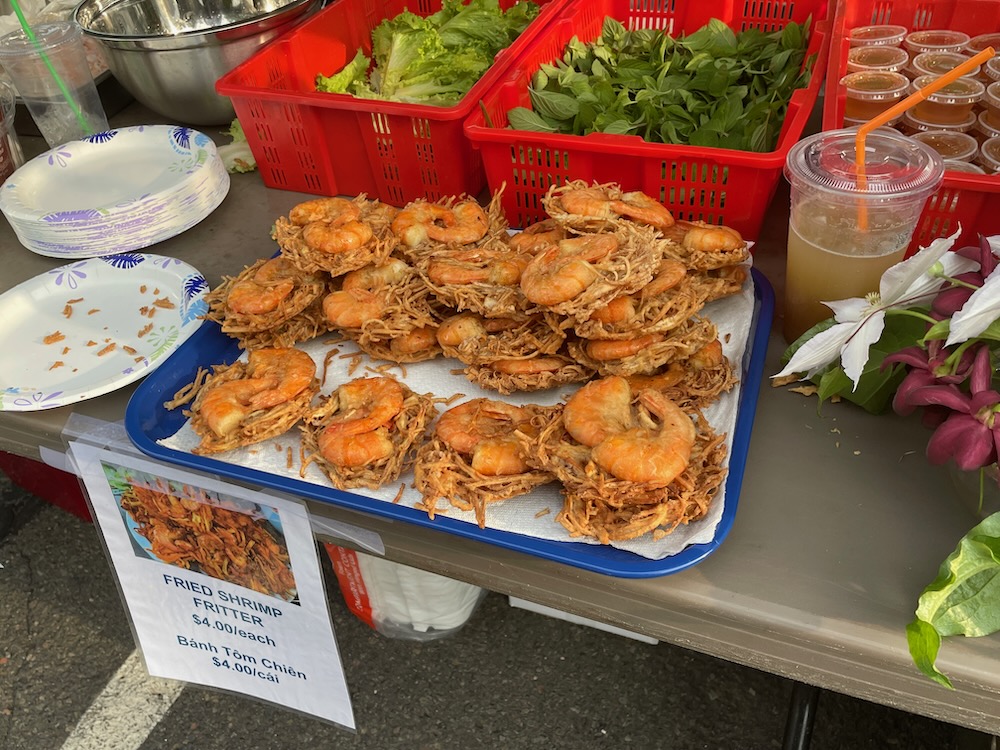 Catholicism is huge in Viet Nam and the church here has a Vietnamese "parish" within it. Hundreds of families come from miles around for the Vietnamese masses – and to help with the Night Market, as proceeds from it go to the church. The pastor at the church started the Night Market in 2019.
One thing about the cuisine, which I'm sure is true in many countries around the world, is that freshness is paramount. I learned years ago that my mother-in-law would ideally go to West Hartford's A Dong Market every single day to be sure all her veggies and herbs were as fresh as could be. It makes such a massive difference, trust me.
If you are not Vietnamese or Asian of any sort, do not be intimidated. Everyone here is very welcoming and there's enough English signage and discussion that you'll be fine. (In fact, I ran into longtime CTMQ reader and equally very white guy friend Scott Wands of Connecticut Humanities.)
Now, me being me, tried to be cool and spoke some simple Vietnamese when ordering a plate of banh xeo. I simply said "one banh xeo please" and the lady just laughed at me. Turned to her friend and said something about this giant doofy white guy trying to speak Vietnamese.
Then I asked for extra nuoc mam and said "thank you" in Vietnamese and she laughed some more. Whatever. Your banh xeo wasn't nearly as good as my mother-in-law's who loves when I speak Vietnamese to her and doesn't make fun of me.
(Still, get the banh xeo – essentially a filling crepe, whose name means "sizzling cake" – as it's one of my favorite all time dishes. A crispy yet pliable crepe filled with pork and shrimp, and sprinklings of mung bean, onions and bean sprouts, eaten with fresh lettuce and fish sauce.)
I also had banh mi, with a guy toasting my bread over coals just like they do in the street stalls of Viet Nam. It was delicious.
There is so much more here. I'm not a fan of the traditional desserts or drinks, but if you are, go here. I'd like to go back and try the coconut snails and fried shrimp fritter things, but I'd also like to come here with my wife and/or her parents. My father-in-law is the man in Connecticut Vietnamese circles – although he is decidedly not Catholic. I'm not sure if that matters to him.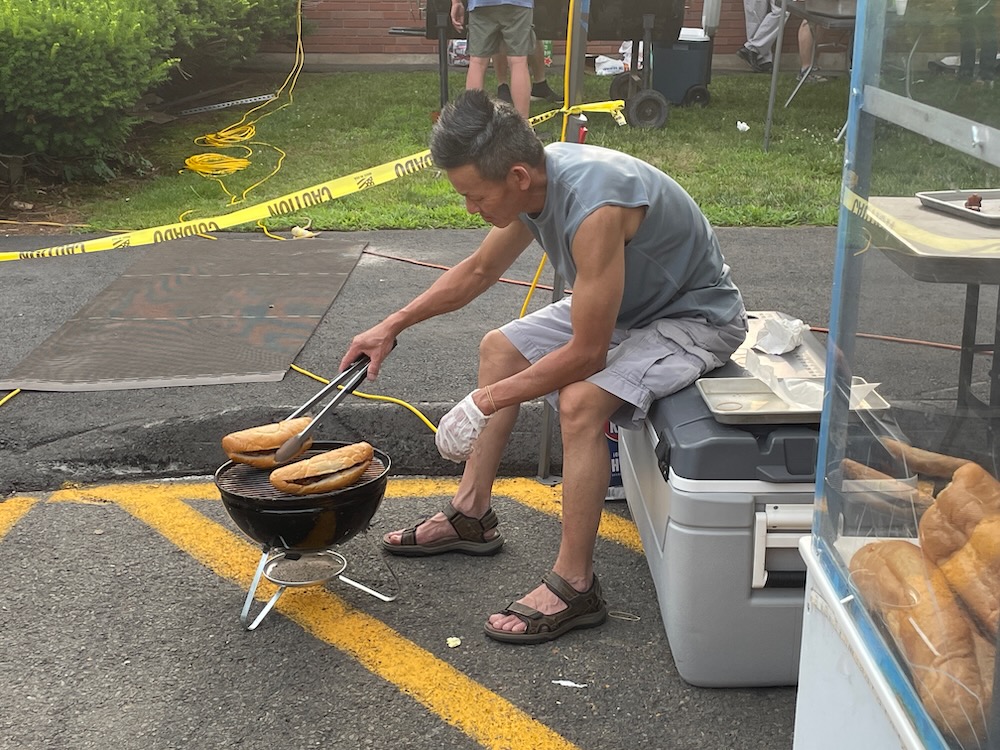 As in Viet Nam, each stall specializes in on dish more or less. The beef pho lady just makes and serves beef pho. The spring roll lady only makes and serves spring rolls. That specialization could be strange to some, but it also ensures that there's an expert behind the dish.
And Vietnamese dishes often take hours of prep and execution. So it's nice for the community to be able to come here, meet up with friends, make new friends, and gorge themselves on great food.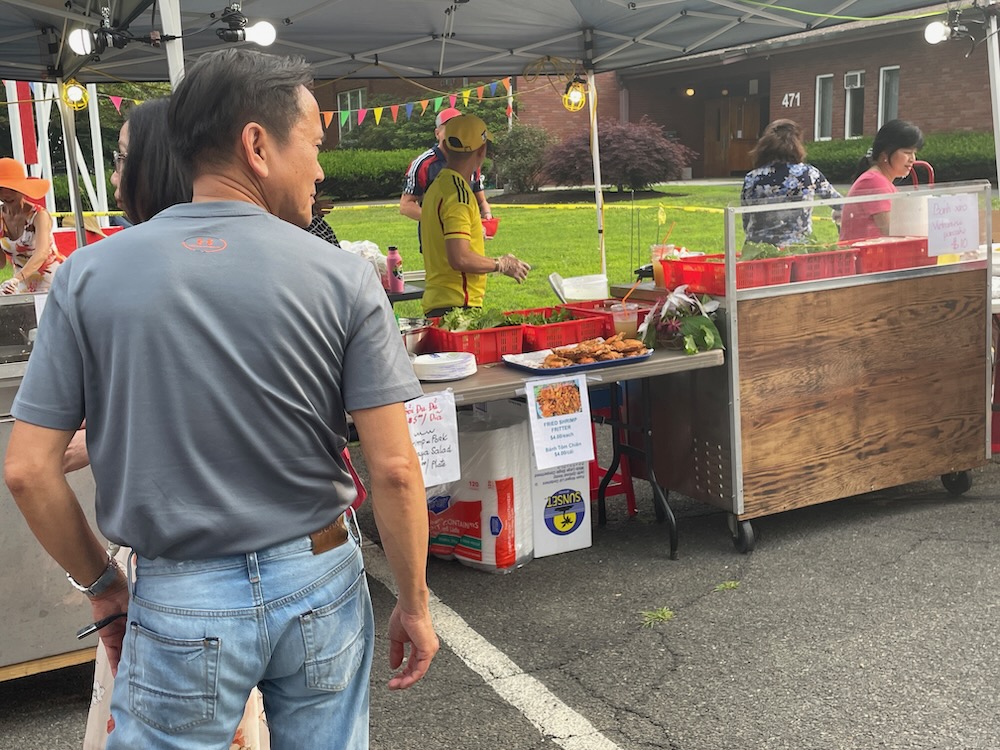 I love the Night Market and think it's so cool that it is in my hometown. There's no where else you're going to hear Abba sung in Vietnamese by a woman in too-high heels while eating snails at a too-small plastic table on too-small plastic chairs.
And when I'm there, there's nowhere else I'd rather be.


CTMQ's Unique & Historic Restaurants and Food