Petering Out
Ice Cream at AC Petersen Farms, West Hartford
July 2021
I'm about to commit heresy. Connecticut heresy. Hometown of 20 years West Hartford heresy. Just warning you now.
AC Petersen Farms, a name which has always bothered me syntactically, is a local landmark. The company's origins date back to 1914 when Danish immigrant Andrew C. Petersen purchased a bunch of milk delivery routes in town. He was successful and bought the building that still houses the restaurant today and began producing milk and ice cream.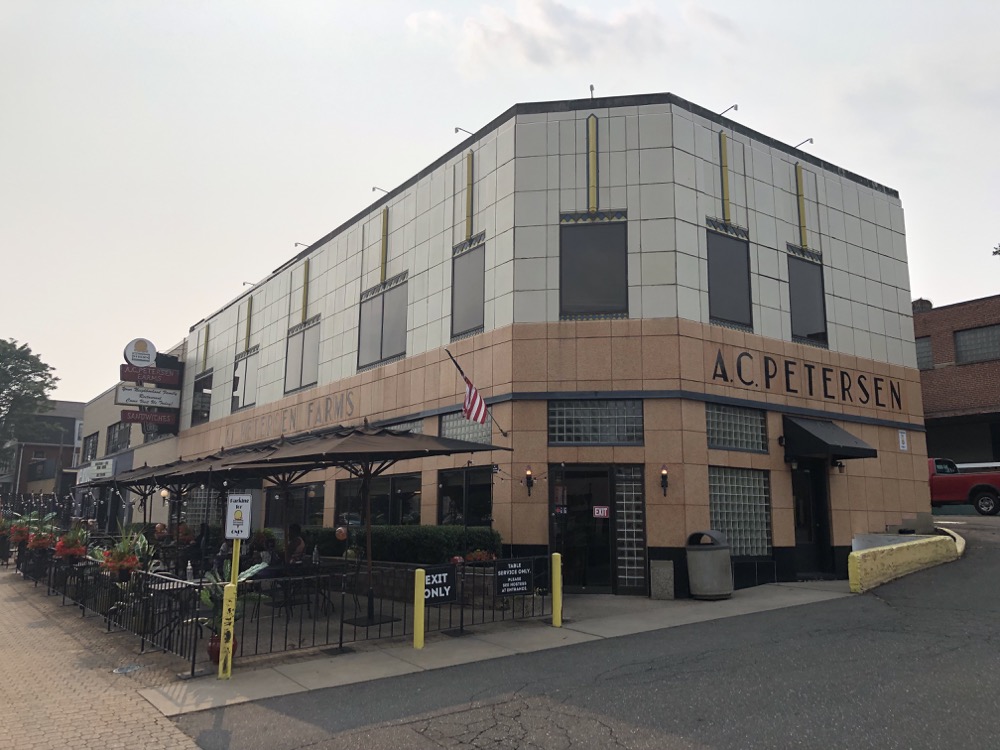 I should mention that the tween book my son Calvin highly recommended to me, Fish in a Tree features this place throughout. (The author went to Conard High School in West Hartford.)
I lived for a few years two blocks from here. Then for another couple of years with Hoang four blocks down Park Road. So I became pretty familiar with AC Petersen. I didn't know that in the 1980's and 90's the business expanded to 13 locations around the state, all of which would eventually close, keeping only the flagship.
The ownership and structural changes to the restaurant in the 21st century is a bit harder to follow. Once Andrew C. Petersen's grandson sold the restaurant to a Rhode Island chain in 2000, things got murky. A Petersen's opened in Old Lyme (since closed). The sale to Newport Creamery didn't include the ice cream making operation, meaning this was still a "homemade ice cream" place more recently than it was a "Petersen family owned place."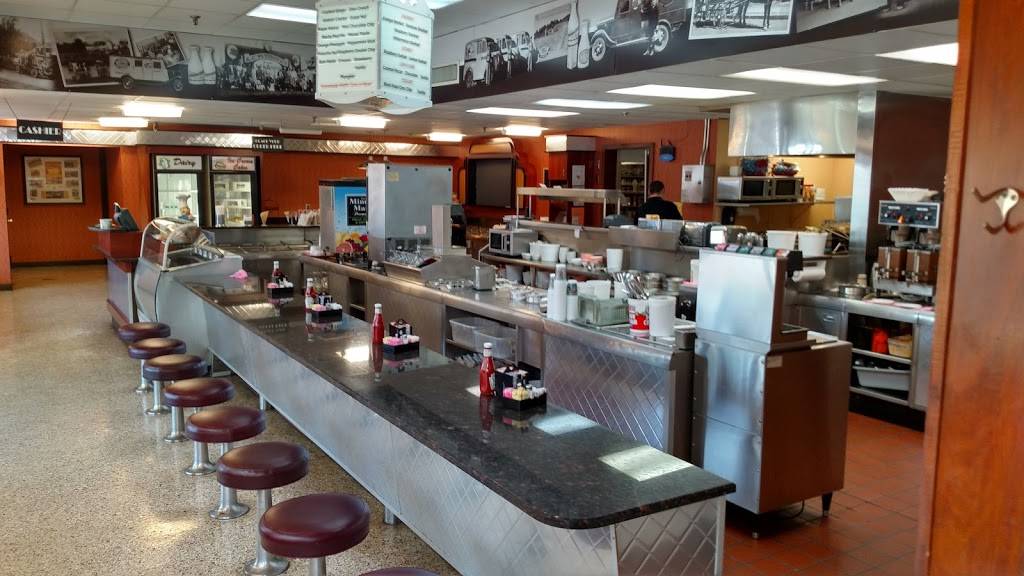 This matters to me because I've never known if I should include Petersens on my CT Homemade Ice Cream Trail.
And frankly, I still don't.
But first, our "linners." Calvin had his full day soccer camp and we had an hour before his team's soccer training. So we went to AC Petersen Farms and Calvin got a salad: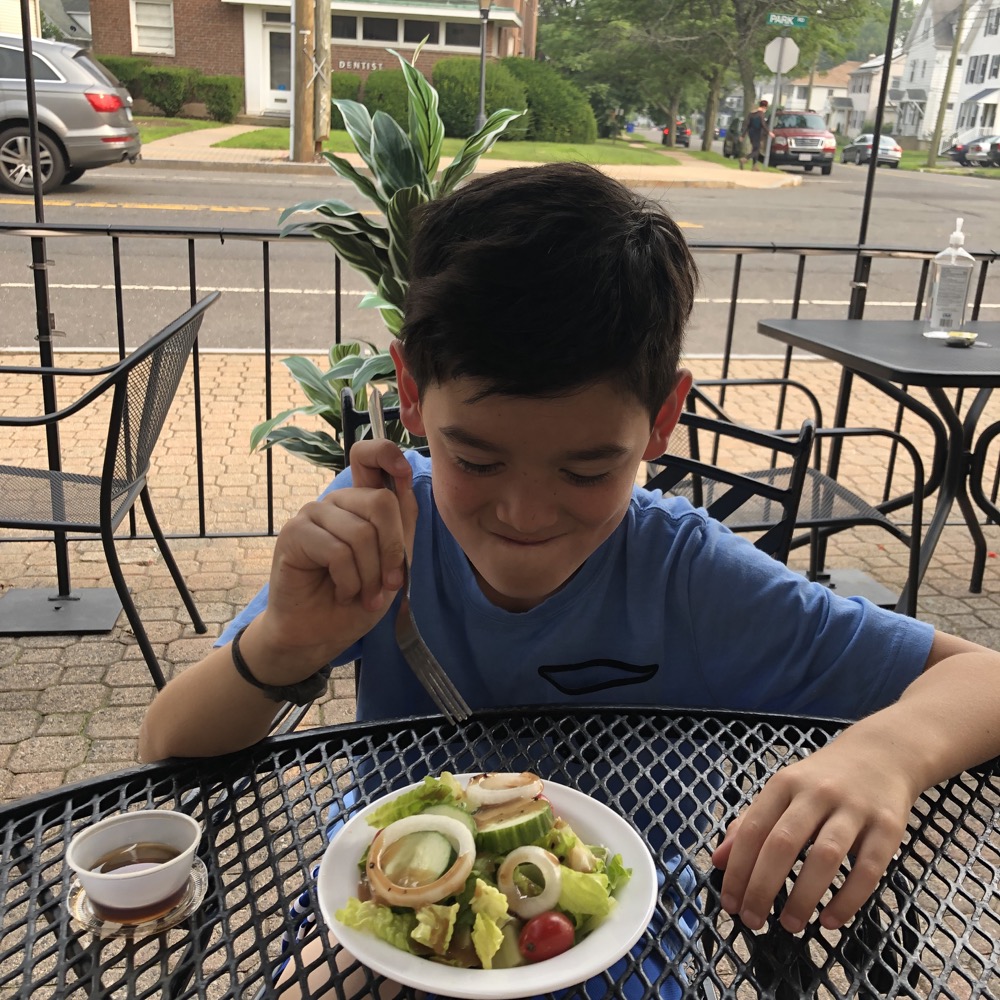 Yeah, right.
He got his usual carbo-load of pancakes; and they are massive here.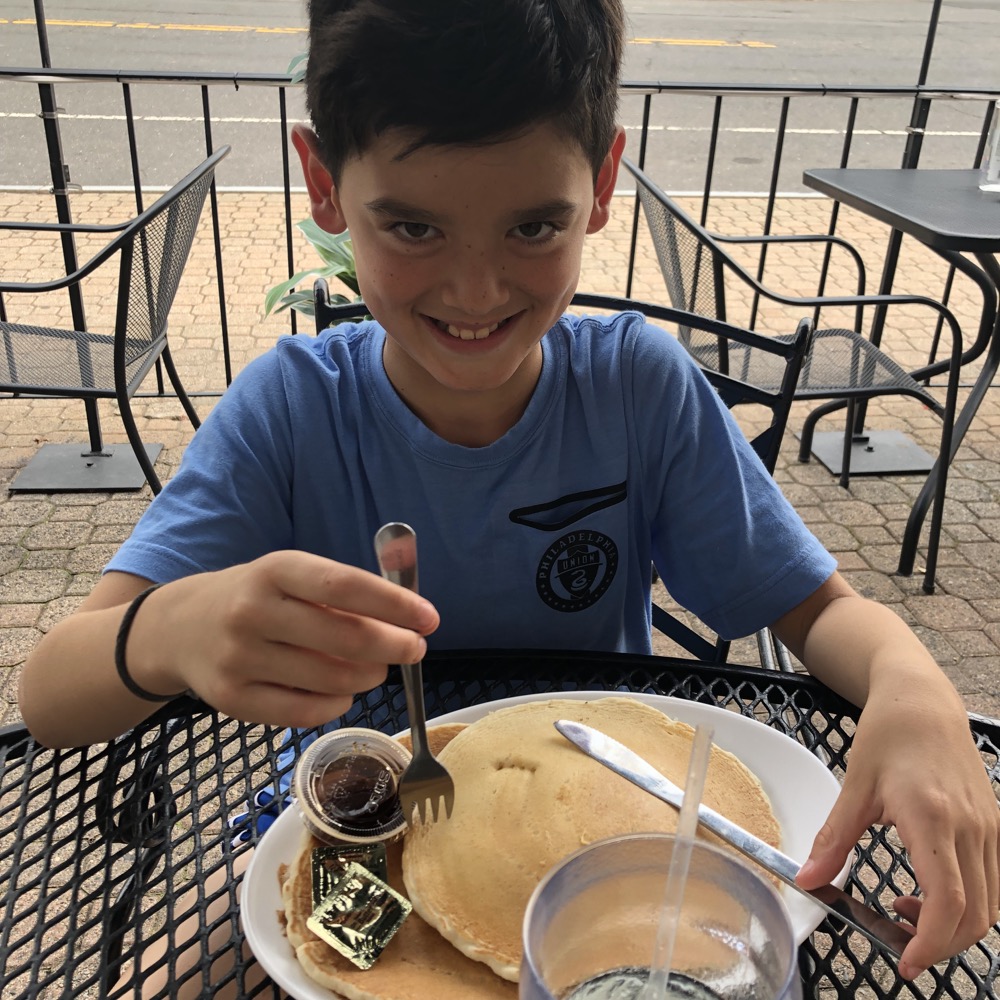 Not just huge in diameter, but pretty thick as well. No matter, if you know my son by now, and if you know how many calories a 10-year-old can burn playing soccer for 10 hours in a day, you know this was no problem.
I had a buffalo chicken wrap (and that house salad with giant white onions on it which, c'mon, who wants giant rings of white onion on their salad?) and it was pretty good. Their menu is what you'd expect from a century-old art deco throwback diner-type restaurant place.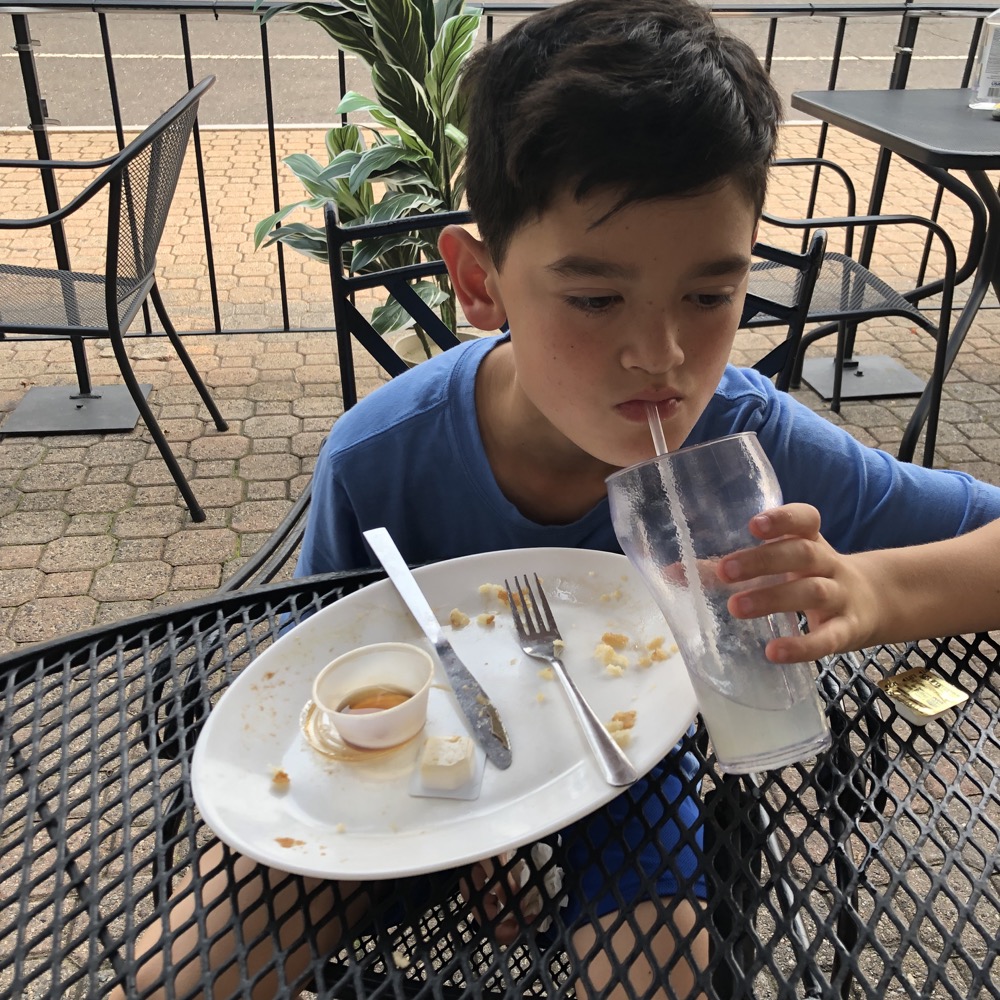 Then it was time for ice cream.
There is (was?) an ice-cream making plant in the nondescript brick building behind AC Petersen. It's been there inconspicuously for decades. When the restaurant was sold, the ice cream part was not. But get this – 20 years ago, when there were four AC Petersens around, the Newington and Simsbury outposts sold Petersen's ice cream, but the other two didn't, including the flagship restaurant.
Then three retired locals bought the ice cream operation and continued making ice cream under the AC Petersen label. Which wasn't sold at AC Petersen Farms, despite essentially sharing a wall. That was 20 years ago.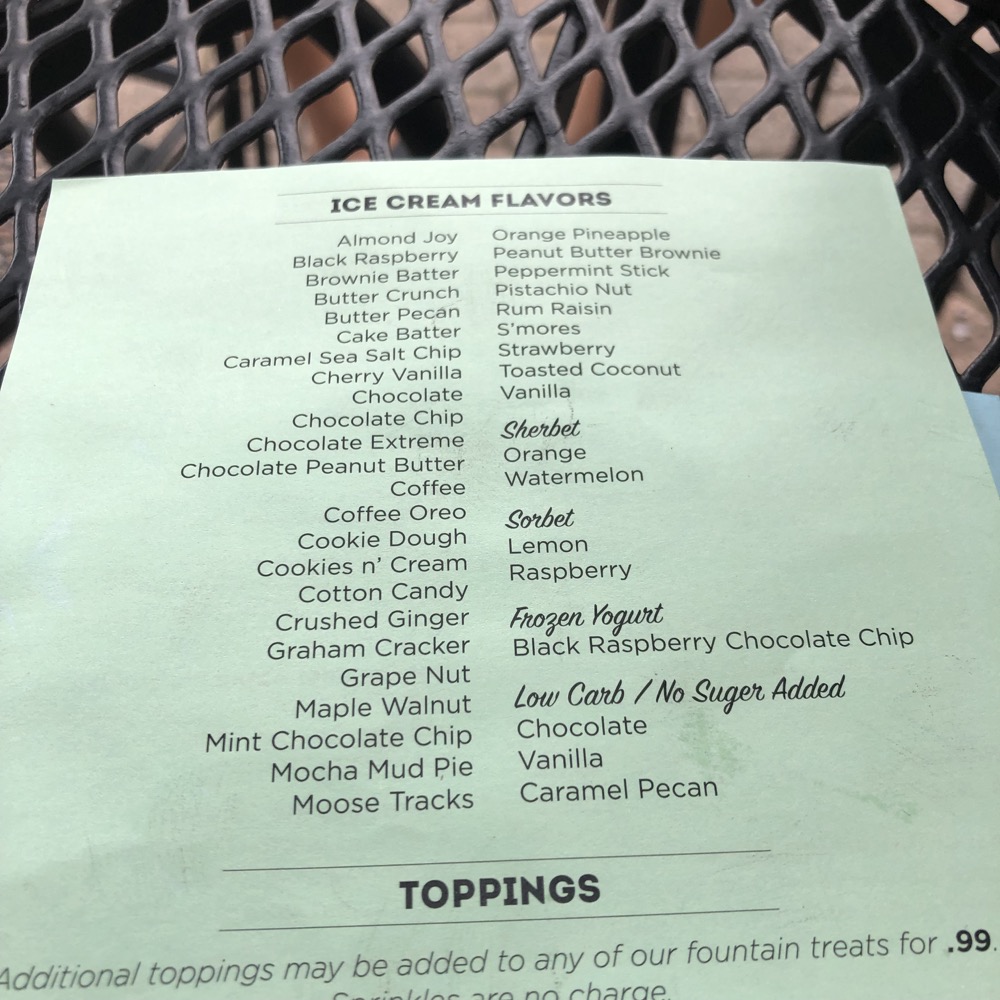 The non-Petersen Petersens ice cream operation specialized in "ethnic specialty flavors" for local Asian and Hispanic restaurants and stores. That was their niche for a while, which is pretty cool. Then they stumbled on Caribbean favorites like Grape-Nut, rum raisin, and orange pineapple. They used New Britain-based Guida milk and they called their operation Kenwood Farms and… I have no idea what's going on now.
In 2014 the Hartford Courant wrote that their ice cream was made "in Connecticut and Massachusetts." In 2016, when Petersons won "Best Milkshake in America," another article said they were still making ice cream here. In 2021? I just don't know.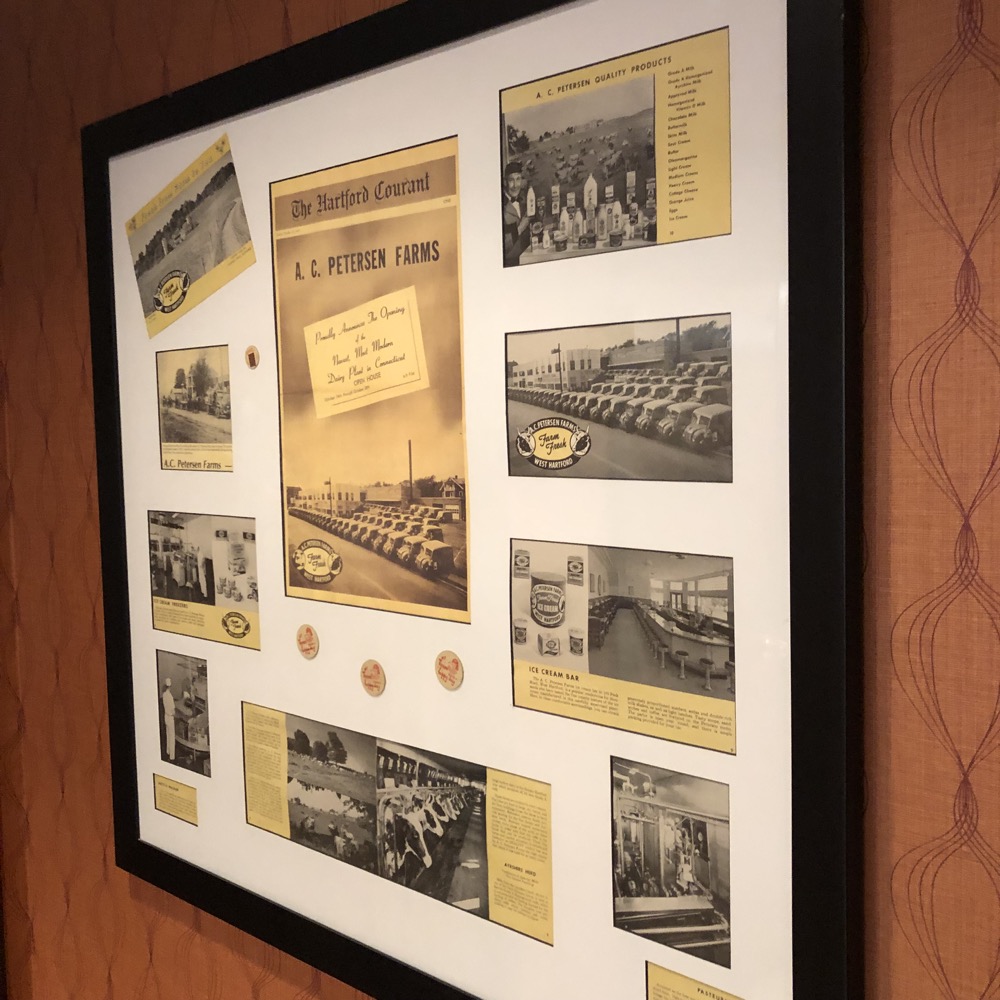 For the purposes of this page, I should say the ice cream was made here. But for my personal reputation in town, and to maybe save face a little for the restaurant, it would almost be better to be able to say that it is not.
For we both were hugely disappointed.
First of all, the size options are very confusing. Neither of us wanted a mountain of ice cream at 5:20 in the afternoon – and before a soccer practice. I thought I'd ordered two scoops of vanilla for Calvin and one for me.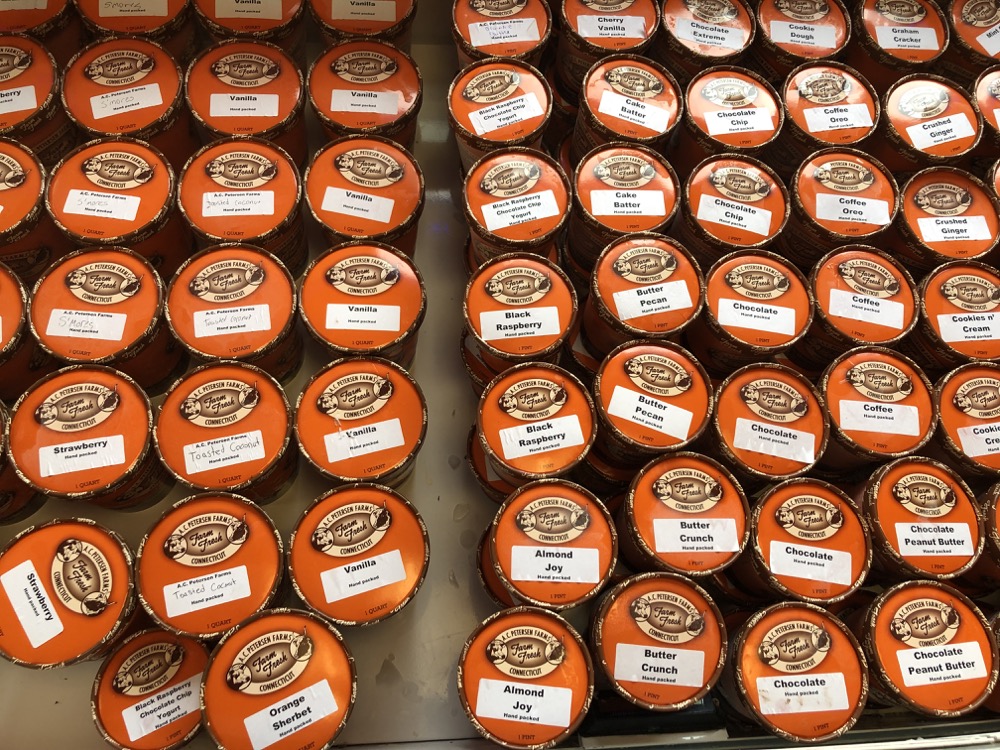 I apparently ordered half a gallon for Calvin and almost as much for me. The amount they served us was asinine. Really. Calvin had the "double dip dish" and I had a "single dip dish." I guess a "dip" is much larger than a "scoop." Now we know. The prices were quite high (sundaes here are like 12 bucks and up) but where was the option for "normal amount?"
Calvin got vanilla, which here is a weirdly bright yellow French variety. Coloring aside, it tasted a bit artificial and Calvin – who loves vanilla – had maybe four bites. I opted for cherry vanilla, which in my lifetime of enjoying cherry vanilla ice cream, has always featured a white vanilla base. Here? It was day-glo pink for some reason.
And the cherries were maraschino cherries. Maybe that's a thing? I've never known that to be a thing. Is that a thing? I love all cherries… except maraschino cherries. I kind of hate maraschino cherries and again, why was the ice cream hot pink? It also tasted artificial and my "single dip" was just so much as to be ridiculous. I also had maybe four bites.
That was over 10 dollars of ice cream we wasted. Maybe we just happened to get two flavors that didn't work for us. Maybe I don't know how to read a menu. But with several other top notch ice cream spots in town and nearby in Bloomfield and Simsbury, I'm pretty sure we won't be returning here for ice cream anytime soon.
Oh, and adding insult to injury, AC Peterson Farms has that weak plastic spoon problem that I hate.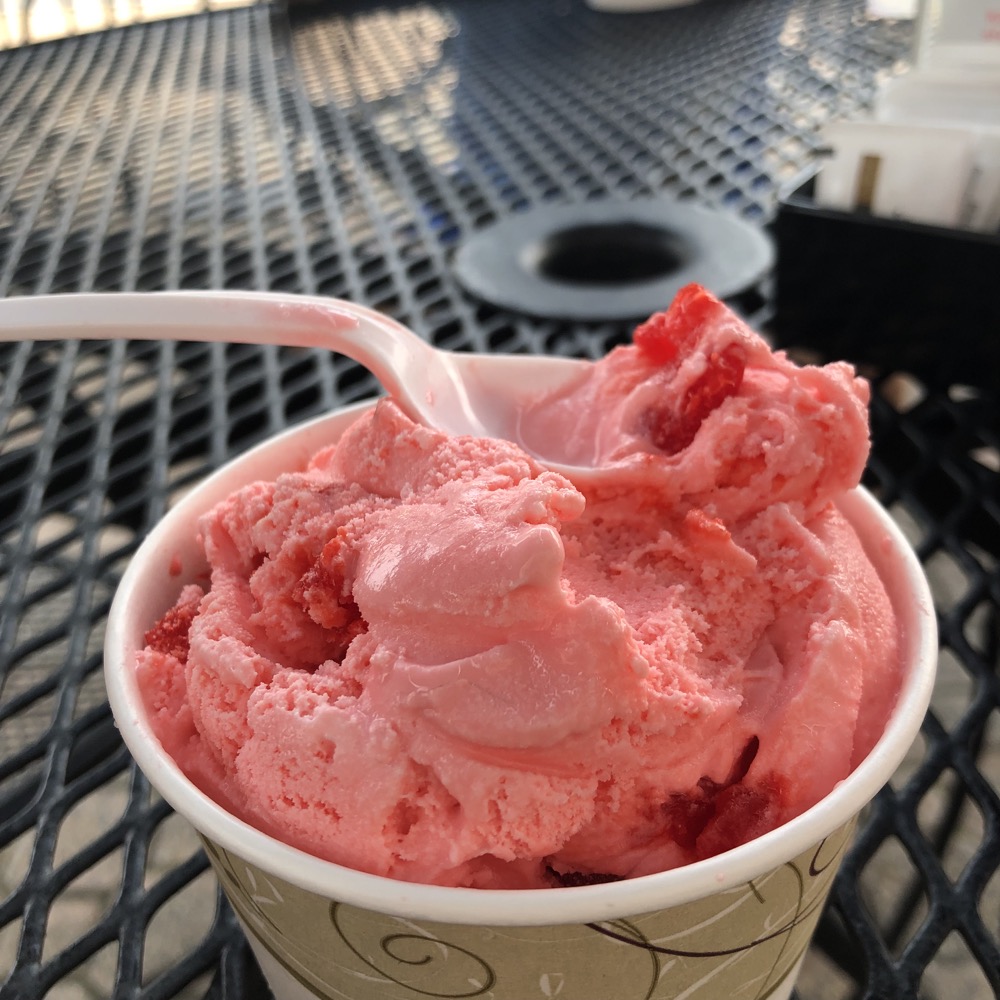 People in town love this place. It's historic and pleasantly kitschy. The high school servers were a bit surly and distracted, but I'm okay with that. The interior décor features historic pictures and that's fun to look at. You can buy pints of ice cream and… look, everyone loves their ice cream. My son and I didn't.
What am I gonna do?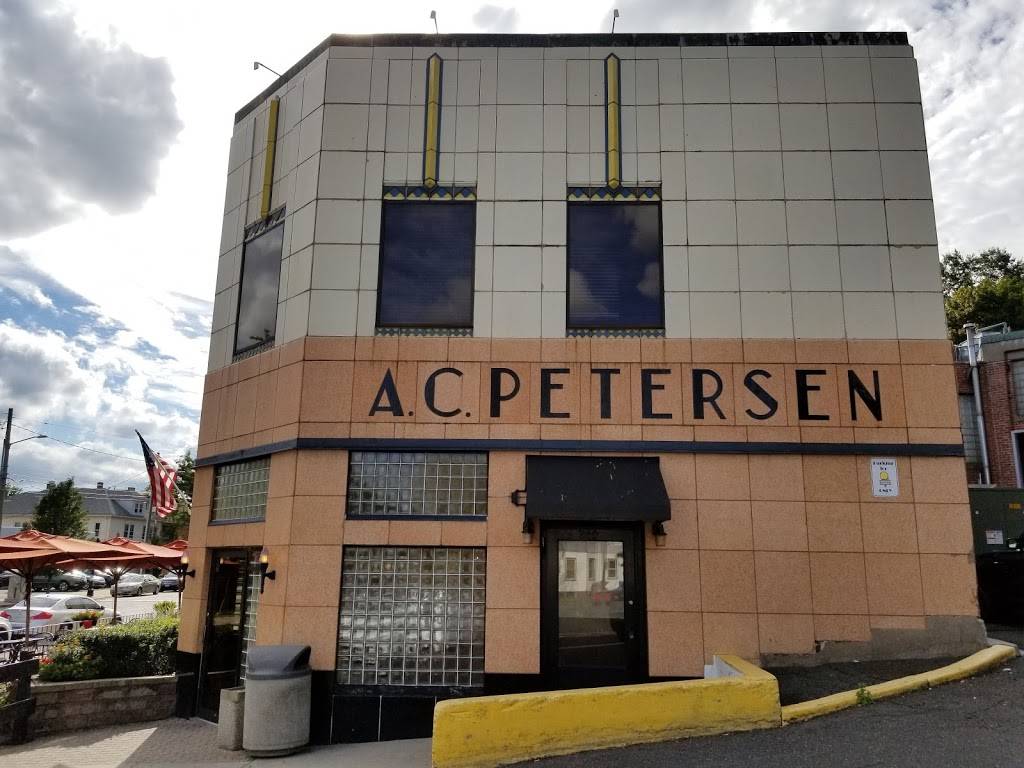 A.C. Petersen Farms
CTMQ's Homemade Ice Cream Trail