The Rock's Rock
West Hartford
If only Picozzi would give this rock to The Rock, it could be The Rock's The Rock Rock. And that would totally rock.
I'm not going to waste our time here. But I did read an interview with a former 106.9 WCCC DJ who was asked about this rock. It used to sit in front of their weird radio station on Asylum Avenue, across from St. Francis Hospital. (And next to WNPR/CPTV if you're really curious.)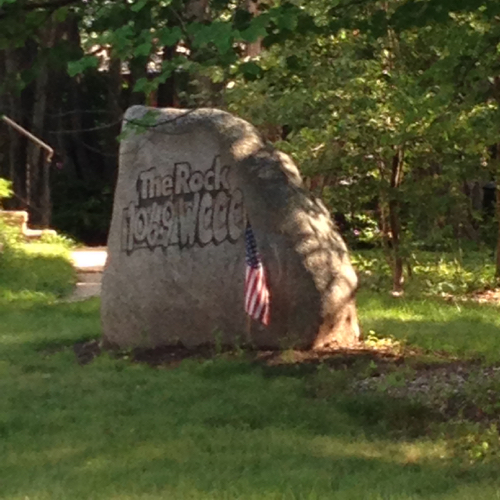 Anyway, The Rock is sort of a legendary radio station in Hartford and was most-known for:
a) Being a very early stop for Howard Stern. We're talking pre-NBC NY days. This is where he found Fred Norris in his mother's house in Manchester.
b) Being the syndicated spot for Stern, years later, during which he often spoke fondly of WCCC and Hartford.
c) Being the place Sebastian publicly became a degenerate gambler.
d) Playing actual rock music for a good long while. Metal even.
e) Remaining a large AND independent station for longer than most anyone, anywhere.
f) Selling out and playing "classic rock," before being bought by some Bible Thumping syndicate.
Anyway, Picozzi worked at CCC forever in various capacities. He loved the Rock. So he took the Rock. It was "rumored" to be at his house.
Well, it is.
Note: I'm not a creeper. Picozzi happens to live quite close to me and getting this picture took no effort whatsoever. Please no one try to steal The Rock.