CT National Historic Landmark
The Sabino
Stonington
I believe I'm supposed to italicize Sabino because I think that's how boats are to be written about. However, in my reading, I've seen SABINO and I've seen "Sabino." So I don't really know. What I do know is that the Sabino is a small steamboat that is still operational and is also a National Historic Landmark.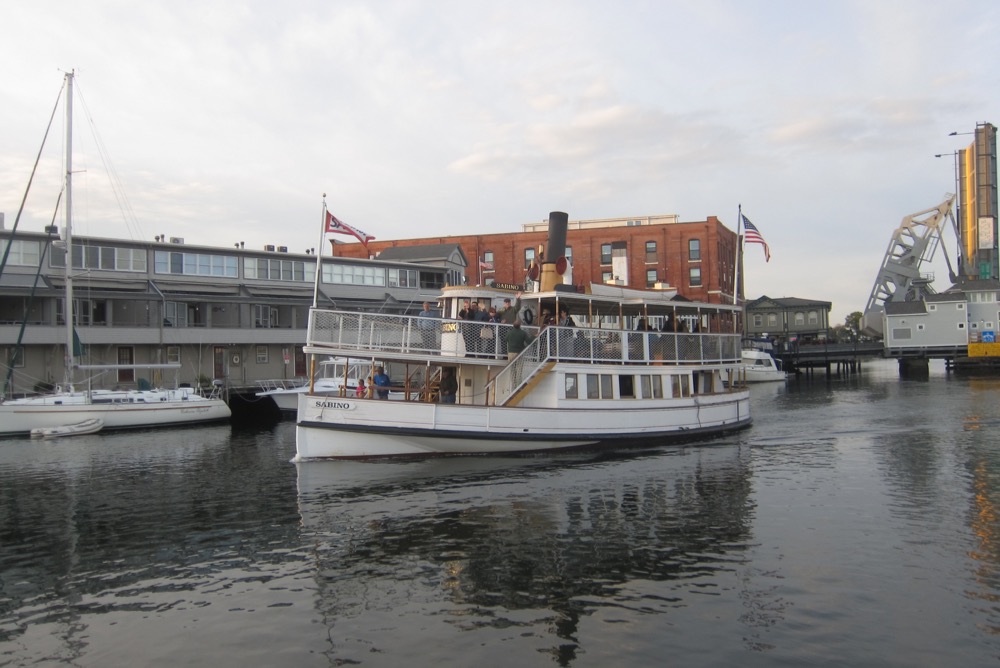 The Sabino operates out of Mystic Seaport and tours the Mystic River. It celebrated its 100th birthday in 2008. What makes it so special? I'll tell you what makes it so special.
The Sabino, is a small wooden coal-fired steamer ship built in 1908 and is one of only two surviving members of the American "mosquito fleet". The Sabino, along with the San Francisco cable cars, is one of two moving National Historic Landmarks that you can ride on. Really? I know I've read that in a couple different sources (including the National Historic Landmark people), but it seems pretty crazy to me.
Hoang and I were on an Argia Mystic Cruise with friends; drinking, eating, having a grand ol' time. Then, as we cruised up the Mystic River I noticed that the Sabino was passing by us. "Oh MY GAWD EVERYONE! IT'S THE SABINO!" My friends completely ignored me as I giddily took a couple pictures and began explaining to no one that the Sabino was a National Historic Landmark. "One of only two remaining from the mosquito fleet! One of only two moving national historic landmarks!" I returned to my empty corner of the deck.
The 57-foot-long Sabino was built in 1908 in East Boothbay, Maine, and spent most of its career ferrying passengers and cargo between Maine towns and islands. The boat came to the Seaport in 1973 and was designated a National Historic Landmark in 1992.
One owner in Maine, in 1921, renamed the boat to Sabino in honor of an Abenaki Indian sagamore named "Sabenoa". So why not just name it Sabenoa? Anyway, in the first half of the 20th-century the boat served Maine well and then changed hands until the Seaport bought it in the 1970's, fully restored it, and made it a bit of a tourist attraction. But who wants a dirty coal-burning steamer on the Mystic River anymore?
The boat uses a ton of coal per day to make its four or five trips up and down the river. So the Seaport is putting electric batteries in it. The steam-fired boiler will still be operational for educational purposes, but the Sabino is no longer a mess to run.
Of course, there's all sorts of hoops to jump through to modify a historic landmark, but the electric motor and batteries simply sit on top of the the current set-up and doesn't require the removal of anything. Besides, keeping a steam-fired Sabino compliant with Coast Guard and other entities' regulations has become nigh impossible anyway.
While I did not ride the Sabino myself, I got close enough. The Sabino, everyone.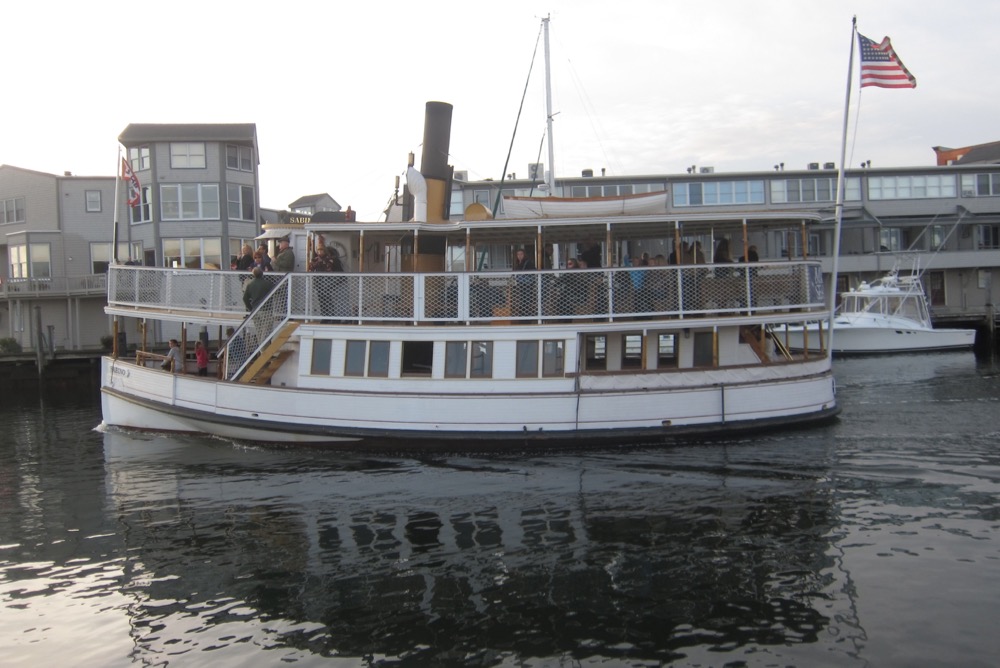 My visit to Mystic Seaport
CTMQ visits CT's National Historic Landmarks
CTMQ's CT National Designations