I'm Not Dunya
Dunya Market, Waterbury
March 2021
Full disclosure: I don't know anything about Iraqi cuisine. While that surely won't come as a surprise to anyone, I think that's also the fun of this Connecticut World Food Tour side project I do once in a blue moon.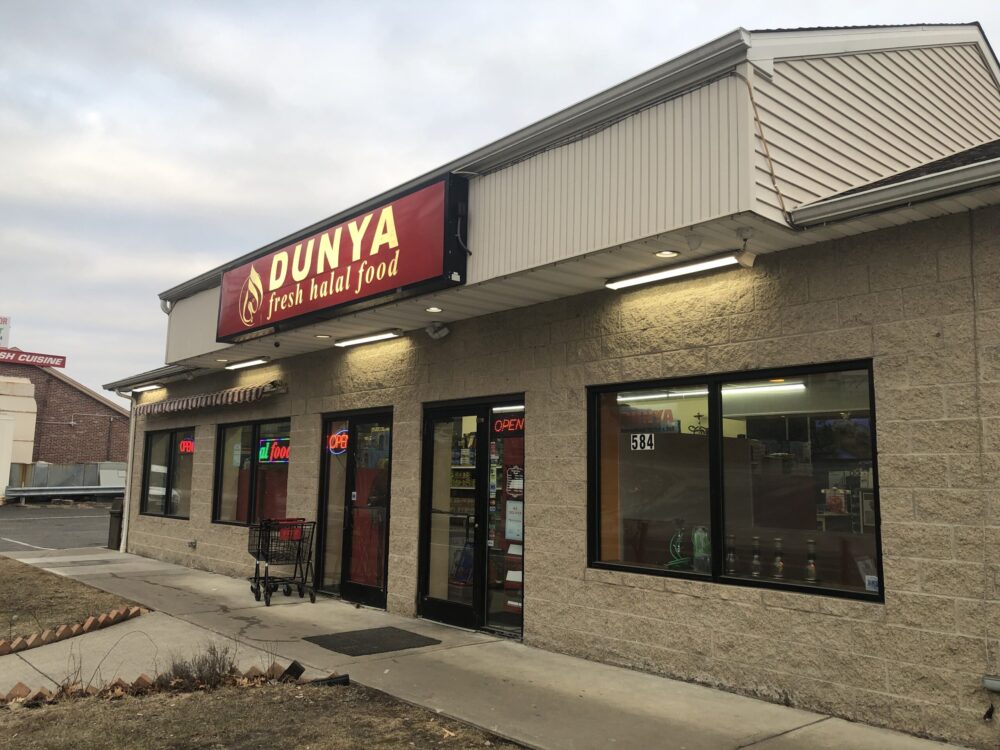 An alternate title for this page could be, "Typical WASP Guy Eats Unfamiliar Stuff." Accurate. And so, having to drive my son to a weekly soccer training program in Waterbury (don't ask), I found myself very near Dunya Market quite often during the late winter of 2021. With lots of time to kill every week, I ventured to the store and immediately became enamored.
(It's right next to a Nardelli's – the one you see from I-84 west – and while Nardelli's is great, we've all been there before. There's also a Turkish restaurant and the Albanian Social Club there, which may be a post for another day.)
Dunya, which means "World" in Turkish, is both a small grocery store and a little deli with fresh halal food and a full menu. The grocery features Turkish, Arabic, Iraqi, Albanian, Greek, Armenian, and Iranian food and goods. This is where you'll find such delicious items as yogurt soda.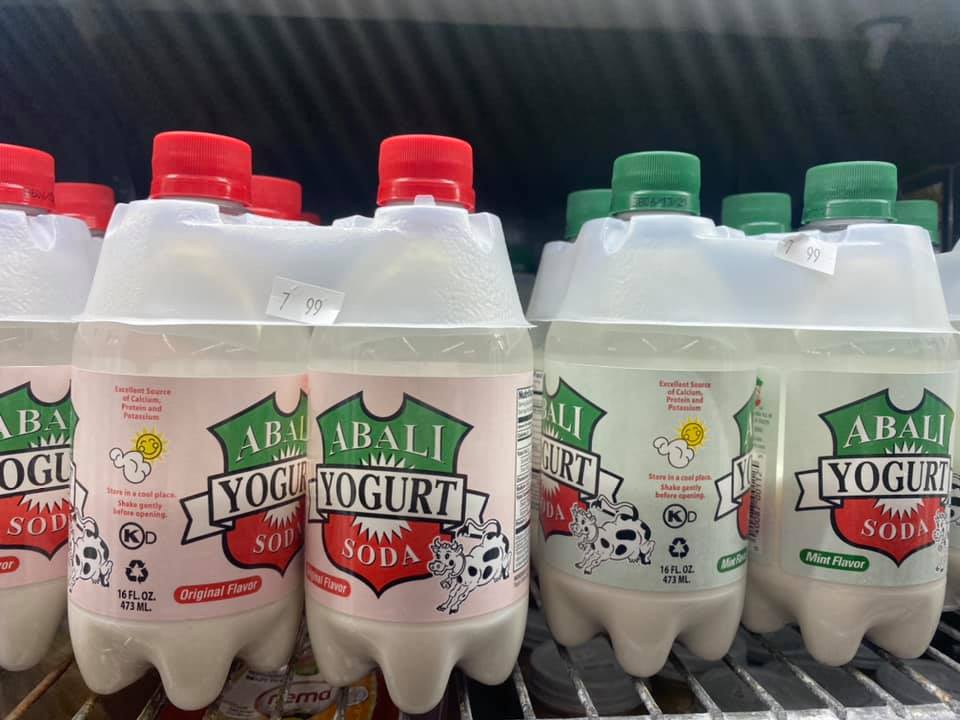 The array of Middle Eastern grocery items is impressive to say the least. I happen to have a Turkish friend… through my son's endless soccer training… but not the thing in Waterbury; from a different thing. Hey, this guy played for the Turkish national team and was on several professional teams throughout his impressive career. I pick my Turkish friends wisely.
Anyway, I told him about some things at Dunya and he gave it his seal of approval: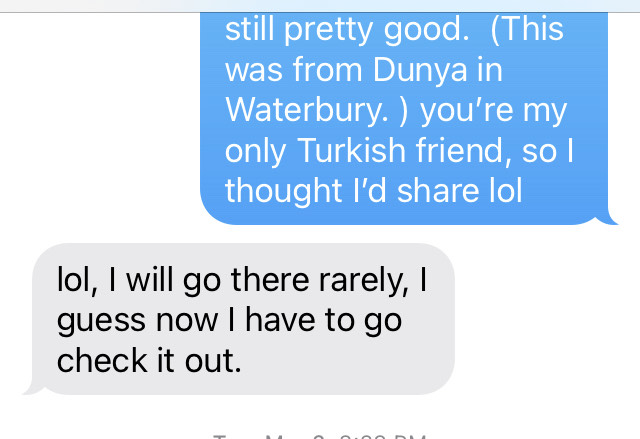 Yeah, that's right. WASP me telling a Turkish immigrant where to get Turkish stuff. I'm pretty sure he knows where to get whatever it is he wants to remind him of home.
But this page isn't about Turkish soda or Greek cheeses. This page is about one particular hot dish from the restaurant side of the business. Dunya's menu is way, way larger than you'd think. All sorts of shawarma wraps, kebab plates, appetizers and full meals. They even have pies which include both pizza-like zaatar pies and solid meat pies.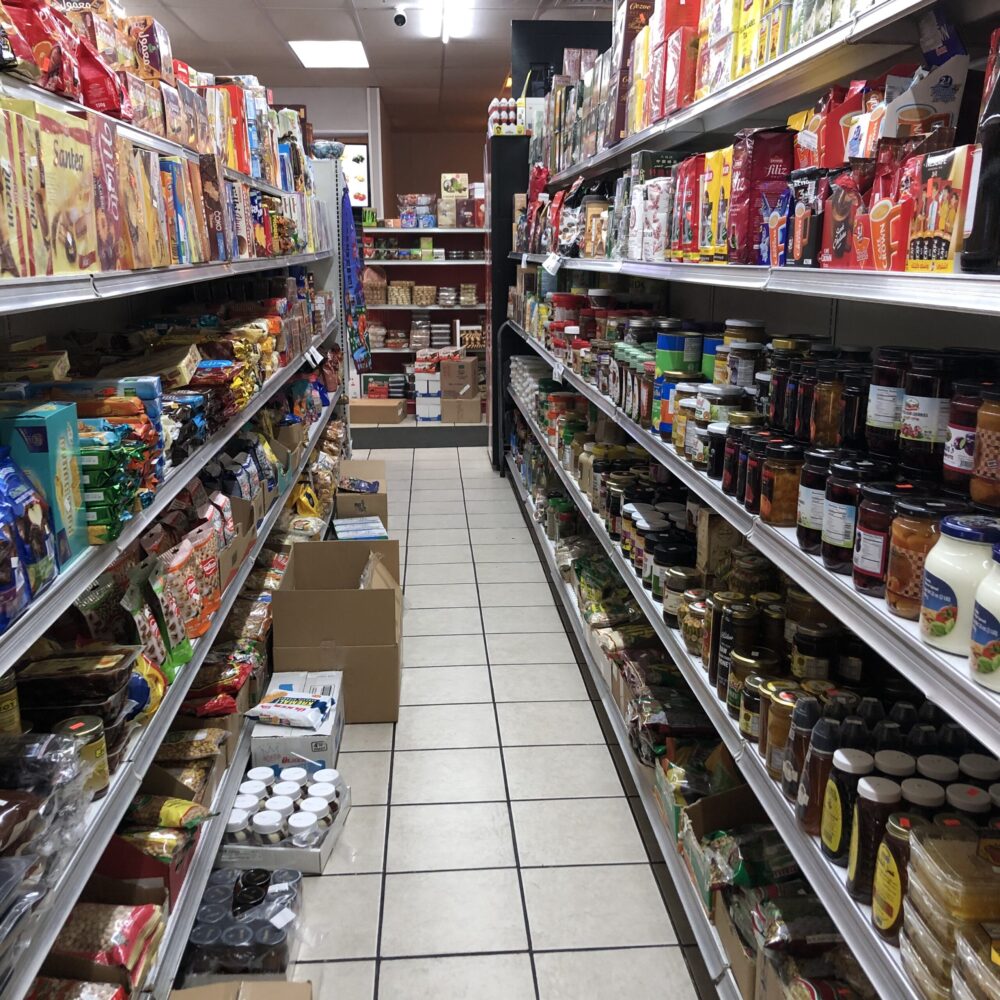 I should note that my trusted foodie friend Barry, who happens to own the excellent Kent Falls Brewing Company, sings the praises of Dunya's falafel:

And trust me, Barry knows food as well as beer. The other part of his comment with him saying that he'd try the yogurt soda… he's a bit more adventurous than I am.
I was here specifically to order the Iraqi chicken wrap. I'm sure there are other restaurants in the state offering Iraqi fare, but I've never come across it before. What makes chicken Iraqi, you ask?
I don't know. The menu merely states, "ground chicken breast with Iraqi kebab spices." Okay then. I ordered and – the woman who works the register here, it must be noted, is the best. Incredibly nice, with just the right amount of helpfulness. I'm sure she'd happily tell me about some of the cuisine, but these were pandemic times and excessive conversation in a smallish space wasn't on any menu I wanted part of.
My wrap came quickly and I took a seat in the small sit-down section. This place seats probably 20 people in non-pandemic times. There's also a "hookah outdoor lounge" which… is in a rather unattractive lot abutting I-84. I guess when you've gotta hookah, you don't really care where you hookah.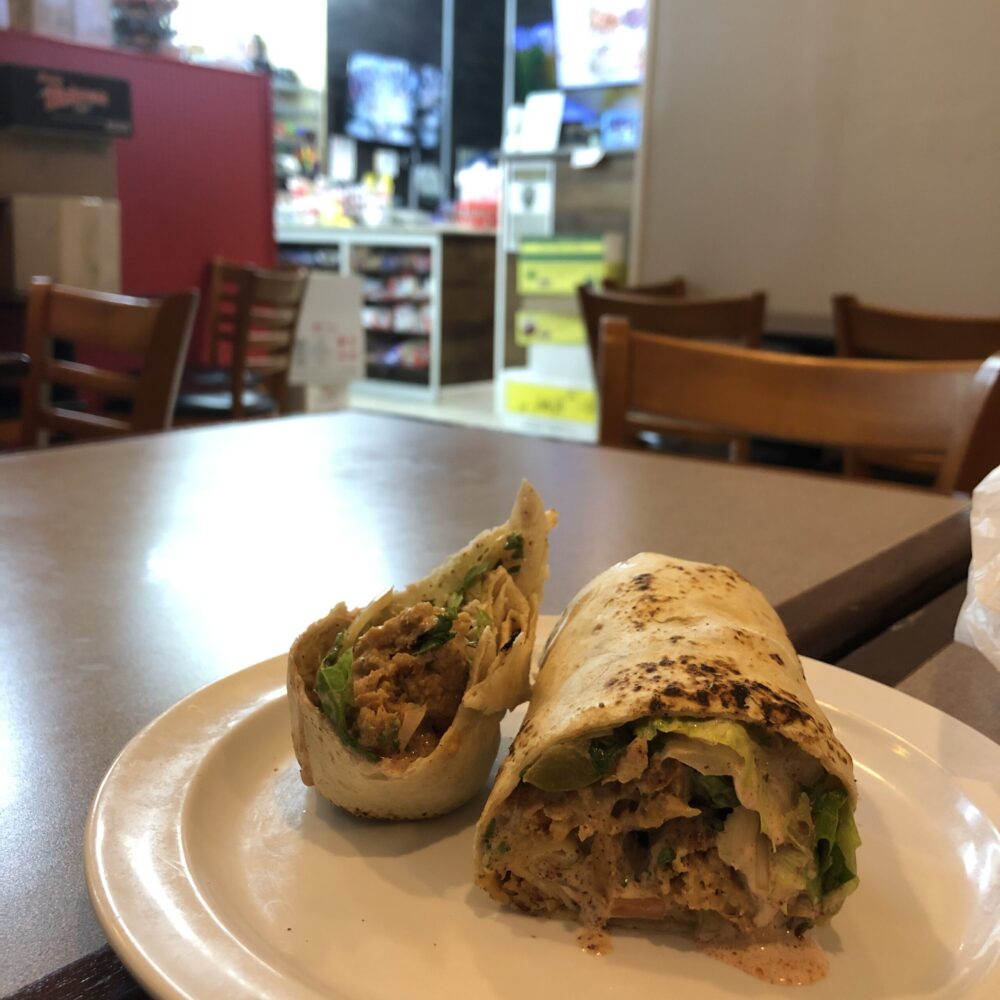 The wrap was perfectly constructed and looked like any other chicken wrap for the most part. But after one bite, I can assure you this is not just another chicken wrap. It's sublime. Absolutely delicious. And only $7.49 in 2021.
I've poked around online for what makes Iraqi chicken Iraqi. As best as I can figure, Iraqi chicken is chicken with a billion spices and herbs, largely prevalent in the Middle East. Yes, I know this makes sense. Here's what goes into one recipe I found:
Garlic, olive oil, coriander seeds, cumin seeds, whole black peppercorns, cardamom pods, dried chiles de árbol, allspice berries, whole cloves, rose petals, fenugreek, curry powder, ground cinnamon, ground sumac, ground ginger, nutmeg, Kosher salt, and black pepper.
Whoa. My mom would make baked chicken with a dash of salt, a dash of pepper, and… I don't know? Butter? My wrap also had two distinctly different sauces; one orange and spicy, one white and cooling. This sandwich was perfect in every way.
My Twitter conversation continued for as it turns out, Dunya attracts other white dudes from suburban Hartford.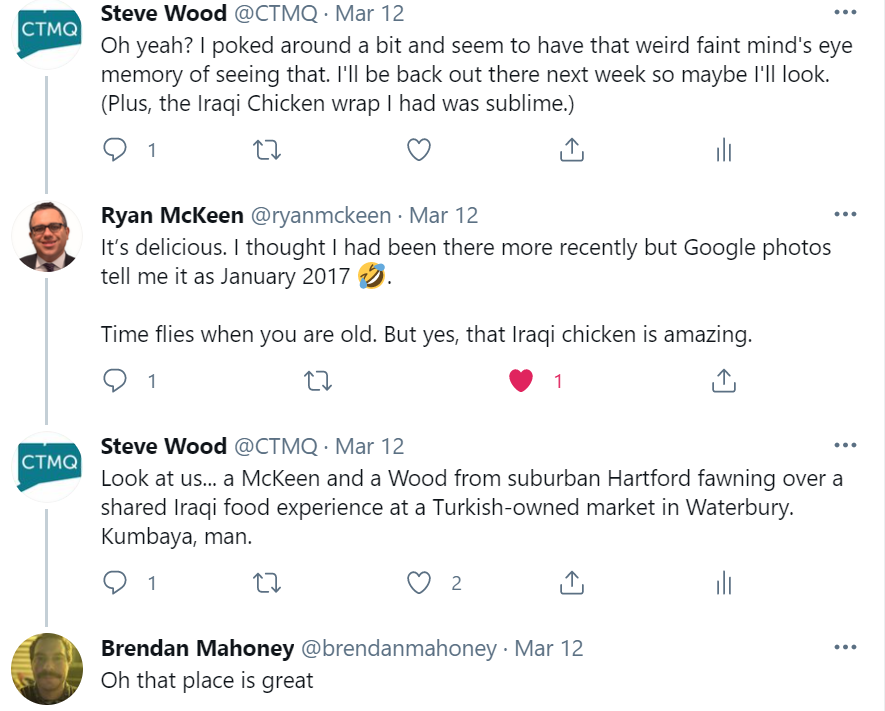 Three guys with English, Irish, and Scottish surnames and backgrounds. I think that's pretty darn cool – and while Connecticut isn't exactly Queens or Los Angeles, I'm happy to live in an area where we can seek out and enjoy so many different cultures' cuisines.
Even if I don't really know what it's all about. I feel kind of lame having only highlighted one small dish. The menu runs the gamut and everything here is fresh and looks delicious. The grocery offers some amazing and hard to find here products. I wound up stopping in every Wednesday evening after my first visit for different reasons – Dunya in Waterbury: very highly recommended.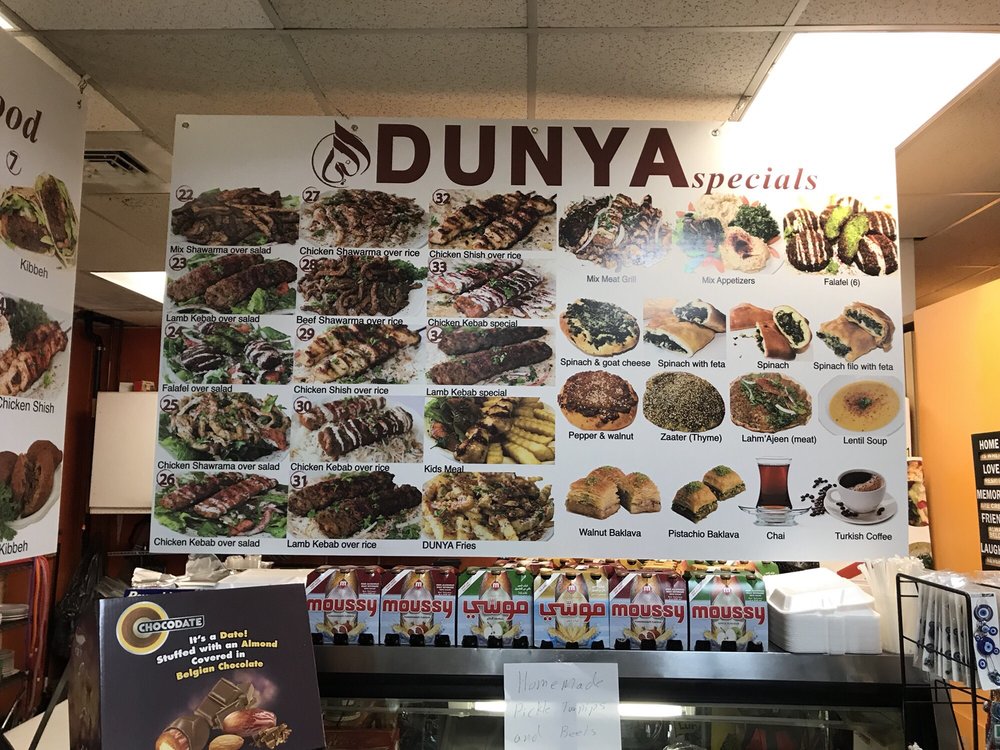 Dunya's Facebook page
CTMQ's CT World Food Tour