Fort Griswold Battlefield State Park
Groton
Y'know, Connecticut is pretty cool. If you're into the various wars that the US has been engaged in, even back to before the US even was a country, our state has a lot of stuff for you to check out. From the Pequot War nastiness to Revolutionary War sites and stuff, to War of 1812 stuff, all the way up to Nike Missile sites and 9/11 memorials.
Yay! War!
Of course, no American would have an issue with the Revolutionary War, so no American would have any moral issue with this state park.
As for me, Fort Griswold is a veritable trove of CTMQ-ness. First, it's a state park. It has a tower and there happens to be a museum onsite as well.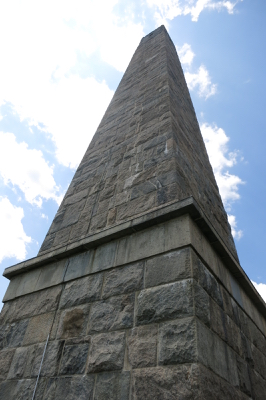 And lastly, it's also part of the CT Freedom Trail. Which you surely know because you're actually reading this page.
Fort Griswold is one of few locations in Connecticut where a Revolutionary War battle took place. The American defenders, greatly outnumbered, were local militia for the most part and included two African Americans: Jordan Freeman and Lambert Latham. During the battle Freeman helped to spear a British officer, an incident depicted on a marker inside the fort. Freeman was later killed in the fighting. When the Americans surrendered, the enraged British began to massacre the unarmed defenders. Before the British officers could halt their troops, Latham and a number of other Americans had died. Fort Griswold is on the National Register of Historic Places and open to the public..
Oh. That's ugly. Stinkin' Brits. I'm sure I'll revisit the fort to give it the attention it deserves, but the pictures on this page are all from a visit with my sons to the tower monument. But whatever, you don't care.
Here's a bit more about Freeman's death:
On this spot Col. William Ledyard died. According to legend, he was stabbed with his own sword as he handed it to a British officer in the traditional form of surrender.

The large rock with a brass plaque marks the spot where British Major Montgomery died attempting to climb over the ramparts. He was "ran through" with a 10? pike held by Jordan Freeman, a freed slave and Col. Ledyard's body servant.
I never want to be "ran through."

CTMQ's Concept of Freedom Trail page
CTMQ's Freedom Trail page