The Sky's the Limit 2016 Hiking Challenge #14
Bluff Point State Park and Coastal Reserve, Groton
October 30, 2016
Here we are… at the end of the long and winding road that the 2016 DEEP Sky's the Limit Challenge presented us. With hikes in New Fairfield, Greenwich, Thompson, and now Groton, we'd covered the state about as extensively as possible.
Well done, DEEP!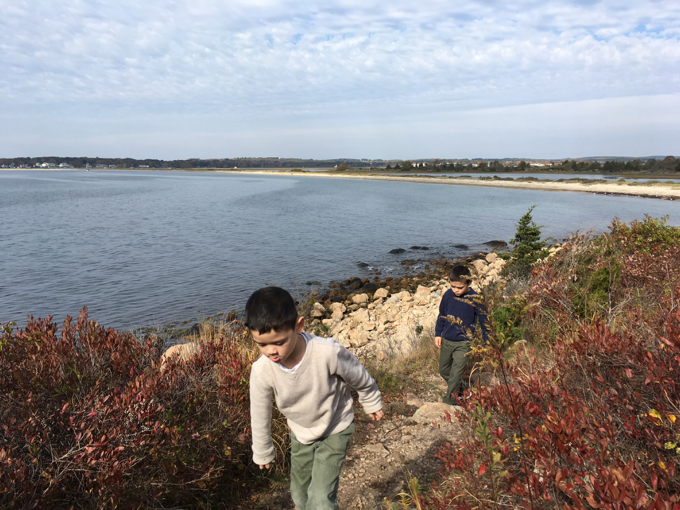 I'd never been to Bluff Point before, so I was excited to check the place out. After the long drive to the Sound, we were confronted with an absolutely packed parking lot on the spit of parkland. Hm. This was certainly odd. Who knew so many were Sky's the Limit Completers trying to get another hike done on a lovely autumn day?
Alas, that was not the case. There was some 5k race called "Race Above the Rocks" going on, but fortunately for us, it had just concluded as we got going. With my sons, it would have been a mess otherwise. Phew!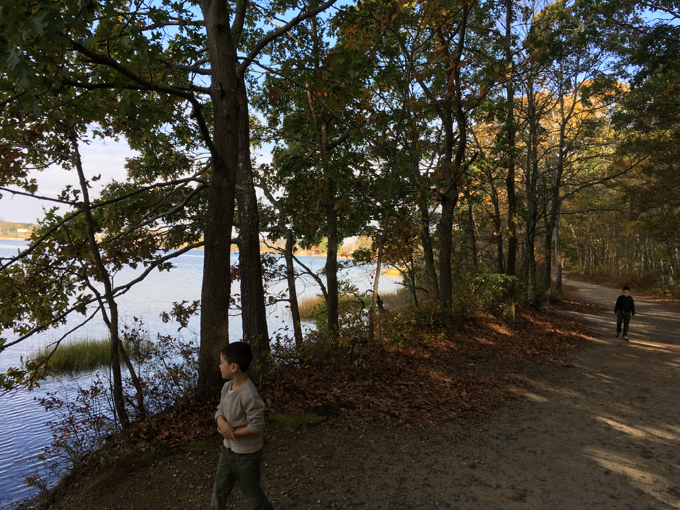 This entire hike, which was also a 5k, was entirely flat and took us along the Poquonnock River inlet out to the tip of the spit of land that juts out into the Sound. It was a nice way to end our 2016 TSTL Challenge… although, I think Calvin would have preferred it to have been a warm August day so he could have gone swimming.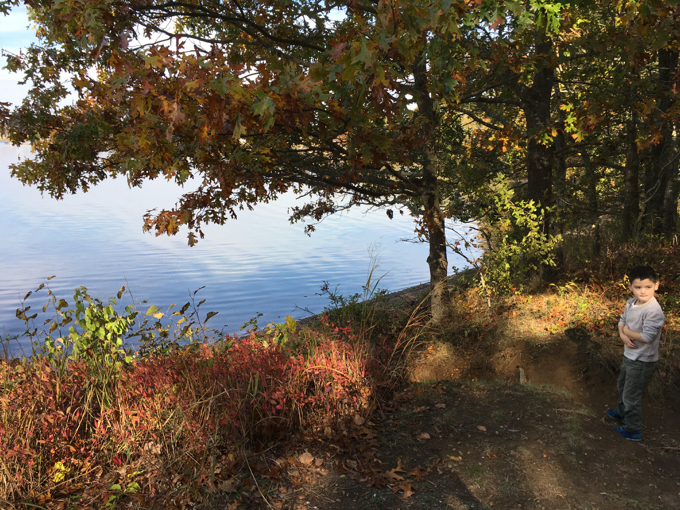 The boy likes to swim.
(In fact, he asked several times on this 55-degree day at the end of October if he could do so. I guess he did prove a week earlier that he had no issue with hiking while soaked. But… no.)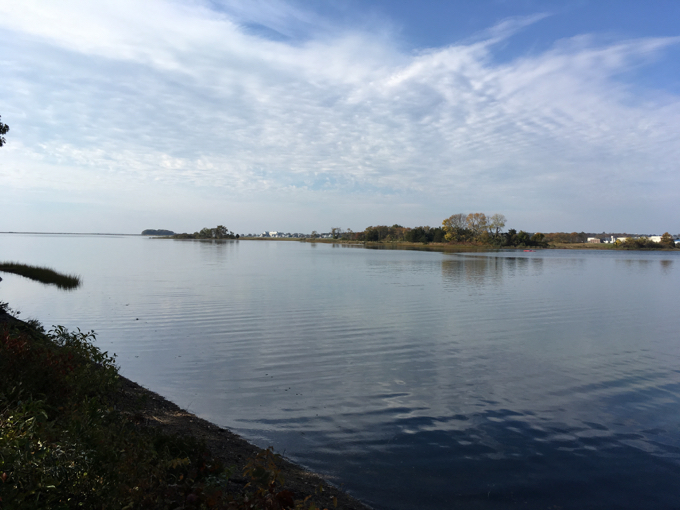 This hike provided the boys plenty of rock-throwing opportunities. The theme of the 2016 challenge was "water," and I'm happy to report that my sons returned over 500 rocks to the various lakes, rivers, bays, sounds, ponds, and puddles along the way.
Calvin also tried to return a dead jellyfish to his watery grave as well.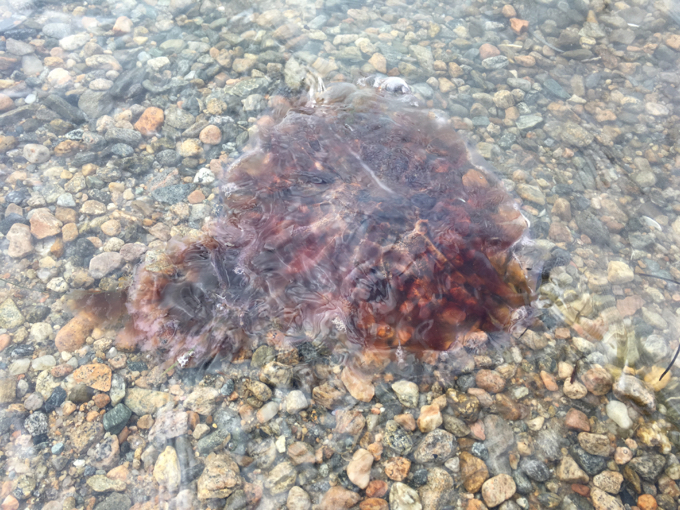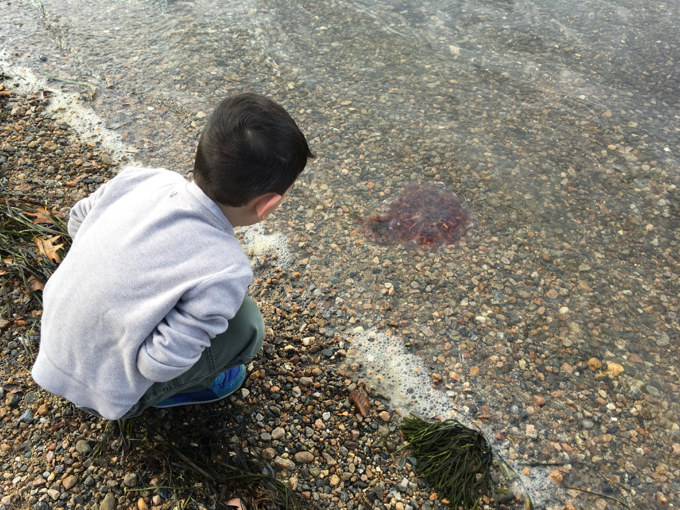 The large majority of this hike was on a wide woods road. For Calvin, this meant he would not have the opportunity to transform into his "Rock Ninja" alter-ego. Or so I thought… he found enough rock walls and even a few giant boulders on which to employ his deft skills.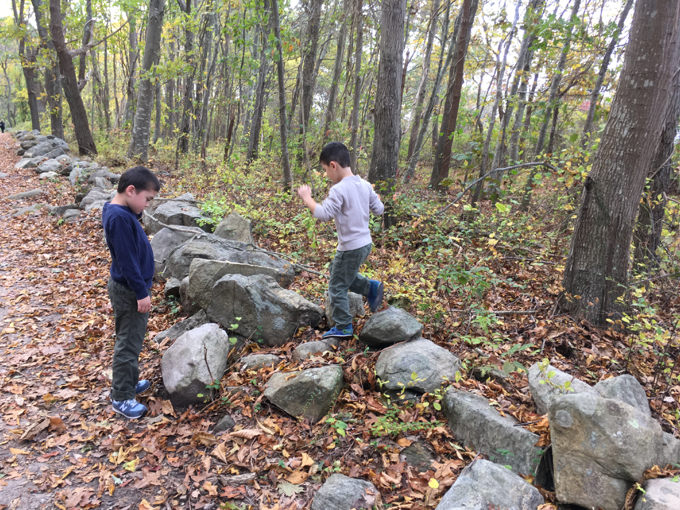 Of course, all that ninja-ing tires a boy out.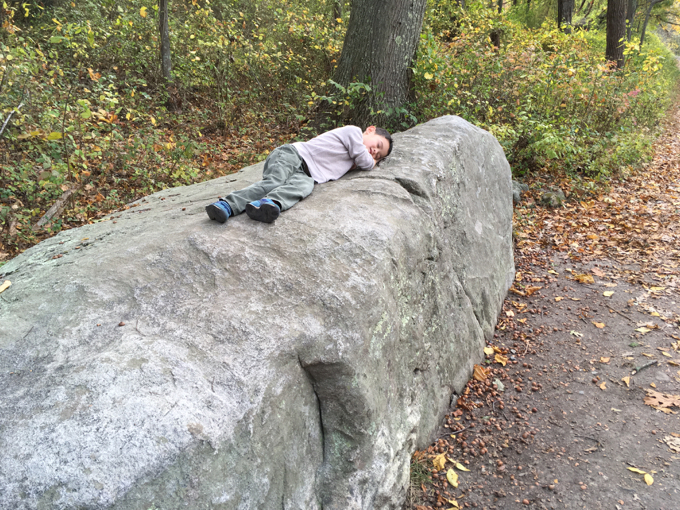 This next picture is funny to me…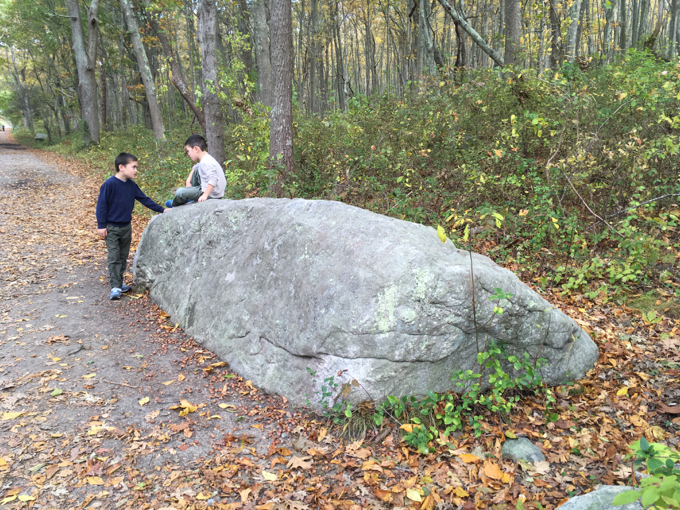 While it looks perfectly cute; an experienced sensei sharing insights to his young apprentice about how best to approach such challenges. Sure.
In reality, Damian was stuck in special-needs-loop; repeating, "you don't sleep on rocks. You don't sleep on rocks. You don't sleep on rocks." And Calvin was just staring at his brother, wondering why he simply can't appreciate his silliness.
Sigh.
Anyway, Damian walked with confidence after his life lesson: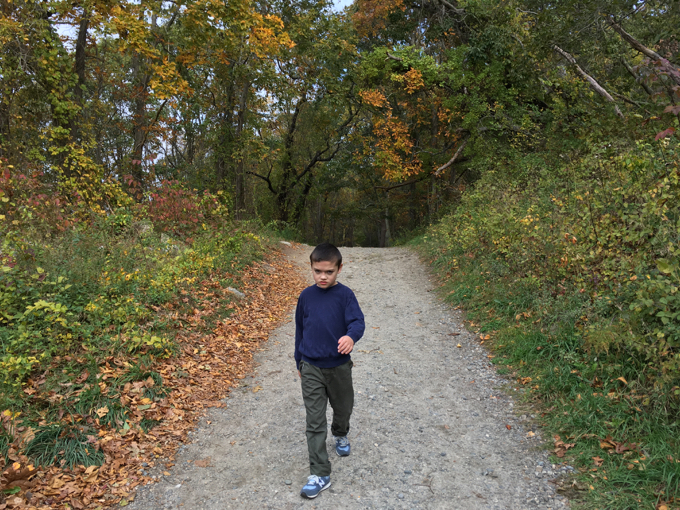 Although, once again, perhaps his advice shouldn't have been about sleeping on rocks but rather, a tip about running full bore down a little hill.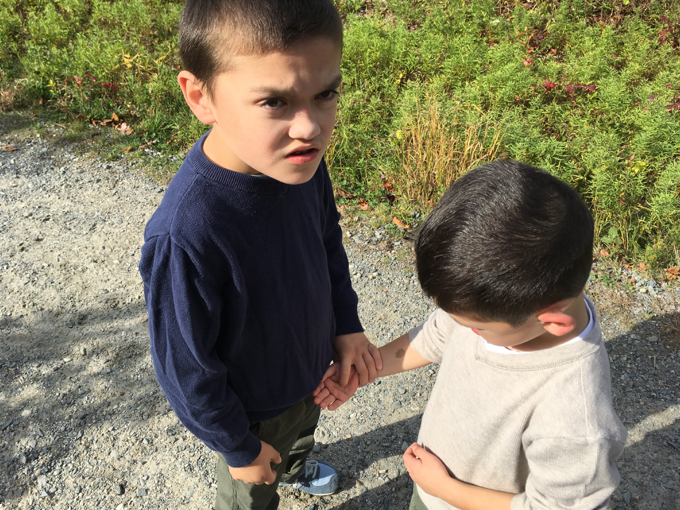 Yup, once again, the Rock Ninja couldn't handle a wide, obstacle-free path and wound up falling and sliding on the graveled surface.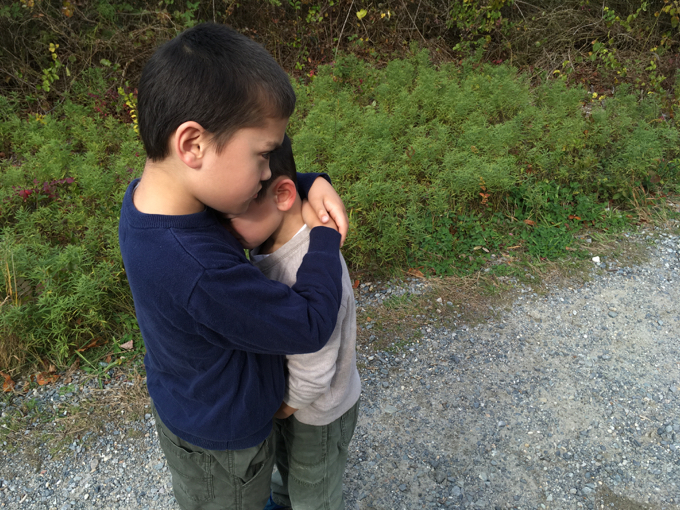 And once again, mean old Papa offered no solace whereas Sensei-Damian was there to provide a shoulder to cry on. I don't feel like going back to look, but I'm guessing this scene has played out now on about a third of the 28 Sky's the Limit hikes we've completed.
I'm not tripping my son for cute photo-ops. Really. I swear. No, really. Don't look at me like that.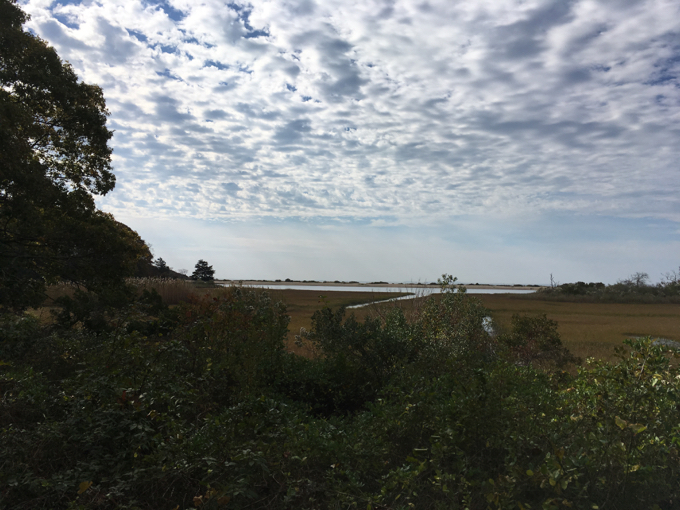 Bluff Point provides a compost outhouse near the end of the graded trail. That's always nice.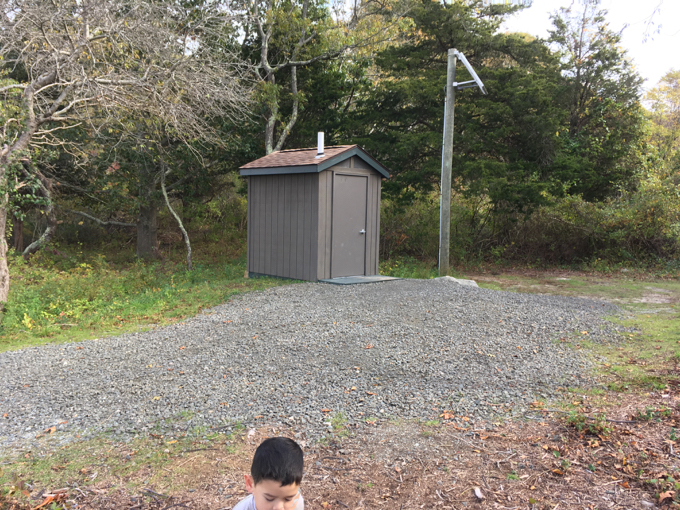 From this point to the actual bluff, the hike took on an entirely different tone. The trail became a real trail and took us up above the cliffs and boulders that tumble down to the Long Island Sound. The wind picked up noticeably and the excitement started to build for all three of us. This was it! The final Challenge point!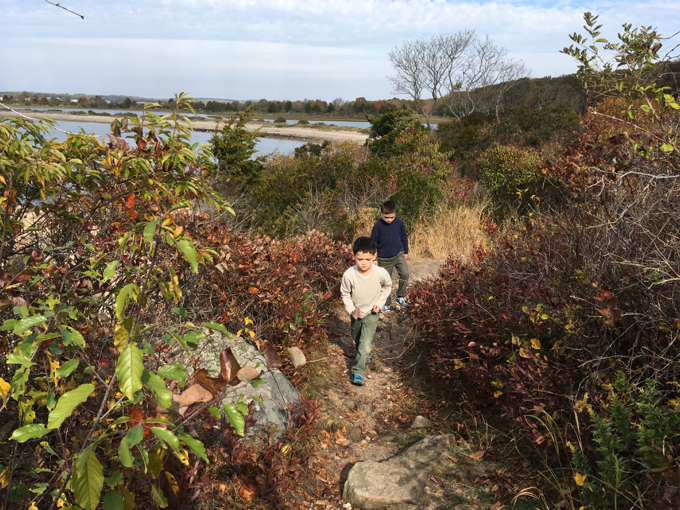 Damian was joined by a lady friend to celebrate his accomplishment.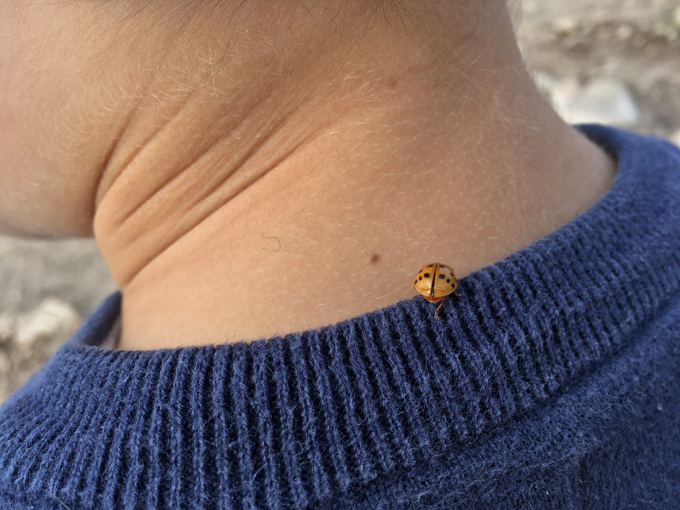 Calvin did the Heisman pose, even though he has no idea what that is.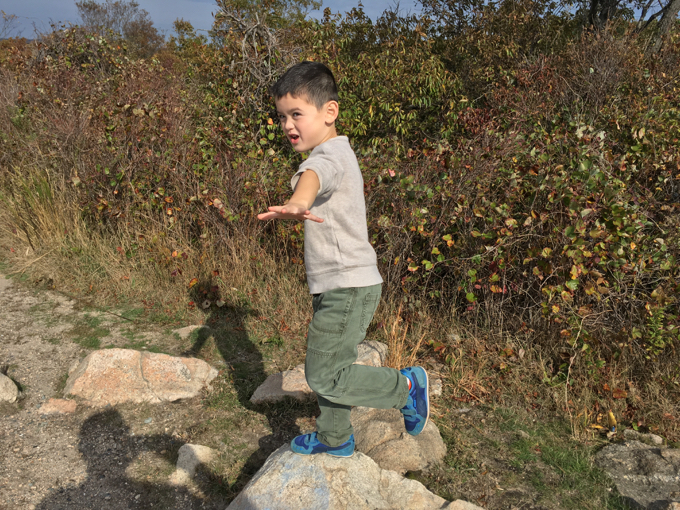 Of course, we still had to retrace our steps back to the car, but it really felt great knowing we'd completed our goal for 2016. I have no idea if any other little kids completed all 14 hikes, but I do know that only 161 other people did them all this year. We represented a full 2% of those who completed the Challenge!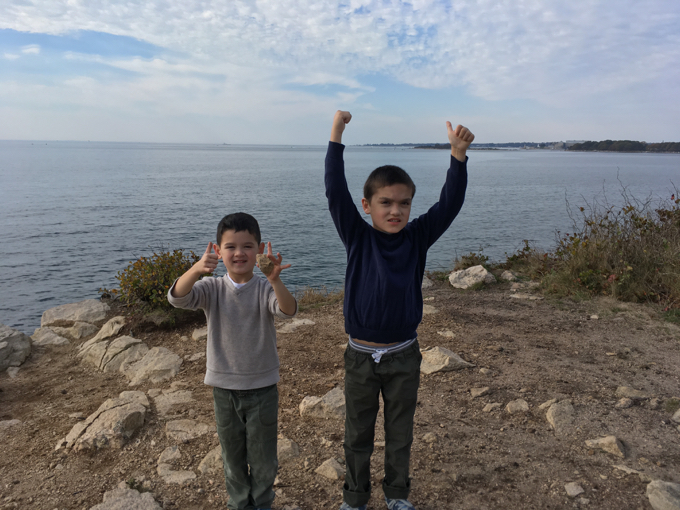 And that's pretty cool.
On our way back, we received an encouraging note scrawled on the path: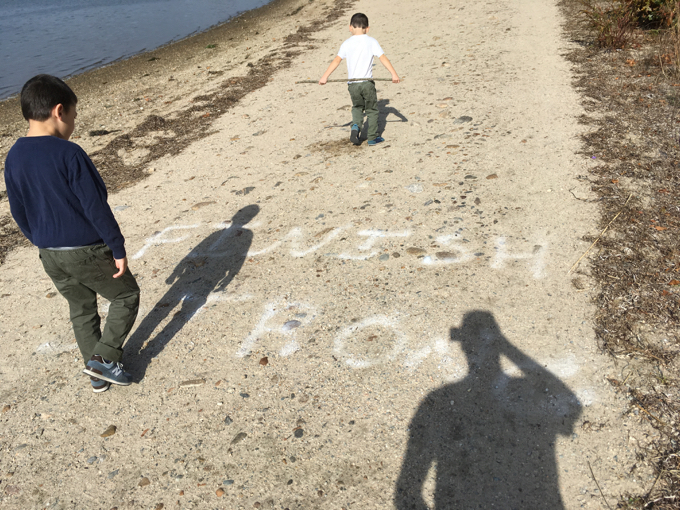 How apropos. (it says "Finish Strong" if you can't read it.)
A cool thing about Bluff Point is that there is a small airport across the Poquonnock. We watched some small planes take off and land which, oddly, my sons didn't even get excited about.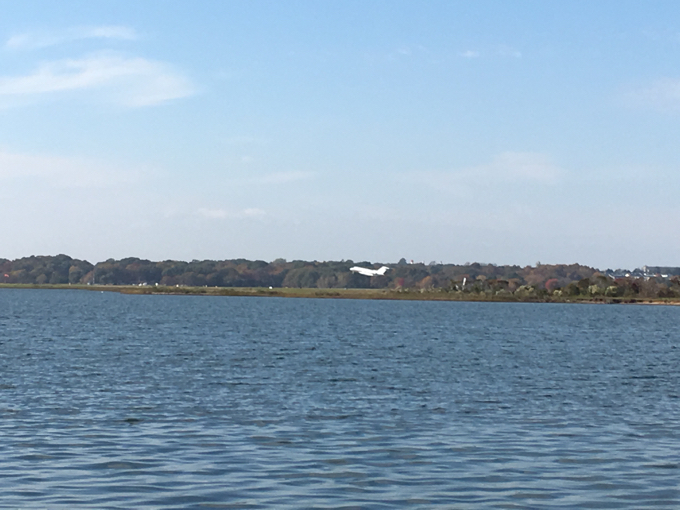 Perhaps that's because Calvin's jellyfish had returned. He determined it must therefore alive and studied. He found a stick and began to poke it. Prod it. Flip it. Toss it. Swirl it. Twirl it.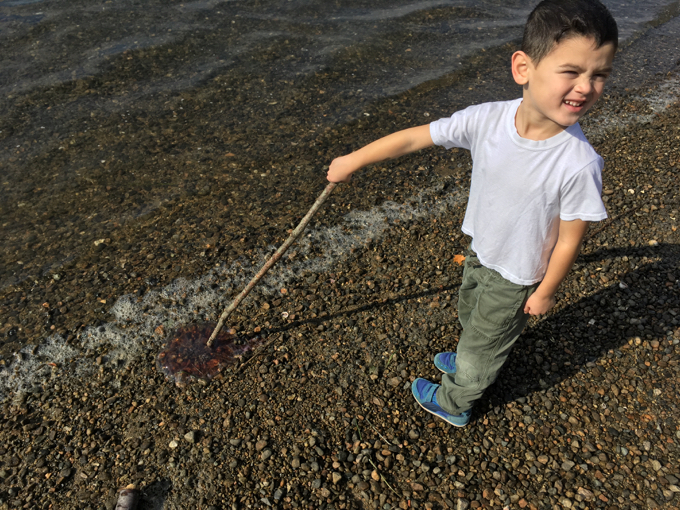 He had made a friend. He wanted to bring his new gelatinous friend home. I politely suggested that might not be so easy, as we had nothing with which to carry it. (I was trying to avoid telling him that it was dead, since he was sure it was alive since it "came back" to the sand.)
I had no idea that this would make Calvin so sad, but man, did it make him sad. The final ten minute walk to the car was filled with tears and anger at me.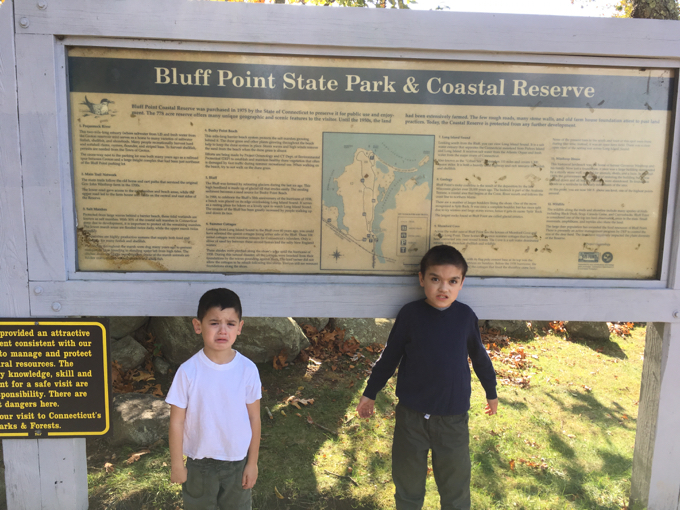 So I told him it was dead.
That didn't help.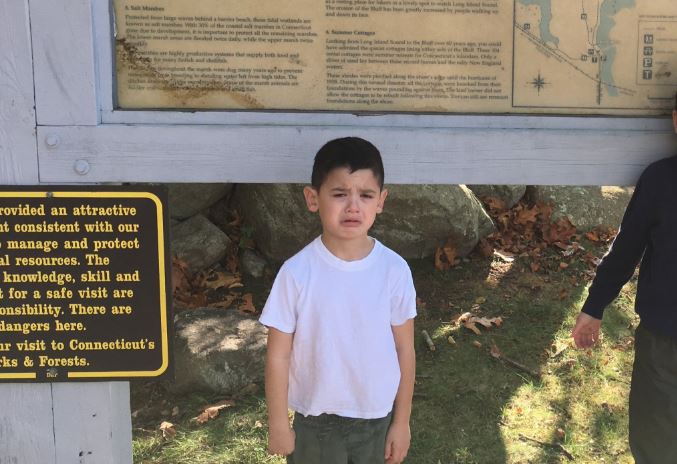 Not the most glorious way to complete our challenge, but he'd get over it. Nothing a stop at BF Clyde's for cider donuts couldn't cure.
Until next year…
CTMQ's 2016 The Sky's the Limit Challenge
CMTQ's Bluff Point State Park, Coastal Reserve, & NAP Intro
CTMQ's State Parks, Reserves, Preserves, & Forests