Beer'd: Near'd and Dear'd
The Beer'd Brewing Company @ The Silo, Groton
November 2022
The two Beer'd Brewing taprooms are probably about nine miles apart as a crow flies. The most direct driving route is about 10 and a half miles. The typically quickest driving route is over 13 miles, much of it on I-95. The fastest route on a summer Saturday? Probably like an hour. Welcome to Mystic Country!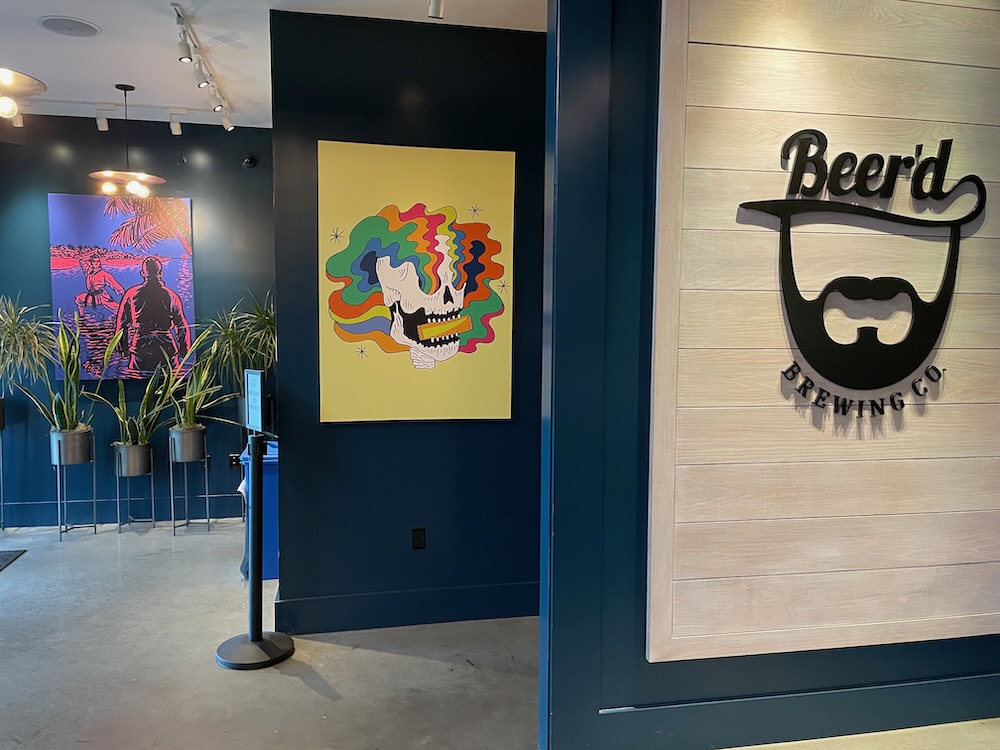 I have this nightmare on behalf of Beer'd where something breaks in one location and must be rushed to the other at noon on a sunny July Saturday. Maybe they should invest in a jet ski for such occasions.
And if investing in a jet ski made sense, I'm going to guess that Beer'd would do it. After careful consideration. I've always been impressed by the business's methodical and intelligent growth over the first decade of existence. They've always remained humble, community minded, and never expanded too quickly. That's how I know that the decision to open this second location in neighboring Groton was not some impetuous drunken idea.
Beer'd @ The Silo made its debut in January 2020. Guess what else debuted in January 2020.
Unfortunately for Beer'd – and, well, for the entire service industry – COVID-19 happened in 2020. And 2021. And into 2022. And 2023…
Beer'd originally planned to open here in the summer of 2018 but encountered delays with construction and financing, which is typically the case. Behind the scenes, Beer'd began production at the facility in October 2018 though and managed to get the place in order a couple years later.
When it finally opened, the smaller, but just as "hidden" Beer'd outpost opened with a bang. This space has a very different vibe from the mothership. The original location, deep within the bowels of the Velvet Mill deep within the bowels of Stonington Borough has its post-industrial rustic look and feel.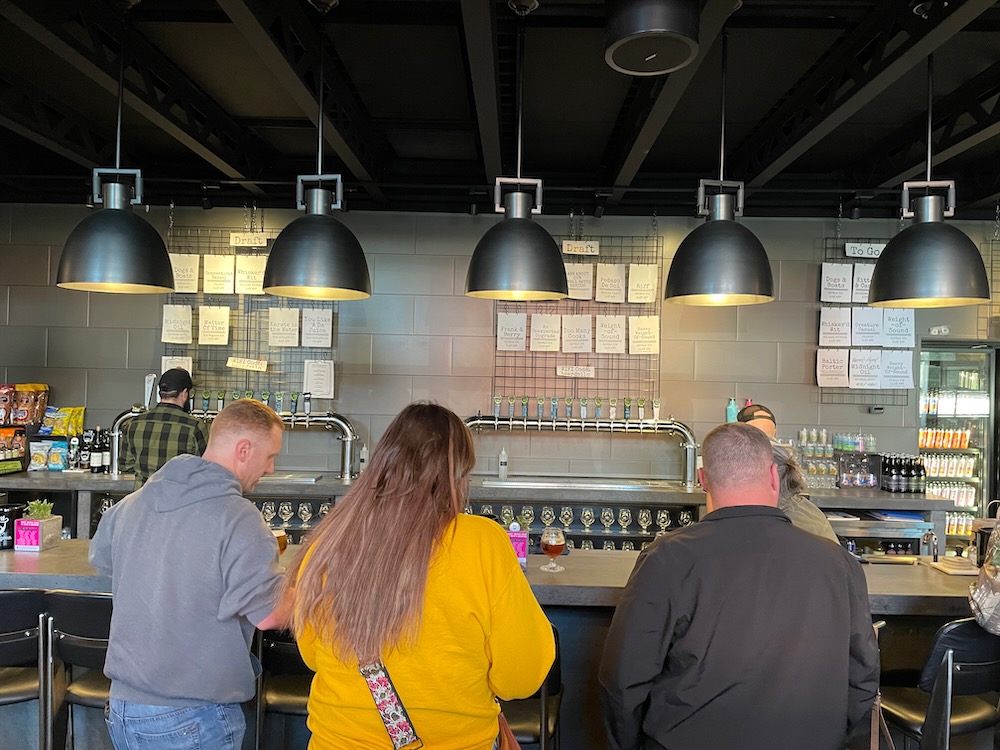 The "Groton @ The Silo" location requires a long circuitous drive through the Groton-New London Airport, and then up a long dead end… allllll the way to the end. It's not so much post-industrial here; it's just straight up industrial.
But once inside the newer space, you are transported to a vibrant, bright, downright cool little taproom. (It's also a 21+ only taproom, one of the few in the state. They wanted it to basically be a bar… and that's what it is.)
I arrived on a Friday afternoon and met up with my friend Adam – one of the intrepid few who have visited almost every brewery in the state. For the record, like me, Adam has other interests beyond beer and he also has a real job. Heck, it took like 5 years to actually meet up at a brewery.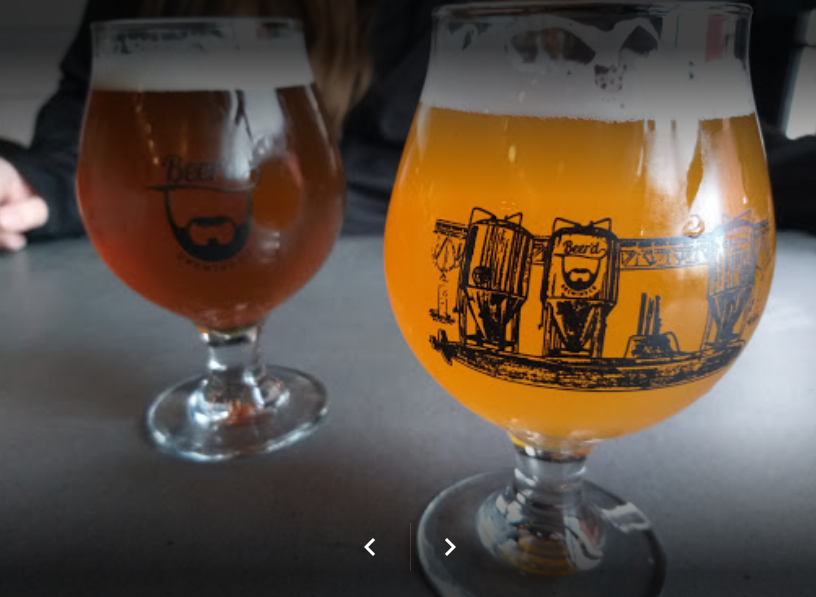 But here we are. Together at last. And lo and behold, I turn around and who do I see? None other than Beer'd co-founder and co-owner Aaren Simoncini! Aaren is one of the Connecticut beer people that I consider a true friend and I've enjoyed watching his success since Beer'd's humble beginnings.
Admittedly, I also felt bad since Adam and I didn't get a chance to catch up in person too much – Aaren is a talker – but hey, I introduced them and even convinced them to take a picture for CTMQ posterity.
I'd be a big fan of Beer'd's beer even if I had no idea who Aaren was. But I suppose you can also take my fanboyism with a grain of salt now. After all, we shared pictures of Halloween parties and of dogs. We asked how each other's wives were doing. Then we got down to business.
I went in hard. "Dude, what's up?"
Pandemics and red tape and staffing shortages. The service industry had been in upheaval for a few years by late 2022 and Aaren is honest and up front about it all. Employees now cost more. Good employees are in high demand. Materials cost more. The build out of The Silo wound up costing way more than it would have pre-pandemic. The business plan relied on lots of local workers popping in after work; those people work at home now.
It's tough out there to say the least. So… distribution? Beer'd has always had a good distribution footprint, but now they're competing with 40 billion other breweries for shelf space and willing livers. And there are fewer of those livers out there these days, as Gen Z just isn't into beer like older folks are.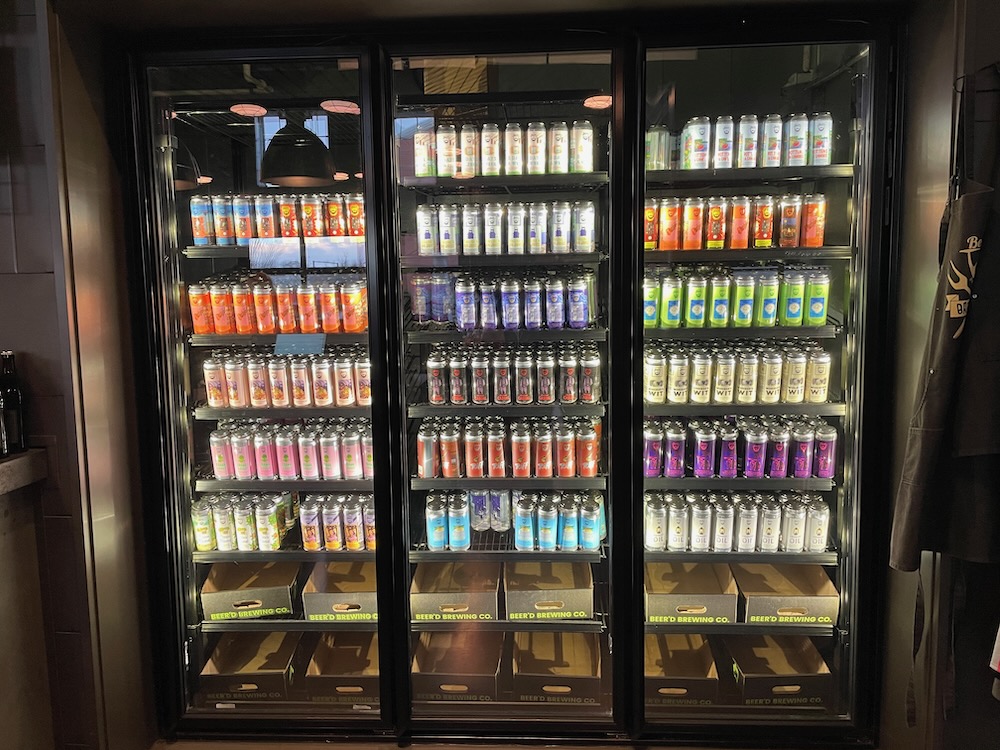 Beer'd canceled their 10th anniversary party a month or so before my visit. Aaren wound up doing a lot of the design and build out himself. I see now in January 2023 they've lessened the hours at The Silo.
Sheesh.
I point all this out because Beer'd is a very, very good brewery that makes a wide array of very, very good beer. Aaren and Precious are smart business owners who are 100% dedicated to their craft. And it's tough out here. I cannot imagine how smaller, less successful, less intelligent breweries with little to no distribution are surviving.
Yeah, our conversation wasn't all bubbles and giggles. But the beer? The two beers I had had the perfect amount of bubbles (carbonation) and our time spent together produced several giggles. Aaren and Adam are funny dudes. I've been known to tell a funny story now and again. We had fun.
I don't really get too deeply into writing about these second location breweries. At least beer is brewed at this one, but much of the production is still done across the Poquonock and Mystric Rivers in Stonington. There is no special Groton Grog here, but it's all Beer'd and it's all good.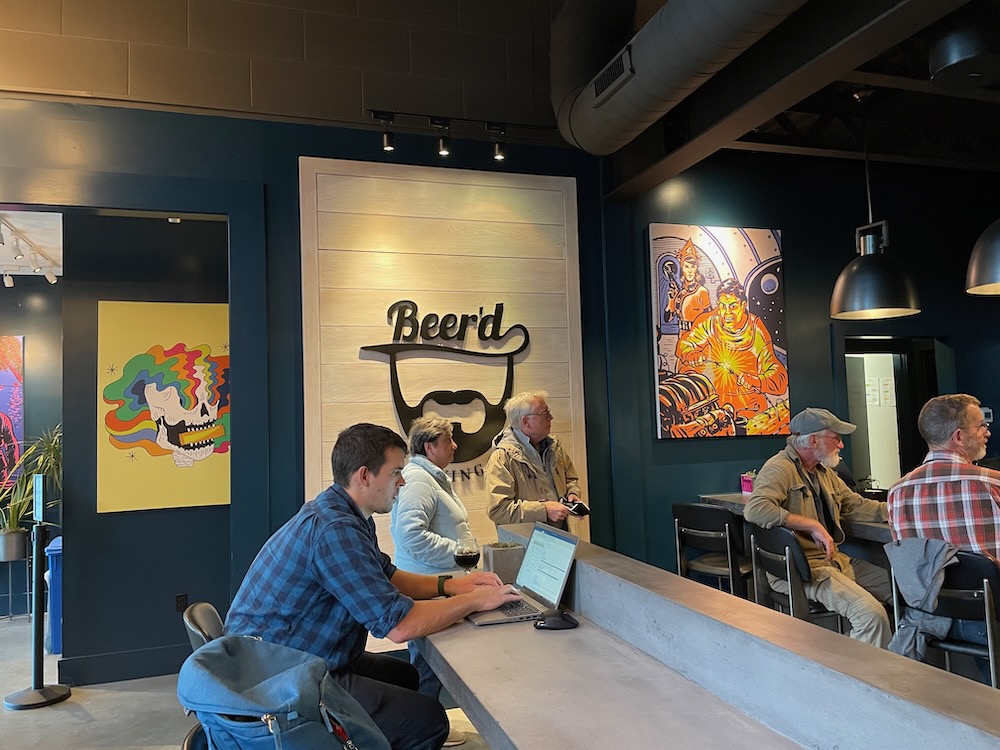 I was pleased to see the awful lactose-in-everything trend had begun to wind down in late 2022, and that Beer'd seems to be removing itself from that nonsense. The flagship Whiskered Wit is still a hot seller, and Beer'd's signature translucent IPA's and DIPA's – that have all the flavor of any cloudy mess you can find elsewhere – are still wonderful and perfect.
Beer'd opened my eyes to what a talented brewer can do with those new Pacific northwest and southern hemisphere hops more than any other brewery in the world back in 2013. And they're still doing it. Dogs and Boats is still ridiculously good. Hobbit Juice still blows my socks off. Kittens and Canoes is still a favorite. But they also make that excellent wit and some lagers as well – more my speed now a decade after my Beer'd introduction.
This Groton outpost is fun and funky and just… pretty cool. It's the modern sister to the more old school vibe at the original Mill. And for anyone traveling east through the state in the summer, it's a heck of a lot easier to get to than home base.
Cheers to Aaren and Precious… and Adam. I swear, dude, next time we'll meet up some place where I won't know anyone.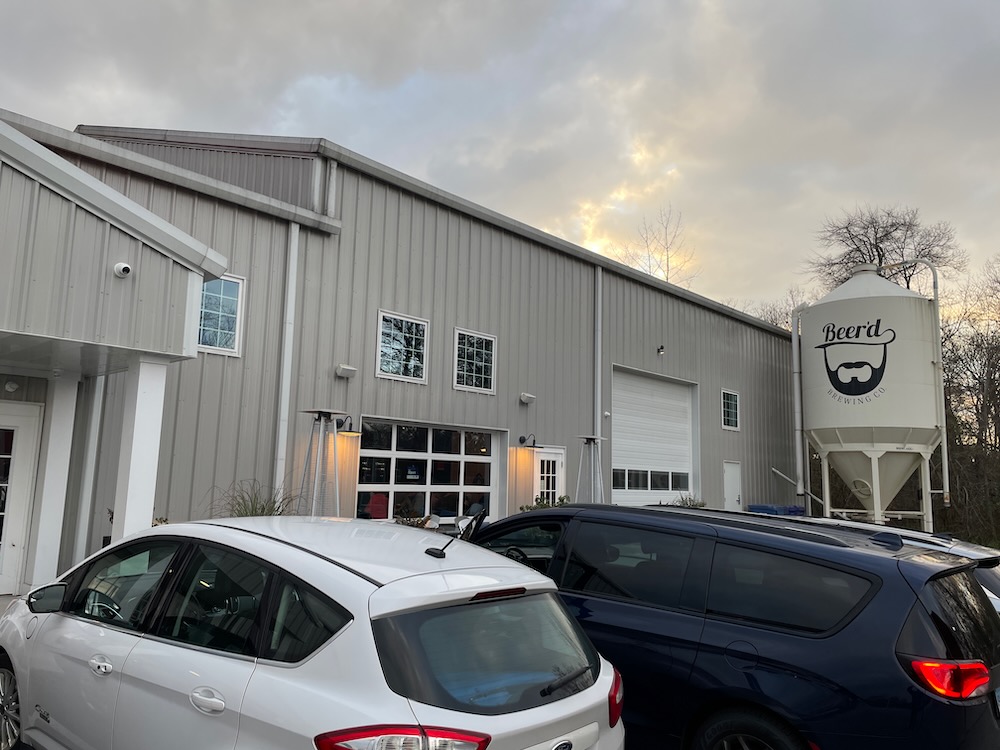 The Beer'd Brewing Company
CTMQ's visits to the original Beer'd Brewing
CTMQ's page on CT Breweries and Brewpubs