Everything Stonington
I've been exploring and writing about Connecticut since 2006. After a decade, I began compiling CTMQ guides for each town in the state. I plan on "completing" Stonington CTMQ-style… as well as the other 168 towns, cities, and boroughs in Connecticut. After all, that is the ultimate goal of CTMQ.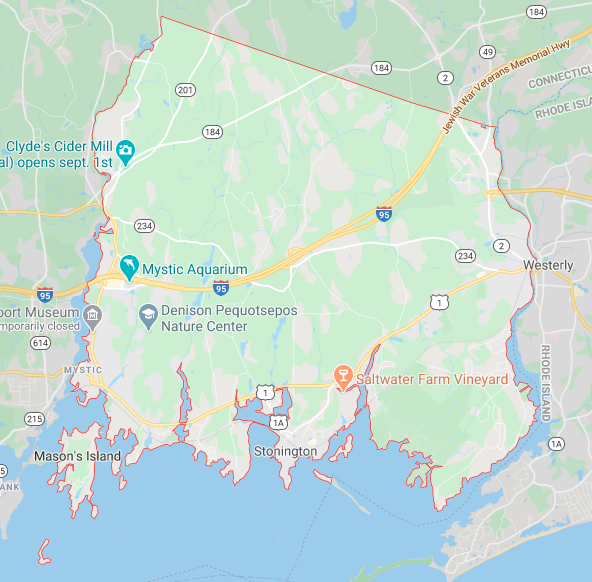 What do you know about the town most famous for Mystic, Mystic, Mystic? You can scroll down for my list of things to do in town. Or, as always, you can click on the town's tag to see what I've done.
If I've missed anything in town or if anything has closed or changed, please let me know.

All The CTMQ Stonington Stuff
Links take you to my reports.
Museums
B.F. Clyde's Cider Mill
Captain Nathaniel B. Palmer House
Coogan Farm Welcome Center & Art Barn
Denison Homestead
Denison Pequotsepos Nature Center
The Indian and Colonial Research Center
James Merrill House
The Maritime Gallery at Mystic Seaport Museum
Mystic Aquarium
Mystic Seaport, Museum of America and the Sea
Old Lighthouse Museum
Studio Jeffrey P'an
R.W. Woolworth Library and Research Center
Stanton-Davis Museum
Hikes & Bikes
Barn Island Wildlife Management Area
CFPA's Caron Forest (Potential Future trail)
Avalonia Land Conservancy – Intro
Fennerswood Preserve
Knox Family Farm Preserve
Knox Preserve
Dodge Paddock and Beal Preserve
Hoffmann Evergreen Preserve
Marcia Woolworth Porter Preserve
Paffard Woods
Pequotsepos Brook Preserve
Perry Natural Area
Ram Point (water access)
Sandy Point (water access)
Simmons Preserve
Wequetequock Cove Preserve
White Cedar Swamp & Deans Mill Preserve
Woodlot Sanctuary
Stonington Land Trust – Intro
Davis Farm & Osbrook Preserves
Grandview Preserve
Meadow Woods Preserve
Old Mystic Ridge
Davis Farm & Osbrook Preserves
Thomas Miner Nature Preserve & Wildlife Sanctuary
Stonington's Town Trails – Intro
Coogan Farm Trails
Denison Pequotsepos Nature Center Trails
Fife Estate Recreation Area (Private)
Spellman Recreational Park
Food & Drink
Roadfood List: Kitchen Little
Roadfood list: Fried Clams at the Sea Swirl
Cheese Boro Whey (RIP)
Saltwater Farms Vineyard
Stonington Vineyards
B.F. Clyde's Cider Mill (Hard Cider)
Beer'd Brewing Company
Cottrell Brewing Company
Looking for your favorite restaurant? Here is an explanation as to why it's not here.
Everything Else
NHL: Captain Nathaniel Palmer House
NHL: Charles W. Morgan, Stonington
NHL: Emma C. Berry, Stonington
NHL: James Merrill House
NHL: L.A. Dunton, Stonington
NHL: Sabino, Stonington
ASME Landmark: B.F. Clyde's Cider Mill
National Champion Tree: Hardy Orange
World's First: Antarctic Expedition
US Longest & Oldest: Continuous producer of hard cider
US Oldest: Surviving smack
US Best: Mystic Seaport
US Best: Mystic Aquarium
US Best: Inn at Mystic
US Best: Noah's
US Best: Inn at Stonington
Underground RR Trail: Greenmanville Historic District
CT Freedom Trail: Charles W. Morgan
CT-NY-RI Tri-Point
Elihu Island
Enders Island & The Mummy Arm
Mason's Island
Ram Island
Mystic Seaport Lighthouse
Stonington Harbor Lighthouse
Mystic River Bascule Bridge
Mystic Station
The Way of the Labyrinth
The Blessing of the Fleet & Parade
Argia Mystic Cruise
Old Mystic Post Office
Seacoast Mushrooms
Mystic Seaport
Mystic Pizza (1988)
Completion Celebration Meal & Stonington Wrap-Up
TBD