PequotsePossibly a Bit Too Expensive
Stonington (Google Maps location)
May 22, 2010
There are maybe 25 or so nature centers around the state and they are all pretty much the same. I'm not saying that as a knock on them, as I love each and every one. Some are certainly better than others, of course, and the Denison Pequotsepos Nature Center is certainly one of the better joints. Which it better have been, since it cost the three of us $21 to get inside. No, that's not going to break our bank, but it's pretty darn steep for a little nature center in 2010.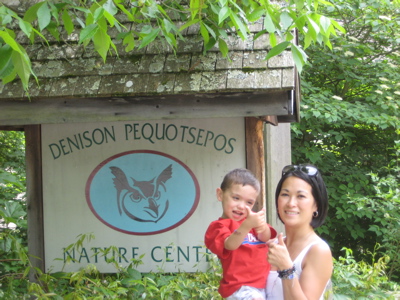 To be fair, they "are a combination wildlife sanctuary, visitor attraction and educational facility. The Center features exhibits highlighting the habitats and wildlife of southeastern Connecticut, as well as many miles of trails that wind through a beautiful 300-acre wooded preserve." And even better, there is a historic house museum right down the street to make your visit a double museum dipper day, but alas, the Denison Homestead was closed when we visited the nature center. And besides, we'd already had a blast at the Young at Heart Doll Shop and Museum up in Preston.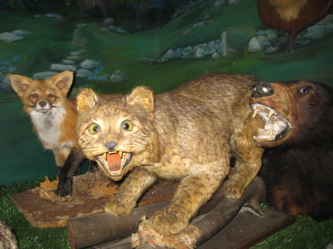 We parked and entered and paid – thus marking the first time I've ever paid for entrance to a Connecticut museum with a debit card rather than cash. The center's website only gives a brief overview of what's inside:
Explore the Nature Center's newly renovated indoor natural history exhibits. Woodland, wetland, and meadow displays depict southeastern Connecticut's unique habitats and wildlife, many of which can be found throughout our beautiful sanctuary.

Get a close-up view of live frogs, fish, turtles, and snakes. Meet magnified centipedes, ants and mushrooms in our Life Under a Log exhibit, experience a "Night in the Meadow" in our intimate theater, or watch bird flight patterns as they stream across our colorful meadow mural.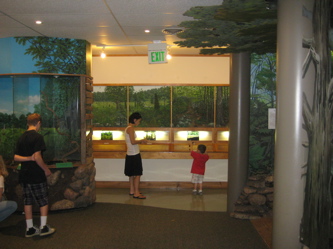 You can learn to recognize local birds in our classroom exhibit featuring over 200 mounted bird specimens from the Gurdon Bill collection. Other exhibits feature birds eggs, nests and skulls.

Our informative indoor exhibits help enhance human understanding and appreciation of local natural areas, instilling respect for the living and non-living natural elements essential to both environmental and human health.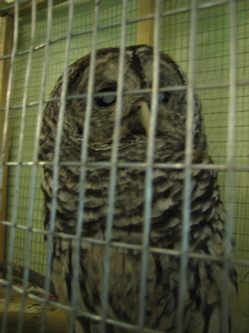 Sounds good, let's get crackin'. Immediately beyond the entrance, a creepy owl was perched just above my head. It wasn't moving and had milky white eyes, like that creepy old man in "Big Trouble in Little China" – a very under-appreciated movie, by the way. We stared and stared and then it moved! Ah! Turns out, this poor guy was deaf and blind and old. It happens.
Turning around, there was a cool display of a typical Connecticut forest, from several feet below the soil surface to high up in the trees. I mention this for one reason: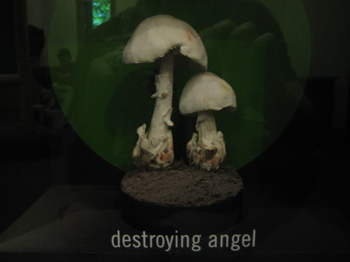 Awesome.
Destroying Angels are actually a group of mushrooms, including Amanita. There's another group called Death Caps. After having just read a few accounts of mushroom poisoning, yeah, these names are well-deserved, even if it sounds like the lineup at a metal show.
On the other end of the "Destroy your liver and kidney meter" is this little guy: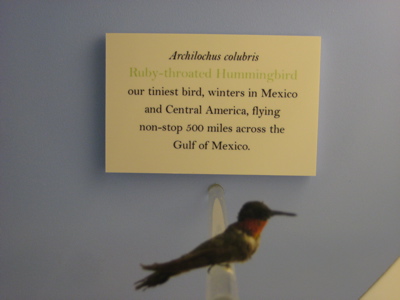 Awww, ain't they just the cutest things. (Actually yes, yes they are.) We took the steps down to the lower level, which wound around a tree and some more owl and squirrel exhibits. Damian made sure to open and close every flip top thing along the way, even though he couldn't even see what was under each lid. Downstairs, we enjoyed a few live animal exhibits, notably the one about painted turtle conga lines: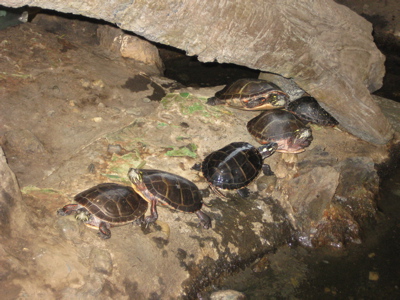 This area is set up really nicely, which realistic habitat designs and informational kiosks. The animals represented were the normal southern New England culprits, but… did you see that turtle conga-line dance? Once through the live animal area, there is a collection of ancient specimens. I've become sort of interested in these types of displays as I can now compare one set to others I've seen across the state. There's something interesting/artistic about beat up hundred-year-old woodcocks.
Or super old Hooded Mergansers, like this guy: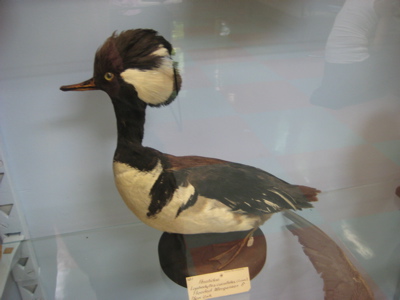 Hooded Mergansers always remind me of Phyllis Diller. Damian, as he likes to do, quickly moved on to the back room which houses the expansive collections of shells and bird eggs. Again, this was an old collection and very impressive in scope. There was a gathering of people from some organization in this backroom, about to enjoy a cake. As much as we tried to divert his eyes, Damian noticed it and almost jammed his fingers into the frosting.
I successfully scared him off it though, with the terrifying fox/bobcat/bear triumvirate of doom on display just behind us. With that, Damian scurried out of the room and back to the main display area. There is a tiny theater there, showing a presentation called "Night in the Meadow." It's not a movie or video, but rather sort of a light show on a wall with narration and sound effects. That sounds lame, but it's really pretty darn cool.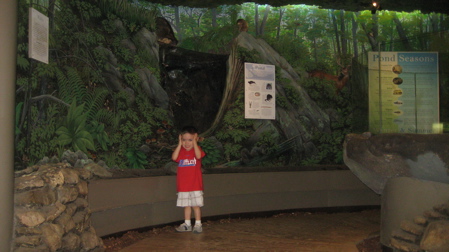 The downside is that the theater is pitch, pitch black. Absolutely no light at all, and when the "thunderstorm" starts up, four-year-olds tend to freak out a bit. Off we went, back out to the display area. I was really impressed with how many "hidden" little displays are all over the place at the Center. In what looks like a bit of fake tree trunk and roots, there may be five little doors to open to learn about the fungi that live down there and the moles that aerate the soil.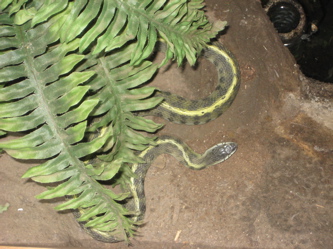 There is a lot here also just about the biology of the animals around us. What makes a wing and how do paper wasps build their nests? The Center also does a great job of utilizing every nook and cranny possible – as they should, what with the $21 bucks they got from us. On the way to the back door to head out on the trails, there is a rather huge cabinet display of Connecticut's raptors.
Our first walk took us around the little pond. This story can be told in pictures…
Yeah, Damian bit it. You can see Hoang in the picture above looking at the roots with mild concern just as Damian is flying to the ground on the right. I was so proud to have captured that very moment on film that it took me a moment to gather the child and assess the damage. As you can see, it was very minor: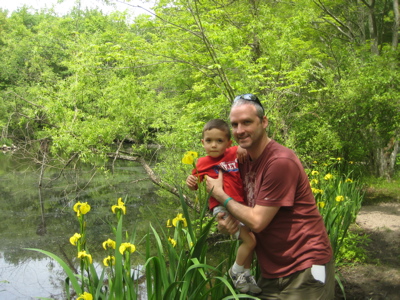 As a result of his faceplant, I had to carry Damian around the rest of the pond, but once we made it over to the bird sanctuary, he was fully recovered and ready to run around some more.
Of course, this meant running around under and around all the fences and ropes meant to keep him away, so we had a bit of cat and mouse going on while checking out all the owls and falcons.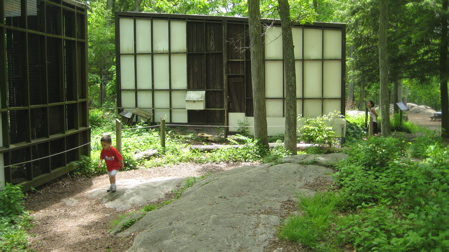 The bird structures are pretty cool and almost have a modernist feel to them somehow. There are lots of owls – and who doesn't love owls – with some informative signs.
For instance I learned a bit about the Eastern Screech Owl that I didn't know – Their eyes are heavier relative to their body weight than our brains are to ours and they are small enough to nest in old woodpecker holes.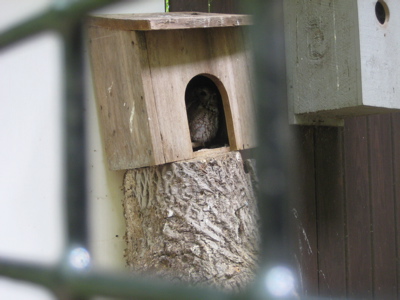 As we poked around the woods a bit, we came across signs about warblers and vernal ponds. Denison Pequotsepos nature center is a pretty cool little place off the beaten track down in Stonington. So perhaps someday when the line to the Aquarium is too long, take the back roads over to here for a more organic nature experience. And despite my whining about the price, it's still way cheaper than the Aquarium.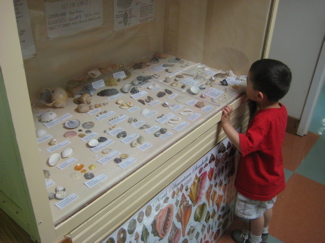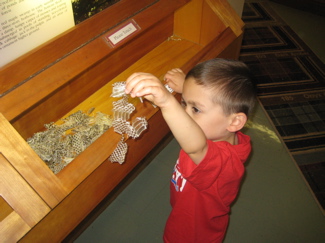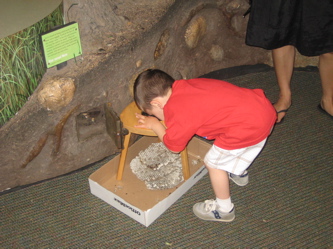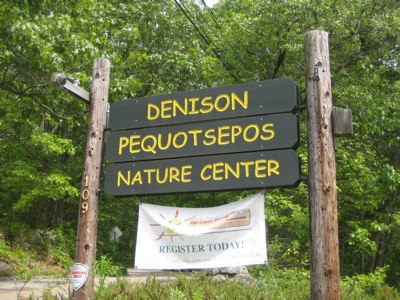 Denison Pequotsepos Nature Center