Connecticut's Other Boat Building
Stonington (Google Maps location)
January 2016
There are a lot of reasons to head to Stonington. Restaurants, seaside walks, breweries, wineries, shopping, all the Mystic stuff… interesting little museum-like library hybrids.
That's right. Interesting little museum-like library hybrids. Sure, other stuff in town might get more publicity and foot traffic, but that's not to say the Woolworth Library – and the Indian and Colonial Research Center across town aren't worth your time and effort.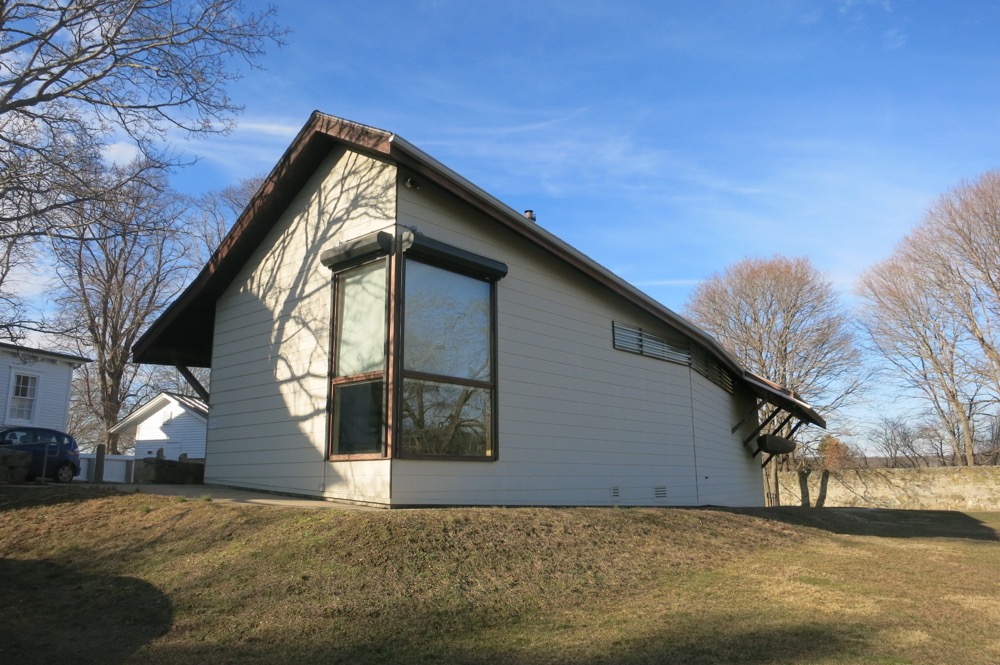 (Okay, if I'm being honest, neither little museum-like library hybrid is in the top 40 things to do in Stonington, but that's only because Stonington is such a lovely and culturally rich town. One of my favorite towns in the state to be sure.)
The Richard W. Woolworth Library of the Stonington Historical Society opened its doors in 1998. It's a modern looking building because it's a modern facility. And it really is pretty much "just a library." There's a large reading room with tables for researchers, computers, copiers, and a microfilm reader printer(!) The walls of the James Merrill Reading Room have an interesting collection of 19th-century portraits of Stonington people. And a random painted door: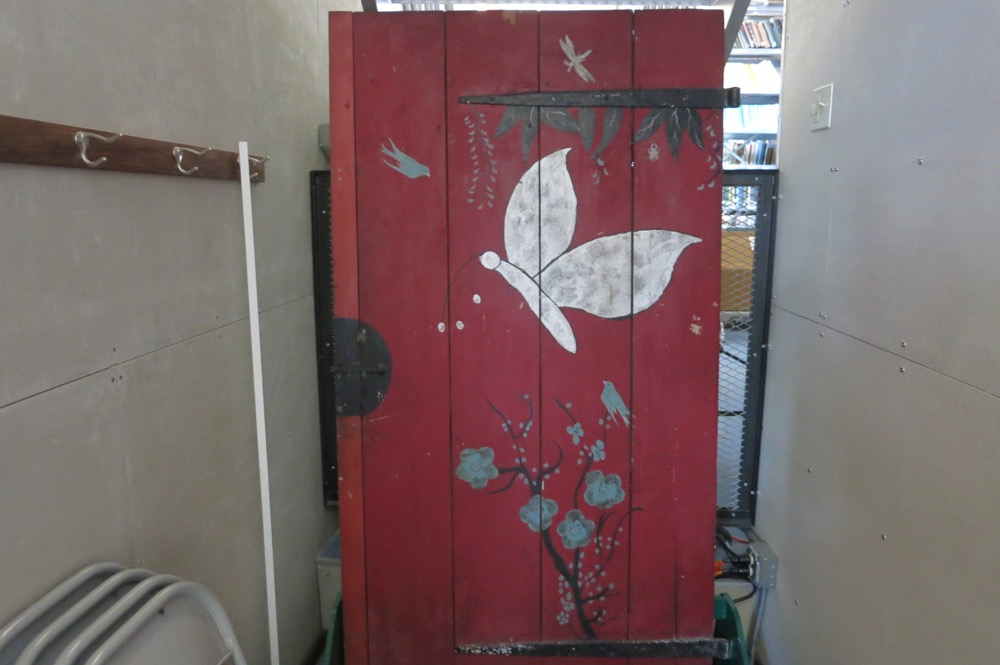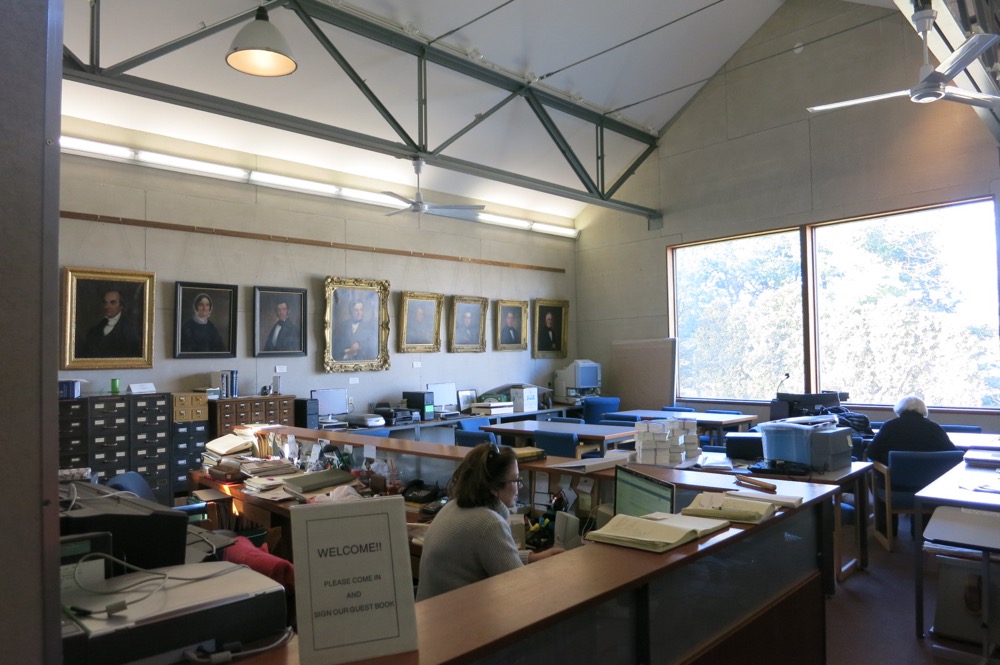 Ah James Merrill. Remember that time I had an appointment to visit the National Historic Landmark James Merrill House and my host wasn't there at the appointed time but the door was unlocked so Damian and I gave ourselves a tour anyway. Yeah.
That was fun.
As you can imagine, this little research library collects everything it can about Stonington. As its aligned with the Stonington Historical Society, it is well organized and those interested in specific town things can, at the very least, get a good start on their quest here.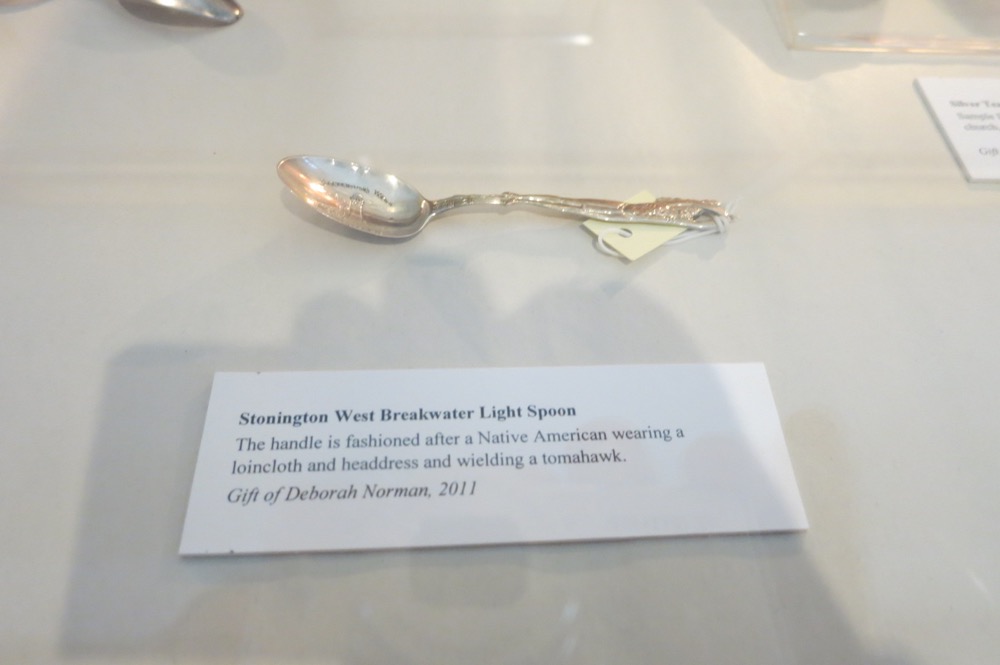 There are extensive genealogical and property records, a massive photography archive, a huge newspaper collection, and all that sort of stuff. As neither I nor my son have any particular interest in such things for a town we have absolutely no connection to, you're surely wondering why we were here.
The exhibits, of course! The library has several museum-quality display cases and display different exhibits throughout the year. Examples of past exhibits include the works of our friend the poet, James Merrill, nautical diaries and old maps; and examples of rare textiles and other things from past lives in Stonington.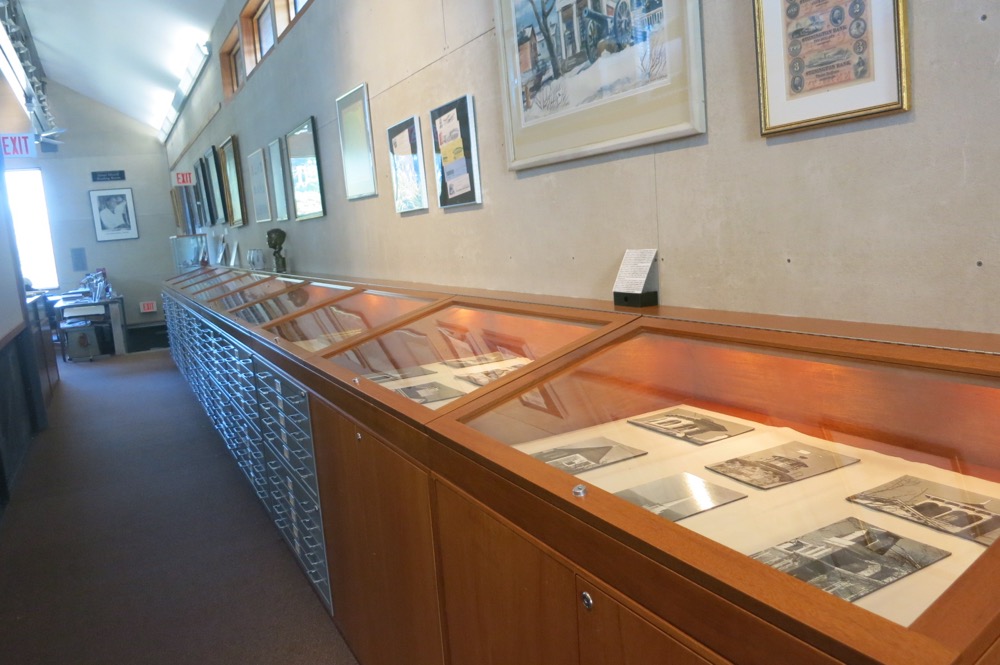 There's the Captain Joshua Stevens Papers from 1861-1874, the Ira Hart Palmer Papers (1865-1885) and artifacts from the American Velvet Company (1868-1952). Did I mention the shape of the building looks vaguely like a boat and that there's an old dinghy hanging from its rafters? Now, this boat building isn't quite as cool as the Boat Building in Hartford, but it's still kind of neat.
Is it a museum? No. Is it run by an organization with a museum? Yes. Does it have museum qualities that qualify it as a CTMQ museum? Duh. Of course. That's why this page exists.
As I began putting Damian into the car, I noticed a little trail around the southern tip of Quanaduck Cove, so we went to go check that out too. It's the Avalonia Land Conservancy's Simmons Preserve and it's teeny tiny, but it still has a story…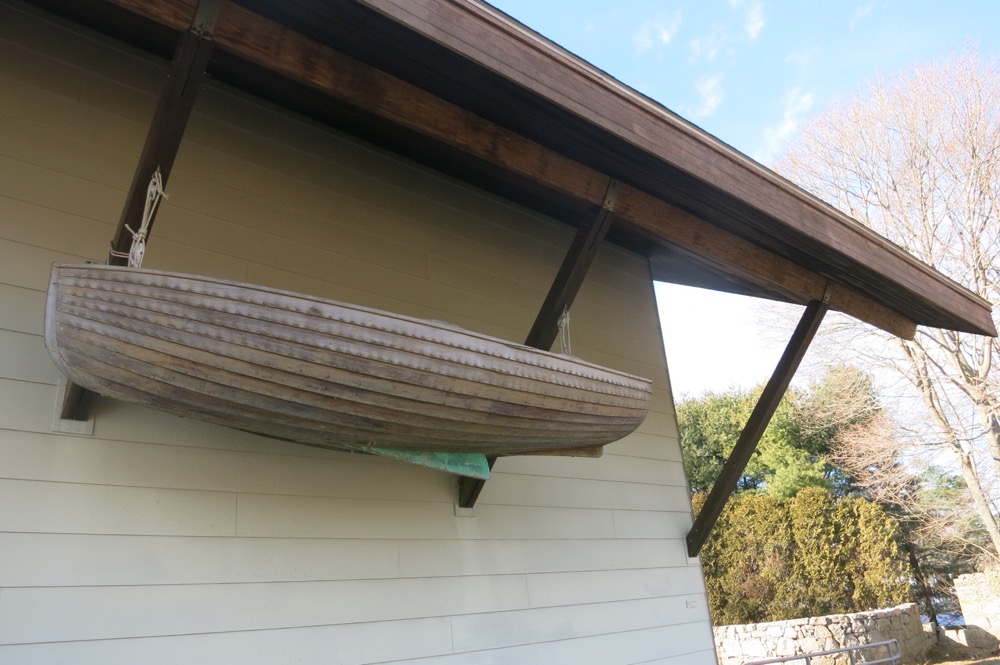 R.W. Woolworth Library and Research Center
Cool and Unique Libraries, Post Offices, & Schools
CTMQ's Museum Visits