Hello? Helloooooo?
Stonington (Google Maps location)
June 14, 2016
Stonington is one of Connecticut's most beautiful towns. I love it myself. And Stonington Borough within Stonington? It's a real, live, New England seafaring movie set town.
Museums, restaurants, jetties, history, curio shops, tree-lined alleyways… and this place. The James Merrill House right in the center of it all.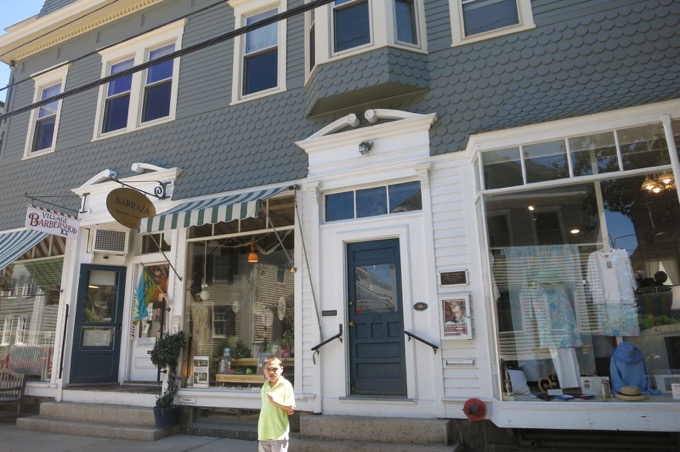 What's that? You've poked around the Borough yourself a few times and you've never heard of it? Well, friends, that's what I'm here for. Unfortunately, not everyone was "here" for my visit. Read on…
November 6, 2013, I write to inquire about visiting the house with very short notice. I tell them who I am and what I do and that I believe that the Merrill House certainly qualifies for a CTMQ visit.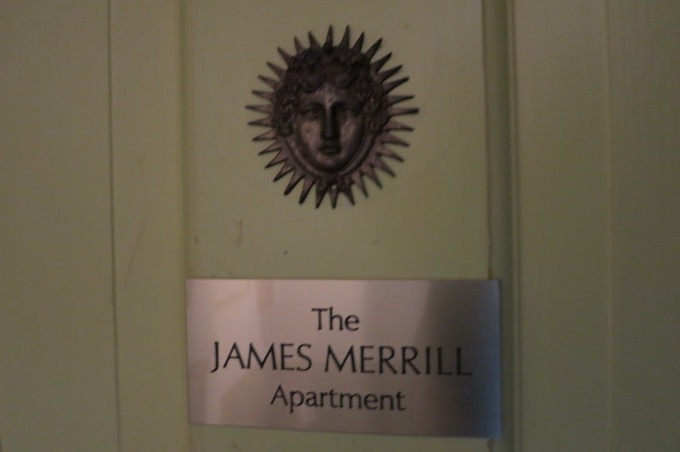 November 12, Lynn from the Merrill House Committee replies. She agrees that a visit is indeed warranted but is sorry she missed me this time. She notes, "we would love to share James Merrill's apartment with you." I reply that same day, "with Beer'd Brewing now in town, I have an excellent excuse to go down there more often."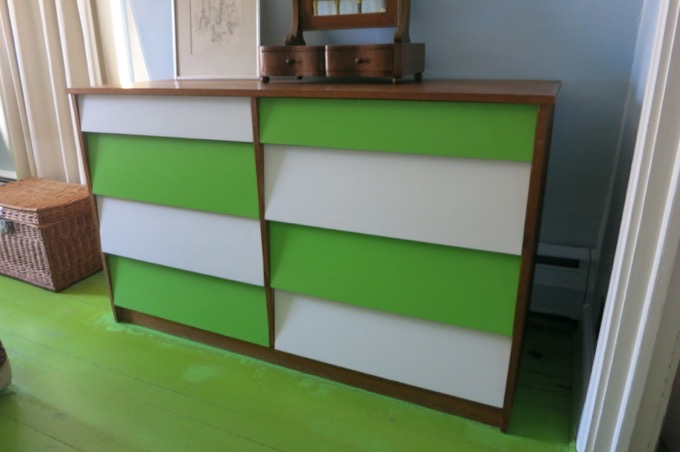 November 13, Lynn replies, "Beer'd is a very good reason to visit Stonington. We can stand being secondary to them." I note that I like these James Merrill people very much.
January 29, 2016, over two years later, I try again, with stupidly short notice.
February 5, A woman named Sally now handles the email and apologizes for her delayed response and for missing me again. Notes that she, too, would be happy to have me visit.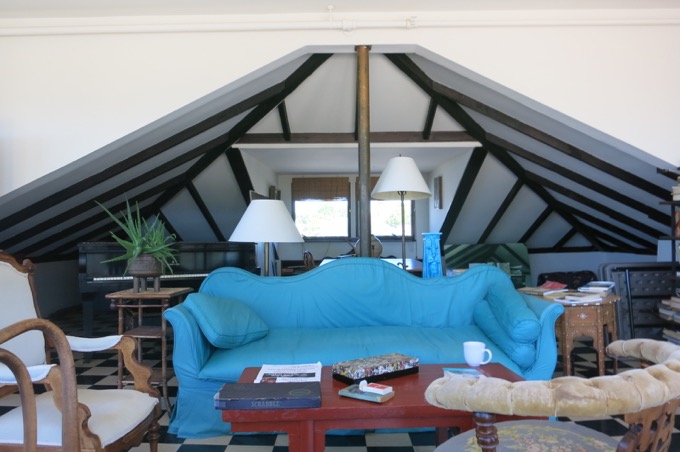 June 13, I try again. Sally responds within hours with a Mr. Noah Warren on copy. Noah was the writer-in-residence at the house at the time and she inquires if my suggested time of 1 PM would work for him. Noah responds quickly and notes that "the conservator will be here from 9:30 AM on, so whenever, really."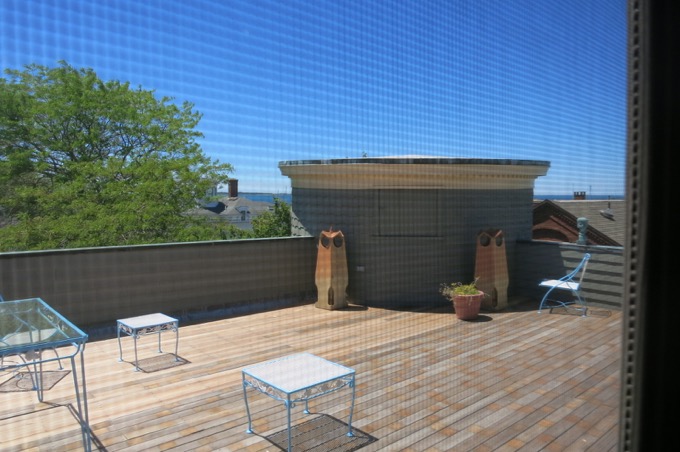 I respond with gratitude, give a little background, and give warning that my special needs son Damian will be with me, but that he won't be an issue.
Noah responds, "Just come upstairs and the apartment is on the right, all doors are open."
Fantastic. I love a solid plan!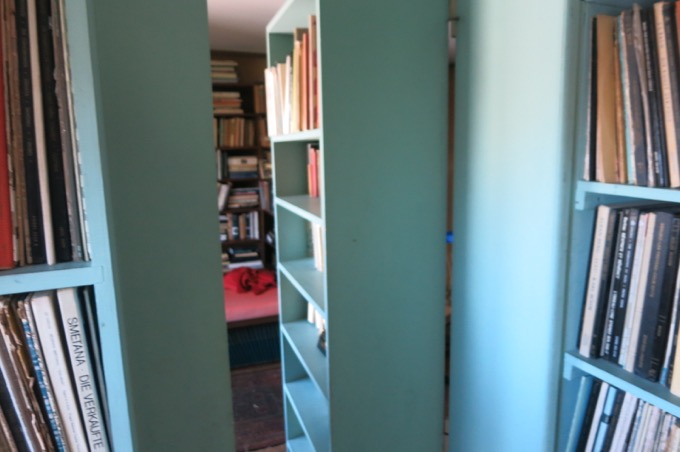 The American poet James Merrill and his partner David Jackson moved to the borough of Stonington, Connecticut, in 1954, purchasing a property at 107 Water Street. It had once been a nineteenth-century residential and commercial structure that had first served as a drug store and a residence for the owner's family. Merrill spent summers in Stonington borough until his death in 1995. Village life and the apartment itself inspired some of his most important work, including The Changing Light at Sandover, his book-length epic poem based on Merrill's and Jackson's communications with the spirit world by means of a Ouija board in the turret dining room on the third floor.
I admit my ignorance of all things Merrill… and poetry, really, but much respect to him and his success. Not sure about writing a "book-length epic poem" based on Ouija board nonsense, but hey, whatever works.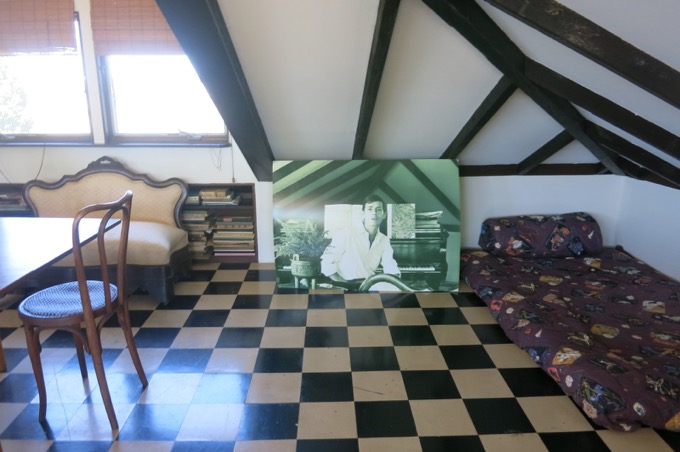 After James Merrill's death in 1995, the Stonington Village Improvement Association (SVIA) transformed the Jackson and Merrill apartments into a place for writers to live and work. A group of Stonington residents and friends of Merrill began a program that would make the apartment available, rent-free, to writers and scholars for academic-year residencies. The Merrill apartment looks much the way Merrill left it – the personally eclectic décor remains as it was two decades ago. In the years since Merrill's death, over thirty writers have used this space as a residence and retreat.
That's awesome. I know of a few writer's retreats around Connecticut… but I'd take downtown Stonington any day.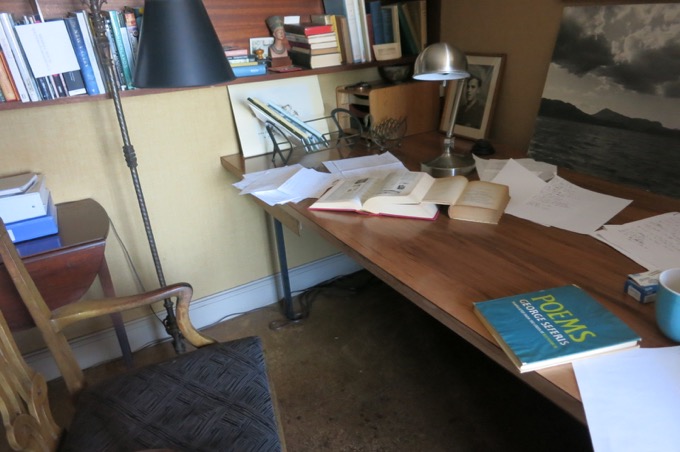 Damian and I arrived and climbed the stairs to the Merrill Apartment. I was very much looking forward to our tour and to learn about the poet. We knocked and waited.
Hey, James Merrill was the son of Charles Merrill, co-founder of Merrill-Lynch. He led a charmed life except… he was artistic and gay. I'm not sure how well this sat with the Merrill-Lynch patriarch, but regardless, Merrill went on to fancy schools and followed his heart and skills.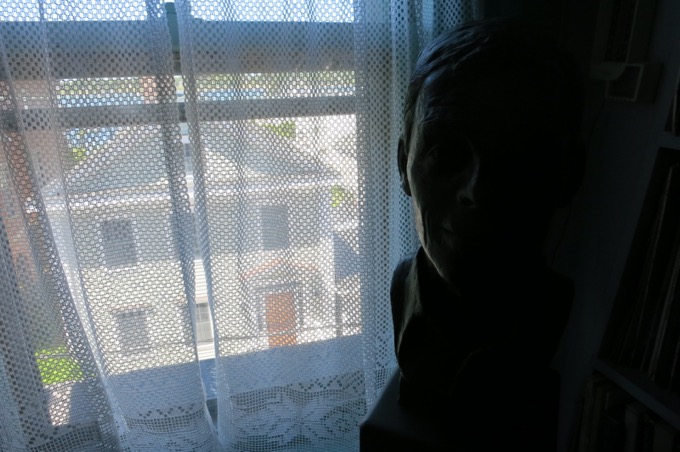 I knocked again. And waited some more. The house's website notes, regarding his sexuality and artistic bent:
Being brilliant hardly making the navigation easier. All of which perhaps illuminates Merrill's turn to a formalist poetic. The delight and reprieve of giving to life's confusions not only a lapidary vocabulary, but a meter, and a rhyme.

This exquisite imbrication of vivacity and form—astonishment and sapience, restraint and delight—is one way to understand the inimitable achievement of Merrill's poetry.
What in the world? That is… something. I knocked again, cracked the door open and shouted a friendly "hello?"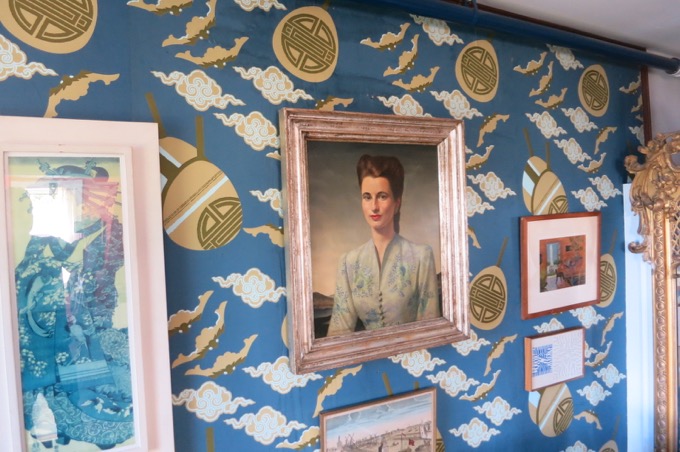 After James Merrill's death in 1995, the Stonington Village Improvement Association (SVIA) found itself the unexpected beneficiary of the entire building. The immediate question was what would be the best use for the now-empty apartment that had been home to one of America's most celebrated poets.
The SVIA's decision was to change nothing, to leave the apartment and its furnishings intact, and to provide a place for writers to live and work.
And now I was going to see that apartment. "Helloooo? Noah?" Nothing.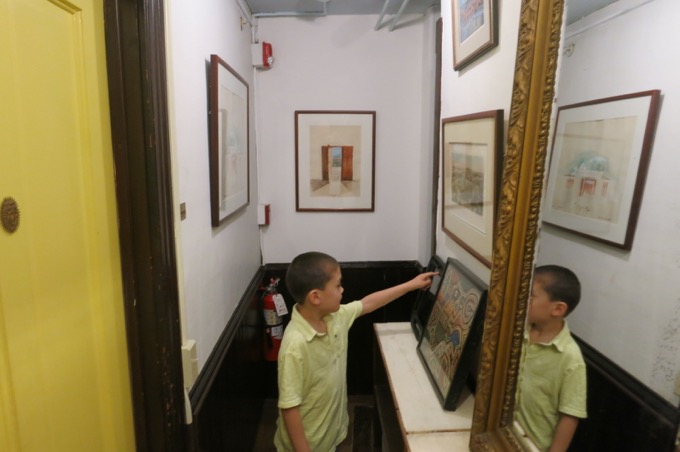 But the door was now open and if you go back and read Noah's email, "all doors are open." Indeed.
This was… weird. Really weird. And remember, I had Damian with me. This isn't like a one-room schoolhouse; this is a fully furnished apartment that some dude lives in. But now Damian had bumbled in and had taken up his own residency in the kitchen.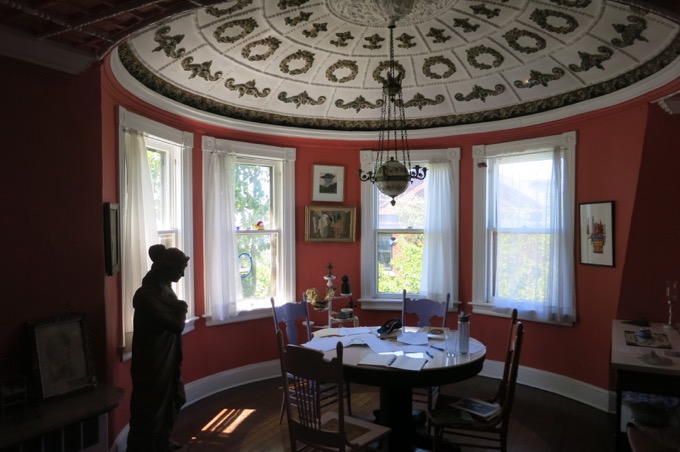 Okay then. I guess I'm here for the never-advertised self-guided tour. "Noah?" I sheepishly offered, hoping he wasn't indisposed. "Noah?" I croaked, thinking he may be out on the beautiful deck overlooking the borough with Long Island sound beyond.
Nope and nope. It was just me and Damian in a world famous poet's former residence. And what a cool apartment it is! Fashionably appointed with an original Eames Lounge ("Don't sit on that Damian!") and several other mid-century classics.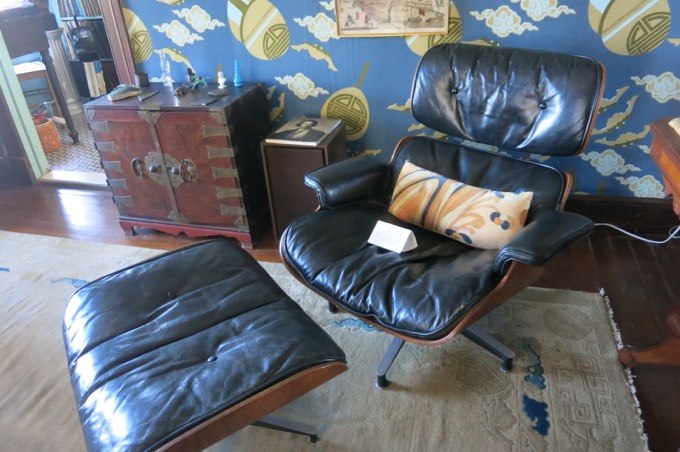 A bookcase door! Funky bat wallpaper! The circular dining room with the aforementioned Ouija Board! Oh, the Ouija Board. "The scene, then, ouija board on a round milk-glass table in a domed, round, red room in Stonington in the summer of 1976. Visible are James Merrill and David Jackson, each with the fingers of one hand balanced on an inverted cup. Unseen, however, is a crown of spirits; the souls of friends from various Stages, and others between lives, who ring the room to insulate the mediums with their affection from the lethal power of fifteen other "beings" also present."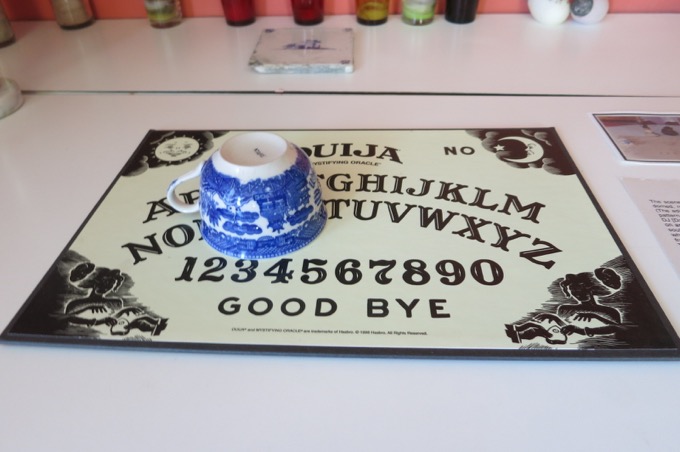 Okay then. Merrill was a bit of a kook.
But hey, I'm the one trespassing in his former home. I felt awful spying poet-in-residence Noah Warren's open notes and works. I was a violator. An interloper. I was worse than Merrill's imagined "other beings," for I was real. And I was really skulking about the place.
With a kid. An innocent little kid.
I took one last look around of the place and headed out, back down the steps and out to the sun-bathed streets that offered safety, anonymity, and a world where I wasn't breaking the law.
I thank the James Merrill house for being so open and accommodating to my visit. I apologize for plowing ahead, alone, instead of waiting for a more acceptable time. And I congratulate the house and its keepers for the relatively recent inclusion of the house on the list of National Historic Landmarks!
And please, everyone else, make your visit here to 107 Water Street a more, um, legal one.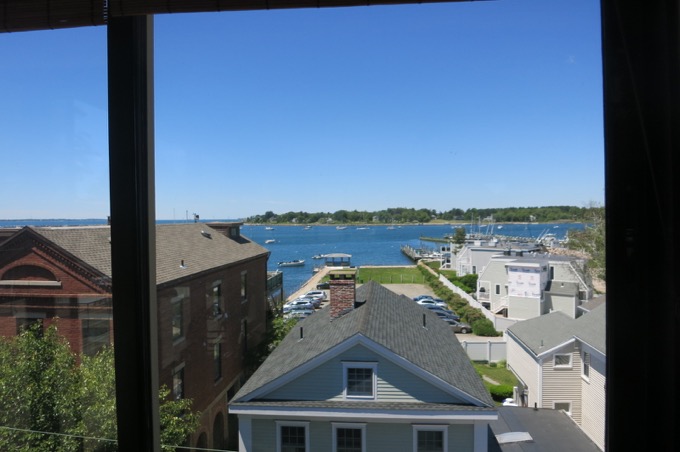 The James Merrill House
CTMQ visits CT's National Historic Landmarks
CTMQ's Museum Visits