Knox on Wood
Knox Family Farm Preserve, Stonington
February 1, 2014
I used this hike as sort of a test. Could I drive to the furthest (by time) spot in Connecticut (more or less) alone with my two boys, hike a long (for them) hike, go to lunch, go to Beer'd Brewing (since I'd be down there), and then drive home. Calvin is not yet three and Damian is… Damian is Damian.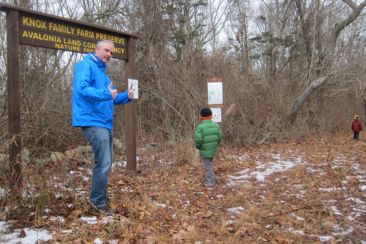 Cutting to the finale – success!
I didn't decide to take this trip until the night before when I was enjoying another Beer'd beer – it was so darn good that while Hoang had the boys at her parents for Tet (Vietnamese New Year), I decided then and there I was driving to Stonington on Sunday. I simply had to.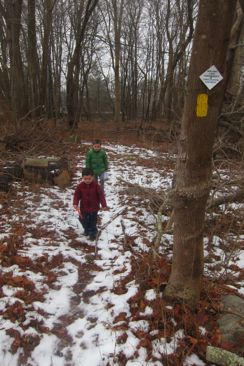 So I did. This was my first Avalonia hike and I was impressed. The signage and the trail maintenance were excellent, but really, the mere existence of the access trail to the property is nothing short of heroic.
With these small parcels, access is often an issue. In this case, a fairly long and winding easement was achieved from more than one land owner. Not only that, the Darling Hill Farm allows for parking at the end of their driveway – at least I think they do, though to be courteous, there appears to be only space for one car there. It's a very long driveway, but still. Be respectful.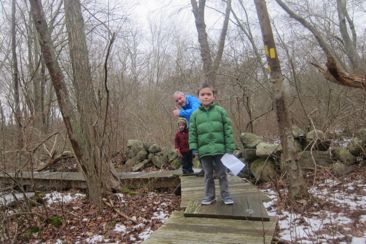 Part of being respectful is following the cleared and marked trail in the easement (rather than just walking up the driveway). Besides, it's cool to walk along the property lines and think about the work that went in to securing easements like this.
The trail follows a long stone wall into the woods, then up a hill in front of a massive house. Damian, as always, hemmed and hawed about the hike and repeatedly said he didn't want to do it. But an amazing dynamic is emerging now with Calvin leading the way; imploring his brother to "hurry up, D!" over and over.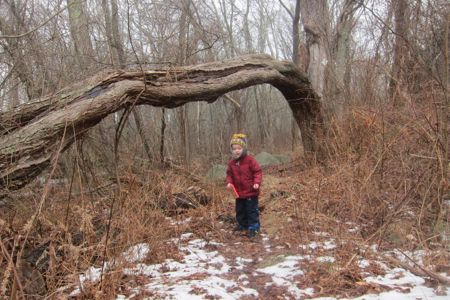 And Damian, for the most part, listens to him. (In case you're new to the CTMQ game, Damian has a rare syndrome called Smith-Magenis Syndrome. He is intellectually, physically and behaviorally disabled. Physical effort for him is very low on his enjoyment scale – but he's getting better and better!)
Once up the snowy hill and through the pricker bushes (I'm quite sure this is less fun come summer), the trail gets a bit more interesting as you must cross the aforementioned driveway, past a garage/shed, and then through a fence and into a field.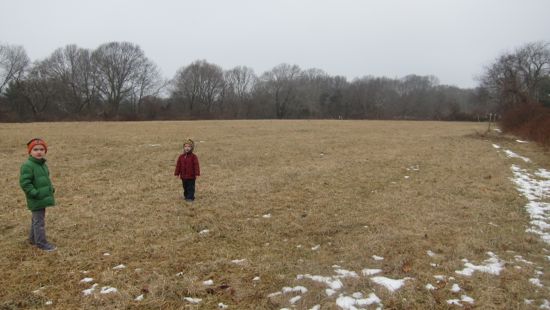 In doing so, you'll pass a horse barn and if you're lucky, you'll get to hang out with the horses. The day we passed, there was also a little pony hanging around too. Calvin is still a bit terrified of large animals, but he did pretty well and we went out into the field.
Once there, CONTINUE FOLLOWING THE EASEMENT TRAIL MARKERS and don't just cut across the field. Two reasons: One, the field is a farmed field so don't mess with it and two, there's horse crap everywhere and staying on the path minimizes the chances of your stepping in it.
The trail reaches the actual Knox Family Farm Preserve after the open field walk so now I can tell you that the property was donated to Avalonia in 2009 by Patricia Kitchings, widow of H. Howard Knox, and his sister, Susan Knox. The preserve features wooded areas with a kettle pond and boulder moraine on the east side of Quiambaug Cove.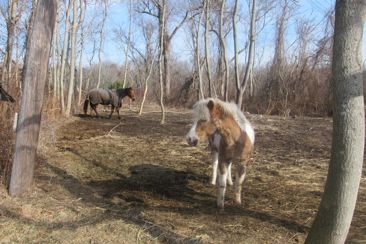 Once into the woods, the trail splits: the left route is a bit steeper down a hill and the straight way is less steep. Despite the snow and mud, we took the steeper way down. Blame Calvin.
More stone walls and hardwood forest and then voila! The Quiambog Cove! Sure, it was mostly frozen over during our hike, but the boys didn't care. I even got one of the best pictures of the two of them ever!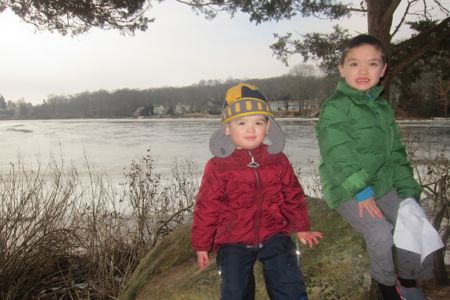 There's a loop along the cove which we took and then headed back up the hill from whence we came. It was at this time my two-year-old alerted me that he had to relieve his bowels. Great. Also, he was now getting scared of the impending encounter with the horses (Still a good 20 minutes in the future). Double great.
Somehow we all survived and Calvin held it until we go to a restaurant for lunch. Damian was fantastic on this hike and never once asked to be picked up and only said he wanted to go back to the car one time. That is a huge victory for me.

CTMQ's Avalonia Land Trust Trails
CTMQ's Land Trust Trails