The Sky's the Limit 2017 Hiking Challenge #1
Stratton Brook State Park, Simsbury
February 18, 2017
Saturday, February 18th, 11:41 AM.
The thought dawns on me that the CT DEEP should have just released the 2017 Sky's the Limit Challenge. Google. Click. There it is! Scan list. Scratch head. Scan again, this time reading for content.
I was told it would be a bit different this year. That it would be "interesting." It is both different and interesting. As I see it, the 2017 Challenge is more of a "Seek your own adventure" type thing than in years past. A person can complete the 2017 Challenge in just a few days of driving around and walking a total of a few miles.
OR a person could spend the summer exploring the parks and histories of the Challenge points. It's up to you. Perhaps last year's 1,000+ miles of driving and 40-ish miles of hiking wasn't well-received. (I do know that the total number of finishers declined by almost a third from 2015 to 2016.)
12:19 PM.
My wife arrives at home with Calvin after his swimming lessons. I excitedly tell her about the newly released TSTL Challenge list. She pretends to care for as long as she can. She goes about her day.
12:39 PM.
Lunch done, the boys and I get in the car and head out for our first Challenge photo of the year.
12:51 PM.
Done.
Yup. That was that. We aren't even required to take pictures with the park crest signs this year. The DEEP suggests that you "plan to bike the entire 54 miles of the Farmington Canal Heritage Trail" which is pretty cool.
The DEEP also provides some history on this rather boring scene:
The old Central New England Railroad line (discontinued this section of the line in 1937) now cuts across the south edge of the beach and is a bike trail between the Farmington River Rail Trail and the Farmington Canal Heritage Trail. The railroad station, as seen in this photo, was located at the intersection of Stratton Brook Road and Town Forest Road .3 miles north of the Stratton Brook State Park covered bridge. Stratton Brook Depot was a flag stop station. The train would only stop for disembarking passengers or if it was flagged by a waiting passenger at the Depot.
Hm. If the photo was taken at the intersection mentioned (which is where my photo of the boys was taken), it is 0.3 miles south of the current Stratton Brook State Park covered bridge. But I'm quibbling.
1:09 PM.
Celebrate.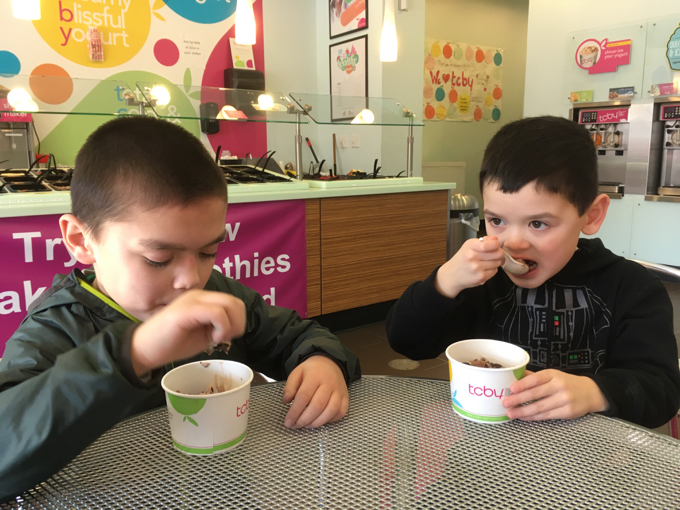 Yes, it's ridiculous that they were rewarded for hopping out of the car and smiling and hopping back in. But our free TCBY coupon was expiring soon.
But! But I don't feel guilty – and not because TCBY is fat free. I don't feel guilty because I previously took the boys for a fairly extensive hike through Stratton Brook State Park. Back in 2013, it was one of the very first hikes on which I took both boys.
So if this page didn't really do it for you, hopefully the one about the other hikes will.
9:09 PM.
Plan to get another one done tomorrow.

CTMQ's 2017 The Sky's the Limit Challenge
CTMQ's Stratton Brook State Park Intro
Stratton Brook State Park
Stratton Brook State Park Map
CTMQ's State Parks, Forests, Reserves, & Preserves