Stratton Brook State Park
Simsbury
I live in West Hartford, but when we were house-shopping for a few years, I was really pushing for Simsbury. I love Simsbury and heck, if my wife wanted the WeHa Lyfe so badly, she could make the short drive as needed. State Parks! State Forest! Mountains! Miles and miles of trails! An awesome library! Slightly lower taxes.
We bought in West Hartford. Again. At least Stratton Brook is still close by.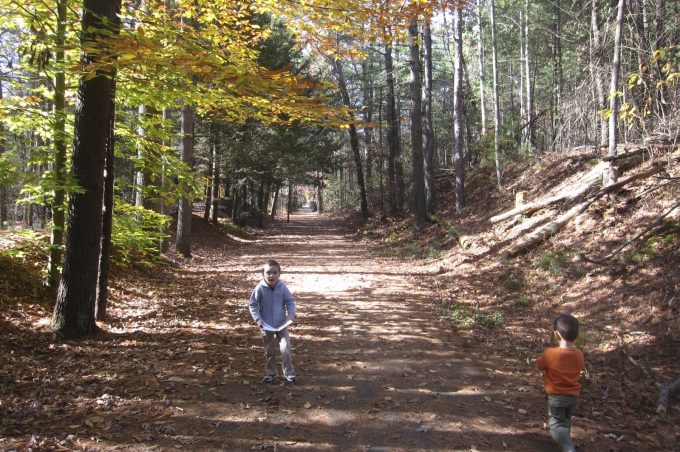 This 148-acre state park includes a pond and brook for fishing, a separate swimming pond, and a picnic shelter as well as trails for hiking and biking. The park was acquired in 1908 as part of Massacoe State Forest for the purpose of demonstrating forest fire control techniques in areas adjacent to railroad lines. The Town of Simsbury built the bike path on the former Central New England Railroad bed; it extends through Simsbury Town Forest Park to West Mountain Road. Massacoe Pond, the small fishing pond, resulted from a dam built by the Civilian Conservation Corps in 1933. Replete with a large numbers of white pines with mixed hardwoods, this park is a fine example of a sand plain forest. Spring brings wildflowers such as rue anemone, white and birdfoot violets, fringed polygala (gaywings), and lady slippers. Along the edges of the park's open spaces are good spots to see a wide variety of warblers, brown thrashers, cedar waxwings, woodpeckers, and other interesting birds.
Oh, in 1949 it was designated as a state park and in 1996, this park became Connecticut's first state park that is completely accessible by wheelchair.

All Things Stratton Brook
East-Trail Section 1 (TBD, potential future Trail)
Stratton Brook Trails
TSTL 2017 at Stratton Brook
Farmington River Trail (Rails-to-Trails)
Stratton Brook Nature Center
Stratton Brook Covered Bridge

Stratton Brook State Park
Stratton Brook State Park Map
CTMQ's State Parks, Forests, Reserves, & Preserves