A Hunting We Will Go… Unfulfilled
Windsor
Way back in the beginning of CTMQ in 2006, back when it was Connecticut Museum Quest and was solely focused on museums… this museum in Windsor had already (just) closed. I had no chance of ever seeing it for the purposes of this website. Therefore, it falls outside of my parameters for inclusion.
Hm? What's that? I'm including it anyway?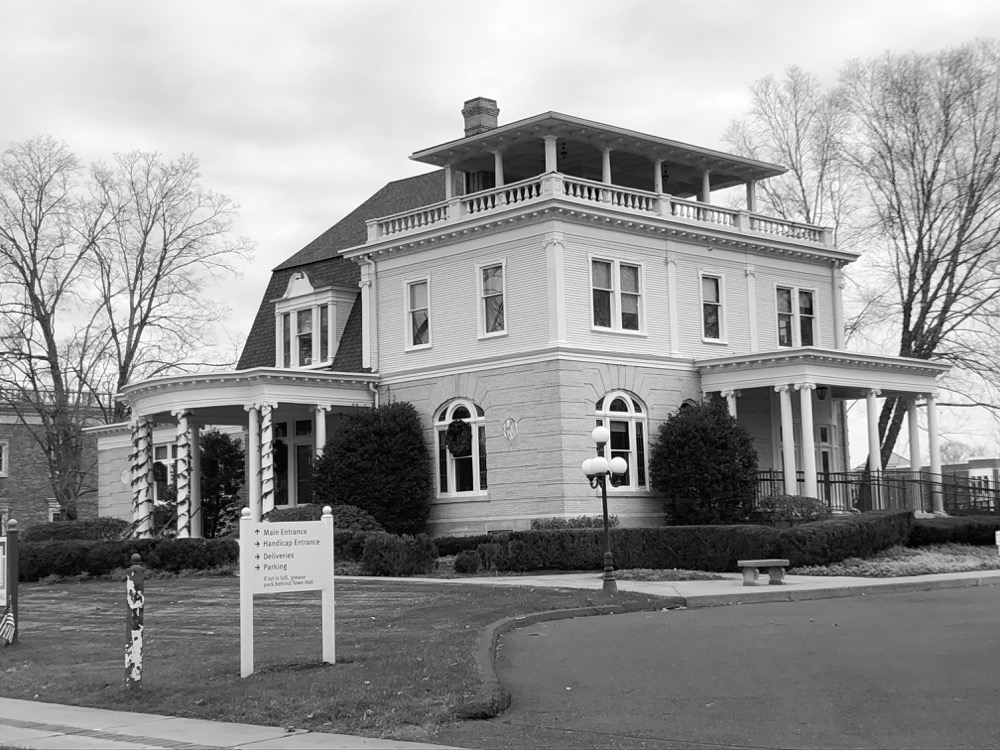 Yeah, I'm including it anyway. I just like the building I guess. And the cautionary tale it provides. First, the building:
In 1901, Henry and Mary Huntington purchased this land to build their home at 289 Broad Street. A mixture of classical columns and asymmetrical porches and balconies, the new house had a unique style that distinguished it from its Victorian and Colonial neighbors. (It was modeled after a Newport, RI mansion.) The Huntingtons' attention to detail continued inside where the décor included the finest wallpapers, built-in cabinetry, and stained-glass windows available at the time. After Mary's death in 1968, the home passed to her son, Clark, who lived there until his death in 1998.
The house sat vacant and crumbling for a few years until local developer and arts supporter Dan Ferraina bought it. He dumped half a million into it; refurbishing it, adding a sprinkler system, making it ADA compliant, etc. Then he filled it with his (I think) art collection and opened the Huntington House Museum in 2001.
Ferraina has had his own art exhibited at the Windsor Art Center in the past and really wanted to give his longtime hometown a fancy art museum it may not have deserved. The Hartford Courant spells it out in this 2005 article:
When the Huntington House Museum opened in the fall of 2001, Michael Rabbett, a Windsor businessman and president of the museum's board, said the biggest challenge would be developing community support.

"Without it we'll be dead," Rabbett said at the time.

Less than four years later, Rabbett's warning looks prophetic. The museum announced Wednesday that it would close for good.

"It was a surprise when it happened, but I think we were only kidding ourselves," Rabbett said Wednesday. "People in town weren't supporting it. We should have closed two years ago."

The art museum was the dream of Daniel Ferraina, a local developer, and his wife, Alice, who stepped forward and bought the dilapidated, three-story, neo-classical Colonial revival home built in 1901 for $350,000 when it appeared to be heading for demolition.

Ferraina leased the building for $1 a year to the Huntington House Museum Inc., which was formed to operate the museum, build an endowment, maintain the building and make it financially self-sufficient.

Through membership drives, the nonprofit corporation initially raised about $165,000. But with an annual operating budget of about $160,000 and museum membership stalled at about 200, Rabbett said the effort fell short of what was needed. Ferraina continued to help out financially, but became disillusioned with the lack of community support.

"That's not enough when you have a town of 30,000," Rabbett said. "If we had 5,000 members he would have continued to support it."

Rabbett said he received a letter from Ferraina at the end of July informing him that the lease would not be renewed and that the property would be put up for sale in January. He said the board held an emergency meeting and decided not to try to persuade Ferraina to change his mind.

"There was no thought of that," Rabbett said. "I don't disagree with him."

Ferraina said Wednesday that the general lack of support and concern from residents over the last several years wore him down to the point that he felt the town didn't deserve the museum.

"I just lost faith in the community in its commitment to support this kind of venue," said Ferraina, who added that he had continued to pay more than $13,000 a year in taxes on the property as well. "I personally just got tired of it."

Mayor Donald Trinks said Wednesday that he felt bad for Ferraina and understood his frustration.

"I thought and he thought the town would support it," Trinks said.
This guy seemed pretty miffed at his neighbors for not financially supporting his vanity art museum project. It's pretty rare that everyone involved (the mayor, the benefactor, the board, the residents) are all in agreement, like, "yeah, okay, close it up."
It was sold and became the headquarters for J. Morrisey and Co., a professional job placement company. Hey, at least there's no more confusion about Huntington House Museums in Connecticut, as there's another one in Scotland.