The Original Charter Oaksters Would Be Proud
Hartford (Google Maps location)
March 4, 2010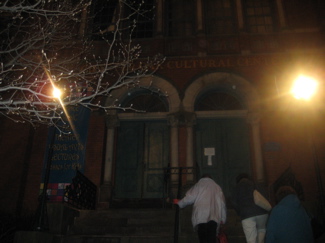 Let the record show that it was this place, the Charter Oak Cultural Center, more than any other that opened up the world of small quasi-museums to me and this blog. I made the decision in the weeks (yes, it took weeks) surrounding this visit to begin including such places because, well, because I thought it was the right thing to do.
And after visiting the COCC, I'm convinced it was the right decision. (Of course, I'm a bit scared that there are many towns with similar resources… But I'm not so sure. I mean, this place has some serious history and attracts an incredibly diverse audience through its myriad programs and offerings.)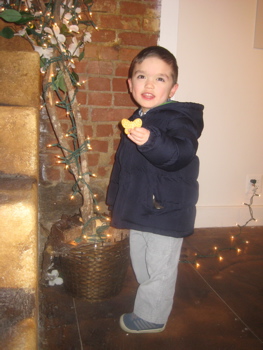 I'd go so far as to say that the COCC isn't a "quasi-museum" or even a "mini-museum." It's actually more of a "museum-plus" museum. It has a huge ornate auditorium, dance troupes, puts on shows, book readings, and all sorts of cultural events. The building itself is historic and architecturally interesting.
And we're lucky it's still standing. Because yup, Hartford once again was poised to demolish one of its gems. Charter Oak Cultural Center is housed in Connecticut's oldest synagogue. Built in 1876, this building was born out of the struggle for religious freedom- a constitutional amendment was required to allow its construction as a non-Congregationalist house of worship. The building was home to Congregation Beth Israel until 1936, and then to the Calvary Baptist Church until 1972.
The building stood abandoned until the late 1970's, when a plan by the city to demolish it elicited a strong response and led to the mobilization of a small group of Jewish leaders. The building was saved, and subsequently placed on the National Register of Historic Monuments and was transformed into a multi-cultural arts center.
Hallelujah-Mazel Tov! (Not in that order.)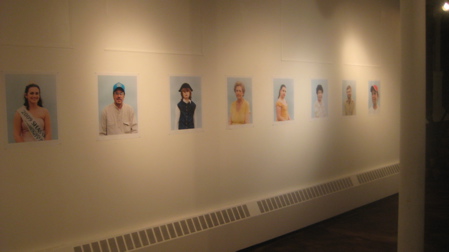 And please note: While there are a billion things in the state co-opting the good name of the Charter Oak, this place actually deserves to do so, as it stands mere feet from the mythic tree. (CTMQ's report on the mythic tree here.)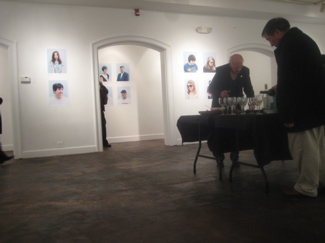 I picked up Damian from daycare and made the always interesting drive from West Hartford center through Parkville and Frog Hollow in Hartford to get to the Center. I figured that that drive would prime the two of us for some serious "culture," as stopping at 40 red lights next to all sorts of bodegas, Vietnamese joints, Brazilian bakeries, Portuguese bars, Korean shops, Columbian coffee stands, Afro-centric barber shops… Park Street is really a gem and now that Hartford has spruced it up with lighting and brick, it stands poised to put all the fancy down town "development progress" to shame.
I really, really mean that. For one, people actually LIVE here. And CARE about the place. I really hope the relative safety and progress in Parkville stretches to Frog Hollow. That would make my multi-cultured liberal heart feel good.
So, as I was saying, Damian and I made the trip on a cold night to attend a triple-exhibit opening. This has become a fun "thing" for us to do now. I go for the museum and free wine, Damian goes for the free cheese and grapes that always seem to be available. He distracts the artists and gallery owners while I'm free to snap the pictures I need for the blog. We make a good team, that boy and me.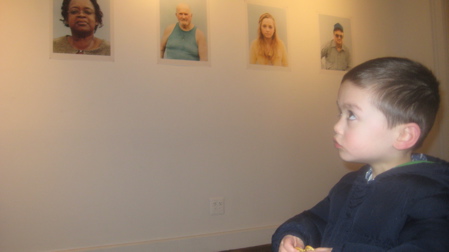 The building is old and has a slight mustiness to it, which belies the fact that the two lower-floor galleries are bright and clean and have a modern feel to them. The dissonance of the two worlds colliding actually works for the galleries.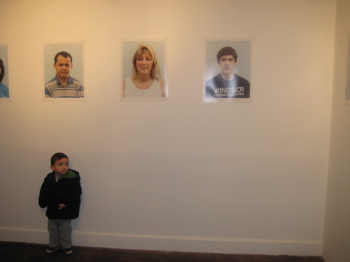 We made our way through the hall to the biggest gallery and took in the photographic work of one Patrick Lyn. His "Portrait of a Town" exhibit was merely large scale photos of random anybodies from Windsor, CT. The gritty work was pretty cool; to be surrounded by Windsorites staring at me and Damian scoring free food and drink sort of kept us from indulging too much.
Scratch that – Damian pawed and ate more than our share of cheese. But once he got a cracker shaped like a butterfly, he was all set, walking around "flying" the cracker saying "butt" over and over. While pontificating upon the merits of the various exhibits, that is.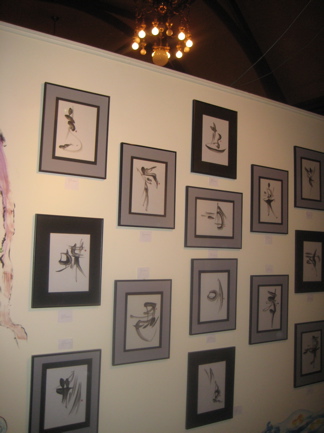 I enjoyed Patrick's work, and he kept eyeing me as though he wished to talk about it (since I was taking pictures of it), but Damian kept me too busy to do so. Oh well… Mr. Lyn has some cool stuff on his site, so check it out.
We would out way back out to the cramped hallway and followed hastily written signs up some creaky stairs. I didn't expect much at the top, but once up there, the space opened up to reveal another "gallery" and a large auditorium. Oh, and some more wine and cheese! I love this stuff.
The exhibit up here was, I believe, the artwork of Lorelei Chang. I'm not sure though, it may have been her sister's art. I'm confused because the brochure I picked up is for Ms. Chang's dance studio, which, I believe, was putting on a dance recital as we perused the art. The art was definitely Chinese-inspired. The dance choreographer was definitely a woman of Chinese descent. And Damian definitely flew his butterfly cracker all around the space while I tried to absorb some more culture.
Ah, now that her website has loaded, I'm pretty certain the multi-talented Ms. Chang was indeed the artist AND the dance instructor. Her art was beautiful and the dancing was a bit odd, but somehow it fit the mixed up space – and I mean that in a good way.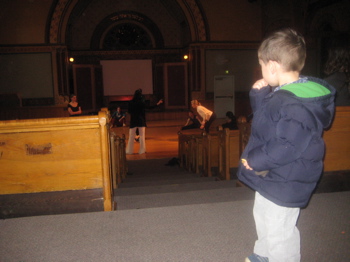 Damian was a bit scared of the dancers, as they were making some very loud slappy noises on and off, so we adjourned to the back of the room, scored some more cheese, and I noticed a cool cut-away in the wall to reveal some of the original artwork on the original walls. It should also be noted that there are some beautiful stained glass windows up there as well.
Yes, we were eating American made cheese while viewing Chinese calligraphy art with a multi-cultural dance ensemble 20 feet away underneath 100 year old stained glass in the first synagogue built in Connecticut. And you were questioning whether or not this is a museum?!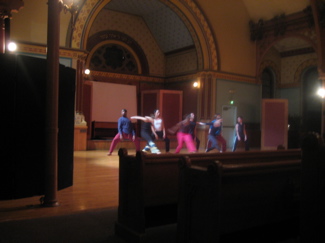 That said, now would be a good time to read what the COCC says about itself:
Charter Oak Cultural Center is a rare and wonderful place. [I've said as much – Steve] Built in 1876, the state's first synagogue has always been a symbol of the sacred struggle for the freedom of religious and cultural expression. Restored by a group of Hartford-area residents, Charter Oak Cultural Center is now a non-profit arts resource for the exploration of the world's cultures, especially those strongly represented in the Hartford region. It is home to three beautiful gallery spaces and an extraordinary performance space. Through exhibitions, performances, in-school programs, lectures and workshops, the Center is providing the residents of the neighborhood, the greater Hartford area and the state with the opportunity to learn, celebrate, and understand a diversity of cultures.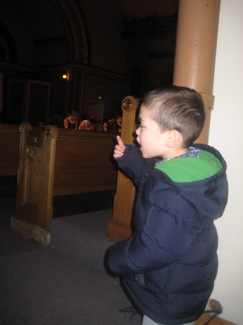 The Charter Oak Cultural Center, long an arts showcase for Hartford's diverse communities, offers multicultural arts and education programming in its restored landmark building, Connecticut's first synagogue.
The mission of Charter Oak Cultural Center is actually three-fold:
To preserve and celebrate the Jewish heritage of the building
To be a place known for making readily available performing and visual arts that reflect the multi-cultural community in which Charter Oak is blessed to be located
To do the work of social justice, which we see as not being separate from , but part and parcel of, both the Jewish heritage of the building and of the desire to make sure that the arts are accessible to all who wish to enjoy them.
Noble goals, all. Before checking out the last gallery space, I noticed in the way-too-dark hallway back downstairs a rather detailed and interesting display outlining the history of the Jewish experience in Hartford and Connecticut. Unfortunately, Damian was getting a bit antsy at this point, so I didn't get a chance to absorb it all.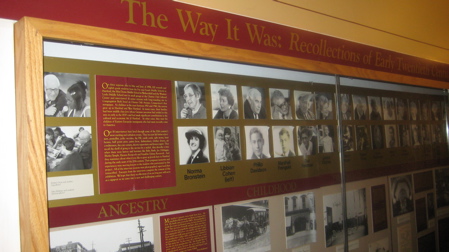 At the time, I didn't know that this was the first synagogue in the state, so I thought it was just a random display on loan from, perhaps, the Greater Hartford Jewish History Center (CTMQ Visit here). I snapped a few pictures of it, but can't glean too much from them. Oh well, something tells me I'll be back here someday and will spend more time with the mural then.
On to the last – and smallest by far – little gallery.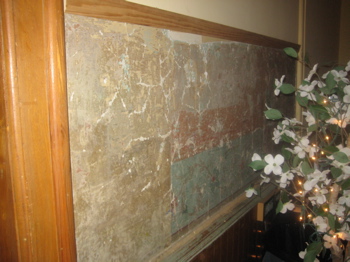 And, maybe, one of my favorite art exhibits I've seen thus far on my travels. I wish I had known about it in advance, for we'd have hit this small room first rather than passing it by for the glitz of the larger Patrick Lyn photography exhibit. For you see, this exhibit showcased the work of one Ben Carroll, a 15-year-old painter of exotic animals.
Ben Carroll was born in Bulgaria, in July of 1994. He was placed in an orphanage and basically neglected. When he was 18 months old, Ed and Laura-Lee Carroll took him into their hearts and into their home and the healing began. Love, prayers and nurturing became part of Ben's daily life and by the grace of God his life began to change.
On October 16, 2004 Ben had his art show, which was called "Benny's World" and many friends (including his teachers and doctors) and his family, came to the reception to view his work and to encourage him. Benny was beaming because he knew that this day was his and he was so proud of himself.
Well, he should be because his paintings are really quite excellent. In fact, I'm going to purchase a couple prints – I dig the parrot one and the panda one. They really remind me of the Brown Bear, Brown Bear stuff by Eric Carle (who, by the way, has a museum up in Massachusetts).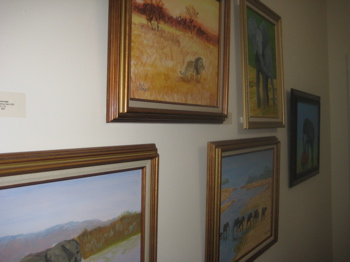 Ben was there and eager to talk, but Damian was really ready to hit the road.
Oh yeah, did I mention that Ben is autistic? Yup. He even attends the Intensive Education Academy which is right in my neighborhood in West Hartford. I was beyond impressed with Ben's art and his poise. I didn't mention Damian's special needs to Ben's mom because, well, I'm trying to live my life having Damian being defined by Damian, not by his Smith-Magenis Syndrome – just like Ben's life is defined by his art and his passion before his autism.
And that, my friends, is my 2 cents in changing the culture we live in, one reader at a time. And what better place to note this than at the Charter Oak Cultural Center?