Keney Memorial Clock Tower
Hartford
130 feet tall
It is the rare list on CTMQ that I know I'll never "complete" in a way that feels complete. My list of towers, lookouts, and observation decks is one such list. Simply put, there are a lot of these things that are inaccessible.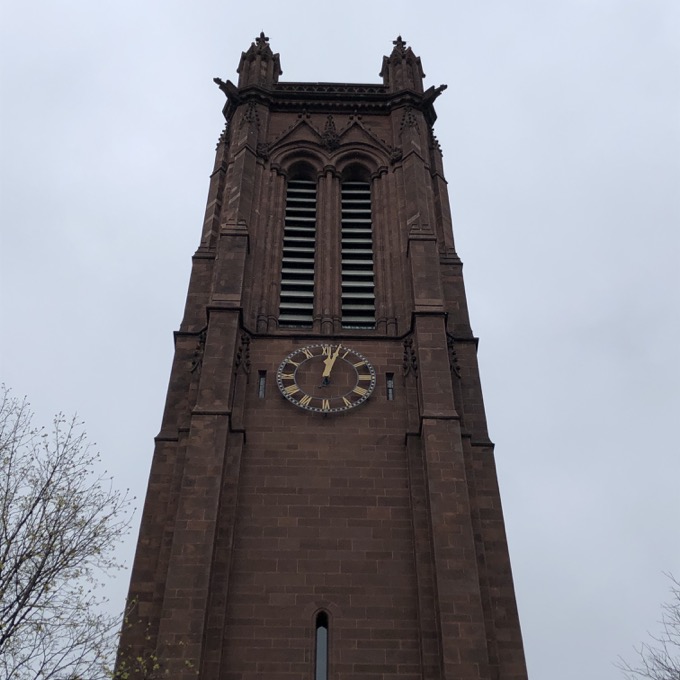 Which is a bummer. I have thought about reaching out to some people I know to try to get up the Keney Memorial Clock Tower, and I may actually do it some day, but for now… let's just enjoy it from below.
The tower was constructed of brownstone in 1898 in an area of Hartford just north of downtown that is quite different over a century later. It was designed by Charles C. Haight and was modeled on the Tour Saint-Jacques, a surviving Gothic tower in Paris. The Keney Clock Tower is said to be Hartford's only free-standing tower – and I can't dispute that claim off the top of my head.
It is located in the DoNo area at the southeast corner of Main and Ely Streets. (It is across the street from Hartford's truest flatiron building, a couple blocks north of the baseball stadium.) Years ago this area was surrounded by homes of course:
Here are some fancy words from Wikipedia that I don't understand:
Its verticality is heightened by corner buttresses, and pinnacles that rise above its roof to finial crosses. There are clock faces on all four sides, above which are lancet-arched louvers around the chamber housing chiming bells that sound every quarter hour.
We'll get to those chimes in a bit. For the moment, let's go back to the original story. The tower was built on land that belonged at the time to the locally prominent Keney family. Most people are familiar with Hartford's Keney Park and yes, its the same family. Obviously. Its construction was done by the family under the terms of the will of Henry Keney, who sought to memorialize his wholesale grocery business, H. & W. Keney.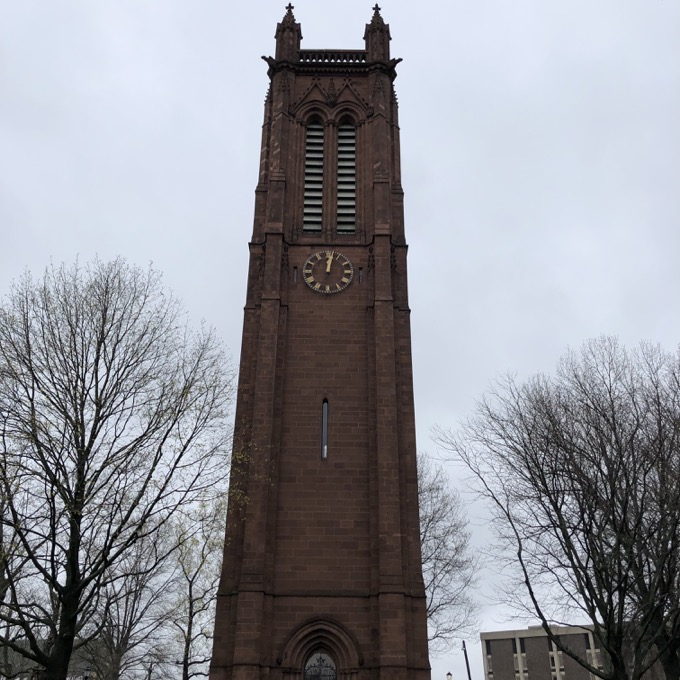 Which if true, is really weird. I've heard this about the tower several times and just find it so odd that the guy built this thing for his grocery store. His family apparently felt the same way and instead of paying homage to the store, they placed a plaque inside the tower that reads:
This tower, erected to the memory of my mother, is designed to preserve from other occupancy the ground sacred to me as her home and to stand in perpetual honor to the wisdom, goodness and womanly nobility of her to whose guidance I owe my success in life and its chief joy – Henry Keney.
No mention of his grocery store. Imagine if the plaque was written to it? Selfishly, I wish it was as this page would be infinitely more interesting. As it is, I can make it at least a lot more interesting – and no, it's more than the fact that the tower has a face: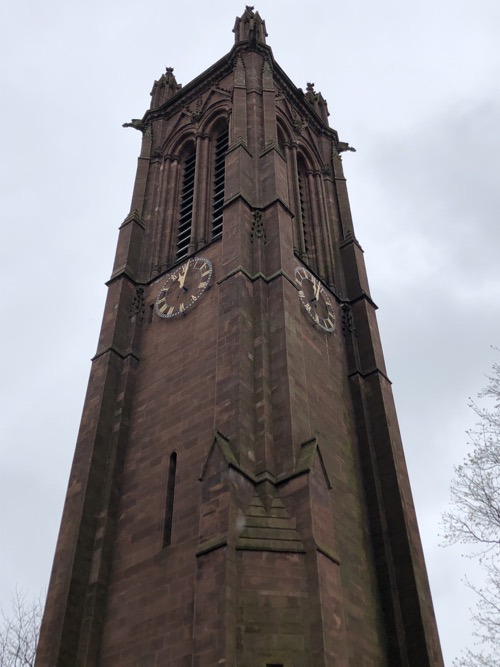 Remember those chimes? And y'know how this is a clock tower after all? Residents of the area were probably surprised one day when the clock started working again and the bells started ringing. Neither worked for many years in the 90's and 00's. (The tower was covered in graffiti and in total disrepair in the 1990's, and the city did clean it up a bit… just not the actual inner workings of it.)
In 2019, the historic tower's original chimes began ringing again through a partnership with the City of Hartford, the nonprofit Friends of Keney Park and Keney Park Sustainability Project, the UConn Office of Service Learning Initiatives, and the UConn School of Engineering's Mechanical Engineering Senior Design program. That's a mouthful but when it comes to funding these types of things, you need a lot of help.
The students were given access to the tower and the mechanisms and got to work. The full story is captured nicely here, and I encourage you to read it. (UConn engineering students have been working on the much larger and much crazier Thrall Hall in East Windsor – one of my favorite places I've visited in Connecticut.)
The students gained access and assessed the mechanisms. Several attempts at modernization over the years resulted in a hodge-podge of antiquated parts and obsolete parts and poor attempts at digital parts. 3-D printers were involved as well as good old-fashioned engineering. It's a really cool story and… in April 2020, only one clock wasn't in time with the others and… I didn't hear any bells even though I was there at noon, but maybe I just didn't notice.
Regardless, shout out to those students for their work and to Hartford for continuing to keep this pocket park well-maintained in 2020. The tower is probably missed by most everyone who drives past it, even though it's literally right next to one of the busiest intersections in the city.
All built for a grocery store. That still cracks me up.