Does "Colonial" Infer "Worker Bees?"
Aetna, Inc's Headquarters, Hartford
May 16, 2008
CVS bought Aetna in 2018.
This post wasn't a planned one at all – I found all this stuff out while researching the exciting Geographic center of Hartford. Turns out that the massive Aetna Insurance building holds some rather impressive – and CTMQ-worthy – distinctions.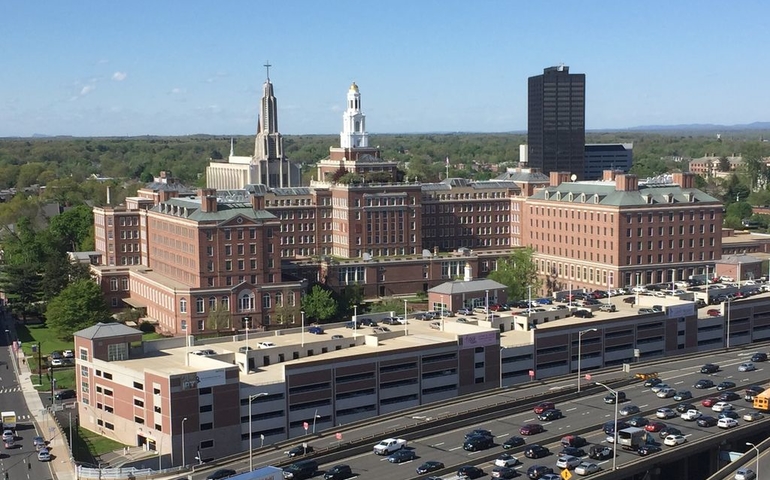 it is the largest "colonial-revival style building in the world." THE WORLD I SAYS. Of course, as my architectural student wife says, "Are there even colonial buildings outside of the US?" If you think about it, she has a good point. So I decided to check out the building – now, all of images below are from the aetna.com website, but I took a few of my own that sort of stunk (I didn't want to flash) – there is something weird about snapping pictures inside an office building. (State Legislative Offices notwithstanding)
However, as you'll see, I did run into a rather important Aetna employee… First, some good info from the company website:
This building is Aetna's fifth home. Prior to 1931, Aetna's home office buildings had, for nearly 80 years, been located in the heart of downtown Hartford. The move to this "suburban campus" was extraordinary in that it was considered an inconvenience for employees in an era when most did not own automobiles. To compensate for this, the building originally provided many amenities, including a state-of-the-art cafeteria, a store stocked with the same merchandise carried by downtown merchants, bowling alleys, squash and handball courts, tennis courts, a basketball court and a library.

Aetna's gold-domed design was inspired by the Old State House, which is located in downtown Hartford and was created in 1796 by renowned American architect Charles Bullfinch. The land upon which the current home office building was erected has passed through the hands of such historic figures as Thomas Hooker, the city's founder; Daniel Wadsworth, businessman and 19th – century cultural figure; and U.S. Sen. James Dixon, a personal friend of Abraham Lincoln and, by some accounts, the deciding vote against conviction in the impeachment trial of President Andrew Johnson in 1868.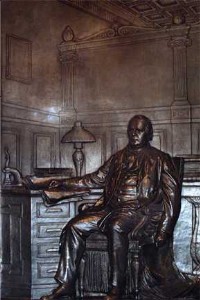 Made of brownstone and red brick, the building that fronts Farmington Avenue was designed by James Gamble Rogers and is, to this day, known as the "Rogers building." Rogers overlooked nothing that might add to the health, comfort and efficiency of the employees such as innovative office lighting and acoustical wall tile. Four and one-half million bricks were used on the exterior of the Rogers building, all of which were made locally.

The Rogers building cost $8 million to construct. In today's dollars, that would be $82,500,000! Over the ensuing years, a six-story wing was added to the east and west sides of the original structure to accommodate the company's growth. The corridor on the A floor is 1/8 of a mile long, from the Sigourney Street lobby to the cafeteria.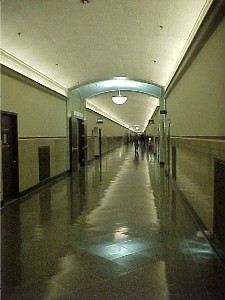 Some building highlights:
The auditorium has a fascinating past. Originally called "Bulkeley Memorial Hall," it has a seating capacity of over 1,000, and was originally fitted with the latest stage and motion picture equipment of the day. According to an early brochure, "The auditorium floor provides adequate space for both dancing and basketball."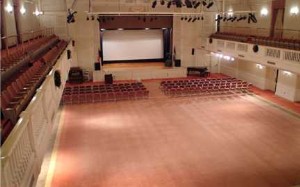 Underneath the carpet is a regulation basketball court specifically designed and built to accommodate the country's premier women's basketball team of that time – the Aetna Life Girls' Basketball team. Composed completely of Aetna employees, the team was widely recognized as one of the best women's teams in the world and played in venues such as Madison Square Garden. The team regularly drew crowds numbering in the four figures to its games in the home office during its heyday from 1928-1932, and members of the team were lauded by James Naismith for their sophisticated grasp of the game he invented.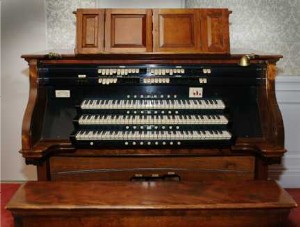 The auditorium also features an Austin Quadruplex organ (front left of stage), the only one of its kind that is in its original installation and still remains playable. The "Quad" was the world's most sophisticated organ when Aetna purchased it in 1929 for $20,000. Today, its value is almost priceless because many of its parts – which include some 2,500 pipes – are irreplaceable.

In the main center entrance lobby on the 1st floor, there is a cool brass bas relief of Eliphalet Adams Bulkeley, Aetna's founder and first president. This brass bas relief is the work of noted American sculptor John Flanagan and was originally installed circa 1916 in Aetna's 650 Main Street home, which was next door to the Wadsworth Atheneum (and destroyed in the early 1960s). When Aetna moved to its current home office, it took the bas relief with it!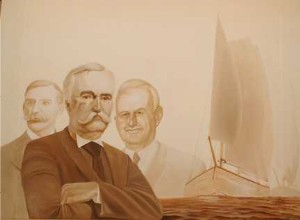 The above painting is of three Aetna presidents from 1872-1957: Thomas Enders, Morgan Bulkeley, and Morgan Brainard. Bulkeley also served as Hartford's mayor as well as and as governor and senator of Connecticut.
During my walk around the cavernous building, I ran into a gentleman who seemed to be causing quite a stir. So I took his picture: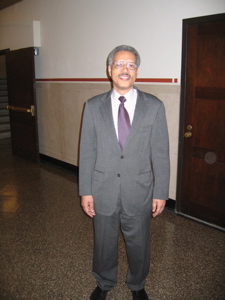 That would be the CEO Ron Williams. Seemed like a real nice guy… so nice, I decided to slip into some class he was quickly meeting and pretend to be part of it. This wasn't nearly as bad as the time Hoang and I crashed an eastern European wedding where we were the only English speakers and Hoang was the only non-Caucasian. Both ended without incident…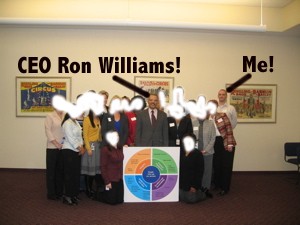 I left the above story as is for a decade, but now would like to clarify that I was an Aetna employee that did some sort of manager training that Mr. Williams attended for a bit.
Since Hartford is (or at least until recently, was) the Insurance Capital of the world, this won't be my last insurance building stop around town – there are tours of the historic Traveler's Tower and of course I would be a fool not to mention the only two-sided building in the world (at the time it was built), which was the Phoenix Mutual Life Insurance building. In due time, my friends, in due time.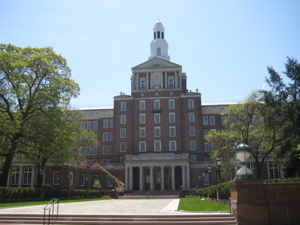 Aetna history
CTMQ's Firsts, Onlies, Oldests, Largests, Longests, Mosts, Smallests, & Bests