CT National Historic Landmark
State Capitol Building
Capitol Avenue, Hartford, Connecticut (Open to public)
I've said it before and I'll say it again – our Capitol building is unique, beautiful and has a trove of really interesting things inside it. Of course, most states can make that same boast, and I'm sure a bunch of them are National Historic Landmarks too. But for a surprisingly interesting (dare I say "fun") thing to do on a random day, go check out our Capitol. I did – here.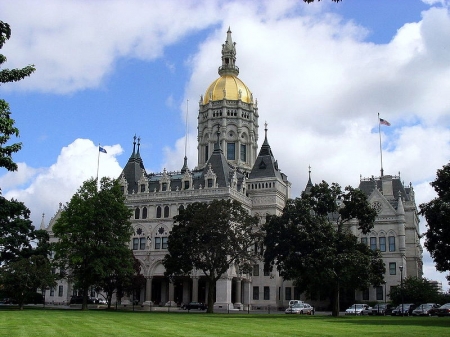 Construction of the building, designed by Richard M. Upjohn, began in 1871. It was to replace the Old State House (also a National Historic Landmark – here), designed in 1792 by Charles Bulfinch, who also designed the Massachusetts State House. Completed in 1878, the building was opened for the General Assembly in January 1879. It was built at a cost of over $2,500,000.
The State Capitol was designated as a National Historic Landmark in 1971.
The building is done in high Victorian Gothic style. The exterior is East Canaan, Connecticut marble and granite from Westerly, Rhode Island. The building is roughly rectangular, with an annex on the south side. Each side has an entrance, although the west entrance is noticeably less ornate than the others. Each entrance is ornately decorated and includes several statues, busts and carvings (except the west, which only has the statues). Interestingly, there are at least eight unfilled spaces for statues, especially around the south annex above the covered entryway, as well as many spaces for more busts. The busts and statues are of political and social figures important to the state's history, and the murals depict historical scenes (except for the mural above the main north door, which is of the state seal). The 257 foot tower is topped by a gold leaf dome. The interior floors used white marble and red slate from Connecticut, and some of the colored marble is from Italy.
The building's dome is circled by 12 statues representing Agriculture, Commerce, Education, Music, Science, and Force.
There is much, much more to the building than I've provided here, so check out some of the links below and then go check it out yourself.

CTMQ visits CT's National Historic Landmarks
CTMQ's CT National Designations