I-84 Lumber
Hartford (Google Maps location)
May 9, 2013
Does your high school have a museum? Mine certainly doesn't – nor does it deserve one. And I can't imagine many high schools anywhere do. One that does is Hartford High School.
Whereas your high school was probably built in the mid-20th century and is boring and ugly, HPHS has been educating kids since 1638. And that means that – wait. Hold on. Since 1638?!" Holy cow! That would make it the second oldest secondary school in the United States!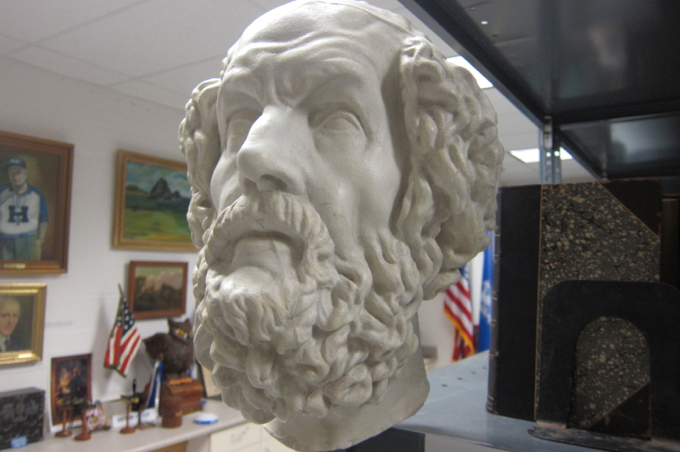 Some school in Boston began a year earlier, but we don't care about them. How in the world is HPHS so old? And did Mark Twain's daughters really go there? And what did Thomas Hooker, one of the first Connecticut people and Hartford's founder have to do with the school?
Now you see why this school has a museum.
Thomas Hooker was the Founder of Hartford and established the Latin School which evolved to become the Hartford Public High School in 1847. It is believed that the school started in Hooker's house and the idea was that it would prepare young Hartford men for the Puritan ministry.
Keep in mind that Hooker and his crew founded Hartford because they thought the Massachusetts puritans were too liberal and soft. This school, which now I'm sort of wondering how and why people consider this the Hartford Public High School forerunner, never ceased "operation," and was housed in a whole slew of different buildings over the centuries.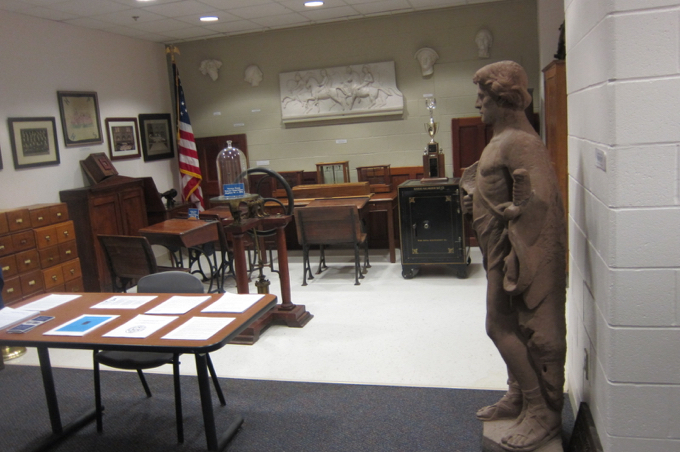 In its first century alone, it was called The Free School, The Latin School, The Free Grammar School, and finally Hartford Grammar School. (It was free because old rich white guys endowed it.)
By the mid-19th century, things fell into recognizable place. Thanks mostly to Henry Barnard – a pioneer in education. Barnard lived in Hartford (his house is one of Connecticut's 60+ National Historic Landmarks) and graduated from the Hartford Grammar School. He went on to become the first US Commissioner of Education where he pushed for a new way of schooling.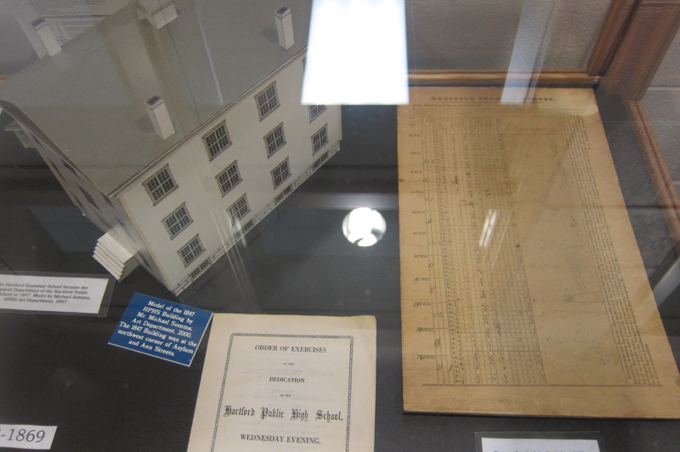 One way was to create high schools. And voila, Hartford Public High School was born as Hartford Public High School in 1847, and even accepted young women. Down a flight of stairs, down a hallway, in a closet, but still… girls!
This first modest wood frame high school building was quickly outgrown. A larger brick building was built on Asylum Hill site in 1869. Even this building had to be enlarged in 1877. By this time, the Hartford Public High School enjoyed a national reputation for excellence; it was one of the top secondary schools in the country.
Then it all burned down in 1882. Only the school's safe survived.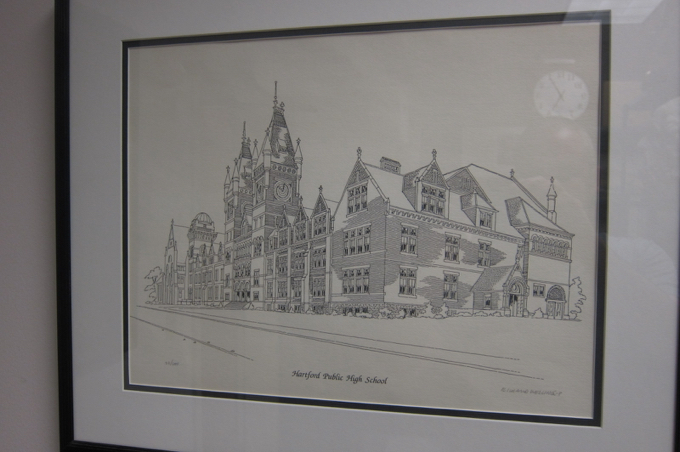 Within a year, architect George Keller was brought on to build a massive new Hartford High. Keller, you probably know, is responsible for several famous Hartford landmarks like JP Morgan's tomb at Cedar Hill Cemetery, the original G. Fox, Union Station, a bunch of churches, and the giant arch in Bushnell Park – in which he and his wife are interred.
Anyway, Keller designed a rather awesome "school of the future." It was very science-forward and had the famous Hall telescope and observatory, state-of-the art laboratories, and the remarkable gift of fossil collections, notably that of the famous dinosaur tracks which were donated by James Batterson. So it was like a museum 100 years ago!
The school was still nationally recognized and beautiful. The Hopkins Street building was enlarged in 1897 and quickly became a famous landmark with its two tall, elegant and steepled towers. A manual training building was added, and in 1914 the complex doubled in size with the erection of the Broad Street building where business and industrial courses were given.
WWI and WWII happened and Hartford flourished. Then the 1950's and the 1960's happened and cities were flashpoints for racial tension. (A term I hate… "tension" implies that it wasn't necessary. It was.)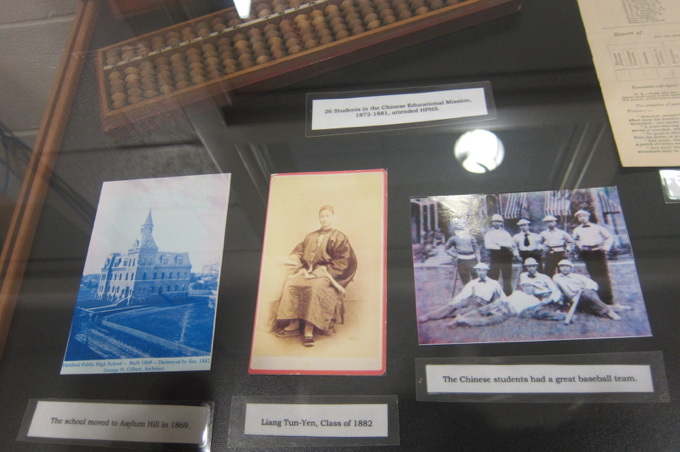 The 40's, 50's, and 60's was also the time that the state and federal government began destroying cities with highways as well. The immense educational complex, with its century of history, was demolished for I-84. One could argue that Hartford itself was demolished for I-84, but that's a wholly different conversation.
A new HPHS was built on Forest Street in 1963 and the observatory and telescope, statuary, and some architectural fragments of the Hopkins St. building were transported to the new site. Which was cool. Also cool was that the building stands very near the Mark Twain and Harriet Beecher Stowe Houses and sort of has a connection to the literary history of this neighborhood.
The museum itself is located in two rooms on the 2nd (main) floor of the school. Most of the collection is in the archive, but a decent amount is out for viewing. It pays homage to Keller's incredible high school, with lots of pictures, memories, and artifacts that were saved from it.
Like Albert Entress's statue "Youth Bearing His Shield," 19th Century student desks, hand-carved cherry panels from pocket doors, paintings, photographs, and carved architectural fragments. And it's not like I-84 was even a smartly designed highway in Hartford!
I spent much longer poking around the museum than I'd planned. My host was gracious enough to indulge me and to entertain my questions. Questions like, why bother displaying what has to be the worst looking bobcat I've ever seen in my life?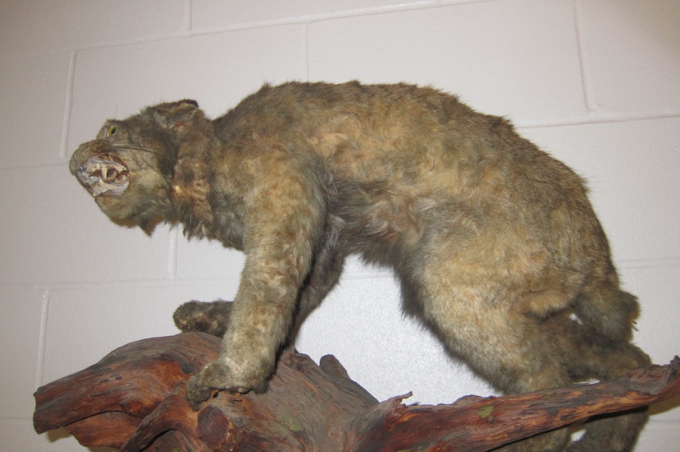 Despite my rudeness – but seriously, look at that thing – I was taken into the archive. Special treatment! (Actually, I think you can too if you simply ask.) There, I was shown boxes upon boxes of historic collections and several random artifacts, art pieces, sculpture, and… stuff.
I loved it. Here are but a few of my pictures from the archive, which appears to be the inspiration for a Monty Python skit:
The school has the official signed presidential picture thing from Hayes through Obama, only missing Chester A. Arthur for some reason. I have many more, but let's move on. I've mentioned the Batterson Fossil Collection, which was donated to the school in 1883. James Goodwin Batterson was the founder of the Travelers Insurance Company and his daughter went to Hartford High. The fossil slabs were mounted in the lobby at the Keller-designed school and saved for the current location.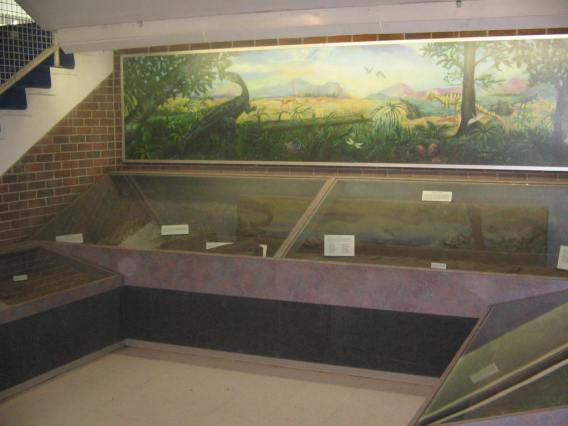 There are six brownstone slabs containing dinosaur tracks and conifer fossils from the Triassic Period, approximately 200 million years ago. They were found in the Portland Quarry sometime in the 1850's and were brought to Hartford where they were on display at the New England Granite Works for about thirty years.
They almost didn't survive 20th-century stupidity though, as they were first placed in the Great Court of the school – outside. This was a terrible mistake because the slabs were exposed to the elements and the porous brownstone began to chip and flake. Fortunately they were restored and the kids at Hartford Public may be the only ones in the state with museum-worthy giant fossil slabs in their school. But they also have this: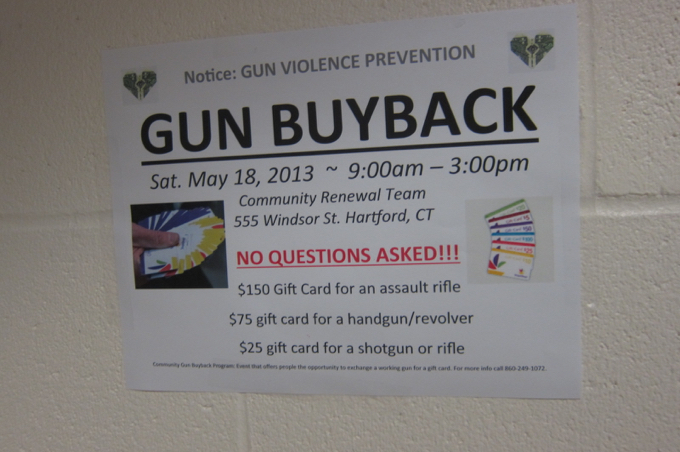 Yeah, HPHS isn't quite the beacon of light it once was. Nor is Hartford as a city. But the school chugs onward, in the face of all the ill-defined magnet and charter schools that now cover the city. It's unfortunate (to say the least) what has happened to Hartford and many, many other post-industrial cities up in the northeast.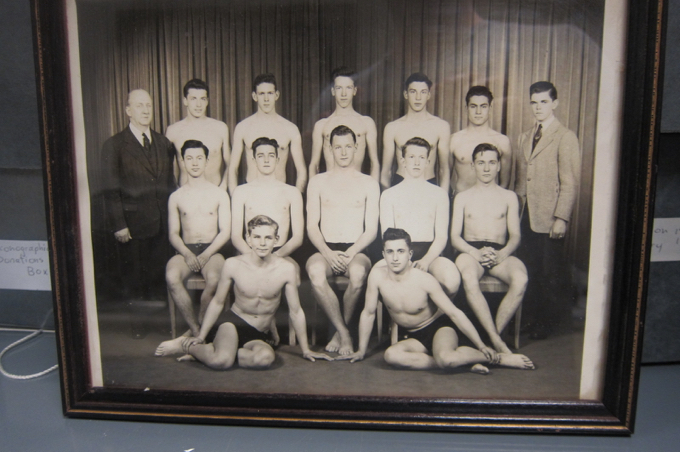 HPHS isn't in a terrible part of the city. It's still next to the Twain House (whose daughters Olivia and Clara attended) and close the what most consider the desirable West End. But… yeah:
Graduation Rate: 60-64%
Math Proficiency: 10%
Reading Proficiency : 11-19%
I'm not sure how you graduate over 60% when under a fifth are proficient in math and reading? I want Hartford to succeed and I want the kids to get good educations and all that stuff. I don't have all the answers, so I'll shut up now. Go to this museum and figure out a way to support these kids.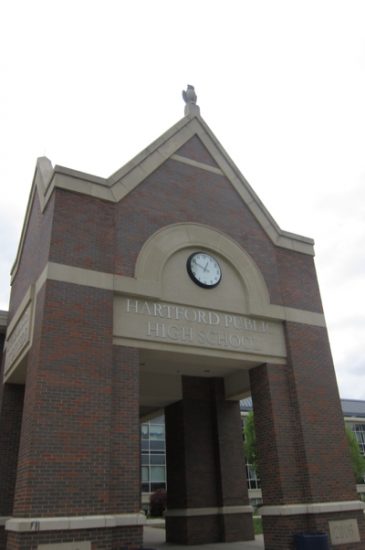 Hartford Public High School Museum