Black Metal Rules
"Windy Metal Garden," Hartford
I can't pretend that I'm a big fan of black metal, per se, but I've always had a soft spot for its absurd over-the-top nihilism and guttural lyrics. And while the Windy Metal Garden has nothing in the world to do with black metal – or metal music of any kind, I can't help but conflate the two.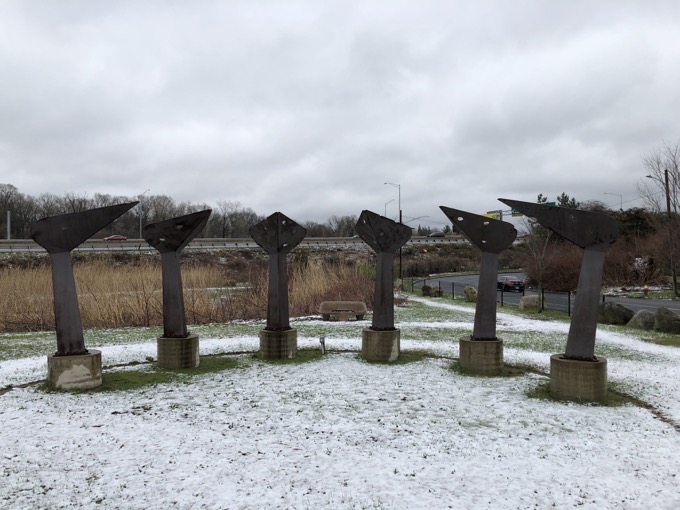 If you ever find yourself lost and looking for Hog River Brewing or trying some slick cut through to avoid a traffic back-up on I-84, you may find yourself on the oddly named Pope Park Highway. Pope Park Highway is not a highway. It is a short two-lane road with fairly sharp curves. You can't reach highway speeds safely and besides, there's literally an interstate highway right next to the road. I'm not going to research how it got this name and just leave it alone as one of the oddest road names in the state.
The road seems to go through periods of dumping ground and clean up. It's out of the way and unpopulated, yet right in the middle of densely populated Parkville and Frog Hollow. And where there used to be a trash stewn overgrown field, we now have Windy Metal Garden.
This plot of land is actually Pope Park West. Yes, the well-known city-owned Pope Park on the other side of I-84 extends to this small patch of land over yonder. And there's art there. Big, bold, metallic sculpted art. With amphitheater seating to boot.
Now, why in the world a crowd of people would come to this relatively out-of-the-way place to sit and stare at a metal sculpture while a constant stream of traffic rumbles by mere yards away is beyond me. But it's awesome that they can. Sure is a heck of a lot better than when was tall weeds with mattresses and trash bags everywhere.
Even better? There's a (mostly) gravel walking path around the perimeter of Pope Park West. Heck, there are even a couple benches for homeless people to enjoy the highway. I walked the whole thing, but didn't explore any of the herd paths to and fro, as it was clear they led to camps and stashes of recyclable returnables and shopping carts. It just blows my mind that someone keeps this path cleared throughout the year. Hartford has it, man, it really does.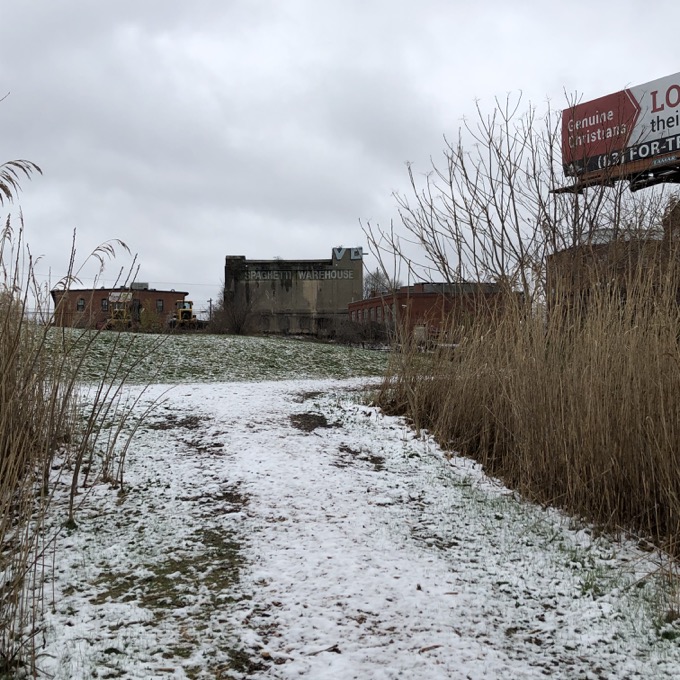 It took some searching, but I found the story of this place and its "six site-specific sculptural leaves" in a 2011 comment on the long defunct and missed Sad City Hartford, edited for clarity, grammar, and brevity:
Thanks for your interest in Pope Park West. The sculpture is named "windy metal garden" created by Hermann Cortes Barrios and Natalie Sweeney of Lifecare Design Inc. It's open for use so please use it!! The sculptures act as a backdrop for the stage area, anybody interested to put on a show, contact Hartford's park dept or DPW.
I should contact them. I wonder if they know it still exists. My one-man CTMQ show, live at Pope Park West! Free parking on Pope Park Highway #4! (A commenter below has done this and I love it.)
It's all just so odd… I love it.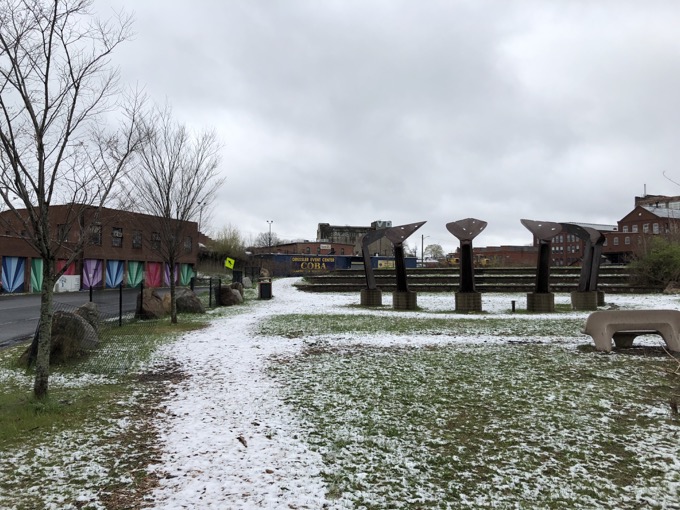 CTMQ's Public Art & Sculptures