CT National Historic Landmark
Old State House
800 Main Street, Hartford
I just took a moment to think about what I'd write in this first little intro paragraph. And it hit me – I've been to the Old State House more than any other museum in the state (I think). I used to work next door for a little while so I used to step inside from time to time. I've been to a wedding here and I've come purely for CTMQ purposes. And I keep learning stuff about it – like how it was the first building erected for state government, which is pretty cool.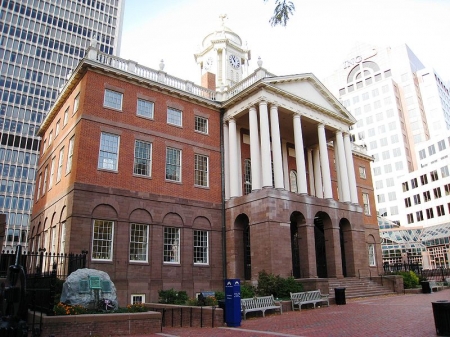 The Old State House (completed 1796) in Hartford, Connecticut is generally believed to have been designed by noted American architect Charles Bulfinch as his first public building. The State House is currently managed by the Office of Legislative Management of the Connecticut General Assembly. The exterior building and the Senate have been restored to its original Federal style; the Representative's chamber is Victorian, and the halls and courtroom are Colonial Revival.
The Hartford State House is, in appearance, very similar to the Town Hall of Liverpool, England, built in the mid-1700s and perhaps depicted in one of Bulfinch's architecture books. However, all materials came from the United States. Its first story is 20 feet high and constructed from Portland, Connecticut brownstone. The second and third stories are brick patterned in Flemish bond. The cornice is wooden.
The State House has been modified somewhat since it was first built. As originally constructed, the building had neither balustrade or cupola, but the balustrade was added in the early 1800s for the protection of firemen, and the cupola was constructed in 1827 with its bell and John Stanwood's statue of Justice. An original (1796) stone spiral staircase behind the northern arch, designed by Asher Benjamin, led to the second and third floors; it no longer exists. In 1814, the Hartford Convention was held there. In 1839, the start of the Amistad trial was held there.
The building had been in danger of closing in 2008 due to financial constraints. State and Hartford officials have recently signed a 99-year lease placing Connecticut's Old State House under new management. The lease puts the city-owned historic building under the control of the state Office of Legislative Management.
It was declared a National Historic Landmark in 1960.
Exhibits focus on the history of Hartford and important events in Connecticut history. Visitors can also tour the original legislative rooms – and of course the Museum of Curiosities upstairs. I'm pretty sure no other statehouse has a two-headed calf in it, so in addition to being the first in the US, it's also the best.

The Old State House
CTMQ's Visit to the Old State House
CTMQ visits CT's National Historic Landmarks
CTMQ's CT National Designations