CT National Historic Landmark
Harriet Beecher Stowe House
Hartford
The Harriet Beecher Stowe House is very deserving of its landmark status, but I must mention that it also appears on a few other "trails" and such in Connecticut. It is part of the CT Women's Heritage Trail, The CT Underground Railroad Trail, and the CT Historic Gardens Trail. It is also a museum, of course, and I visited in 2010.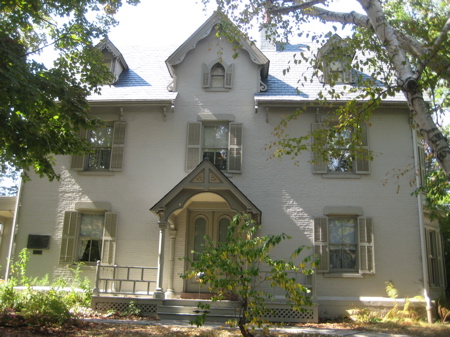 The Harriet Beecher Stowe House is part of the Harriet Beecher Stowe Center which is a museum complex in Hartford. When I visited in 2010, pictures inside were disallowed which may still the case. I know that's still the case at the Mark Twain House next door in 2021 anyway. Just thought I'd throw that out there.
The Beecher Stowe House and Center, let's admit, plays second fiddle a bit to the Twain House. I was probably the rare visitor who was there only for Stowe and not Twain on the day of my 2010 visit. Twain's house is also a National Historic Landmark, but who cares about that guy right now. This page is all about our girl Harriet.
Of the three houses in the museum complex, Stowe's "little cottage" is certainly the most modest. But it's still lovely in its own right. (The third house, the Katharine Seymour Day House, was built for her grandniece who ultimately helped secure this area, called Nook Farm, for posterity.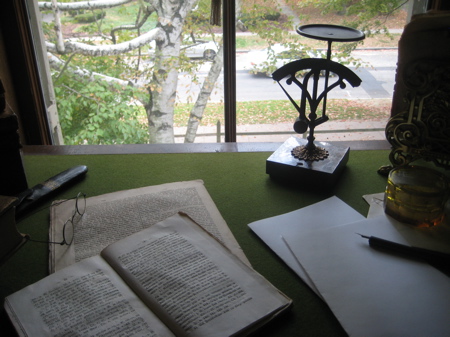 This was Stowe's second house in Hartford. Her first house, Oakholm, proved too expensive to maintain so she would up moving with her husband here, to her final house. She was also responsible for selling the property to the upstart young author named Mark Twain right next door. (What's funny is that many museum complexes usually have buildings right next to each other because they were physically moved to be next to each other for a simpler visitor experience. Here, they really were right next to each other originally.
Stowe, of course, is most famous for 1852's "Uncle Tom's Cabin," which sold 350,000 copies in America its first year in print. And that was just the beginning. The novel about the cruelties of slavery was translated into many foreign languages and adapted into a long-running hit play. It helped sane Americans back the Union effort and heck, "Uncle Tom" is still part of today's lexicon.
Stowe was an ardent and vocal abolitionist, a gardner, a sort of proto-Martha Stewart, a lecturer, and a huge patron of the arts. She helped propel the Hartford Atheneum forward and assisted in establishing the Hartford Art School, now part of the University of Hartford.
Stowe died in her upstairs bedroom in the house in 1896 with several of her children, her sister Isabella Beecher Hooker, and other family members at her side.

Harriet Beecher Stowe Center
CTMQ visits CT's National Historic Landmarks
CTMQ's CT National Designations
My visit to the Harriet Beecher Stowe Center
CT Women's Heritage Trail
CT Historic Gardens
CT Underground Railroad Trail