Yay Connecticut!
Hartford (Google Maps Location)
May 12, 2008
Seriously.
I could be accused of padding my museum visit numbers with this entry, but I'm not. While touring the State Capitol and the nearby Legislative Office Building (Way more interesting than it sounds) I was drawn and excited by a large sign stating "Connecticut Hall of Fame." Surely this was a wonderful bonus to my tour!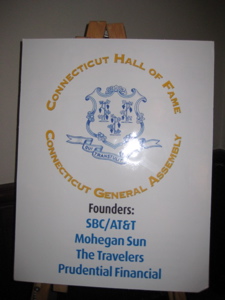 A couple (other people apparently tour Legislative Office buildings on random Monday afternoons) sarcastically told me to get prepared for the Hall which put a pep in my step as I approached. The little space was very nice and had a fresh coat of paint. The view back across the impressive central hall of the building was really pretty cool. But the Hall itself?
Um. No.
Apparently only three people are worthy as of 2008 – so we're either really lame or really selective; you choose. Your Connecticut Hall of Famers are:
Mark Twain
Katherine Hepburn
Igor Sikorsky
That is all. And Twain and Sikorsky weren't even born Here… read the (slightly edited by me – but NOT the weird nicknaming thing) press release:
Hartford – The members of the Connecticut Hall of Fame Committee and legislative leaders have formally unveiled plans for the creation of the Connecticut Hall of Fame to recognize the outstanding achievements of Connecticut individuals. The committee is composed of Senators Joseph "Slippery Joe" Crisco (D-Woodbridge), John "Irish Eyes" McKinney (R-Fairfield) and Representatives Elizabeth "Betty" Boukus (D-Plainville), Michael "The Vulture" Caron (R- Danielson).

The Connecticut Hall of Fame will be located in the break-out area of the second floor of the Legislative Office Building (L.O.B). The designation will appear across the top of the entryway. The names of the inductees will be installed on the walls on both sides of the break-out area. All lettering will be in brass.

The hall of fame is designed to recognize those individuals from Connecticut who have distinguished themselves in their professions, nationally or internationally. It will also have an education function because of the great number of students who visit the Capitol and L.O.B. annually.
The selection process is scheduled to get underway after June 30, the deadline for submitting nominations. During the first round of nominations, the committee will select up to six individuals for awards, three of which will be posthumous. The Connecticut Historical Society, the State Library, the Legislative Library, and other libraries and individuals will be invited to nominate people for consideration.

An appropriate award will be presented to or on behalf of inductees, and the day of the award ceremony will be designated as "Connecticut Hall of Fame Day."

Funding for the Connecticut Hall of Fame is expected to come from corporate contributions, grants, and contributions from individuals, foundations and, potentially, appropriate state agencies
You know what, Connecticut? I got this one… it's on me. I have seven bucks to spare for another name.
Even more ridiculous is that my Googling this stuff has allowed me to stumble on several more HoF's. Mostly just lobbies with plaques, but HoF's nonetheless. Do I have to visit them? Like the CT Women's Basketball Hall of Fame? Maybe. We'll see.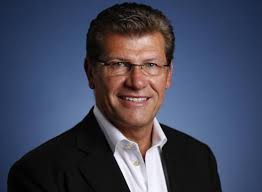 Update: In subsequent years the HoF has added more people, but I don't see any activity after 2016. Filling out the Hall of Fame… Paul Newman, Marian Anderson, Jackie Robinson, Harry Gray, Ralph Sturges, Paul Newman, Dr. Robert Ballard, Deane Keller, Harriet Beecher Stowe, Noah Webster, Geno Auriemma, Jim Calhoun, Alfred Carlton Gilbert, Roger Sherman, Constance Baker Motley, David Brubeck, Judge John T. Downey, Frederick Law Olmsted, Frederick Rentschler, Stephen Sondheim, General Henry Burbeck, Nathan Hale, Helen Keller, Mary Louise "Meryl" Streep, and Horace Wells.
It took a few years, but our state hero (Hale) finally made it. I wonder if our state heroine (Prudence Crandall) will join the ranks… or if they will ever add any more.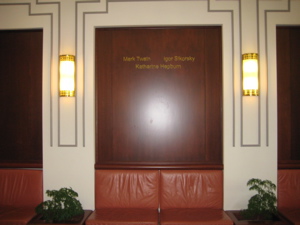 Connecticut Hall of Fame
CTMQ's visit to the Legislative Office Building