The Early Bird Gets The Spoils…
Colchester, 6.9 miles, solo
August 19, 2007
The Victor can have the stinkin' worm. Hoang and I had been hiking The Metacomet Trail incrementally for a while and I had already done CFPA's Nyantaquit Trail a few weeks prior, but between that hike and this one, I found out about the Connecticut 400 Club/Blue Trails Challenge. Somehow the knowledge of an official list of CT trails to complete gave me a goal; my OCD was satisfied and eager.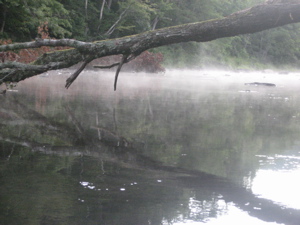 So eager, in fact, that I awoke around 5 AM to get going on the relatively easy Salmon River Trail. I have a 1 year old son, so waking up at five on a Sunday really isn't that big of a deal. In an effort to make some of these trails a little more unique than they'd normally be, I felt a sunrise hike would be a cool idea.
And it was! I didn't arrive at the trailhead until maybe 20 minutes after sunrise, but since the first third of a mile was along the river valley, it was just as well. The trailhead itself is at the only covered bridge in Eastern Connecticut – the Comstock Bridge. It is a lovely bridge.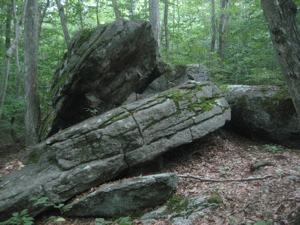 If you look closely at the picture of me beginning the hike, you'll note a long sleeve fleece and a knitted cap. Lest you think I'm some LA hipster trying to look cool, the temperature was in the low 40's despite the calendar saying August. Fine by me. There were a few signs warning fishermen that any fish they may catch had been exposed to a sewage spill upstream, which is pretty sad. Sadder is the fact that I can't imagine there have been salmon in the Salmon River in over fifty years. (And even if they were, swimming in sewage sort of mitigates the joy of catching anything, I'd think.)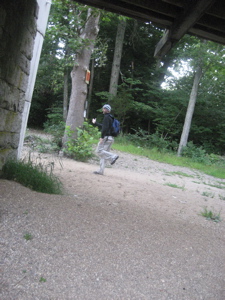 I'm not a fisherman, so I didn't think about that as I trudged along the river at dawn. Fog rose off the river and burned off about four feet above the surface. This scene screamed for a proper photographer to take some great pictures but alas, you have me – using a borrowed camera to boot.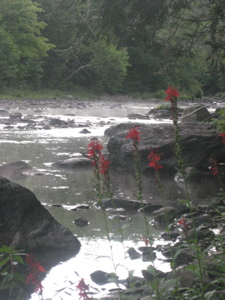 What the pictures don't convey is the sense of serenity and stillness I felt while hiking here. So early in the day that I knew I'd be alone, the sun just starting to poke through the trees, the late summer blooms still struggling to stay open for another day… It was very nice. Just as I got comfortable with walking along the soft flat trail, it turned away from the river and began climbing up through the hemlock forest.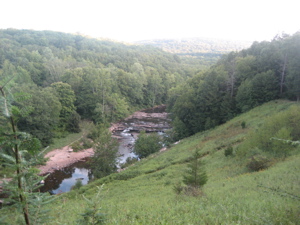 It certainly wasn't strenuous at all; and since the views once on top were unexpectedly pretty, it's hardly worth mentioning the incline. I arrived at the lookout spot just as the sun peeked over the ridge to the East. This is one of those places that one must hike to rather than drive – either from Day Pond State Park to the East or from whence I came. And nearly anyone can do it… and should.
After the view, the trail continued due North, contouring along the hillside. The trees changed over from hemlock to a mixture of oak and laurel. After a sharp turn to the East and another section of slight climb, there were no more evergreens at all. Exposed rocks began to crop up and before I knew it, I was at the loop connector.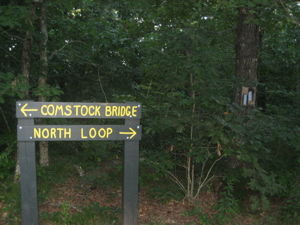 "Loop connector?" Yes; the Salmon River Trail is a "lollipop" trail – one way in for two miles, then a three mile loop, then back "out" the original two mile section. Of course, this particular lollipop looks like it was drawn by Salvador Dali on drugs, but you get the point. I tackled the loop clockwise and found it to be a very pleasant walk through the woods. That is, until I came upon this: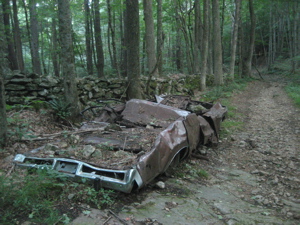 While there is no need for me to point out the ugliness of this otherwise very nice and very clean trail, I feel as though I'd be doing a disservice if I didn't. Besides, I KNOW someone would email me asking, "Hey man, didn't you see that 1970-something rusted wreck in the middle of the woods?" While I welcome feedback, I wouldn't necessarily want to engage in a long discourse with a guy who thinks the car is the coolest thing about the trail. Well, perhaps the fact that someone obviously was able to drive the car over rutted out and rock-strewn forest roads was rather interesting now that I think about it.
I didn't get the make and model but think it would be worthwhile to spearhead a cleanup of the thing. It's near the state park and also appears to be in the path of nearby Day Pond Brook's overflow – and that's not good. What IS good is that the rest of the trail was nearly pristine.
The trail climbed again to the top of a hill and passed by some cool glacial boulders and old stone walls. It then entered the park and shortly burst forth onto a beach. Huh? That's what I said! Right there, smack-dab in the middle of Colchester smack-dab in the middle of Connecticut is a nice shallow little lake with what obviously is an imported sand beach! And it was pretty nice, too. I was alone, of course, so I frolicked across the sand in the nude. Just me and nature.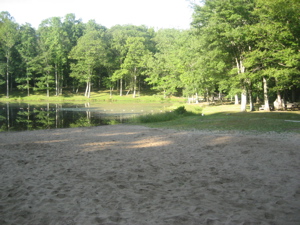 I lie. In reality I cleaned up a couple stray Heineken bottles and rested for a few minutes before continuing on my way. It's almost weird being in a park alone when you know it will be crowded in just a few hours. As I walked away from the beach (the trail passes mere feet from it), I kicked myself for not setting up a silly picture of me lying on the sand. I was deep in thought about this missed opportunity when I passed the largest boulder on the trail and missed that photo opportunity!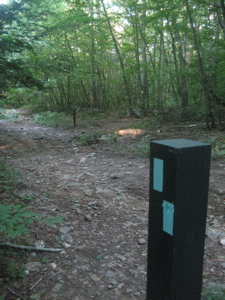 Shortly after leaving the park, I finished the loop and began retracing the first two miles. As always, it seemed to pass by much faster as I was less inclined to observe everything I passed. I set up a portrait shot at the first outlook which came out terribly, of course, and quickly made my way to my car.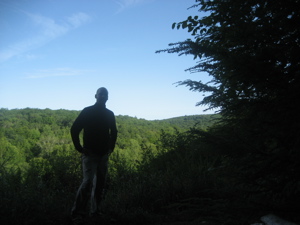 CFPA's Online Map
CTMQ's CFPA's Blue Trails Challenge
Day Pond State Park
Salmon River State Forest