A Real Old Ding-Dong
The Oldest Bell in the New World, East Haddam
June 9, 2007
During a visit to the Nathan Hale Schoolhouse in East Haddam, where I was quite frankly a little ignored, I learned off-hand that there was a very old bell down the hill. Very, very old.
Probably.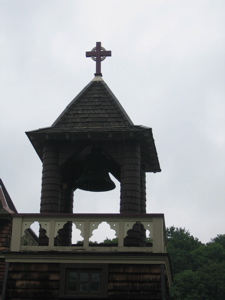 Down the hill from the schoolhouse is a church; St. Stephen's Episcopal Church. (Cool name.) On top was a bell in a belfry. She casually mentioned, "Nathan Hale, Hale, Nathan, Hero, Patriot, Oh yeah, that bell down there is the oldest cast bell in the New World, Great teacher Hale, Yale Hale, Hail Hale, dead at 21 Hale…"
Really?! Apparently. From a now-gone page on East Haddam's town website:
The bell now hanging in St. Stephens Episcopal Church, on Main Street, East Haddam is thought to be the oldest bell in the New World. It was originally cast for a Spanish monastery in 815 A.D. When Napoleon invaded Spain, the church housing the bell was destroyed and the bell left among the rubble.

In 1834, a Yankee sea captain loaded the bell as part of the scrap metal used as ballast for the voyage home. Thus the bell began its trip to Connecticut. Discovered in New York, it was sent by a ship chandler to his wife's hometown of East Haddam.
As you can imagine, that story is very most likely not true. The church's website has an excellent write-up on the bell. To save you some time, they go through a whole slew of apocryphal and legendary stories about their bell – none of which are likely true.
Monks and monasteries in the 9th century, Napoleon, the Spanish Armada, wars, pillaging… dozens of stories of the bell. There is an inscription in it noting "815" which was the year many cited as its casting. The problem with that is that they weren't exactly stamping dates on bells in 815.
There's another story that picks up when the bell arrived in East Haddam – in the 1830's – that merely says that the 1 in 1815 was left off. The Spanish inscription would actually make sense in the context of 1815 – and that a guy brought it to town 20 years later would also make the most sense.
But hey, would a church named St. Stephens ever mess up? Heck no!
Okay, well, maybe. Read the link above draw your own conclusion.