THE Kate at The Kate
Old Saybrook (Google Maps location)
May 18, 2011
This museum expanded and improved in 2022.
Who doesn't love a little museum devoted to an impressive and/or famous person? At this one, Cynthia McFadden, the ABC/NBC newswoman who graduated Phi Beta Kappa and summa cum laude from Bowdoin College and then received her Juris Doctorate degree from Columbia Law School in 1984 serves as an honorary capital campaign committee member.
McFadden has had help, as the museum was steered by several people, including Mr. Ellsworth Grant. Before he died in 2013, Grant lived a rather impressive life. He was an author of several books, wrote articles for the Courant, served as VP of the Allen Corporation and then founded another manufacturing firm. As a Harvard grad, this was par for the course.
Grant served on many boards of directors and founded Combined Health Appeal and Fort Saybrook Monument Park. He was a former president of the Connecticut Historical Society, a founder of Riverfront Recapture, a trustee of local museums and a member of numerous clubs.
Oh yeah, Grant served as Mayor of the great city of West Hartford from 1969 to 1974. And, being a West Hartford resident, he was invited to a party in the 1930's at the house of the good Dr. Hepburn over at 201 Bloomfield Avenue between the Hartford Golf Club and the University of Hartford.
This was one Thomas Norval Hepburn, a urologist at Hartford Hospital. He was married to Katharine Martha Houghton, a feminist campaigner. Both fought for social change in the US: Thomas Hepburn helped establish the New England Social Hygiene Association, which educated the public about venereal disease, while Katharine headed the Connecticut Woman Suffrage Association and later campaigned for birth control with Margaret Sanger.
Ellsworth Grant met a girl named Marion at that party over at the Hepburns and married her. Such impressive people, these Hepburns.
The weirdest one of Hepburn brood was the moody tomboy sister named Katharine. She was a bit of a loner and liked solitary pursuits like golf and swimming. No one thought much of her goals and interests, as most of the other siblings were more interested in law and medicine and things of that nature.
I'm sure Marion took pity on her sister, especially after she was the one who found their brother Tom's lifeless body in Greenwich Village. Katharine withdrew even more after that; even as she later attended Bryn Mawr College which she hated, but went to make her mom happy.
Flash-forward a few years and she graduated but devoted herself to acting. Katharine was hardly an immediate success. She endured years of starts and stops, acting with tiny little stock companies up and down the east coast – including Connecticut's Ivoryton Playhouse in Essex, which is very proud of their Hepburn connection. She was fired from as many shows as she was hired for. Every time she made it to broadway, the show was terrible.
But she pressed onward, landing some roles in Hollywood films, and being featured on Broadway. Live theater success continued to elude Hepburn and my favorite critique was from Dorothy Parker, who said, "She runs the gamut of emotions all the way from A to B."
Hepburn spent years doing bad films and failed stage shows. She developed a reputation for being arrogant and difficult to work with. Somehow, she kept getting cast with actors like Cary Grant and Spencer Tracy, both of whom, of course, kept her career afloat.
Later, of course, Hepburn went on to great Hollywood success with 12 Oscar nominations for Best Actress (winning 4 times). That's a record that still stands in 2016.
And later still, Ellsworth Grant and Cynthia McFadden and others got together with the town, restored an old town hall in Old Saybrook, and created "The Kate." The Kate is a small theater first and foremost, but it also contains the Katharine Hepburn Museum.
(The transformation of the building deserves a bit more explanation, but I'll let The Kate handle that themselves. The fact that is is now, once again, a performing arts center is pretty darn cool – since it was originally builts as such over 100 years ago.)
The museum is merely a collection of some personal artifacts, paintings, posters, and awards. The Hepburn family stayed in Fenwick (the exclusive part of Old Saybrook) for decades, and Katharine lived out her final years at her "cottage" there.
Her property allowed her the privacy she strove for and even today, it's rather difficult to get a good look-see.
When Hepburn died at the age of 96 in 2003, lots of things went into motion. This cultural arts center and musuem came together quickly. Her childhood home up on the West Hartford/Hartford line, was given to the University of Hartford, at which time the house was discussed as a cultural touchpoint for the region.
Oh, and she's buried at Cedar Hill Cemetery in Hartford – which offers a really interesting tour.
That obviously never happened. Her little "cottage" at the tip of Fenwick (at the tip of Old Saybrook) was also put up or sale for $28 million but I know it had trouble selling.
But Hepburn was a local fixture – despite being a bit of a recluse. She'd go shapping at Walt's in town and sailing out on the Sound and up the Connecticut River. Moreover, Katharine Hepburn is known all over the world as one of the greatest actors of the 20th century.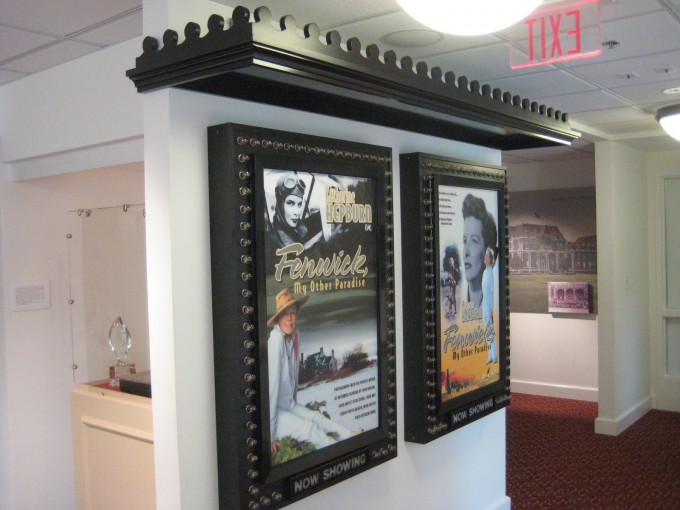 And that's pretty cool. Here's some more from the little museum about THE Kate inside The Kate:
The world shared the talent of Ms. Hepburn, but it was the people of Old Saybrook who knew her not as international star, but neighbor. That is what makes the Center special and it is this connection the museum emphasizes with memorabilia and reminiscences about Kate, our neighbor and friend.

In addition to many photographs from Katharine Hepburn's life and career, the museum also features Katharine Hepburn's Emmy Award, among others, and a self-portrait Katharine painted. The museum is adjacent to the Center's main lobby and is open during box office hours and performances.