A Real Hard Hittin' Museum
New Britain (Google Maps location)
August 8, 2015
I can't even pretend this is a real museum.
Keep in mind who just wrote that. I'm the guy that accepts pretty much anything as a museum that calls itself a museum. I've been to some very, very tiny museums in Connecticut.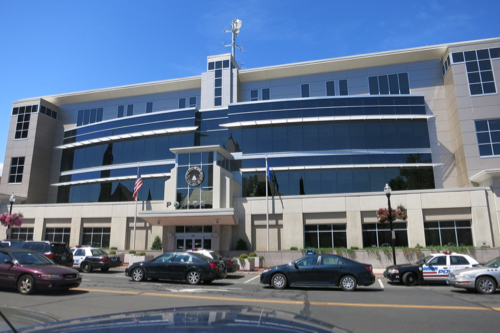 But they always have some redeeming quality about them. Something unique, perhaps.
This one? This one is… suspect. (Police Museum joke!)
Some caveats:
There may be, perhaps, a larger collection of New Britain policing memorabilia locked away in some chamber somewhere. I have no idea.
The fine folks who put their lives on the line for the public's safety in New Britain are commendable and heroic men and women. This sparse "museum" is not a reflection on them at all.
"My uncle is on the job *wink*."
I can't remember from where I first learned of this museum's existence. It was several years ago when it was housed in a previous headquarters building. If I recall correctly, it was mainly a thing for local Boy Scout troops to visit on interminable rainy Saturday trips.
I reached out to the police department a few times over the years and never – literally, never – received a response. Granted, the NBPD has far more important things to worry about than some West Hartford nerd with a nerdy website trying to visit. I understand.
Fast-forward to the summer of 2015 and the inaugural Connecticut Hops for Hope Brewfest. My friends planned the whole (wonderful) thing and selected a location in New Britain. We agreed that hiring a police officer would be the prudent thing to do, so we did that.
If you're curious, retaining a cop for a 4-hour event in New Britain costs $428.95. Of course, if you hold your event in beautiful New Britain, you'll have to drop another $10 for the bank check that the NBPD requires you pay them with. But you'll save the 49-cents on the stamp, because the NBPD also requires that you pay them in person.
I figure that they just want to spread their good cheer and simply can't do that through the mail. I didn't mind, of course, because that meant I'd finally get in to check out the New Britain Police Museum!
I even brought Damian along for the ride… or, don't they call it "the ride-along?"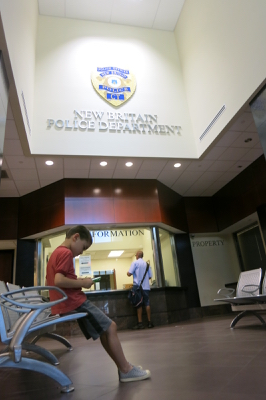 I again reached out prior to my visit to inquire about their museum. I again received no response. Unfazed, I brought my camera and geared up for my 299th Connecticut museum visit!
Damian and I entered the glorious new lobby and marveled at the impressive vaulted ceiling. "Wow," I told my son, "this is really gonna be something!"
A surly looking gentleman sat on the bench, staring off into oblivion. An agitated young citizen paced uneasily by the locked "fingerprinting and documentation" door. I stood at the finely polished bulletproof glass-enclosed front desk, smiling politely.
And waited.
And waited some more.
Handsome men and women of the force walked back and forth behind the window and pretended not to see me. Granted, they had much more important things to do than to deal with me. Totally understandable.
So I wandered the lobby. It's a very nice lobby. There are two display cases, so I went to go look at one. Some pictures of heroic New Britain policemen, some words, and…
Holy cow! The top of the plaque said, in bold font, "The New Britain Police Museum"(!) It exists! I pretended to read the sign while I excitedly looked around for the information on how to get to the actual museum, not this introductory sign about it.
I galloped over to the other display case, happy as a clam… and stared at an old police uniform. I skipped around the lobby, giddy at the idea of finding the door to the museum proper.
The scary dude stared at my special needs son as he clapped and yelped at his LeapPad game. Damian doesn't care and it's a beautiful thing. As I continued my search, the mailman showed up and stood at the front desk window and waited for help.
And waited.
And waited some more.
I returned to the first case and actually read the sign this time:
The New Britain Police Museum is dedicated to the members of the New Britain Police Department, past, present, and future, and to the courage, dedication, honor and sacrifice of all law enforcement officers everywhere.

We are grateful to the New Britain Foundation for Public Giving for its funding of our museum, as well as to those officers, their families and friends, who have generously given their time, memories, and artifacts to commemorate and preserve our police heritage.
Holy Cow, put out an APB for a period for whoever wrote that sign. Geeze.
The mailman was still waiting for help.
I looked at the other display again and wondered (again) where all these "artifacts" were hidden away. Or why this "museum" demanded public funding. I can only guess there's more to it, but since I had now been waiting 20 minutes to give them a check, I knew I wasn't getting any answers during my visit.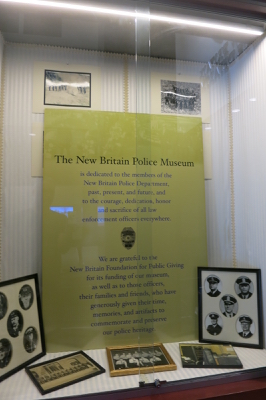 The mailman was finally helped, so I caught the officer's eye. Annoyed, he asked me what I wanted. I told him. He said, "let me go find someone else."
All I could think of was what if I had a knife in my back or some time-sensitive Jack Bauer information? This was… weird.
Another guy arrived a few minutes later, heard my plea, and said, "Yeah, yeah, I'll take care of it," and took my check through the slit in the security glass and disappeared. No receipt, no confidence-instilling mention of the brewfest. Nothing.
I turned around and noticed that the angry guy was staring at me. I said, "that's how they do here I guess. Make you wait 20 minutes then just take your money and don't even say 'thank you'." He grunted, "yeah."
We bonded.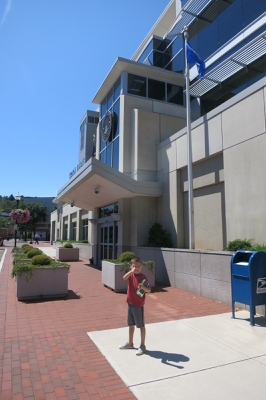 To wrap up, the total contents of this museum are: Two old uniforms, an old typewriter thing, eight pictures, and a sign telling us about it.
No, I never asked anyone there if there was more to the museum. And no, I've not yet received any responses to my emails over the years about the mysterious museum. Perhaps now that this, ahem Hard Hittin' page exists, someone will let me know the score.
I'll let you know.
Oh yeah – the policewoman who worked the brewfest was wonderful. I should have asked her about the museum, darnit.